To many children growing up in the 1980s, a BMX was the bike to seen on. From its roots on the dirt tracks of southern California, the bicycle motocross craze spread to the UK, helped in no small part by the appearance of the bikes in Steven Spielberg's 1982 blockbuster E.T.
Antony Frascina, who wrote a book on the "untold story of the British BMX", told the BBC "how BMX in the '80s crossed many barriers that included gender, race and socio-economic differences. The story is one of inclusivity and one that destroys many stereotypical views of society at that time."
How much is your car to insure? Find out in four easy steps.
Get a quote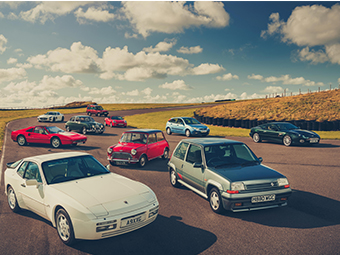 Three years ago, Mongoose released a special edition replica of Maxine 'Max' Mayfield's BMX from the Netflix series Stranger Things. The bike, which retailed for $219.99 (£180), featured show-inspired details, such as a pair of rear axle pegs and a headlight for exploring the upside-down. Proof, if proof were needed, that the music of Kate Bush isn't the only thing to enjoy a resurgence following the Netflix smash hit.
We suspect BMX fans will be running up those roads, hills and buildings, not to mention making a deal with God, to get their hands on the reboot of the legendary Raleigh Mk1 Tuff Burner. Launched to celebrate the 40th anniversary of one of the most famous bikes of the 1980s, the Tuff Burner will be offered in a limited number, at a cost of £600.
Highlights include yellow 20-inch Skyway Tuff wheels, blue gumwall tyres and the original aero blue Kashimax BMX saddle. Raleigh says it has tweaked the geometry to make it more comfortable, which might suit the, ahem, older clientele who are seeking to relive the glory days of endless summer evenings on the residential streets of Britain.
Edward Pegram, head of marketing and partnerships at Raleigh, said: "We don't produce re-releases very often, and when we do, they're in limited numbers. This 40th anniversary re-release presents an opportunity for our fans to get their own piece of history – an opportunity not to be missed.
"The '80s saw the launch of the Burner series, which sold over a million units across the range and became the must-have bike of the times. The Burner is an iconic part of Raleigh's history and has a long-standing and dedicated fan base to this day."
The Tuff Burner went on sale at midday on Valentine's Day, but such is the love for the BMX, we expect it to have sold out by the time you read this news story. We reckon it'd look great in your garage, propped up against the wall, beneath a poster of Kate Bush and alongside your hot hatch.
Read more
The Raleigh Safety Seven
Freeze Frame: Burns shines as sparks fly in '98 Rally GB
From the Raleigh Chopper to the Reliant Scimitar, Tom Karen (1926 – 2022) was one of Britain's brightest design lights