We could tell you that this Porsche 964 Carrera 4 Cabriolet is a full matching-numbers car, first owned by Porsche itself in Germany and used as a show car, then retained by its first private owner for 14 years.
We might then add that the car, for auction through Car & Classic, retains its original build sheets and letters of authenticity. That its second owner, a Brit based in Germany at the time, bought the car in 2005 and then used it lightly until 2015, at which point it was shipped back to the UK.
How much is your car to insure? Find out in four easy steps.
Get a quote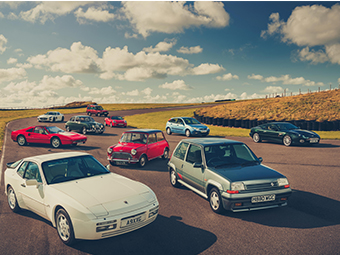 We could, if you allowed our indulgence, hear how once it returned to the UK, it went to Porsche's HQ and service centre in Reading, where various important parts were converted for driving on the left – the car being left-hand-drive and set up for Germany originally – and that, after an engine-out service, the final bill came to around £20,000.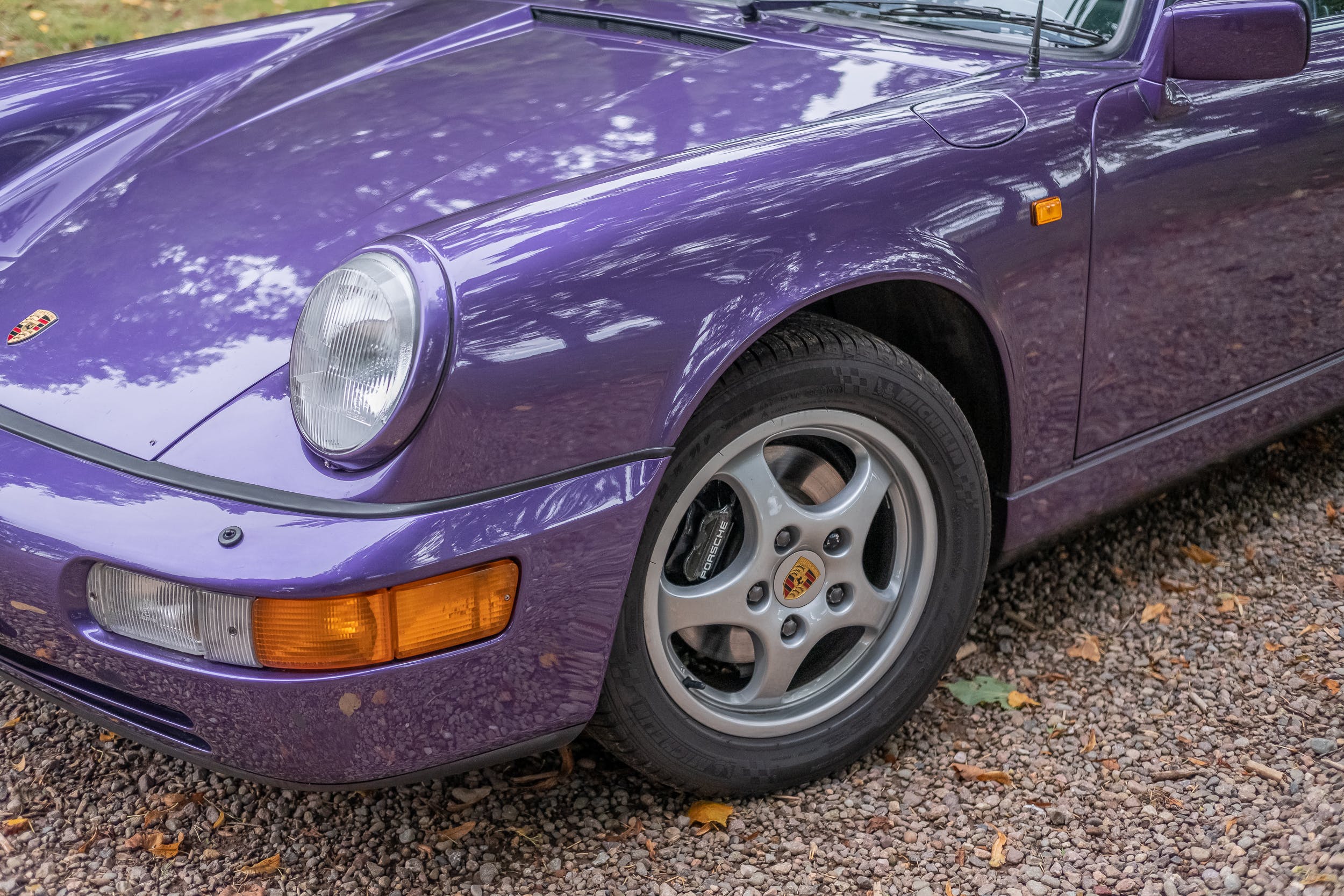 We'd then inform you, and you probably wouldn't be surprised, that it's returned to Reading for every service since. That its factory alloy wheels have been refurbished, that various light lenses have been replaced, that it's wearing a set of new Michelins, and that the roof and headlining was replaced in 2021.
We could report that according to the auction listing it drives perfectly, that peering into the engine bay suggests that what you can see of that tightly-packed flat six looks mighty clean, and that the switches to raise or lower the rear spoiler and to select between two and four-wheel drive are both present and correct.
And if you didn't know much about 964s, we'd share that this one uses a 3.6-litre aircooled flat six making 247bhp and 228lb ft of torque – enough, with the manual transmission, to reach 60mph from rest in the mid-5s.
But telling you all that would be what is known in the journalism world as 'burying the lede', because the very first thing you will have noticed about this 911 Cabriolet, built by Porsche as a show car to display its customising capabilities to the public, is its colour.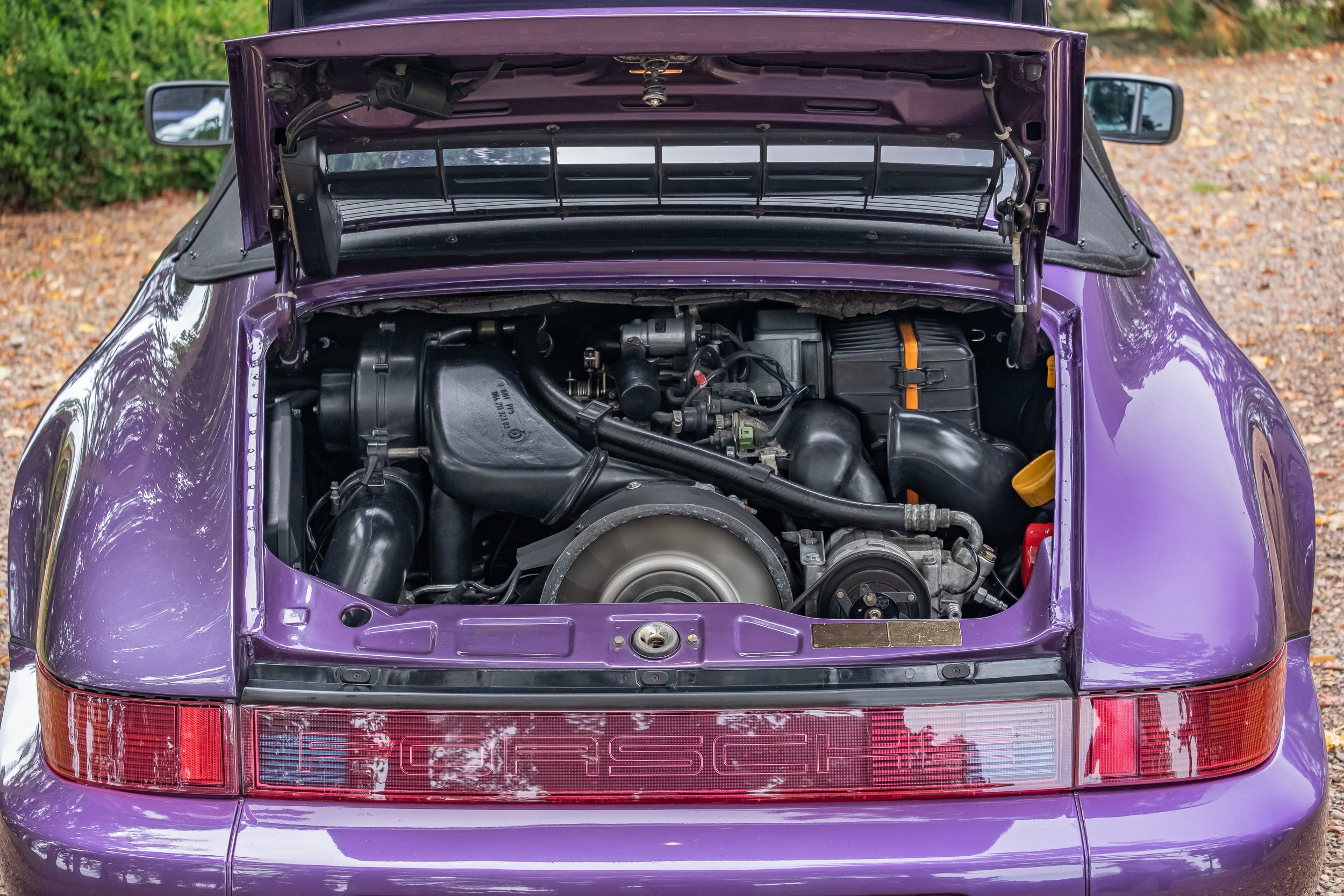 It's purple. Profoundly purple. Intensely iris. Acutely amethyst. Violently violet. Externally and internally purple. The wheels, under-bonnet carpet and soft-top are disappointingly lacking in colour (though the tonneau didn't escape), but the rest of it could have turned Prince purple with envy – even the steering wheel is wrapped in the hue.
Needless to say it's an eye-catching thing and despite the combination of four driven wheels and a ragtop roof not being the most desirable specification – an excellent one would clock in at just over £45,000, where a C2 coupe in similar condition is more like £63,000 – this colour combo may attract a few more bids than your common-or-garden C4 Cab.
It really is very purple, isn't it?
Read more
New KAMM 912 is a 750kg flat-four Porsche that knows how to play
Tuthill 911K is the 11,000rpm, 850kg Porsche you've been waiting for
Buying Guide: Porsche 964 (1989 – 1993)