What do you get if you cross one of the world's best-known nameplates, with a dash of heritage, and a begrudging acceptance that the roads are no longer the best place to really enjoy a sports car?
The answer – or at least, the best one we can think of – is the new Porsche 911 Dakar, in which the factory embraces a trend for turning older 911s into Baja-style off-road toys, and applies the same treatment to the current 992.
Think raised suspension, plastic cladding, and the obligatory roof basked in and on which to stow the paraphernalia of the terminally active; skis, surfboards, climbing kit, BMXs, you name it.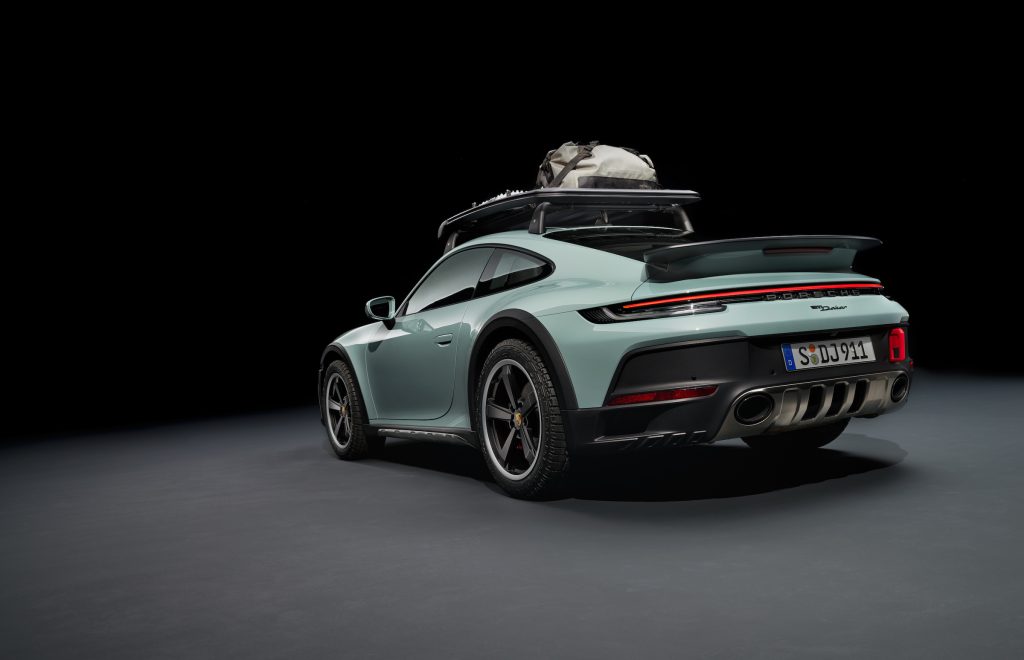 The Dakar name is a nod to Porsche's exploits in the Paris-Dakar off-road raid, won by Porsche on its first attempt in 1984 with a Rothmans-liveried 953. Porsche will, of course, offer you the option to dress up your 911 Dakar in a similar style with a Rallye Design Package, though 'Rothmans' is cleverly replaced with 'Roughroads'.
The meat of the Dakar is a 992-generation 911. Mechanically it's a 911 Carrera 4 GTS, since it uses the same 473bhp, twin-turbocharged flat six, PDK 'box, and its all-wheel drive system. Familiar Porsche options like rear-axle steering, Porsche Dynamic Chassis Control, and the dynamic engine mounts from the 911 GT3 are all standard.
Porsche says the result makes the 911 Dakar "just as capable on sand and gravel as it is on the Nordscheliefe", though while the 3.5-second 0-62mph time is suitably brisk, Porsche has had to bring the top speed down to 149mph, on account of the Pirelli Scorpion All Terrain Plus tyres (staggered in size, at 245/45 R19 up front and 295/40 R20 astern).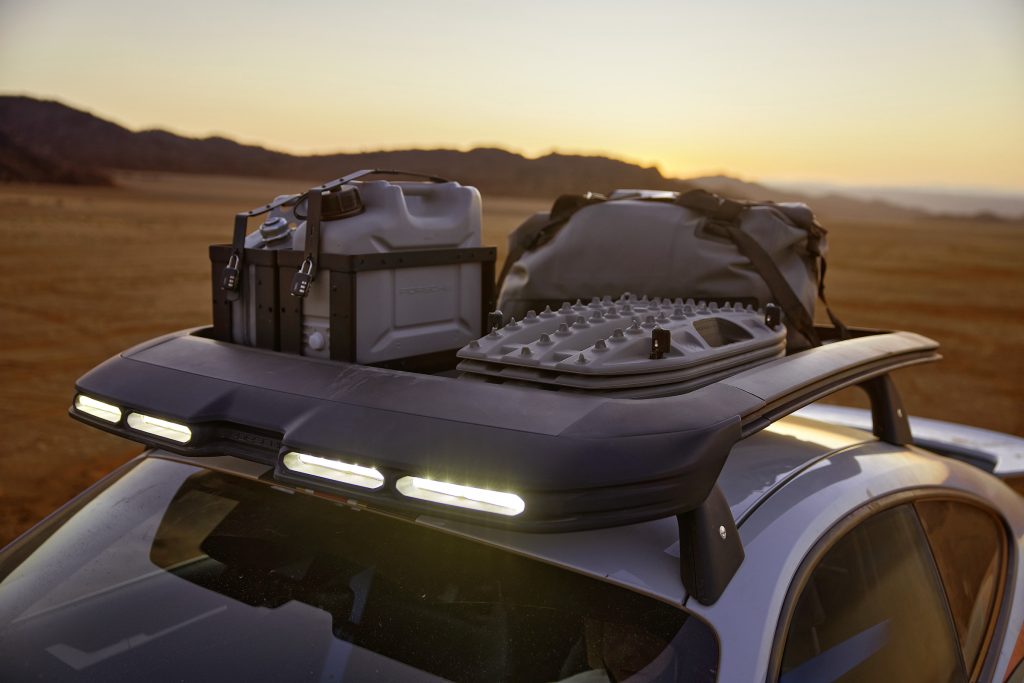 These work with a 50mm increase in ground clearance (relative to a Carrera S on sports suspension), and a lift system which can liberate an extra 30mm when required. No mere low-speed fop to stepping over slightly large pebbles, it can work at up to 106mph. (Would it be cynical to imagine drivers using this setting on the motorway, just as others raise their electric spoilers at walking pace?)
Two new driving modes join the usual set – Rallye, for loose and uneven surfaces (and with a rear bias for the powertrain), and Offroad, geared towards 'high-clearance' driving. An attendant Rallye Launch Control system allows 20 per cent wheel slippage to really dig into those loose surfaces.
Visually we've got a fixed carbon-fibre-reinforced plastic (CFRP) rear spoiler, and a CFRP front lid snagged from the 911 GT3. The aforementioned cladding is also joined by aluminium tow hooks at both ends, stainless steel sill plates and front and rear skid plates, and grilles over the side air intakes.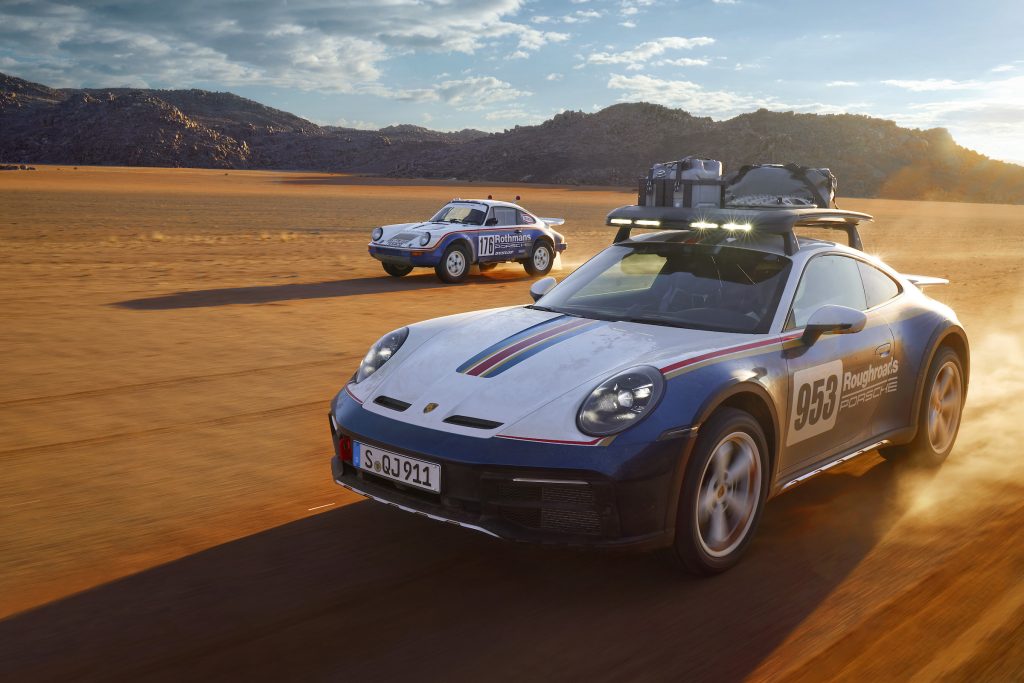 That smart-looking roof rack gets a 12v power outlet so you can hook up some extra lights, and the rack itself can hold 42kg of kit. A roof tent is optionally available, which can hopefully hold full-sized humans. Inside, bucket seats are standard, the rear pews have gone, and impressively, weight-saving measures have kept mass down to 1605kg – not light in isolation, but only 10kg more than a 911 Carrera 4 GTS with PDK.
As well as the Rallye Design Package, there's also a Rallye Sport package, which adds a roll bar, six-point seat belts, and a fire extinguisher, ideal for those excursions beyond the local Cars & Coffee.
UK prices for the 911 Dakar start at £173,000, a shade over fifty grand more than a 911 Carrera 4 GTS, but a touch less than the recent 911 GT3 RS (at £178,500) and a whole heap below the slightly less recent 911 Sport Classic and its £214,200 tag. And you wouldn't take either of those green-laning…
Read more
Porsche doubles down on e-fuels with £57 million investment
The French family globetrotting in a Porsche 928
After 20 years, is the Porsche Cayenne coming in from the cold?