Is it just us, or is there a bit of an "end of term" feel to the car industry at the moment? The string of spectacular performance cars launched in recent years feels very much like car manufacturers are throwing caution to the wind with combustion power before, reluctantly, being legislated into plug-in cars and the negatives, as well as the benefits, that entails.
Take the 718 Spyder RS, Porsche's latest open-topped sports car and effectively a roofless version of the track-orientated 718 Cayman GT4 RS. The world doesn't necessarily need such a thing, but we're very glad Porsche has chosen to offer it before its mid-engined line inevitably goes hybrid or electric.
How much is your car to insure? Find out in four easy steps.
Get a quote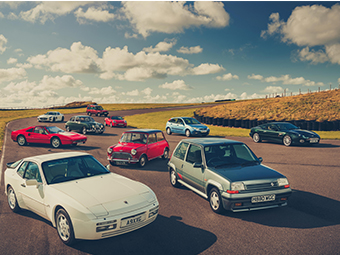 Being based on the Cayman GT4 RS, the latest Boxster (which is what it is, even if the name doesn't officially feature) is really something special. Like the coupe, it gets a full 911 GT3-spec four-litre flat six, with a 9000rpm fuel cutoff and 493bhp maximum output – nearly 2.5 times that of the original Boxster in 1996.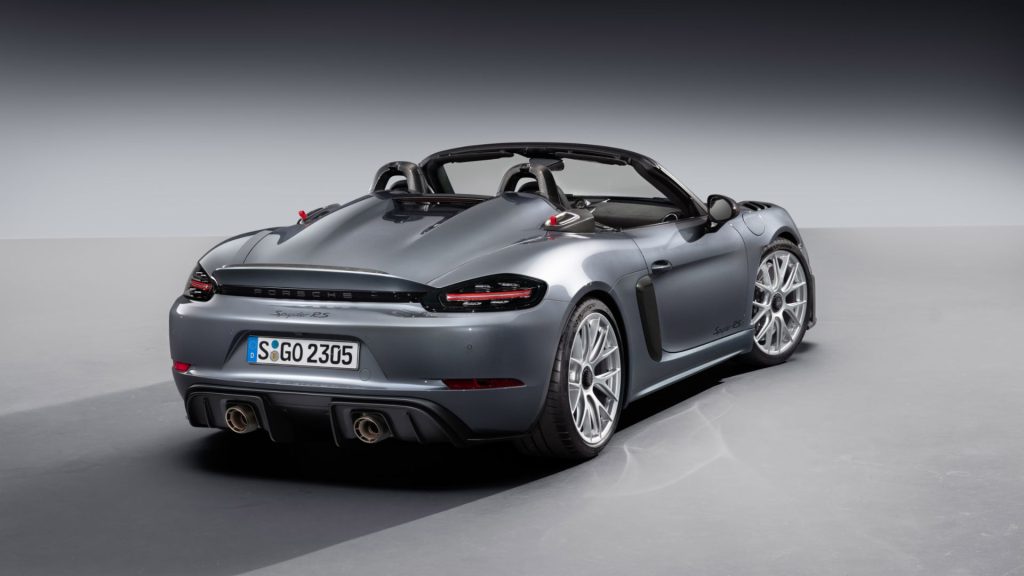 Like the Cayman it's also PDK-only, a seven-speed with shifts quick enough to allow a 0-62mph time of 3.4 seconds and double that in 10.9. It'll top out at 191mph, which no doubt feels a bit blustery, but even if your hair is flapping all over the place, the car itself should be steady – the RS tweaks include side blades, a front spoiler lip and rear ducktail (rather than the Cayman's wing) to increase downforce, while NACA ducts in the bonnet are there for brake cooling.
You can of course erect a soft top too, which like the regular 718 Spyder but unlike more conventional Boxsters is a manual affair and weighs only 18.3kg – 7.6kg less even than the regular Spyder, and 16.5kg less than the electric folding arrangement of the Boxster. Porsche does suggest you can ditch the soft bit at home and trim a further 8kg, but we'd suggest living somewhere warm if you're to do that. Overall, the Spyder RS comes in at 1410kg, 40kg less than a 718 Spyder.
As with aero, suspension is per the Cayman GT4 RS, including its adjustability of ride height (nominally 30mm lower than a normal Spyder), camber, track, and the anti-roll bars, though Porsche has ever so slightly softened the Cayman's somewhat extreme setup, assuming soft-top folks prefer a more relaxed ride. Porsche Active Suspension Management and a torque-vectoring limited-slip diff are both standard.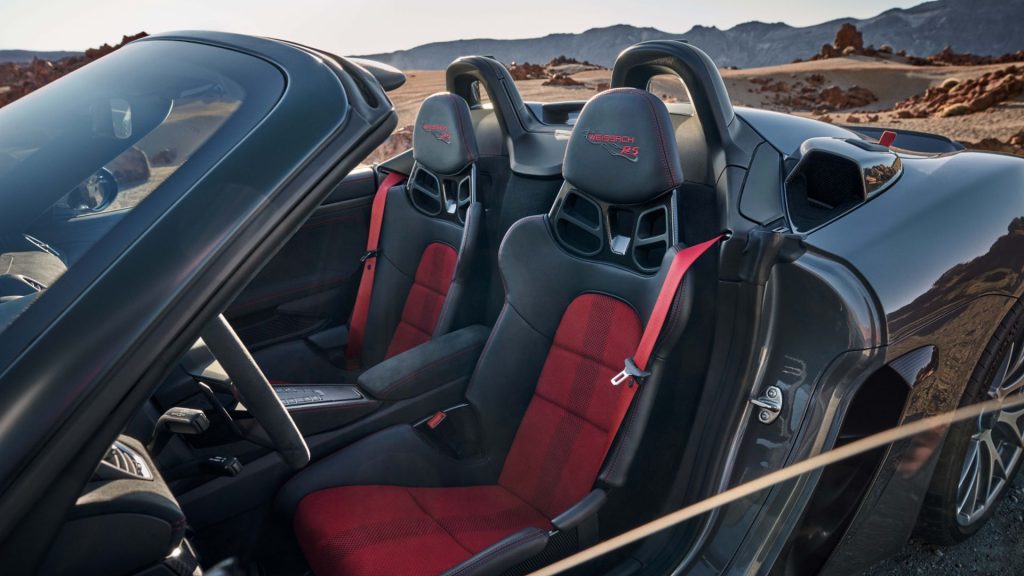 As is a GT4 RS-style cabin, with Porsche's usual excellent CFRP 718-style bucket seats (a nuisance to get into, but great when you're there), embroidered with the Spyder RS logo, and RS sport steering wheel. Exterior paintwork choices, meanwhile, include a new shade, Vanadium Grey Metallic, and three special hues, Arctic Grey, Shark Blue, and Ruby Star Neo.
Porsche's Weissach Package, sure to be selected by most owners, brings with it forged magnesium wheels, a titanium exhaust system, and a colour scheme inspired by the GT2 RS-based 935 "Moby Dick" from 2018 – along with a matching watch from Porsche Design.
We're intrigued by what the next Boxster brings, and if the Taycan is any indication, Porsche isn't going about its electrified models by halves. But if the Spyder RS was to be the last of the breed, we doubt many people would be too disappointed. You'll be able to see it in person at the Goodwood Festival of Speed this June.
Check out the Hagerty Media homepage for daily news, features, interviews and buying guides, or better still, bookmark it. Or sign up for stories straight to your inbox, and subscribe to our newsletter.