There's something quite reassuring about the launch of a new Porsche 911 GT3. Much like a Golf GTI or a new Mazda MX-5 it's a kind of secret sign from the industry that all is well, and that there's still value in doing things properly.
And Porsche appears to to have done things 'properly' with the latest, 992-generation GT3. The engine is still naturally aspirated and has the correct number of cylinders, the manual gearbox remains, albeit as an option, and the entire package is infused with motorsport know-how to give the GT3 name some credibility.
How much is your car to insure? Find out in four easy steps.
Get a quote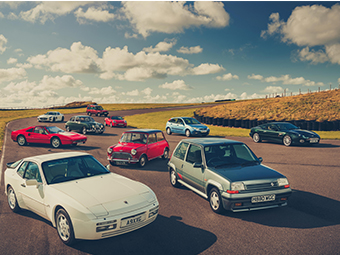 Arriving in the autumn, the new GT3 builds upon the strengths of the previous car but throws in a few neat toys of its own. We'll come to those in a second, but central (albeit not centrally mounted) to the experience is the 4-litre flat six, producing 502bhp in this latest iteration with 346lb ft of torque and a 9000rpm limiter.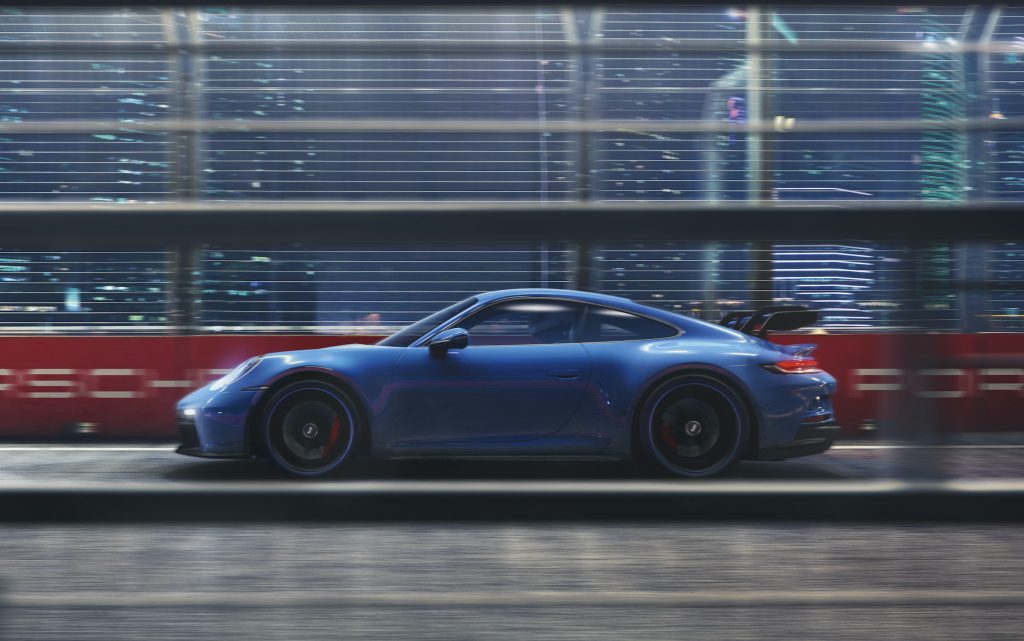 The dry-sumped unit breathes through six individual throttle bodies, key not just to the unit's characteristic sound but also its response, and a set of new pistons separate it from its previous iteration in the 911 Speedster. A seven-speed PDK dual-clutch gearbox is standard (and allows for a 3.2-second 0-60mph sprint an 197mph top speed) but for those who value interaction between driver and machine, a six-speed manual remains on the options list.
That PDK shifter is slightly unusual though, as anyone peering inside will see what looks more like a manual gearlever sprouting from the central tunnel. There's no rationale behind it – cynically, we'd suggest it's for extra street cred among those who've failed to opt for the three-pedal model – but it looks better than the little plastic nub in other PDK 992s.
Fixed-back carbon buckets are on the options list, something owners will inevitably choose in place of the awkwardly named Sports Seats Plus that come as standard. In common with other recent Porsches, the driving mode dial has now migrated to the three-spoke sports steering wheel.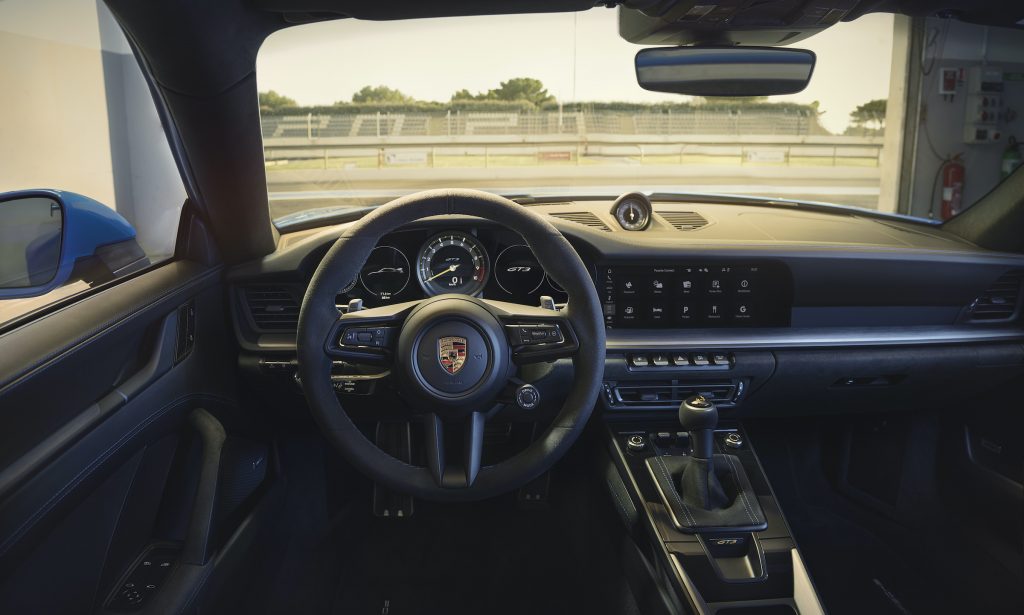 Visually all the usual GT3 cues are present and correct. It starts with the track, 1.9 inches wider than other 992s, but the body is otherwise similar, with all 992s now akin to the older wide-body 991s. Weight is little changed from the previous GT3 despite the 992's extra bulk, owing to a bonnet, rear wing and engine cover formed from carbon-fibre reinforced plastic, as well as lightweight glass.
An adjustable rear wing, in conjunction with an adjustable front lip, offers between 50 percent and 150 percent more downforce than that of the previous GT3, giving further credence to the GT3 name – concessions to road comfort aside, the road and race cars have rarely been as close.
The cherry on that particular icing can be found in one of those neat technical details we referenced earlier. Like the GT3 race cars, but unlike other 911s since day one, the new GT3 uses double wishbone front suspension rather than MacPherson struts.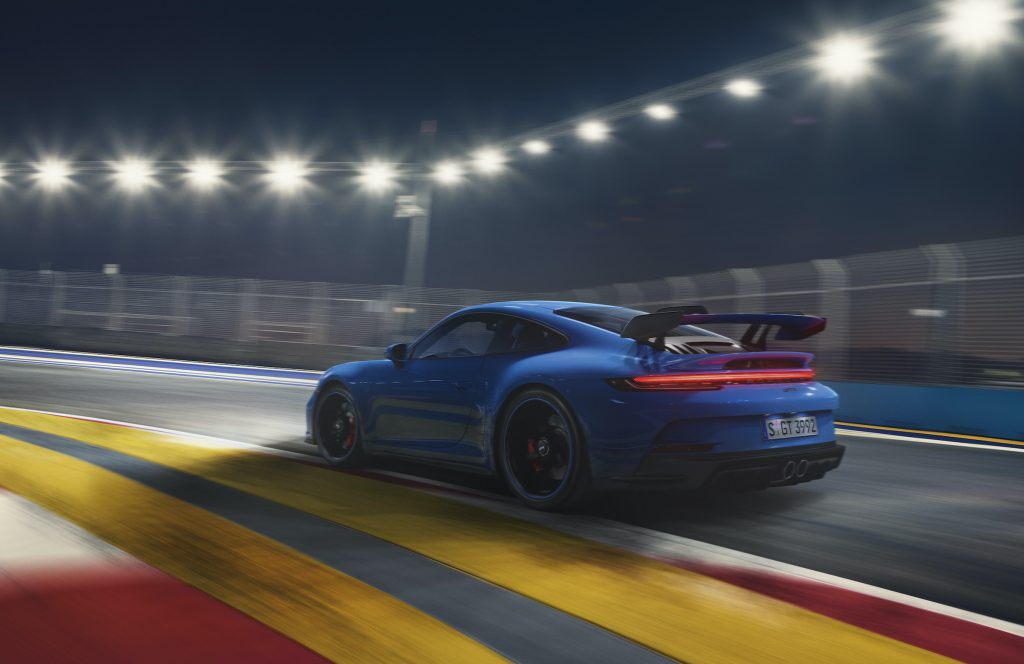 It's fair to say Porsche hasn't struggled to make struts work up until now, but the four-link layout should bring about benefits in terms of control; Porsche promises better steering response, cornering stability and wheel control over bumps. That should also apply to the multi-link rear axle, with a greater number of ball joints once again improving wheel location and control.
Brakes are 408mm up front (410mm optional, and PCCB ceramic composite rotors are another box to tick), wheels are 20 inches up front and 21in at the rear, and despite being half an inch and an inch wider than the previous GT3 rims respectively, collectively they are 1.6kg lighter. Additionally a new track-focused tyre joins the standard road setup, as previously offered on RS variants.
Porsche has done justice to the GT3 name then, on paper at least, and GT3 owners seem to actually use their cars, so you can expect to see one at a trackday near you towards the end of the year.
Porsche 911 (996.1) GT3 values fall in 2021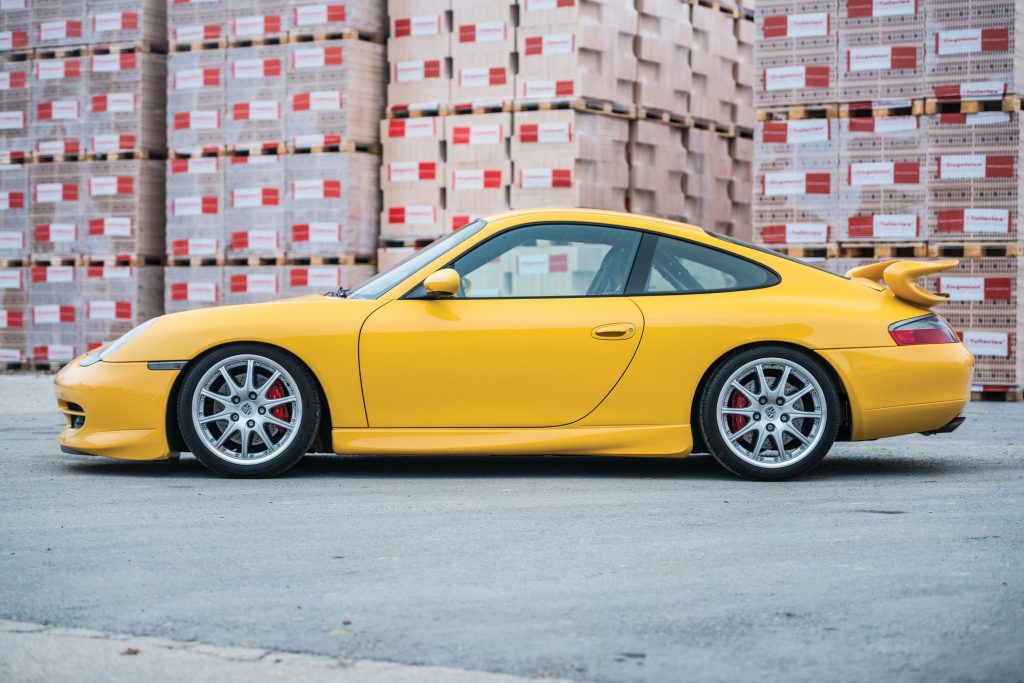 The 911 (996.1) GT3 has had a chequered history in terms of the way it is perceived by Porsche collectors, writes John Mayhead, Head of Valuations for Hagerty. On the one hand, it is undoubtedly the first sentence of a very important chapter in Porsche history, the first GT3 formed on the groundbreaking 996 chassis. However, the design of the 996 – and water-cooled engines – has never been as widely appreciated as earlier, or indeed later, models.
That said, the market picked up on the 996.1 GT3 in the mid-2010s, and prices rose for a while. Some were advertised for sale at more than £100,000. Values have subsided since then; in the last 18 months, sales have been sketchy: only two have sold at UK auction, both towards the bottom end of our Guide prices. Others have failed to sell at all; one was offered twice at Bonhams last year and did not find a buyer on either outing.
Good examples are better regarded in Europe: our Classic Analytics top value is the equivalent of £94,000.
| | | | | | |
| --- | --- | --- | --- | --- | --- |
| | Condition 4 | Condition 3 | Condition 2 | Condition 1 | Average |
| Dec-15 | £42,200 | £54,200 | £66,200 | £74,200 | £59,200 |
| May-16 | £42,900 | £54,900 | £67,600 | £75,600 | £60,250 |
| Apr-17 | £50,700 | £60,700 | £76,400 | £93,400 | £70,300 |
| Feb-18 | £50,700 | £60,700 | £76,400 | £93,400 | £70,300 |
| May-19 | £49,900 | £59,100 | £75,100 | £91,200 | £68,825 |
| May-20 | £49,000 | £61,100 | £76,400 | £92,200 | £69,675 |
| Feb-21 | £40,100 | £57,600 | £72,300 | £86,500 | £64,125 |
Classic Analytics current (2021) valuation range: €55,000 to €108,000