Noisy cars and motorbikes are to be targeted for a second time by council programmes aimed at curbing anti-social driving.
The Department for Transport has moved into the next phase of its so-called 'noise camera' testing, which places microphones in public and residential areas affected by revving cars and unsilenced exhausts. Fines of between £100-£400 have been proposed for breaking noise thresholds, with offenders caught in the trials paying penalties at the lower end of this spectrum.
How much is your car to insure? Find out in four easy steps.
Get a quote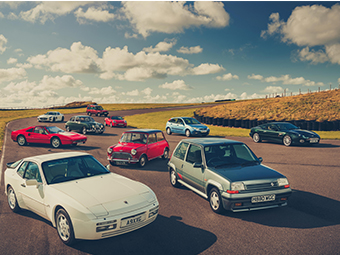 A modest £300,000 has been put into the project, which has invited local MPs to request trials in their constituency. At present, the Road Traffic Act 1988 (Section 42) says that exhausts and silencers need to be in good working order and not altered to make more noise. The UK's noise limit of 72dB is in line with European new vehicle certification laws. Police can issue a £50 on-the-spot fine if they think a car or bike is too loud; MoT testers are told to use their discretion when a car is put in for assessment.
Older versions of the equipment have been catching drivers in London and Hampshire for the past three years; Kensington and Chelsea Borough Council's trial fined nearly 10,000 antisocially driven super cars that have long been the source of noise complaints by residents – but they can be tuned to ignore emergency vehicles and lorries which are assessed to different noise standards than cars.
The Times reported that, between June 2021 and February 2022, 289 cars were recorded making more than 100 decibels of noise – far beyond the levels in which 'sustained exposure may result in hearing loss (80-90 dB). The record was set by a Lamborghini at 112.9 decibels, louder than acceptable noise levels set by Motorsport UK for racing vehicles.
Public health has been cited as a reason by the Department for Transport for carrying on with noise camera measurements, with sleep disturbances from urban traffic noise linked to heart attacks, high blood pressure and diabetes. Transport Secretary Grant Shapps said: 'For too long, rowdy drivers have been able to get away with disturbing our communities with illegal noisy vehicles. It's time we clamp down on this nuisance, banish the boy racer and restore peace and quiet to local streets.'
The prototype camera trials set a noise threshold of 90dB, in 2020, according to Classic Car Weekly which was assured that classic cars built to different standards would not be targeted by the trials; new cars built after 2016 have to make no more than 74dB of noise. Six major French cities have also begun noise camera trials, with fines doled out of up to 135 Euros (£113.40) if limits of 72dB were breached.
Read more
DVLA promises to end backlogs by switching to digital
Your safety matters – unless it costs too much
Opinion: What the government doesn't tell you about E10 fuel