Love 'em or loathe 'em, electric conversions of classic cars are here to stay. While some will argue the benefits are environmental, in reality there are a multitude of reasons that electric conversions are increasingly commonplace. Their number now includes the Aston Martin DB6, courtesy of Silverstone-based Lunaz Design.
Lunaz has previously converted several other British classics to run on electrons, including the 1950s-1960s Bentley Continental, a Jaguar XK120, a Range Rover Classic and a 1961 Rolls-Royce Phantom.
How much is your car to insure? Find out in four easy steps.
Get a quote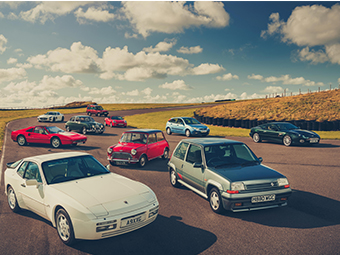 Were it not for the company's promotional images with a distinctive orange cord snaking out the side, you'd be hard-pressed to identify any of them as electric at a glance; conversions aside, each car otherwise appears as nothing more than a beautifully restored original.
It would be an astute observation, since each classic Lunaz electrifies – and indeed, the DB6 you see here – is restored from bare metal and reengineered to both modernise its running gear (brakes, suspension and steering are uprated) and to bring comfort levels closer in line with modern expectations, with air conditioning and cleverly integrated infotainment and Wi-Fi connectivity. It's all done under the watchful eye of a design director who previously worked at Aston Martin's special project "Q-Branch".
Given the company's choice of a DB6 was down to client demand, there's clearly an appetite for all these features, and one of the compelling aspects of electric conversions is that they encourage more frequent use than those with their original powertrains – making those features all the more useful.
Improvements in reliability, performance and refinement all contribute too, and with a choice of 80-120kWh battery packs, a quoted range of up to 255 miles should give the Lunaz DB6 similar legs to a modern electric vehicle, and CCS fast-charging will mean similarly short top-ups.
No performance figures are quoted from the company's proprietary electric powertrain, though it's worth noting the firm's XK120 made 375bhp and 516lb ft of torque. Expect the DB6 to be similarly potent.
None of this comes cheap, with a price approaching £900,000 once you factor in VAT and a few choice options. Given Lunaz will also tackle the even more valuable DB4 and DB5 – price on application for those – it's not difficult to imagine buyers handing over a seven-figure sum when deliveries begin in autumn 2023.
Read more
Convert a classic to electric? It's assault and battery
Is this electric Porsche 911 by Everrati a sinner or saviour?
New Mini conversion electrifies the original city slicker