The overlords of Grand Prix racing have announced that Formula 1 cars will run on 100 per cent sustainable fuel from 2025. The move could be potentially significant for the heritage car industry, as it seeks a route to reduce its environmental impact and safeguard driving of combustion-powered vehicles for generations to come.
Companies including Porsche and Audi have already pointed to e-fuels as a sustainable way to power older cars long into the future. Porsche has publicly declared its interest in returning to F1 if the sport switches to synthetic fuels, with Fritz Enzinger, Porsche Motorsport vice-president, saying an F1 return "would be of great interest" if the implementation of e-fuels was to play a role in the sport's next engine generation.
How much is your car to insure? Find out in four easy steps.
Get a quote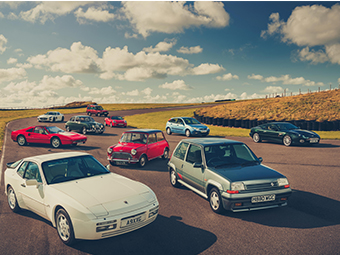 Formula 1's switchover date of 2025 is the same year new engine regulations come in to replace the 1.6-litre hybrid V6 units currently powering the cars at the pinnacle of motor racing. Exact details of the new engines have yet to be revealed but they will also rely on even more electrical energy than today's motors, although that power will exclusively be generated by kinetic energy recovery, known as MGU-K, as the complex MGU-H systems which uses exhaust gases to produce electricity is being ditched.
Fuelling the cars will be a carbon neutral synthetic e-fuel (detailed in this feature) which may be produced from carbon dioxide captured from the atmosphere, harvested from food or agricultural waste, or generated by algae.
Dr. Frank Walliser, Porsche Vice President of Motorsport and GT cars, explained the significant contribution synthetic fuels could make to reducing the automotive industry's environmental impact. Speaking about the new technology, he said: "Emissions are way better than current pump fuel, with less particulates and less NOx produced. Synthetic fuels have 8–10 components, whereas petrol today has 30–40, and not all of them are welcome.
"Synthetic fuel is cleaner, and there is no byproduct. And when we start full production, we expect a CO2 reduction of 85 per cent. From a 'well to wheel' perspective – and you have to consider the well to wheel impact of all vehicles – this will be the same level of CO2 produced in the manufacture and use of an electric vehicle."
While the development of synthetic fuels remains in its infancy, Porsche sees eFuel as a way to keep classic cars on the road when and if fossil fuels are banned around the world.
"Seventy per cent of the cars we have ever built are still on the road," Porsche CEO Oliver Blume told Hagerty in December, "and for many years to come there will be cars powered by combustion engines."
Garry Wilson, the CEO of the Historic Classic and Vehicle Alliance, says moving away from fossil fuels was now one of the biggest areas of focus for the classic vehicle industry. "The big challenges are the immediacy of E10, classics registration, the general movement away from fossil fuels and the development of synthetic fuels. I think we need to embrace the environmental challenge and work with legislators to identify solutions, while at the same time demonstrating very clearly the environmental credentials of the classic movement."
Read more
Will synthetic fuels ride to the rescue of classic cars?
How to carbon offset a car's emissions
Porsche says return to F1 "of great interest" if synthetic fuels are used