There's gold in them thar hills, and Land Rover knows it. The car maker is to continue making limited-edition, original Defenders which promise to conquer hills, rivers and boulder-strewn trails – in return for a cool £225,000 each.
The company is following its run of V8 Trophy Defenders with another batch of reborn classics. The 25 Trophy II cars will feature a black and white camouflage theme instead of the first edition's Camel yellow paint, and there's also the option to specify the 110 Double Cab Pick Up body as well as 90 and 110 Station Wagons.
As before these are in-house restomods, featuring a five-litre, 399bhp V8 engine mated to an eight-speed ZF transmission. Brakes and suspension get upgrades, and there's a chunky front bull bar with a winch mounted ahead of a bespoke grille. An external roll cage with roof rack, light bar, rear ladder, and 18-inch black Sawtooth alloy wheels complete the rugged look.
Inside there are Recaro sports seats and the black and white motif continues. There's also the option to pick up a timepiece as an accompaniment, with a run of 1000 Limited Edition watches inspired by the Trophy II – in addition to a special Competitor's Edition design exclusively for customers of the vehicle.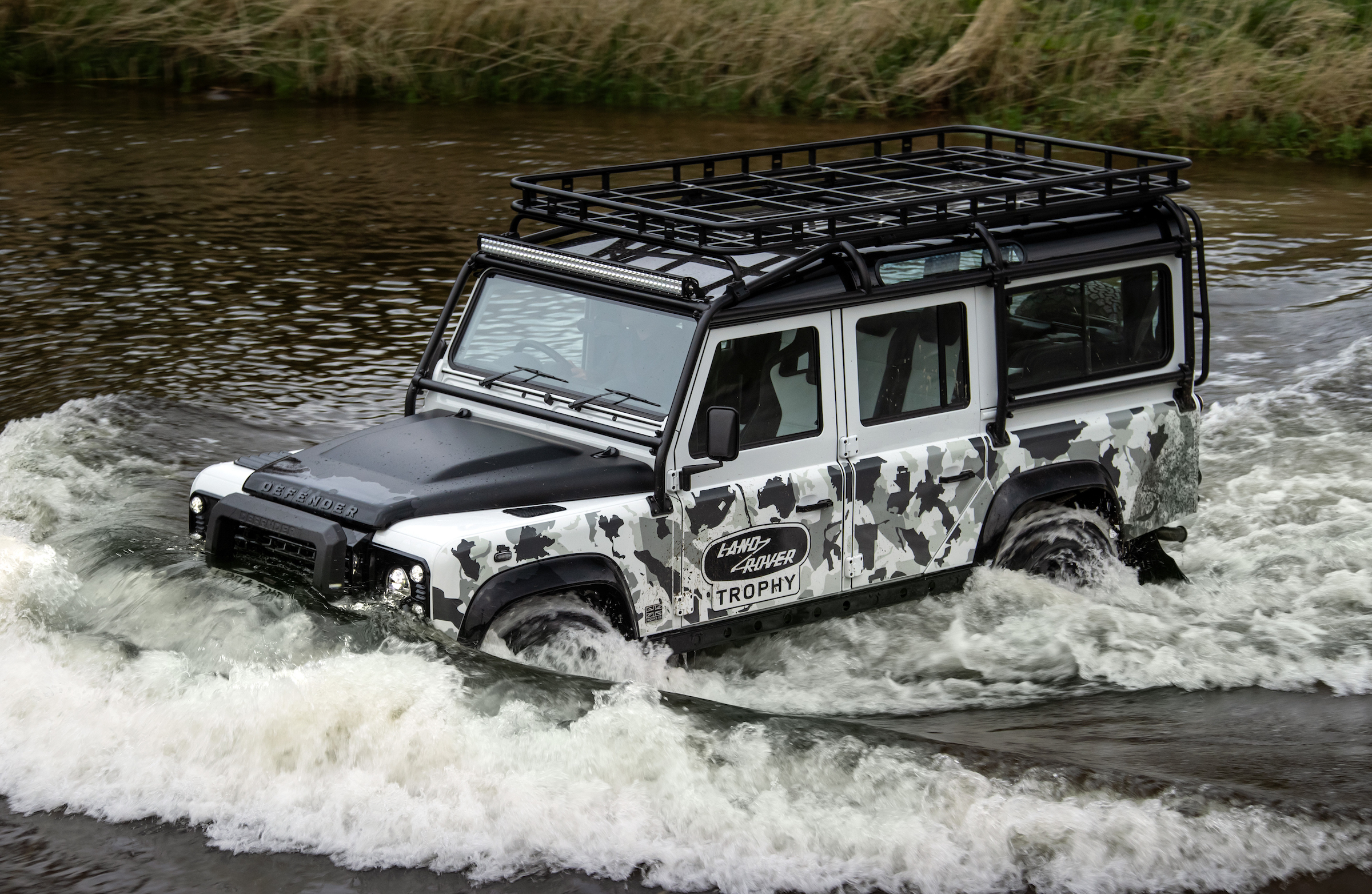 Prices start at £225,000 for a 90 Station Wagon, which is a 15 percent hike over last year's V8 Trophy. Not cheap, but then the 2021 Trophy was an easy sell-out, suggesting plenty of demand (and plenty of profit) in reimagining these old Defenders. The original 24 buyers might be a bit miffed, but at least the price increase of the Trophy II could protect their investments to a degree.
There are other big ticket Defender restomods in this space – from Bowler to Everrati to Ares Design – and the market seems to absorb them all pretty happily.
If you had a Defender would you keep it stock or bring it up to speed with today's tech?
Read more
Work hard in silence: £24,000 electric conversion for farm-favourite Defender
Mud Wrestling: At some point in the 1993 Camel Trophy, we began naming the leeches
Future Classic: Land Rover Defender