The Ferrari Enzo and Maserati MC12, twins separated at birth, are reunited at specialist Romans International and could fetch over £12 million.
These two were the supercar stars of the Noughties. The Enzo, named after Ferrari's founding father, of course, represented the pinnacle of road and racing technology of the time. The design, by Ken Okuyama at Pininfarina, paid homage to Michael Schumacher's dominant F2002 Formula 1 race car, with its carbon-fiber body featuring active aerodynamics to aid downforce. Carbon-reinforced silicon carbide ceramic disc brakes and a F1-derived automated manual transmission only added to the exotic appeal of the Enzo. In pride of place at the center of the chassis sat a six-litre, normally-aspirated V12 producing 660 bhp and propelling the Enzo to 60 mph in just 3.1 seconds. The official production production was 399 +1 with the final car being built especially for the Pope to be auction for charity. Those lucky enough to be permitted to buy an Enzo had to shell out almost half a million quid, but since then the Enzo has soared in value with Hagerty's valuation team putting a price of £2.3 million for a #1 Concours condition car.
How much is your car to insure? Find out in four easy steps.
Get a quote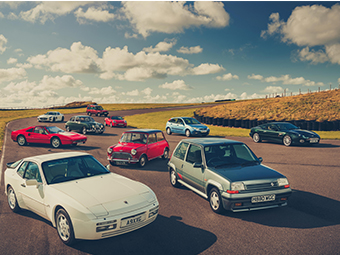 The Maserati MC12, meanwhile, has sky-rocketed. At over £600,000 from the factory it was already more expensive than the Enzo, but now is estimated to be worth almost three times as much, with Romans suggesting it could fetch £10 million or more. That's because the MC12 is a much less common sight than the Enzo. Just 50 examples of road-going MC12s were built, which is actually 25 more than originally planned to meet the homologation rules for it to go racing in the FIA GT Championship. Its racing requirements meant that the MC12 adopted a longer and wider body than the Enzo with which it shared its chassis and engine. That engine was detuned to 630 bhp and the MC12 had a removable roof, adding another point of difference from its Modena stablemate.
The Enzo and MC12 on sale now are from 2004 and 2005, respectively, and both cars have lived a pampered existence in private collections with little more than delivery miles on the odometer. Will these multi-million-dollar marvels find a new home as a perfect pair or be sold separately?