The name doesn't quite fit.
Not the Mustang part. I actually don't mind that. Manufacturers are free to do as they wish with names they created, and "Mustang" has been applied to far less deserving vehicles in the past. The Mustang Mach-E certainly has the demeanour of a car that Ford has lavished time and effort and even passion into, as it has the more traditional Mustangs of late.
How much is your car to insure? Find out in four easy steps.
Get a quote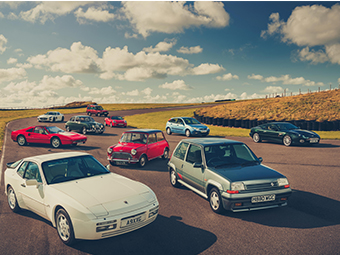 No, it's the "GT" bit that isn't quite right. Point the Mach-E GT down a road and the letters that actually come to mind are "ST", because the car's tense ride quality, direct and hefty steering, and ample performance all bring to mind Ford's recent hot hatches, rather than the performance-tourer feel of the V8 Mustang.
I'm not sure what I was expecting, but I don't think it was that. The last time I got even close to the Mach-E was at an unveiling event in London in February 2020, mere days before cars were the last thing on most peoples' minds. A chauffeured toddle around the capital showed it could be quiet and comfortable, a brief sprint in a cordoned-off underground car park demonstrated it was quick, but it's evolved a little since then.
The GT arrived in the UK in early 2022, with a dual-motor, all-wheel drive setup producing 358kW of combined power (480bhp) and an even more impressive 634lb ft of torque – a sizeable step up from the next model down, the Premium AWD, with its 258kW/346bhp and 428lb ft. In raw performance terms, it's mighty for what is effectively a family car: 4.4 seconds to 62mph, or pretty much bang-on a "proper" Mustang V8 GT. The 124mph top end is less impressive on paper, but largely irrelevant in the real world if you don't live next to an Autobahn.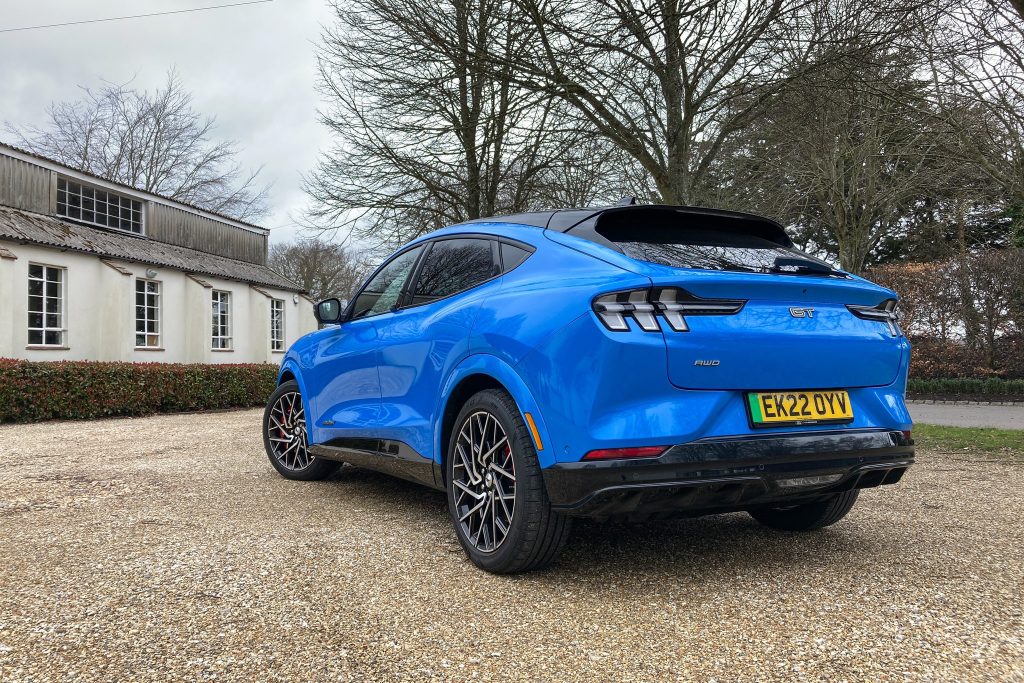 The other figures that matter with a car like this are those pertaining to range. Officially, that's 304 miles according to Ford, or 244 miles at motorway speeds on the WLTP measurement cycle, from 91kWh of usable battery capacity. Given that pack is the same size as the less powerful Premium AWD, it's no surprise that range takes a dip too; that car's equivalent numbers are 341 and 277 miles (though the less-powerful-still Premium RWD – rear-drive only, as the name suggests – goes 372/293 miles, making it the long-distance champ of the range).
A morning on the roads around Goodwood makes the range figures difficult to test even with the heaviest of right feet, but it's definitely enough to get a handle on the straight-line speed within legal limits. More than once of course, for science. The GT is quick enough to be uncomfortable if you make use of the accelerator pedal's full travel, simply delivering huge, largely silent performance in the time it takes your foot to reach the firewall. The idea you can buy family EVs that eclipse even the Mach-E GT's performance is somewhat disquieting.
I've shot ahead a bit though, not unlike an EV at full power. I'm neither here nor there on the Mach-E's styling, though it does look 'Stang-ish, Ford's Grabber Blue paint colour is suitably shouty (again, not unlike some of the options on Fiesta and Focus STs over the years) and by crossover standards, it has to be among the easier on the eye.
Inside is a mixture of Mustang (the plump, comfortable seats), ST (a chunky steering wheel rim) and the usual EV fare (large centre screen, smaller driver display, open-plan dashboard feel). It comes together quite nicely. The screen seems easy enough to use, even if a few features are hidden by one or two more menu steps than is ideal, and – once on the move – the firm-ish ride can wobble your hand away from say, the on-screen heating controls. Relegating these to a touchscreen always elicits grinding of teeth.
In terms of it playing the role of family car, the Mach-E is larger than a Nissan Qashqai, but not quite as accommodating as a Tesla Model Y. Four people will be perfectly comfortable, provided they aren't too jiggled about by the ride. The boot has 402 litres of storage capacity plus an underfloor storage area for the charging cables, and you can fit another 81 litres of stuff in the 'frunk' under the bonnet.
From the moment you get underway, the steering has some heft to it, amplified by that thick wheel rim, but electric power means that despite the potential underfoot, it's just as easy to mooch around slowly and despite the sloping roofline, visibility doesn't seem too compromised.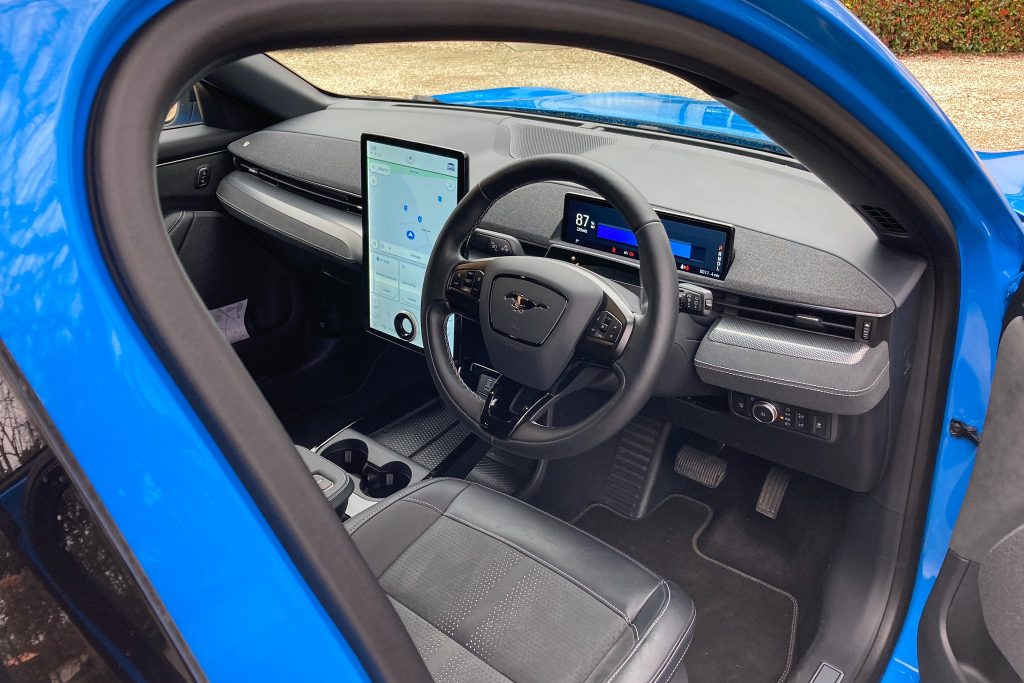 There's a typical Ford feel as you begin to pick up the pace, the controls all feeling natural. This includes the regenerative braking effect, which in the Mach-E is enough for "one-pedal driving" – the act of simply backing off at the right time to "brake" rather than using the left-hand pedal. It's intuitive enough here that it should handle most day-to-day driving, up to and including coming to a complete halt, though this does require practice.
Up the pace some more and you may start needing the friction brakes too, particularly as quicker driving starts to highlight the car's 2273kg kerb weight – the best part of half a tonne more than a V8 Mustang. [Read about electric cars and their weight problem, here – Ed] To its credit, the GT still feels agile, and even rotates around its axis like a smaller Ford hot hatch, but you sense there's a lot of momentum to tame here, and without much actual feel to the steering, you're trusting in tyres and technology rather than fingertips.
On this short drive, there doesn't seem to be a meaningful difference between the Whisper, Active, and Untamed driving modes – accelerator response is definitely softer in the tame Whisper mode, but ride quality through Ford's MagneRide adaptive dampers is always towards the firmer side (the 20-inch wheels no doubt playing a part).
Then there's the price. We've got used to EVs being relatively expensive but £74,540 still generates a sharp intake of breath for a traditionally blue-collar brand. That said, people will pay nearly ten times that for a Sierra Cosworth these days. We'd be tempted instead to enjoy the Mach E's qualities more in £59,380 Premium RWD form (getting that longer range), and if you still want that edgy Ford ST feel (and without the weight penalty), perhaps put the difference towards a used Fiesta or Focus ST.
2023 Ford Mustang Mach-E GT specification
Price: £74,540
Engine: Twin electric motors
Gearbox: Single-speed, all-wheel drive
Power: 358kW (480bhp)
Torque: 634lb ft
Weight: 2273kg
Range: 304 miles (Ford combined), 244 miles (WLTP motorway)
0-60mph: 4.4sec
Top speed: 124mph
Check out the Hagerty Media homepage for daily news, features, interviews and buying guides, or better still, bookmark it.