The line's a bit wobbly, but you can trace the lineage of the G42-generation BMW 2-series coupé back to cars like the Neue Klasse 02-series, and its successors, the E21 and E30 generations of 3-series.
True, the 3-series is still around today, and serves as the real descendant of the Neue Klasses of the 1960s. But it's the 2-series coupé, like its F22 2-series and E82 1-series coupé predecessors, that feels closer in spirit. Relatively compact, two doors and a boot, and rear-wheel drive. Proper BMWs, if you like.
How much is your car to insure? Find out in four easy steps.
Get a quote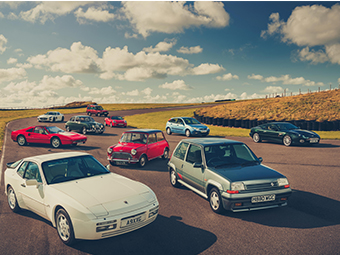 The 2-series coupé, in 230i M Sport form, feels like a proper BMW too. It's a driver's car, with no contrivance. Well, almost no contrivance, but we'll get to those. But if you've been turned off BMW's recent output – be it due to big grilles, corpulent SUVs, or cringeworthy marketing – this is one that might keep the flame lit.
The 230i M Sport serves as the second rung on a now four-step 2-series coupé model line, with the 220i below and the 240i and M2 above. Like the first of these, it uses a 2-litre, turbocharged four-cylinder rather than the straight six of the upper pair.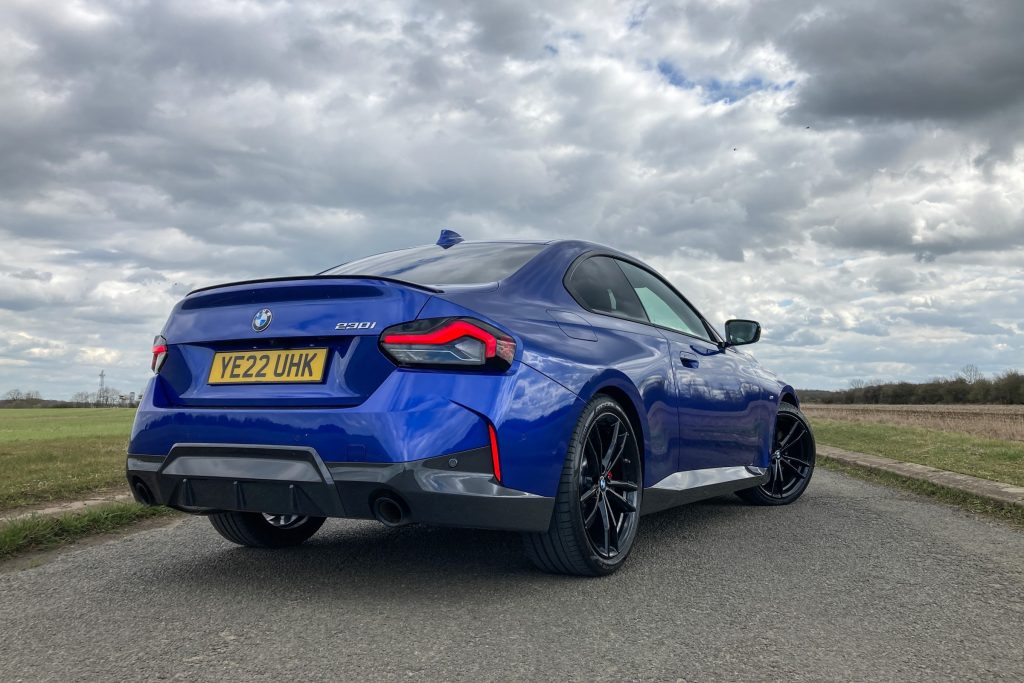 On paper at least, that's hardly a hindrance: an output of 241bhp is Toyota GR86 (reviewed here) territory, and while a 1600kg kerbweight gives it a third-of-a-tonne disadvantage to the Toyota, it also makes more than 100lb ft more torque. As a result, it's quicker than Toyota's sports car in a sprint, ducking under six seconds to 62mph rather than taking 6.3 to get to 60, and will stretch a bit further flat out too. Perhaps more relevant to those of us without a nearby Autobahn, the eight-speed auto is geared such that you're doing maybe 1500rpm at the motorway limit in top, for far better cruising refinement (and motorway economy easily in excess of 40mpg).
If that suggests to you a car with more maturity, then you're on the right track. The BMW puts a lot more rubber on the road – 225-section tyres up front, 255s at the rear, against the 86's 215s all round – so promises more grip. The interior is… well, of BMW standard, rather than as no-nonsense as Toyota could get away with. You can fit actual people in the rear seats (it's a notably bigger car for one that's ostensibly similar – 272mm longer, 80mm taller). There's even mood lighting.
The two aren't really rivals as a result, but it's interesting to consider them in the same general postcode simply because straightforward two-door, rear-wheel drive coupés are so hard to come by in the 2020s. And you can actually still buy the BMW (prices from just over £41k, or £37k for the 220i), marking it out as a potential alternative if you missed the boat on the GR86.
That's if it's actually any good to drive. Good news: it really is. Not in the light, playful, slightly scrappy sense of the Toyota, but the surprise is that there's a hint of BMW's M models in the way the 230i gets down a road.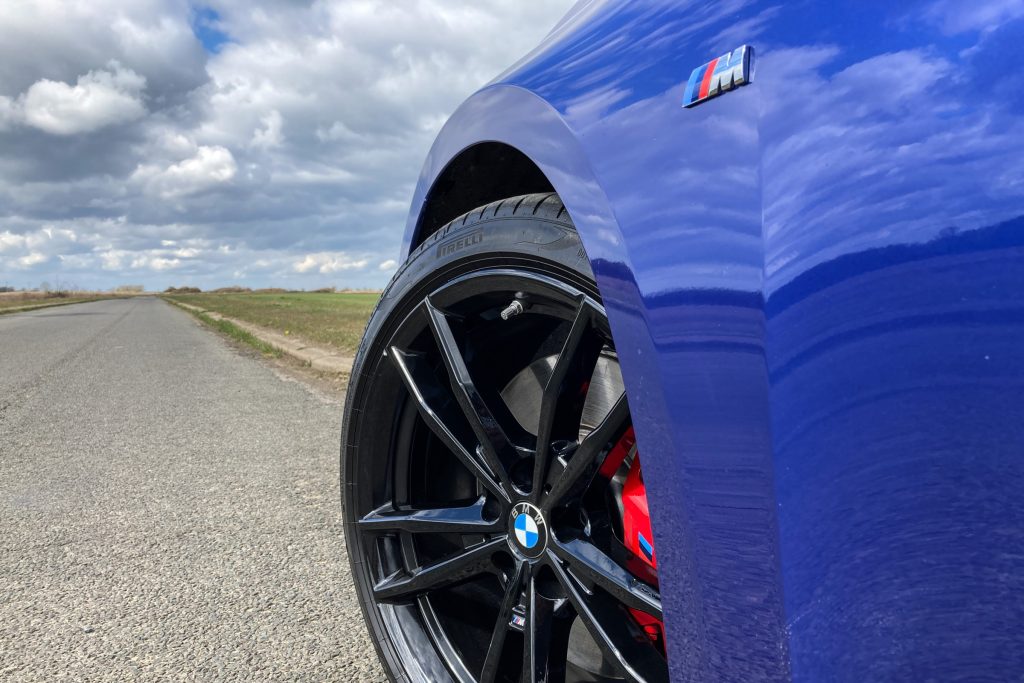 Right out of the gate, it feels more serious and more composed than the last couple of notchback BMW coupés. There's more positivity in the steering (some feel through the chubby rim, quick but not hyperactive responses, good weighting if you avoid the Sport setting), and tighter body movements, despite the chunky kerbweight. It's definitely closer in feel to say, the old M2 Competition than the old M240i.
Turning into a corner and feeling the car pivot around your seating position, before quickly composing itself to flick back the other way, is not a feeling that will ever get old – something a front-engined, rear-wheel drive car like this will always have even over the best hot hatchbacks. In the dry it's faithful and adjustable, and on damp roads, where the GR86 sometimes struggled for front-end grip or snapped with little warning, you can clip along in the BMW with total trust. It doesn't trade grip and control for comfort either – it's firmer than the previous M240i, but less jittery than a GR86.
Is it as fun in pure, simple terms? Possibly not, though it depends whether you prefer rear-drivers for their ability to go sideways everywhere at will, or for their incomparable balance and adjustability. The 2-series leans towards the latter. It shrugs off its weight admirably too; you'd struggle to tell, most of the time, that it weighs nearly as much as an E39 5-series.
It's a shame the engine and transmission doesn't quite hit the same highs as the chassis. It's certainly effective, as the performance figures suggest. And flexible, with little lag, punch on tap from barely more than tickover, gearing that feels snappy enough most of the time, and excellent refinement. The performance on offer is also nigh-on perfect for road use, with enough of it to go really quite quickly, but not so much you're constantly holding back and managing it.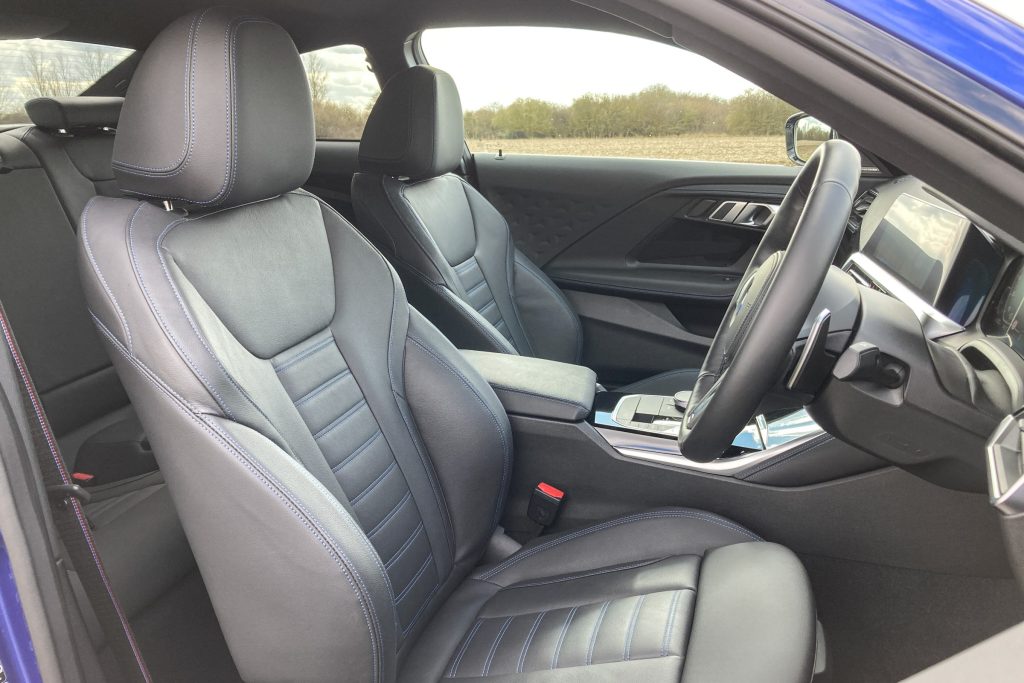 Nor though is it an engine and gearbox we'll miss when everything is electric, no fizzy twin-cam like the E30 M3's S14 four. The upper half of the rev counter is hardly worth visiting, with little extra urge and a strained and disinterested note when you do. The gearbox is simply a device for changing smoothly between ratios, rather than something you feel the need or desire to interact with, and if you do use the paddles behind the steering wheel, they're disappointingly small and cheap-feeling.
It's a means-to-an-end drivetrain, something you can't say of the brand's sixes, or even the GR86's flat-four. Slowing down isn't quite as positive as it could be either, with a soft feel to the pedal and not quite enough bite for our tastes – shedding speed is the one area the 230i can sometimes feel its weight.
Some sporting appeal wouldn't go amiss in the cockpit, where there's definitely more of a GT feel than this car's predecessors, but goofy TFT dials aside (there's that contrivance we mentioned), it's difficult to find fault in here, mixing comfort with sensible controls (huzzah, physical buttons for the air conditioning), lane-keep assist you can disable with a single button, and some neat detailing. It even looks good outside – not pretty as such, but probably among BMW's best proportioned, most traditional, and least… well, offensive styling jobs of recent times.
A 'ti' or 'is' variant, perhaps with a more vocal intake and exhaust system, a manual gearbox, and maybe even a set of lighter, manually-adjustable seats, would be a heck of a thing, and give the 230i's powertrain some character to match its already excellent chassis. As things stand, the 230i coupé is imperfect, but definitely a proper BMW.
2023 BMW 230i M Sport coupé specification
Price: £41,005
Engine: 2.0-litre inline 4cyl, turbocharged
Gearbox: Eight-speed automatic, rear-wheel drive
Power: 241bhp @ 4500-6500rpm
Torque: 295lb ft @ 1600-4000rpm
Weight: 1600kg
Fuel economy: 42.8mpg (WLTP combined)
0-62mph: 5.9sec
Top speed: 155mph (limited)
Check out the Hagerty Media homepage for daily news, features, interviews and buying guides, or better still, bookmark it.