If you get a kick from arranging Smarties or Skittles in neat little rows, you'd derive great satisfaction from the McLaren Production Centre, where brightly-coloured supercars roll from station to station before, following a final inspection, they're released into your mouth.
Sorry, I was still thinking of Skittles. Released onto the roads.
It's reassuring to see several examples – perhaps a majority – of the new McLaren Artura among them. Production of the firm's 'entry level' supercar (a phrase that can only ever be uttered within inverted commas) is well underway, and like a bag of skittles, customers are clearly opting for all the colours of the rainbow.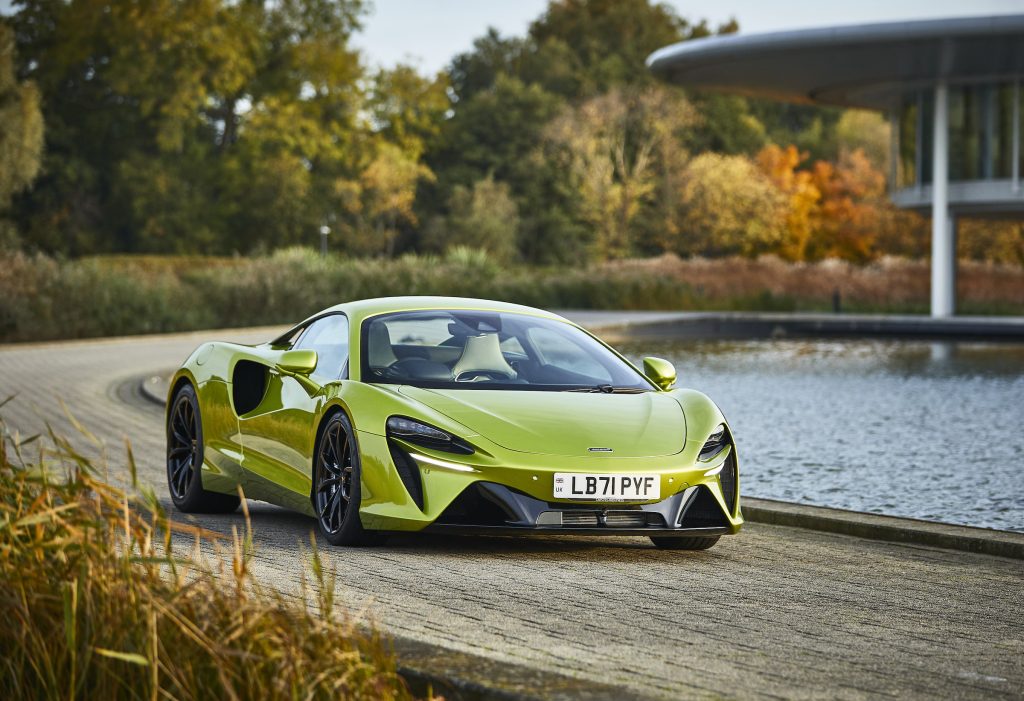 Our own Skittle… supercar, supercar… is in one of the brighter shades, Flux Green. When I say "our", this is of course just a press drive, and a brief one at that: 90 minutes or so around the roads of Surrey, but also our first chance to get hands-on with probably McLaren's most important car.
Nominal replacement for the outgoing 570S, the Artura could be described as the first truly new McLaren since the MP4-12C of 2011. It is the first not to use some derivation of the twin-turbo V8 co-developed with Ricardo, instead using an incredibly wide-angle 120-degree 3-litre V6, also twin-turbo.
Outside of the Ultimate Series cars (including the likes of the P1 and Speedtail) it is also the first to offer hybrid drive, a plug-in hybrid at that, with a modest but not immaterial 19-mile all-electric range. And it is the first car on McLaren's 'MCLA' (McLaren Carbon Lightweight Architecture) platform, rather than a version of the MonoCell structure that debuted in the 12C.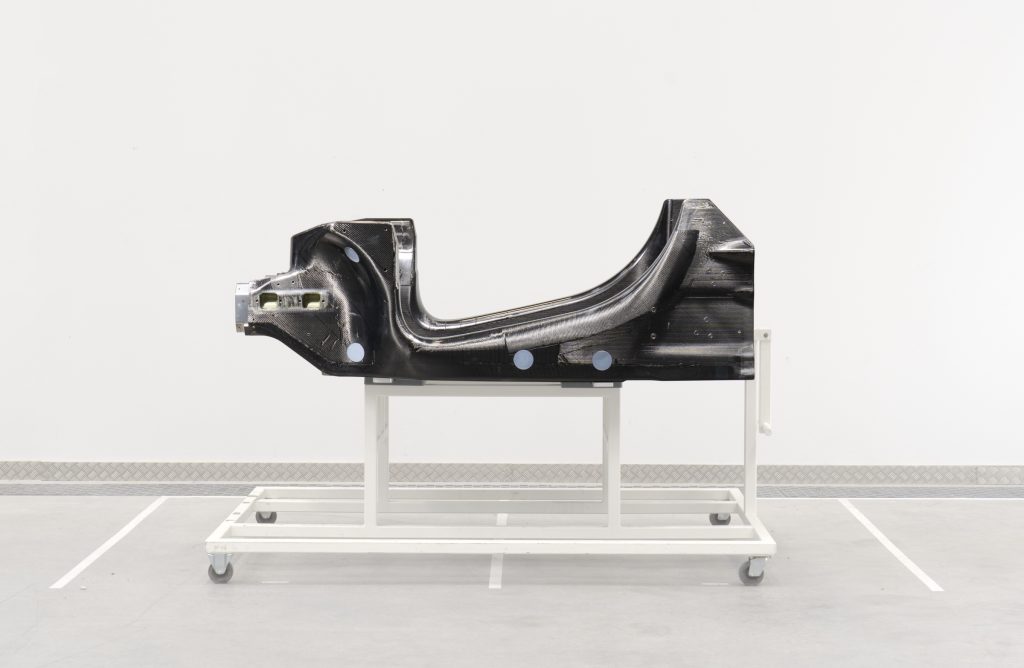 The bare statistics are 671bhp, 531lb ft (even without electric assistance, the V6 makes more power than the 570S did, with 577bhp, and only marginally less torque at 431lb ft), and a kerb weight of 1498kg wet – only 46kg more than the 570S despite an 88kg battery pack (more than the 82kg of the MCLA structure!) and other electrickery.
Styling inside and out is more evolutionary. Taste is a personal thing, yadda yadda – it's definitely a better shape in the carbon than in pictures, compact and striking and instantly recognisable as part of the McLaren family (a good thing, I'd posit). It looks just as good in plain ol' silver as it does in Flux Green, so those who prefer their supercars to at least attempt to slip under the radar won't have to put up with an unremarkable shape.
The cabin's an instant improvement over the 570S, for two key reasons and then a bunch of minor ones. The key reasons are that while McLaren has drastically improved its infotainment system – with the unimaginatively-named McLaren Infotainment System II taking over from IRIS – there's even less reason to use it, since it'll now hook up to your phone with CarPlay, and soon, Android Auto.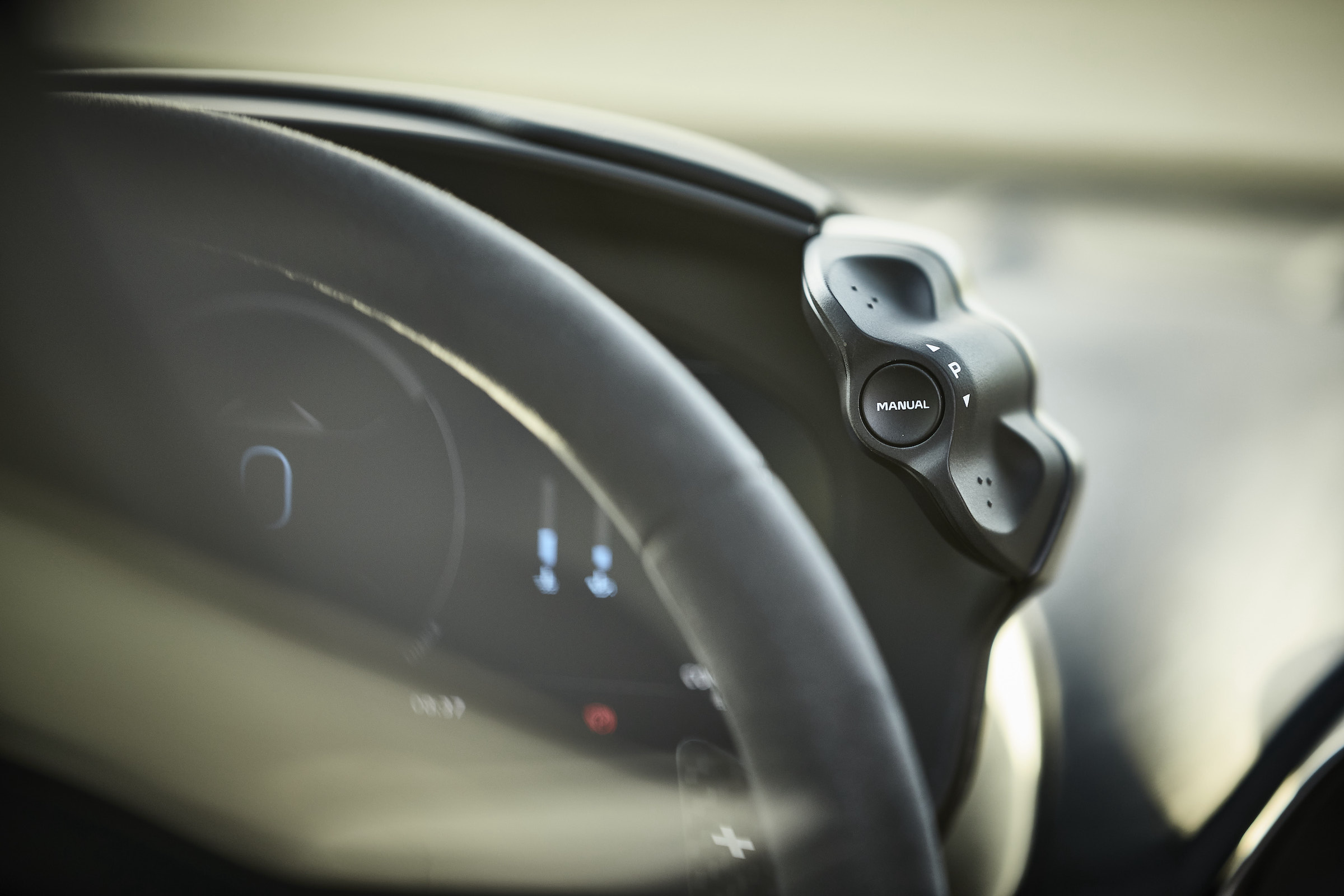 The next is that the complicated and often confusing drive mode configuration controls of the 570 and other recent McLarens have made way for a pair of wingnut-shaped, rocking dials either side of the instrument cluster. One handles chassis (including ESC deactivation), the other the powertrain mode (EV, comfort, sport etc, plus a button to select manual mode for the transmission). It is now blissfully simple to find your preferred driving mode.
Other quality-of-life/First-World-Problems improvements? It seems a little easier to get in with the new MCLA tub than the old MonoCells, still through dihedral doors. The new fixed-back sports seats, which slide and tilt, are very comfortable indeed. And the nose-lift function is now a simple button, rather than a prayer to your deity of choice that the spoon-like control sprouting from the steering column will do what you want it to this time as traffic stacks up irately behind you.
New car, new driving environment, new controls, but all very familiar and reassuring. Not so dramatic as starting up supercars of yore, either – the Artura 'fires' in electric mode, ready to roll away from your residence without waking the neighbours.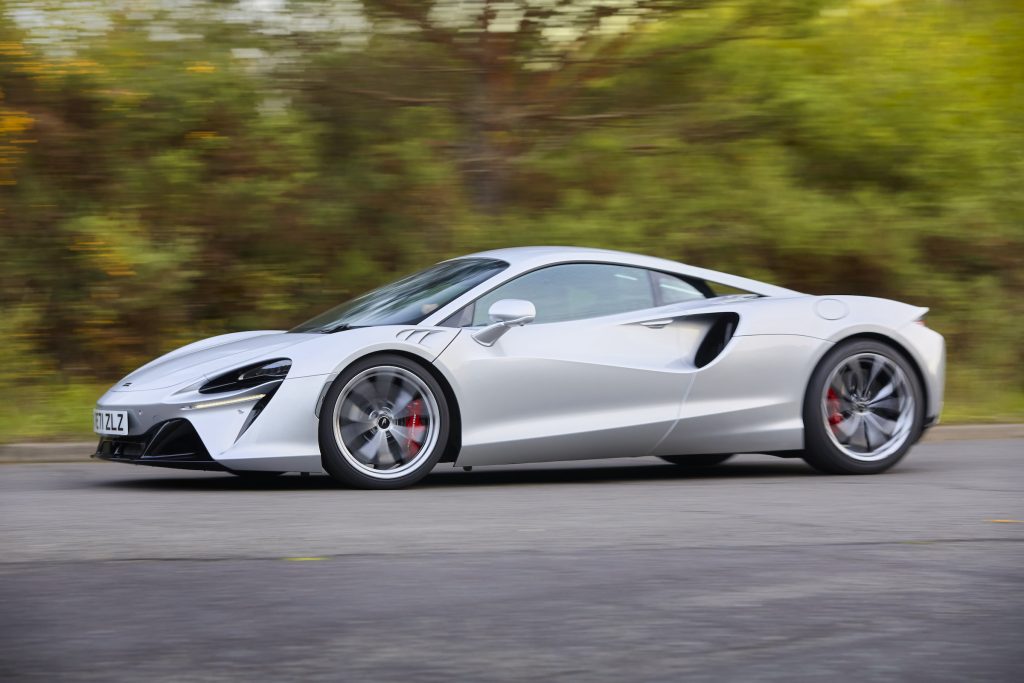 With around a hundred horses from that electric motor sandwiched between the V6 and its dual-clutch transmission, this is no Tesla in EV mode – its primary purpose is assistance and energy recuperation, and it'll do around-town stuff quite comfortably. Comfort will use electric power when it can but otherwise blends combustion and electricity. When the V6 does fire, and you click a gearshift paddle a couple of times to summon a few more revs, it instantly has a different character to the V8s, but – like so much about the Artura – still feels familiar.
It's not especially musical, but the strident note is certainly purposeful, and there's no untoward vibration despite the unusually wide vee. Smoother than the V8s in fact, and more linear in its delivery – partly the assistance, I think, but it's also less boosty, with a response you could mistake for natural aspiration.
Eager at low revs, insistent in the mid-range, and then – when finally a long-ish, straight-ish bit presents itself – an increasingly vivid and energetic top-end as the 8k redline, and the next corner, approaches. If it feels strangely undramatic for a car capable of reaching 60mph in three seconds flat, perhaps it's that the smooth delivery is less of a struggle for the rear tyres – the power now makes it to the road (in dry conditions at least) without the rush of torque that used to tsunami its way into the experience in the past.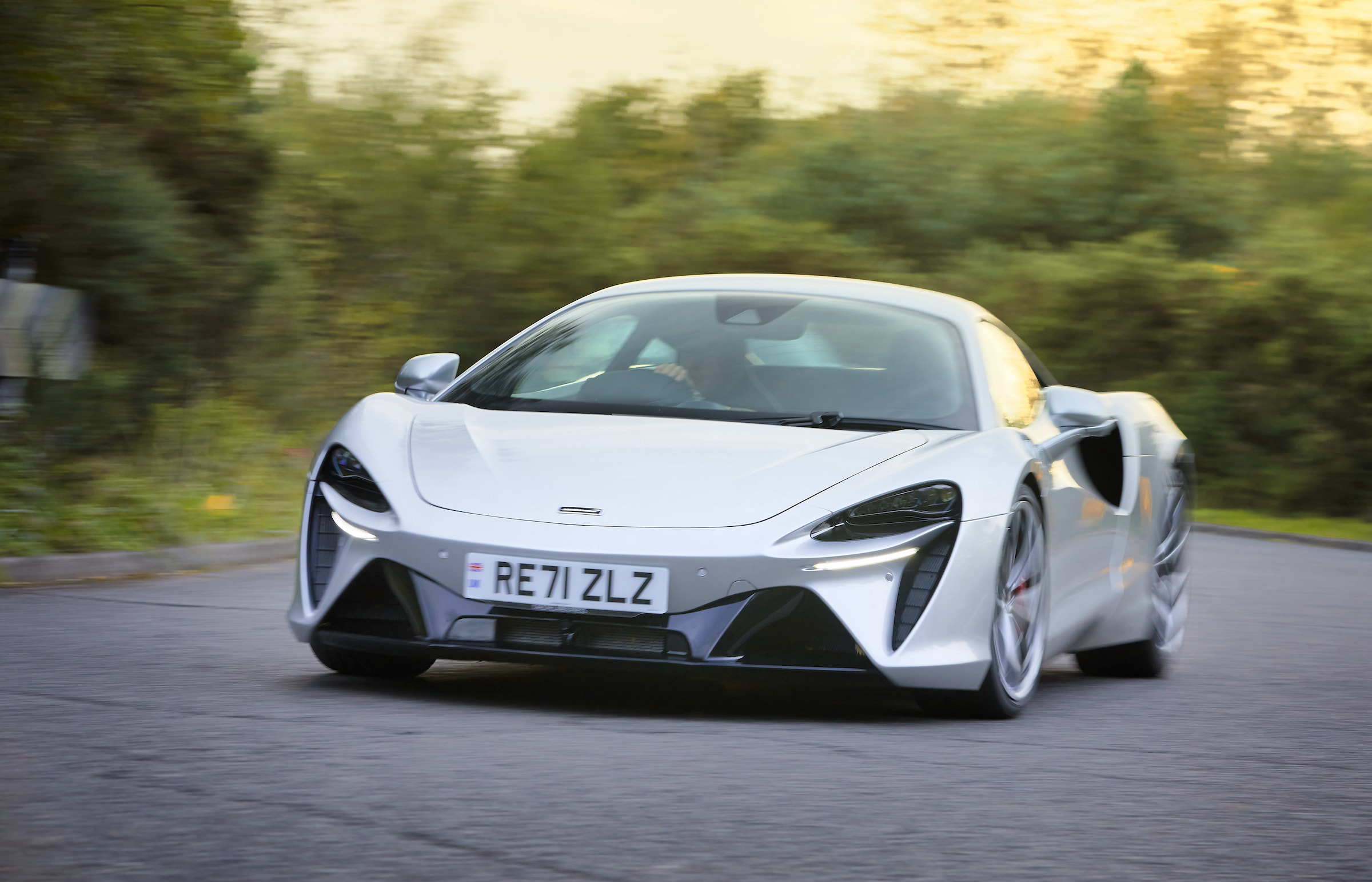 Brakes? Yep, those are up to the job too. Importantly, McLaren hasn't attempted to incorporate any regenerative effect through the pedal, so it's firm underfoot and laced with feedback. Positioned well for left-foot braking too, if that's your thing, but without the initial dead travel of some previous McLarens.
Good corners are few and far between here and certainly not enough to tax any improvements with the Artura's body control or grip, but the ride is much easier to assess: saloon-car pliant most of the time (and quiet-riding, the stiff structure letting the suspension do its thing without knocks and creaks), and gradually firmer – but far from aggravating – in the Sport and Track settings.
The steering is even easier to judge, because it's excellent everywhere. McLaren still uses hydraulic assistance, and doesn't give you an overly jumpy and hyperactive steering ratio, so the end result is well-weighted, consistent, predictable, and talkative. It's enough to be a pleasure at the pace of regular traffic (helped by a rather lovely wheel), but if it doesn't become even more chatty at higher speeds, with greater loads going through it, I'll give up Skittles for a year. Making the Artura even easier to place, visibility is up to usual McLaren standards too, disproving the notion that a supercar should be somehow deeply unpleasant and annoying to qualify for the tag.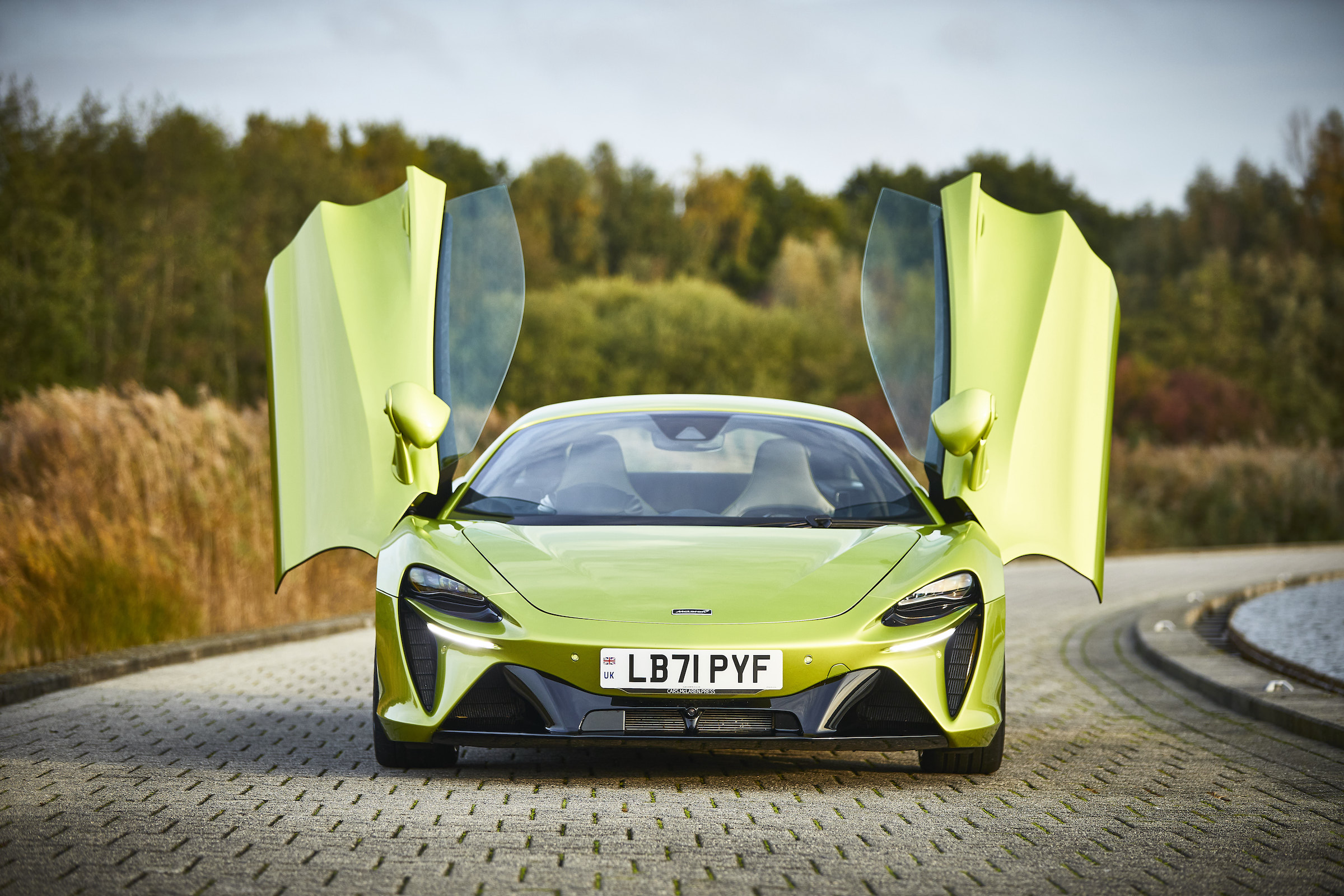 In fact, it's the very opposite. Sitting next to me, Le Mans and IMSA racer Ollie Millroy (clearly a man of taste; Millroy agrees that the old and oft-overlooked 570GT with the S pack was among the best cars McLaren has made) says that some customers aren't keen on the way newer supercars are starting to roll out low-speed electric power, preferring their cars to be shouty everywhere.
But from a pure driveability perspective it makes the Artura friendly without ever approaching 'dull' or 'routine'. Not once does it feel less than special, its V6 less than exotic, or its styling less than eye-catching. Which is surely why people still buy supercars, and when you do eventually set it down amongst the world's greatest roads or racetracks, it'll no doubt shine there too.
The Artura's gestation has been long and far from straightforward, and time will tell whether McLaren has brought the occasionally fraught ownership experience to the same level as the driving experience. But in the game of supercar Skittles, the latest flavour is pretty appetising.
McLaren Artura specifications
Price: £185,000
Engine: V6, 2993cc, twin-turbocharged, petrol, plug-in hybrid
Power: 671bhp @ 7500rpm
Torque: 531lb ft @ 2250–7000rpm
Gearbox: Eight-speed dual-clutch, rear-wheel drive, E-diff
Kerbweight: 1498kg
0-60mph: 3.0 seconds
Top speed: 205mph (limited)
Fuel consumption: 61.5mpg (WLTP)
CO2 emissions: 104g/km
Read more
Tales of the unexpected: 30 years of the McLaren F1
Cleaning the 24K gold foil in a McLaren F1 supercar | Beyond the Details
Future Classic: McLaren MP4 12C