It might seem obvious but there's a lot more to this endurance racing lark than pure speed on circuit.
Now that we are three races in to the 2023 EnduroKA season, we've realised it's the off-track stuff that requires as much focus as our racing lines.
How much is your car to insure? Find out in four easy steps.
Get a quote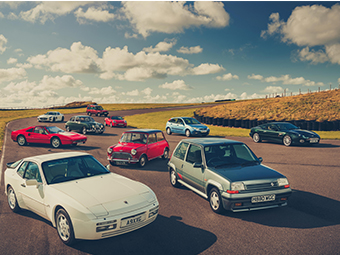 Having had hopes of a top 20 finish at Silverstone dashed due to a crash and a minor refuelling mistake we went into the event at Cadwell Park with a proper race plan.
There's no Helmut Marko at the helm of AFK Racing, we're running an egalitarian campaign for our little city-car-turned racer, with each of us putting the same amount of time and money into the effort, and getting an equal share of seat time in return.
So, with that in mind the six hour race at Lincolnshire's mini-Nürburgring, would be split into four slots of an hour and half, less pit stops. And it was those stops which would define the outcome far more than we realised.
Cadwell Park's pit lane is too small for the field of 31 Ford KAs, so instead the paddock area would be where driver changes and mechanical work had to be done, with a separate spot for refuelling, adding significant time to every stop.
Even with the help of fellow sim racers Michael Beaumont and Jon Brady (who had travelled from Yorkshire and Scotland to support us) we knew we had our work cut out.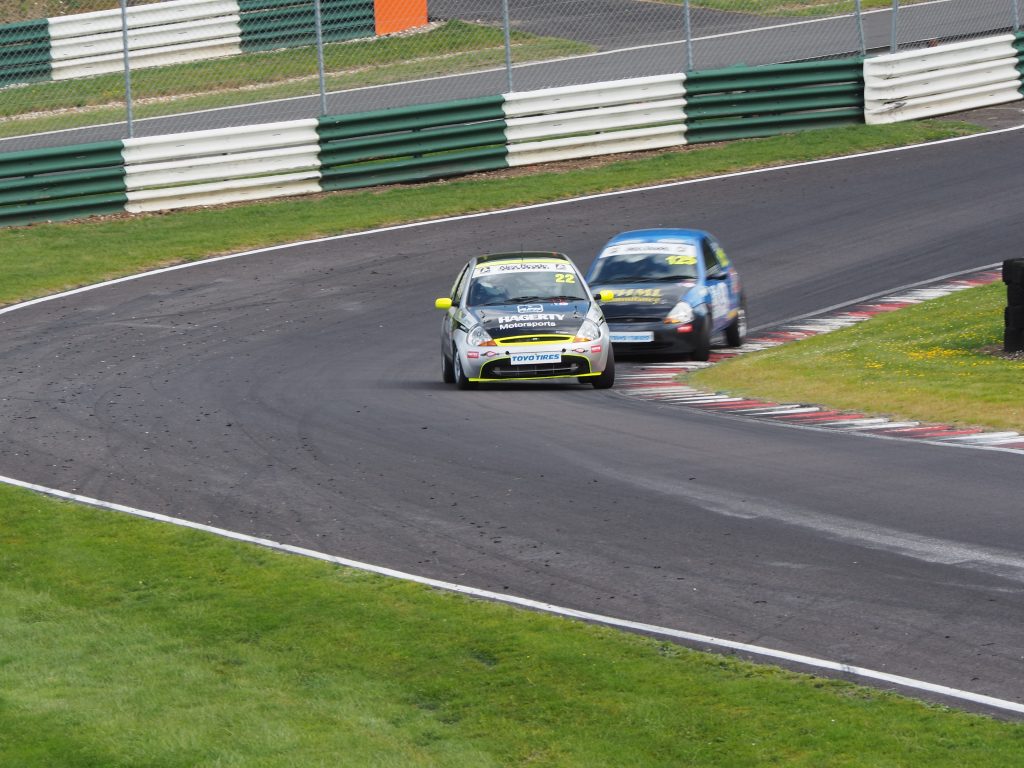 Cadwell Park is a fantastic circuit, both picturesque and technical. From the start/finish straight you pass under the bridge flat out through the left at Coppice and then into the two-pronged right-hander at Charlies. The Park Straight isn't really and leads into the tight right at Park, which opens into Chris Curve. Then it's up and over the Gooseneck chicane and a dive down the hill to the left at Mansfield. A short straight follows and then there's a tight left straight into a chicane at the start of The Mountain. Carrying entry speed is absolutely crucial here, especially in a car with just 70 hp. Next up are the Hall Bends which bounce you from kerb to kerb before the Hairpin and the fast right at Barn.
Qualifying left us in 19th spot so I started the race right in the middle of the pack, losing ground for a lap or two before finding a rhythm and beginning to pick off the cars ahead. The circuit is never what you'd call wide, but it's amazing how overtaking opportunities open up and by the end of my stint we were in the top ten. I dived into the pit lane, plodded through the paddock and into the refuelling area where the tank was topped up and Natalie Knowles was strapped in for another hour and a half.
As I rehydrated from an extremely hot drive, made worse by running the cabin heater in a bid to aid engine cooling, Nat maintained a solid position in the top ten.
When her time was over she headed to our tent in the paddock to have all four tyres changed and trade places with Tim Parsons. Again, we added fuel and off Tim went, but the stationary time pushed us back down the field into 20-something position. Our final driver Nick Creed did a sterling job of battling his way back up the field and we crossed the line in 13th.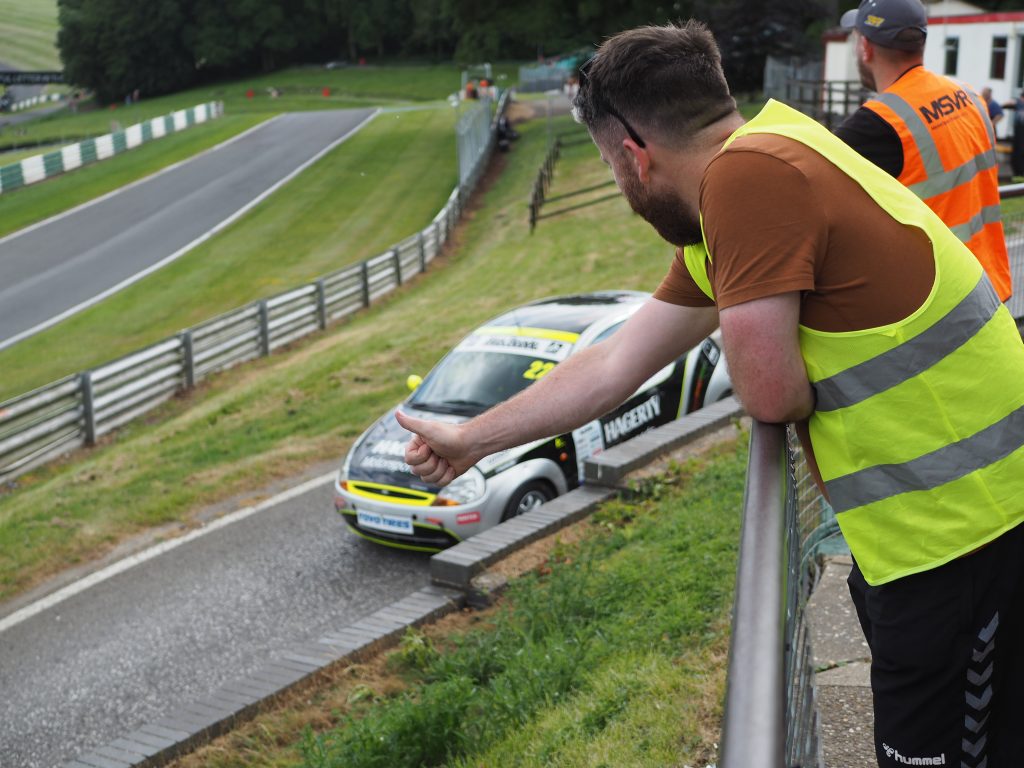 It was a big step forward on our previous performances, but when we looked at the post-race data supplied by the organisers we realised that we had spent a total of 20 minutes in the pits, while the winning car of Pro-Am Racing (more Pro than Am, if you ask me!) was stopped for half that time. With the average lap taking around two minutes that meant we lost five laps in the pits – and yet everything had gone to plan!
Our What'sApp team chat and Zoom calls were dominated by strategy discussions. Did we run too much fuel? Did we really need to change all four tyres? Should we have taken advantage of "free" pit stops when the safety car came out?
As we headed into the next round at Donington Park, these were the questions we needed to answer, and Nick had even built an impressive-looking spreadsheet to help us keep track during the five-hour race. Sim racer Michael joined us again, together with another regular from our Thursday night Gran Turismo sessions, Ian Covey and his son Peter, all eager to help in the pits.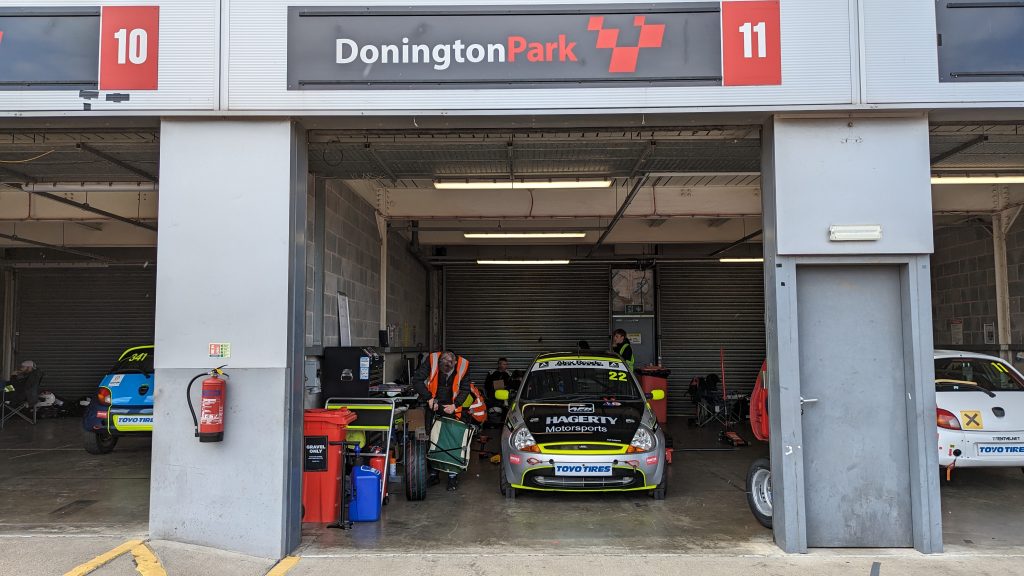 Having come so close at Cadwell Park a top ten finish was what we were all hoping for, and with that came more nerves than before. Adding further to the tension was a local power cut that meant timed qualifying had to be cancelled. Instead, all drivers followed the safety car round for three laps each and starting positions would be drawn out of a hat.
Natalie was the only one of us who'd experienced such a thing before. In her bike racing days she'd once pulled pole position from some headgear so we nominated her for the draw. Number 19, the same spot we'd had at our last race.
Meanwhile, the weather was also doing its bit to spice things up. Tim started on a drizzly track, and with no previous laps at speed, took longer than he'd have liked to get on the pace. He did, however, stay on the circuit, unlike several other drivers which brought out the safety car. Many teams dived into the pitlane for an early driver swap, but we kept him out, regaining track position.
Having brimmed the tank at the start, the fuel situation was looking healthy so, when Tim came in, we only changed drivers. That put me out in 22nd place just as the heavens opened. Throughout the next hour or so no lap was the same. Just as the track would begin to dry more rain would fall and every corner was a new adventure.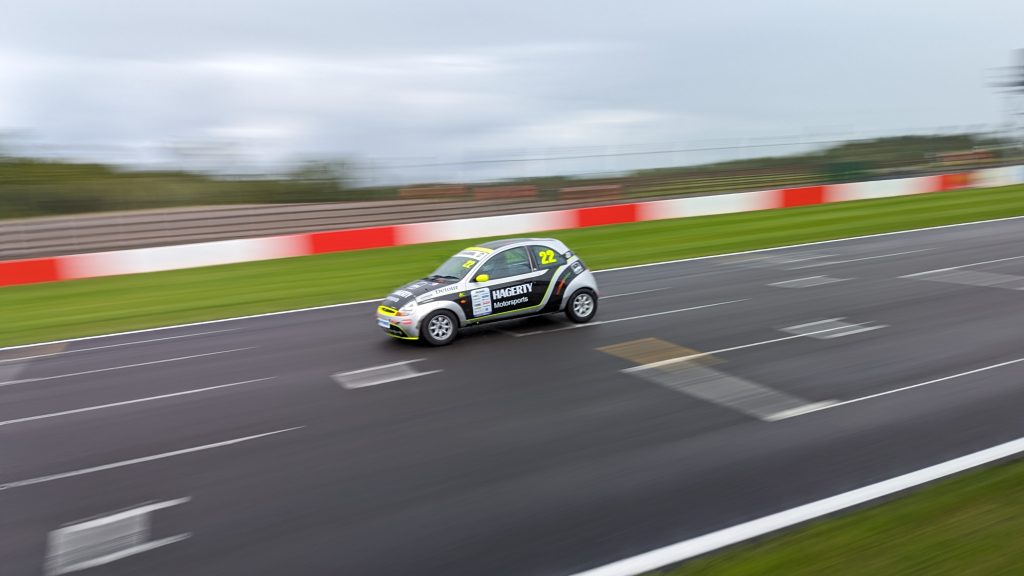 Through trial and error we seem to have found a perfect balance in the car's handling. Only tyre pressure and rear shocks can be adjusted, but we've got them how we want them. Even in the wet the little KA inspired confidence. A little trail-brake would enhance turn in, then back on the power to straighten up. At turn one, Redgate, there'd sometimes be oversteer, understeer, then oversteer again all in a matter of seconds, yet I never felt like it would spin. As the track dried a little, I was flat through the Craner Curves, the KA's shift-lights lit up like a Christmas tree as I neared the rev-limiter in fourth gear. Standing on the brakes for the old hairpin and turning in I felt the inside rear wheel lift and the car slid towards the exit kerb. A quick flick of correction, more power and a slightly manic laugh of relief and I was on my way again.
As others struggled on the slippery track I was having a hoot and actually battling the lead car (admittedly to unlap us). I pitted from eighth place, reporting that the tyres were still in great shape.
Natalie took over after we fuelled up and, once again, held us in a strong position in the teens, although, like Tim she found it hard to reach her potential in the changeable conditions.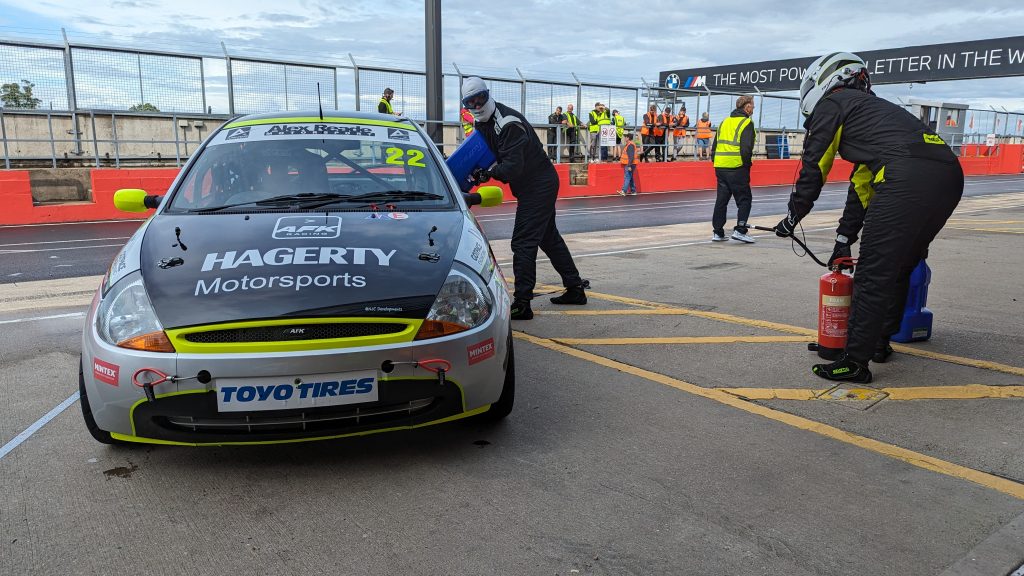 Nonetheless when Nick went out for the final hour we still had that top ten finish in our sights. We lucked out when the leader pitted with a mechanical problem and another car that we were fighting for position beached itself in the gravel, but that takes nothing away from Nick's drive. With just minutes to go he was in 11th spot, gaining rapidly on the two cars battling ahead of him. In the pitlane we held our breath as he made a magnificent move to pass them both and make a break.
The checkered flag waved and AFK Racing was ninth. By adapting our plan, not stopping for tyres as anticipated and accurately calculating our fuel use, we had that top ten finish we'd been dreaming of.
With an epic 12 hours ahead of us at Snetterton in Norfolk we're going to need a bigger spreadsheet.