Modern motorbikes are a cosmopolitan bunch. Many are designed and developed on several continents, produced using parts sourced from numerous countries, and sold all around the world.
Things were very different when the V-Max stormed onto the scene in 1985. This spectacular and brutally powerful V4 was built in Japan but conceived, largely designed and initially sold only in the United States.
How much is your car to insure? Find out in four easy steps.
Get a quote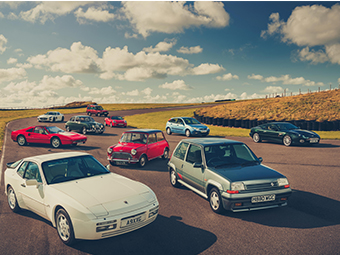 Yamaha created the V-Max as a two-wheeled equivalent of a muscle-car, emphasised by the big aluminium air-scoops jutting out from the side of its dummy petrol tank. The scoops and the tank were fake; the high-octane performance was real.
Decades later, it took only the briefest of blasts to confirm that. When the traffic briefly cleared on a wide main road, I wound back the throttle. The big dohc, 1198cc engine breathed deeply and went to work, revving hard to send the Yamaha storming forward like a rampaging buffalo.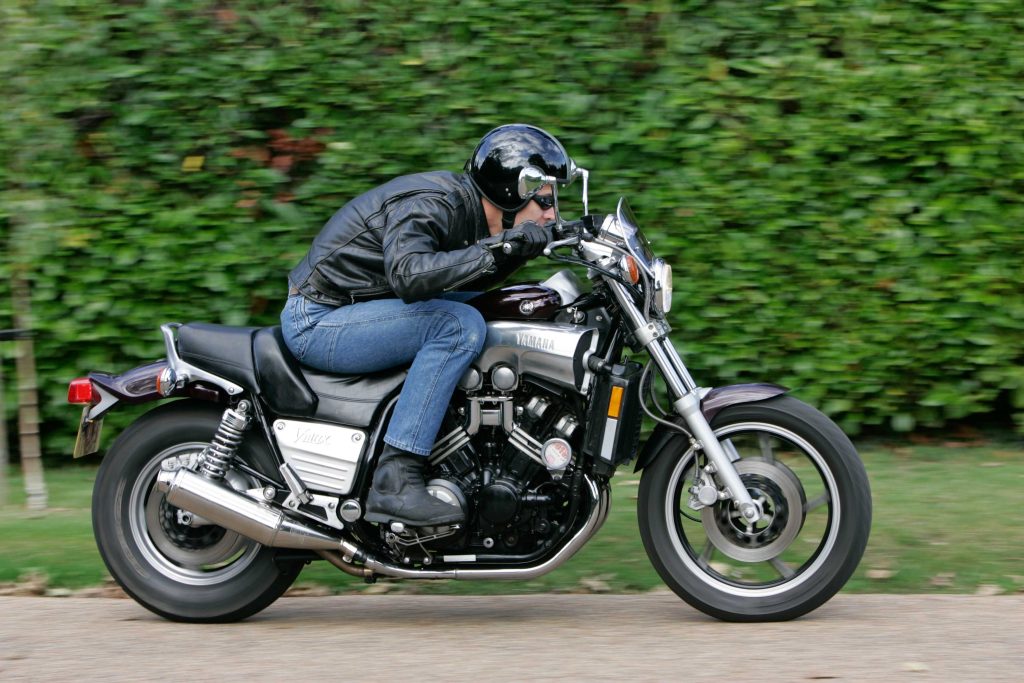 For the next few seconds it was a wild and exciting ride. I was hanging on tight, the cold wind ripping at my carelessly fastened jacket, with no time to glance down at the speedo, let alone the tiny rev-counter set into the top of the dummy tank.
That sort of performance remains exhilarating now, and was mind-blowing when Yamaha's V4 was launched more than 35 years ago. Not least because its chassis sometimes struggled to cope, meaning that excitement of a different kind was common – as I was soon reminded.
Moments later a curve loomed up, so I shut off the throttle and squeezed the front brake lever. As the raised handlebars twitched slightly from side to side due to the forces being put through them, the Yamaha slowed only reluctantly, its front brake feeling wooden, then turning spongy when I squeezed harder.
I made the corner without problem; the V-Max's reputation ensured that I'd allowed plenty of leeway. Far from being a shock, that feeling of being slightly on the edge of control is expected, and arguably part of the appeal.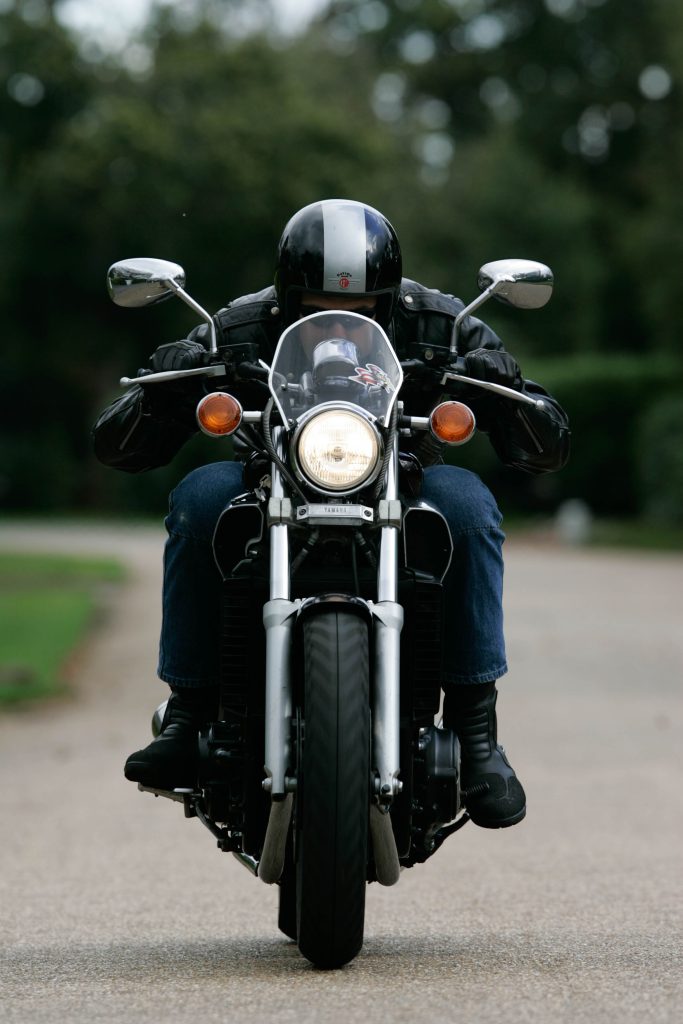 The Max was built for the States but the engineer who led its development team was Japanese. Akira Araki was inspired by Americans' passion for drag racing and hotrod cars. On a trip to the US he'd been fascinated by a "bridge race", in which pairs of bikes had lined up for an unofficial dash across the Mississippi river.
"The rules were simple: they started from one side of the bridge, and the finish line was the opposite side," he said. "The idea I had from this race was to make a bike that was strong in a straight line and really fast."
Araki took his idea of a V4-powered dragster to GKDI Design, a Yamaha design office in Santa Monica, California. There he spent almost a month developing his ideas, in collaboration with an engine designer, bodywork designer and a senior Yamaha US product planner.
Yamaha already had a liquid-cooled 72-degree, V4 engine that had been designed for a luxury tourer called the Venture Royale, but developing it to power the new muscle-bike was difficult. That motor made most of its output at low revs, was hampered by emissions, and its 90bhp maximum output was lower than Yamaha had wanted for the tourer, let alone a performance-oriented model.
Conventional tuning mods gave the V-Max unit bigger valves, hotter camshafts and lightened pistons, but Araki needed more power. The answer was V-boost, a novel way of linking paired carburettors' intakes, so that at high revs each cylinder was fed by two carbs instead of one. The result was an impressive maximum of 143bhp at 8000rpm, with a step when the V-boost kicked in at about 6000rpm.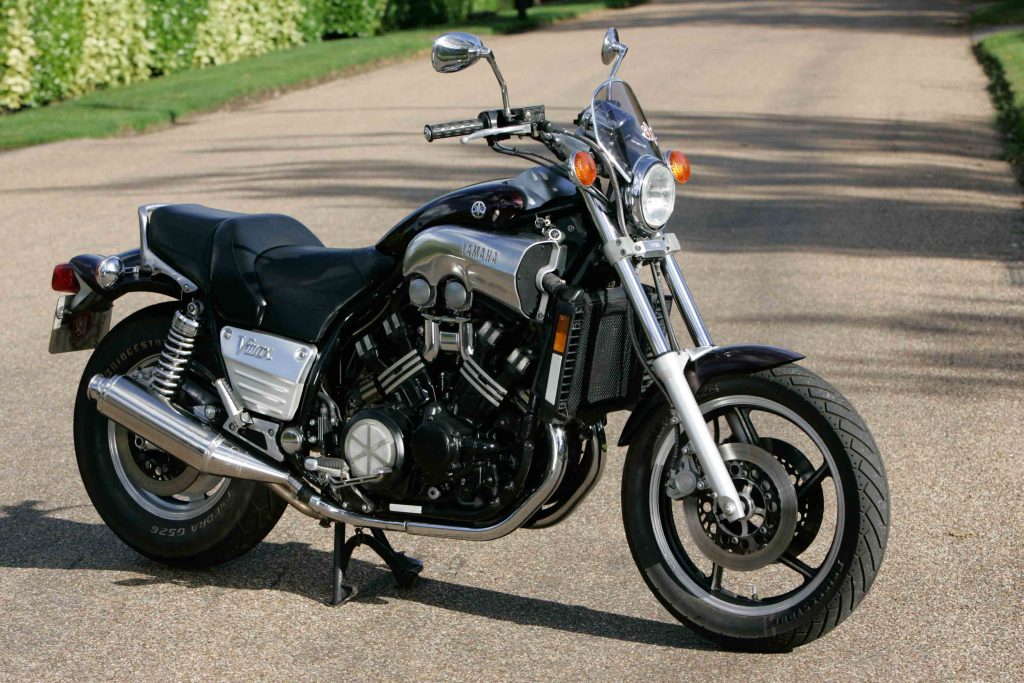 Styling caused heated debate at GKDI, but eventually the team completed a full-scale drawing, and were enthused by the radical concept machine as they flew back to Japan to present it to Yamaha. The verdict was disappointing. "The style was too eccentric for people at that time, and nobody knew how to react," Araki said.
Even so, the V4 was cleared for production, and in October 1984 the V-Max was presented to US Yamaha dealers at a convention in Las Vegas – where it received a rapturous reception. The dealers' excitement was matched by strong sales when the bike went on sale the following year.
The big V4 looked right, and went right. It stomped away from a standstill harder than any other production vehicle, frequently leaving a black stripe with its fattest-yet 150-section rear tyre.
This quickly earned the V-Max a cult following in the States, and a year later the Yamaha went on sale in some European markets, after a campaign by the French importer. It was well received, despite being restricted to around 100bhp in most countries by having its V-boost snipped.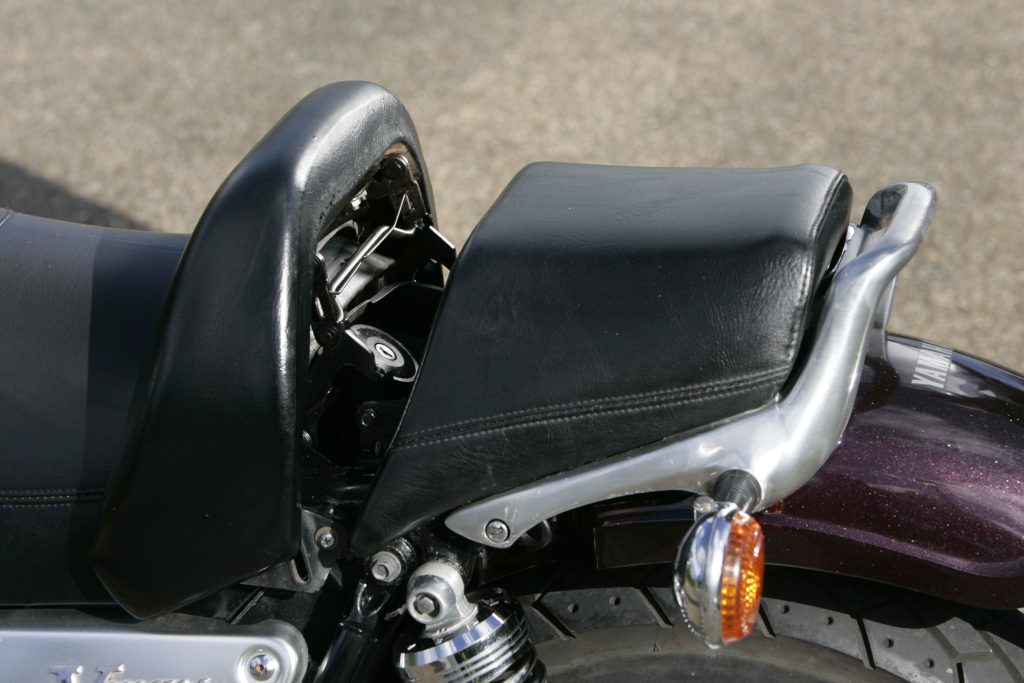 Thankfully my 1987-model test bike was originally sold in Canada so had suffered no such indignity, and could show that even a full-power V-Max is improbably easy to ride. The slightly raised bars gave an upright, roomy riding position that combined with fairly soft suspension to make the bike comfortable in town.
The Yamaha felt quite tall and heavy but its 250kg-plus of weight was carried low, thanks partly to the under-seat fuel tank. Low-rev carburation was crisp; vibration minimal. The five-speed box shifted sweetly without hindrance from the drive shaft.
All was calm and controlled until I reached a straight road, wound back the throttle and held on tight as the needle of the tiny tank-mounted tacho hit 6000rpm and the V-boost kicked in. Suddenly I was glad of the stepped seat as the V-Max tore forward as though fired from a catapult.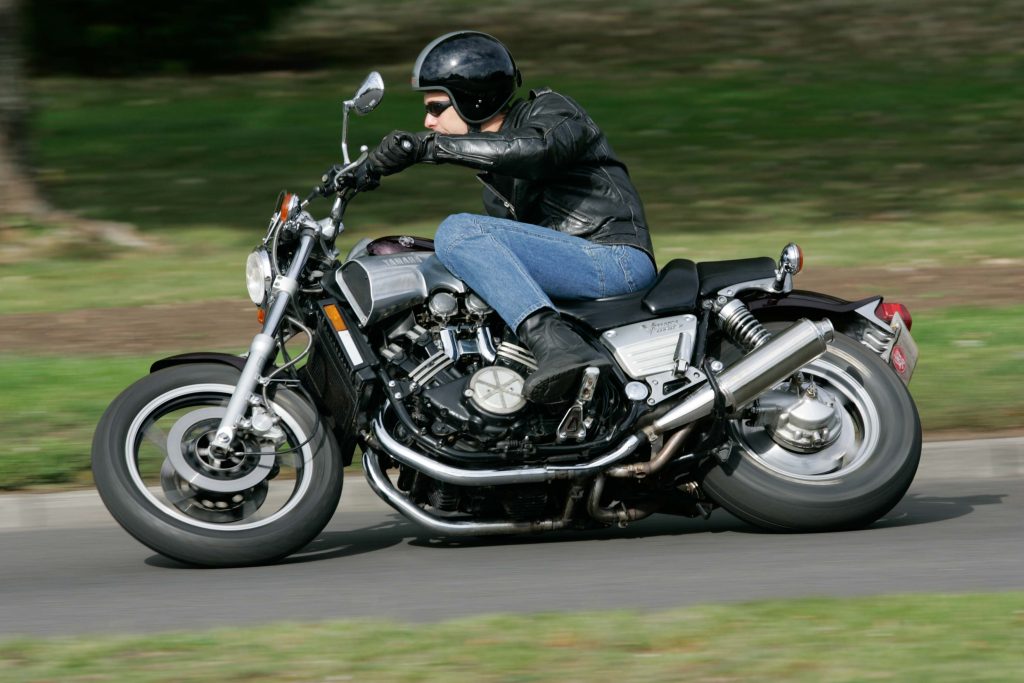 Like most V-Max pilots I backed off again before the distinctly unaerodynamic bike reached its top speed of about 140mph. Back in 1985, that was more than fast enough, especially given that US riders were still stuck with the 55mph speed limit that had been introduced during the previous decade's oil crisis.
Handling wasn't as bad as some reports indicated, but given the Max's size, weight and performance it's not surprising that high-speed wobbles were a possibility. The chassis comprised a simple tubular steel frame, slender 40mm forks and a basic pair of rear shocks.
As my ride suggested, the V-Max rarely tended to get seriously out of shape. It just felt big and cumbersome, steered slowly and lurched slightly through fast curves, especially with the throttle shut. An aluminium fork brace helped prevent the spindly legs from bending under the strain.
Not that those forks had to withstand huge braking forces, because the front discs were gripped by puny calipers similar to those of Yamaha's far lighter RD350LC. Thankfully the rear disc gave some valuable assistance.
Yamaha finally uprated the brakes and suspension in 1993, fully eight years after the Max's launch. By this time it had become a cult vehicle in many major global markets, despite being almost unchanged from the original.
Remarkably, the V-Max soldiered on until 2008, when it was finally replaced by an all-new model, having sold roughly 100,000 units. This most American of Japanese motorbikes had captivated the motorcycling world.
1987 Yamaha V-Max
You'll love: Straights with the throttle wound open
You'll curse: Bends if you have to brake hard
Buy it because: Still has mighty muscles in middle age
Condition and price range: Project: £3000 Nice ride: £5000 Showing off: £7000
Engine: Liquid-cooled 72-degree V4
Capacity: 1198cc
Maximum power: 143bhp @ 8000rpm
Weight: 254kg without fluids
Top speed: 140mph
Read more
8 motorcycles for rides on any (sunny) Sunday
Steve McQueen's favourite bike was a little-known British brand
The world's oldest motorcycle sells for £174,000 – 129 years after its first ride