The Isle of Man TT is unique. It's the most dangerous motorcycle road race in the world and probably the most talked-about motorcycle event ever, thanks to the challenges it presents to riders and machines.
Since 1907 when the first entrants were flagged away in the inaugural event, the TT has been in the headlines, especially since the 37.75 mile circuit over 2000 foot-high Snaefell mountain came into being in 1911. The TT is on every motorcyclist's 'bucket list', to see riders hurtle around the Mountain Circuit, past such mythical landmarks as Union Mills, Ballacraine, Kate's Cottage, Creg-ny-Baa and Ballaugh Bridge, with its famous jump.
How much is your car to insure? Find out in four easy steps.
Get a quote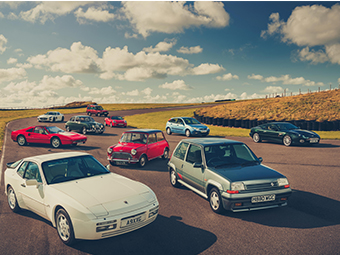 Riders display amazing levels of skill, as they negotiate 266 corners on each lap, averaging up to 130 mph, with top speeds nearing 200 mph on Sulby straight. They change gear more than 1,000 times on each lap, and must anticipate hundreds of bumps, damp patches, loose gravel and slippery paint. One wrong corner leads to two, three, four – then a wall.
Safety complaints date back to 1912, but there's an underlying local pride that you can't do this or see this anywhere else in the world. Apart from the difficulty of getting to this 29-by-13-mile island in the middle of the Irish Sea, most spectators watch for free. More than 600 press photographers peek from hedges and gardens, watched by 3,200 track marshals with line-of–sight contact around the course. The island even has its own TT radio station to keeps fans up to speed.
Having watched the professionals, the opportunity to ride the same course is irresistible for the 40,000 fans who double the island population each year. Many of them do their own lap of the TT course on "Mad Sunday." The TT gets into your blood and never leaves, and has made some riders into household names, after success at the races.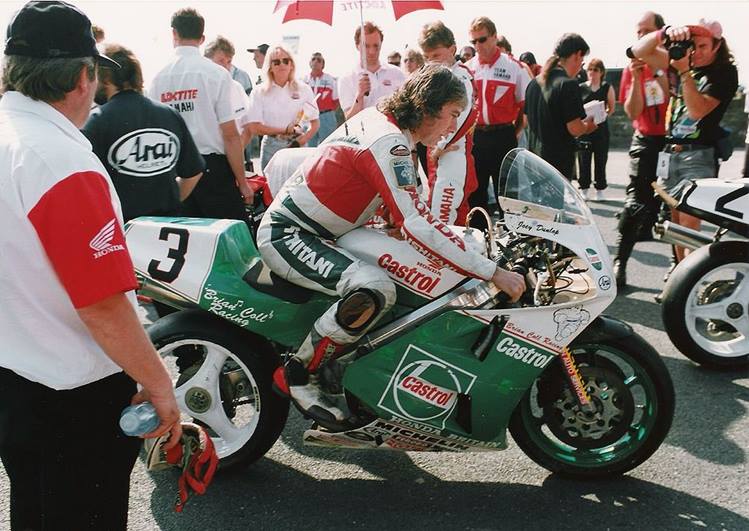 Great TT champions such as the late Joey Dunlop (26 wins in 24 years), and now Michael and William Dunlop, Mike Hailwood, Giacomo Agostini, and John McGuiness, are part of everyday language, as are some of the bikes they rode: like Hailwood's Honda 6, Agostini's MV Agustas and Steve Hislop's Norton Rotary, to mention just a few.
With over 100 years of racing to encompass, books on the subject struggle to even scratch the surface, as there are so many great races and characters, not to mention bikes that make up the history. However, working on the premise that "every picture tells a story" this is an exceptional new book from Carlton Books.
What makes it stand out is the quality of over 100 amazing images that come from the FoTTofinder Bikesport Photo Archives based on the Isle of Man. In 175 pages, the images tell the story with the aid of extended captions by Bill Snelling, who runs the archive.
Veteran racing journalist Michael Scott lays out the highlights of each of seven chapters covering various periods and the book ends with a results and records section. The forward is written by none other than John McGuinness, who in recent years has made the event his own, becoming a TT legend with his tally of wins and records – including the first man to break the 130 mph average for the course.
Thanks to carefully chosen images – many not seen before – the book will interest the casual motorcyclist as well as hardened TT fans. It is a superb coffee table book, as well as a significant historical work.
Bill Snelling is an acknowledged walking encyclopaedia on the TT, which is evident in this well-produced collaboration which brilliantly captures the spirit, excitement and danger of one of the oldest and most revered events in world motorsport.
Even if your bookshelf is bowing under the weight of other TT books, this must join them, thanks to unique images and insightful text. Despite the high quality of this hardback, it has a cover price of just £20.00 and it's worth every penny. Look for it in all good bookshops from the beginning of April or direct from www.carltonbooks.co.uk.
Isle of Man TT: A Photographic History. By Michael Scott and Bill Snelling, with an introduction by John McGuinness. Click here to buy a copy.
Read more
Freeze Frame: The first Isle of Man TT race
The Art of the Manx
The Young Ones: The baby-faced bikers turning to classics