In recent months the United States military has supplied a variety of weapons and equipment to the Ukrainian war effort. Motorbikes have not featured on the list but things were very different 70 years ago during World War II, when the two-wheeled equivalent of the Jeep was Harley-Davidson's WLA, a 742cc V-twin that was derived from a popular civilian model, the WL45.
The WLA military bike and closely related WLC, built for Canadian troops, entered production in 1942 and were also supplied to forces including those of Britain, the USSR and even China. During the conflict Harley built an estimated 90,000 of the robust V-twins, many of which were later converted to civilian specification by removal of parts including blackout lights and leather gun scabbard.
How much is your car to insure? Find out in four easy steps.
Get a quote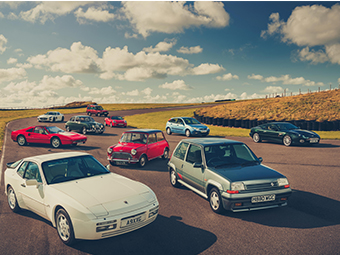 The 45, named after its engine capacity in cubic inches, dated back to 1928 and was a simple "side-valve" V-twin with cylinders set at Harley's traditional 45 degrees. In 1937 it was revamped to create the W45, notably with a new lubrication system that replaced the crude total-loss design. Harley's L was factory code for high performance, but despite its increased compression ratio the WL produced only about 25bhp.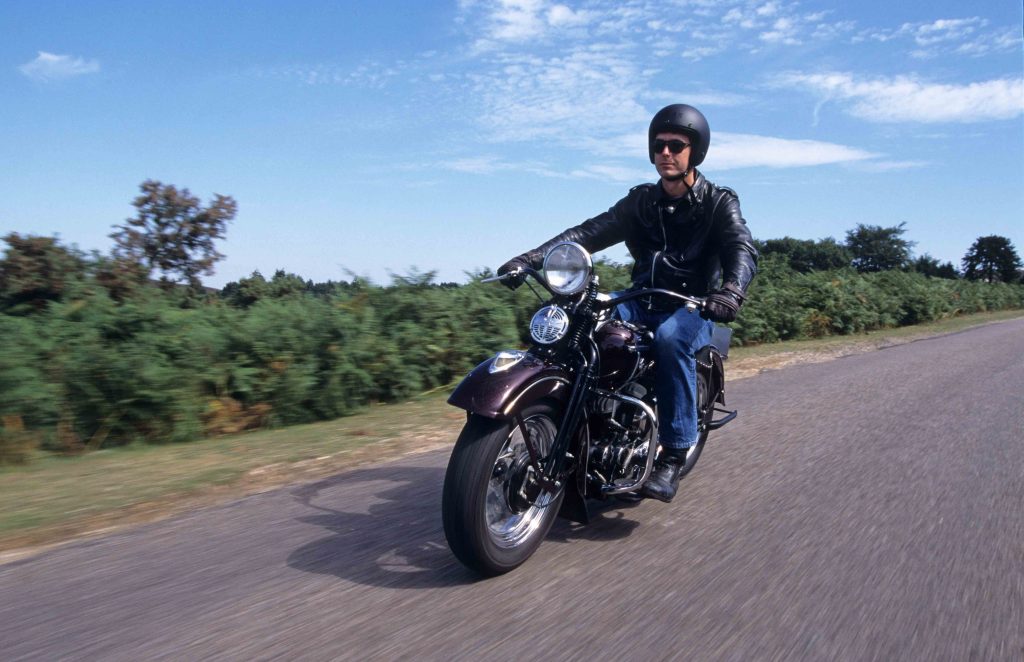 Harley recommenced production after the War with few updates, so the WL still had a simple three-speed gearbox, with a hand lever and foot-operated clutch. Its chassis was similarly old-school, featuring springer front forks and no rear suspension. The "hard-tail" Harley relied on its sprung saddle and fat rear tyre to isolate its rider from bumps.
This neatly restored bike was built in 1949, the year the WL's front suspension was updated with a new Girdraulic damping system, in place of the simple friction damper used previously. The improved control this gave was doubtless welcomed by riders at the time, but riding the WL confirms that any resemblance to the traditionally styled V-twins produced in Milwaukee these days is purely visual.
A modern Harley fires up with a touch of its starter button, clunks into gear with a tap of the left boot, and pulls away as easily as any new bike. Not so the WL, which when cold required numerous jabs at the kick-starter, some with full choke and others with the lever half-on, before it finally came to life with a low-pitched chuffing through its single silencer.
That was the easy bit, because the WL's foot-operated clutch ensured that years of motorcycling experience gave poor preparation for riding this one. After adjusting the ignition advance-retard lever on the left handlebar, I engaged the clutch with a press of my left boot, then selected first gear by pulling back on the lever to the left of the petrol tank. I dialled in a few revs with the conventionally placed twistgrip, then slowly released the clutch by pushing down with my left heel, until the Harley started creeping forward…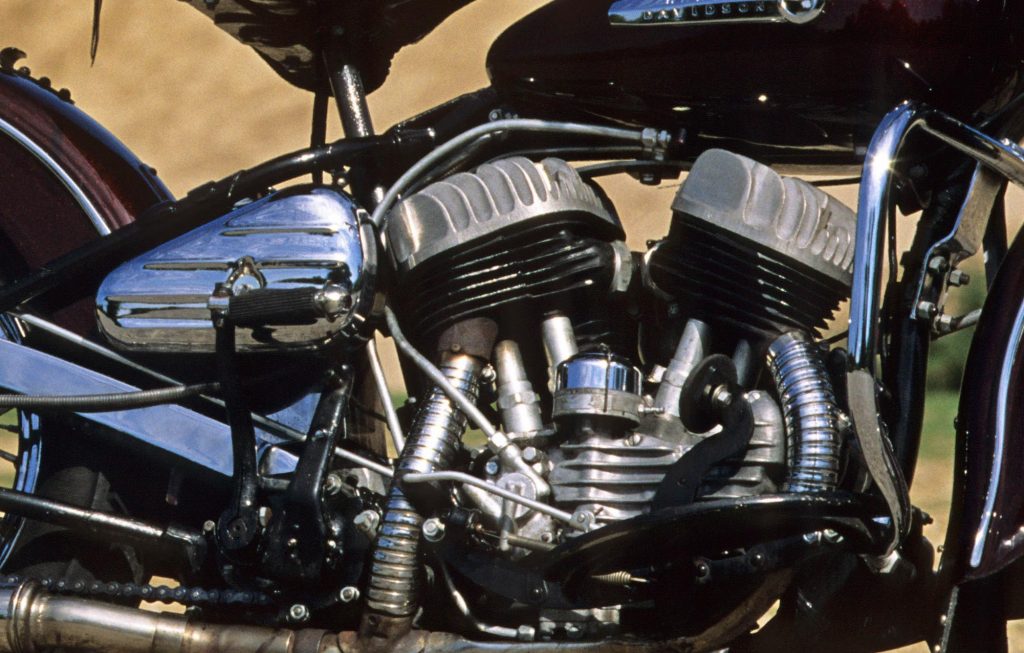 And suddenly I was away – clutch kicked fully home and throttle wound back further, changing into second with another shuffle of my left foot and a firm push forward of the gearlever. The revs rose slowly; I reached for the lever again to change into top. By now the WL was doing about 50mph, I had both hands back on the wide bars, and was bouncing gently up and down on the sprung saddle as the Harley chugged along feeling smooth and stable.
Riding an old foot-clutch bike like this certainly takes some getting used to, and the learning is best done far from other vehicles. After a morning spent pottering along some deserted Hampshire lanes I was sufficiently confident to pull away, change gear and stop without worries. But I wouldn't have fancied venturing into town without more practice.
The clutch was the most difficult part. Especially when I needed to pull away and turn left at the same time, for example when leaving a T-junction. Provided I remained positive it was okay. But if for any reason I'd changed my mind, while pulling away and leaning to the left, I'd have been in trouble – because simultaneously disengaging the clutch and putting my left foot on the ground would have been impossible.
Once under way, things were much more normal. The short first gear meant that the change up to second was best accomplished almost immediately, and the WL was torquey enough to pull fairly smoothly, though very gently, in third (top) from as little as 30mph. So at that speed I could select top with another push of the lever, then forget about the clutch and enjoy the ride.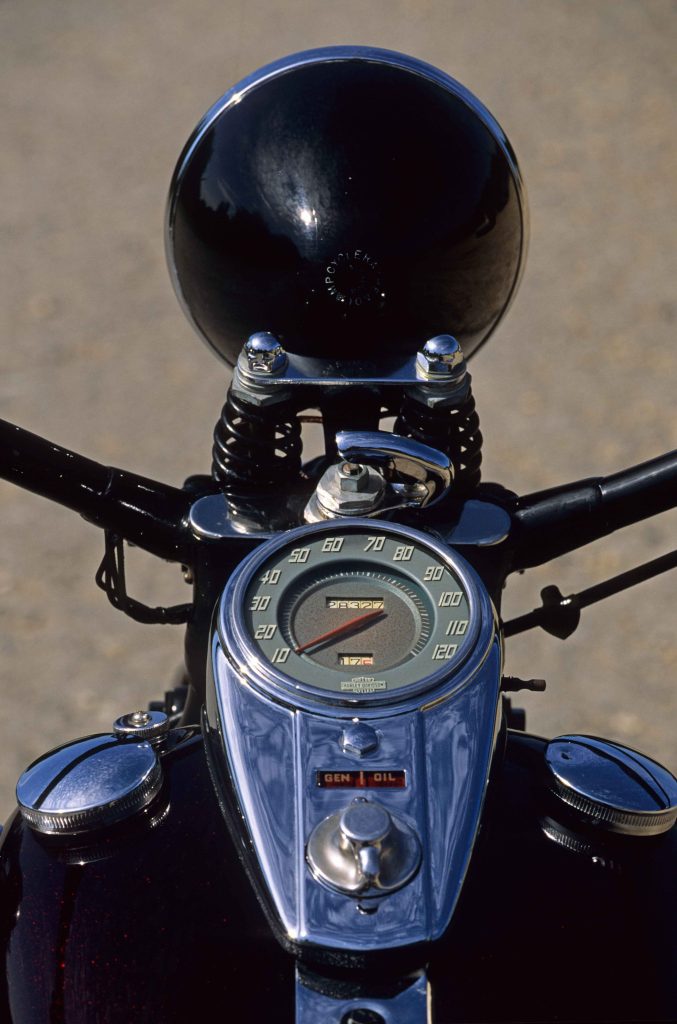 More aggression was needed to make quick progress because, despite its respectable engine capacity and abundant charisma, a Harley 45 is not a fast motorcycle. The WL cruised happily with 60mph showing on its big, tank-mounted speedometer, feeling pleasantly smooth and relaxed, but by 65mph was feeling breathless and approaching its limit.
That's not surprising, because W-series bikes were never noted for their speed. Indian's rival 45ci V-twins were faster and lighter. The WL's chassis also received criticism when new, but I was relieved to find that this bike's relatively modern tyres helped give better handling than it would have had back then.
In fact the WL steered nicely, helped by its wide handlebars; and considering their age the forks did a good job of soaking up bumps. Even the unsprung rear end coped surprisingly well. It was a strange sensation to rock gently up and down in the saddle, conscious that the Harley was bucking beneath me – though on one occasion I was jolted back to reality when the seat spring bottomed painfully on a pothole.
This bike's brakes were not its best feature. The feeble front drum, in particular, made even the WL's modest performance seem plenty. The larger rear brake had more power, but the need to lift my right foot off the board to reach the lever increased stopping distance and reduced control.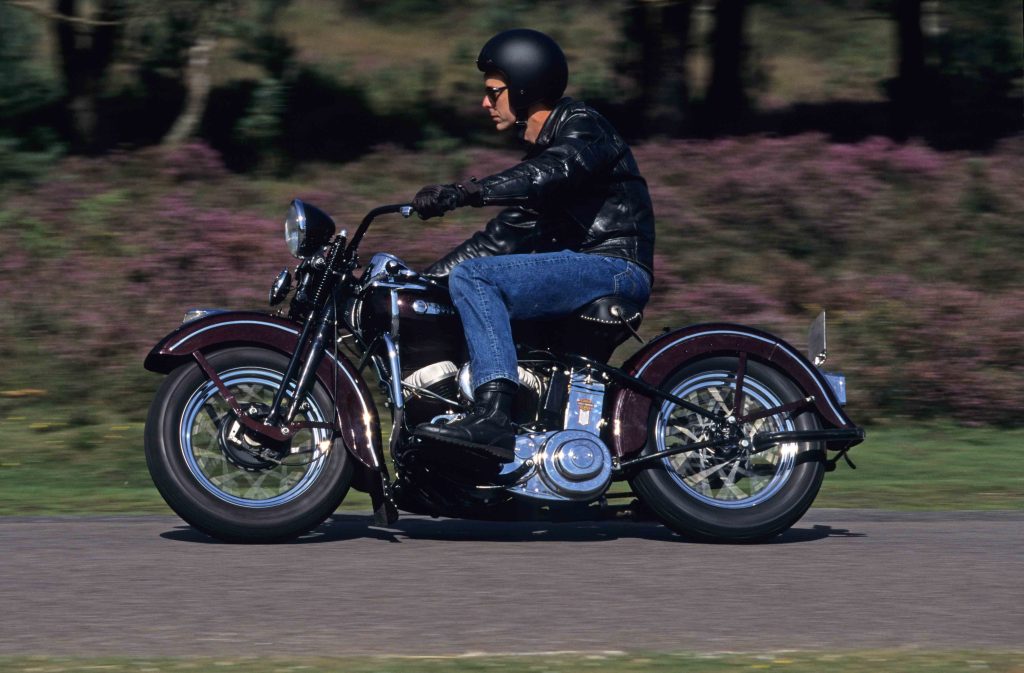 One thing the WL did have going for it, and which helped make its reputation, was reliability. The Harley might not have been as quick as Indian's 45s, but it was far more robust – which of course had been a vital attribute when it was modified to become the WLA, and put to the ultimate test.
Despite its ability to carry a rifle or machine gun (plus a box of ammunition on the sturdy rear rack) the WLA was generally used for courier work, scouting and transportation, rather than in combat. But it was popular with its riders, served with distinction throughout, and earned the nickname "Liberator" during the Allied advance in 1945.
After the War, many returning US servicemen bought surplus WLAs at bargain prices. Some "bobbed" or "chopped" them with cut-down fenders or longer forks, putting the 45 at the heart of the booming biker scene. By Harley-Davidson standards the WL was not particularly large or powerful, but few Milwaukee models have been as versatile – or as widely admired.
1949 Harley-Davidson WL45
You'll love: The challenge and V-twin character
You'll curse: Traffic, until you've mastered the clutch
Buy it because: It has style and a unique place in history
Condition and price range: Project: £10,000 Nice ride: £15,000 Showing off: £20,000
Engine: Aircooled side-valve V-twin
Capacity: 742cc
Maximum power: 25bhp @ 4000rpm
Weight: 260kg without fluids
Top speed: 65mph
Read more
2023 Bull Market Pick: 1936–47 Harley-Davidson Knucklehead
Stock Stories: 1957 Harley-Davidson XL Sportster
We can be heroes: meet the classic bikers riding to the rescue during the pandemic