James Hewitt is the Hagerty Automotive Intelligence team's resident motorcycle maven, having owned more than a hundred classic bikes. He finds zen in analysing motorcycle valuation data.
The motorcycle world is among most passionate subsets of the collector vehicle space. The players here are passionate about two-wheeled anything and often love working on them as much as riding them. Rarely do outside investors jump in with promises of financial return – unlike the car side of things – and in general movements are less dramatic.
Yet, like everything else in 2021, pent-up demand sent certain segments of the scene soaring. Some of these motorcycles have long been primed to break out (we're looking at you, '80s and '90s sportbikes), and the conditions this year were finally right. Let's look at six of the most significant motorcycle sales in 2021.
2016 Honda RC213V-S
Sale price: £183,000, CollectingCars.com
Snapshot: A new world record for a Japanese motorcycle at auction.
The rare 2016 Honda RC213V-S race-ready bike bears no comparison to a bus, but like buses, you wait for one to come along then two arrive at once.
First, an RC213V-S went to market in Japan, on Yahoo Auctions, and sold for for £177,000. Then a month later, a different example in Britain came to market on the CollectingCars.com platform and fetched more still, reaching £183,000.
Why the frenzy for a Honda? The RC213V-S is a MotoGP race bike for the road, the likes of which bikers haven't been offered since Ducati sold the 2007 Desmosedici RR, limited to 1500 units, for £40,000. Ducati could pull that kind of thing because, well, it's Ducati.
Did anyone think Honda could sell a £40,000 race replica for the street? Honda did, nearly tripling that price to just under £137,000 for a run of 250 examples. Even with the raw aluminium frame, titanium bolts and carbon fibre bodywork, and the knowledge that the V4 machines were handbuilt by just two or three individuals in a race-like workshop, they were a hard sell when new. Until these two listings none had changed hands publicly to reveal how the market views a £137,000 Japanese superbike.
The sales in Japan and Britain took place one month apart and were less than one per cent apart in price when based on the exchange rate at the time of sale. It now seems certain that buyers will pay £180,000 for an RC213V-S with the race kit. That's about four times what buyers are paying for Desmosedici RRs, not to mention a new auction record for a Japanese motorcycle. Guess it was worth the wait.
1946 AJS E90 "Porcupine"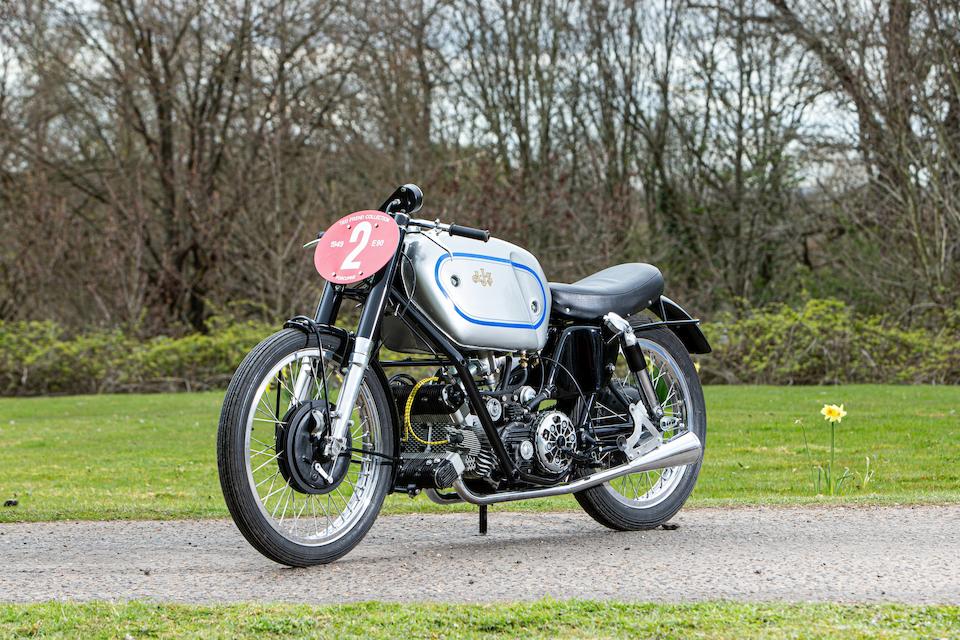 Sold for: £293,250, Bonhams
Snapshot: One of four made, British bikes still have strong appeal with high-end collectors.
The AJS Porcupine is considered one of the holy-grail bikes for any high-end motorcycle collector, and the model has held the coveted "most expensive motorcycle sold at auction" spot. As interest shifts in the market to segments beyond post-war British bikes, such as the Japanese or Knuckleheads below, the potential fear for collectors is that what was once a holy grail may lose its appeal. This £293,250 sale result suggests that demand remains high for the best British bikes at the top of the market.
This particular Porcupine was purchased disassembled from the estate of Edward 'Ted' Frend, an AJS factory rider and the first rider to win on a Porcupine, and built up using original and custom-made parts. With only two others coming to auction in this millennium, even a single genuine part from the model will generate a buzz, and for this sale it also opened wallets. The Porcupine is likely to sit at the top of motorcycle collecting for years to come. That's a good sign for the long-term appeal of British bikes.
Arthur "Fonz" Fonzarelli's 1949 Triumph Trophy 500 Custom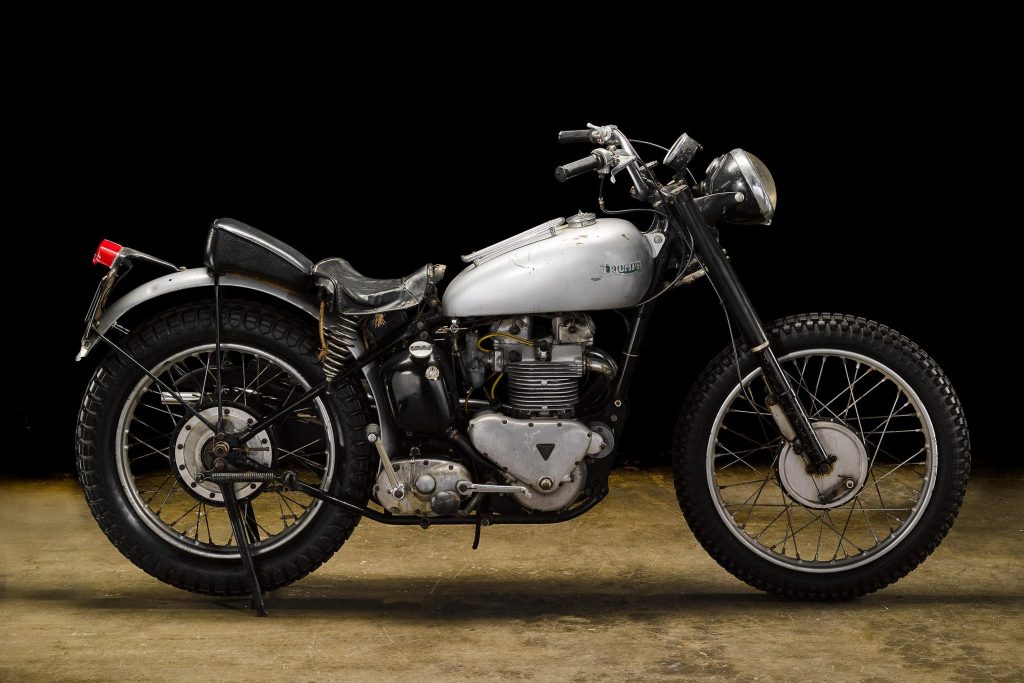 Sold for: £175,320, Bonhams
Snapshot: A famous name and famous motorcycle attracts big dollars from nostalgic collectors.
Hands up who remembers watching Happy Days? We do, and it's likely the buyer of this Trophy 500 Custom does too. This bike was a regular guest star throughout the ten-year running of Happy Days; it was ridden by the Fonz, and inspired generations of children watching the show to want to own a motorbike just like the Fonz. The character was obsessed with his motorbike, telling Mrs. C in the first season of the show that he wanted to be a cop when he got out of school because, "I mean, it's the only job I know where they pay you to drive a motorcycle."
The significance of this sale is not just that a famous person – Richard Rawlings from the show Fast 'N Loud – paid big money for a famous motorcycle, but that the sale price was 29 per cent higher than what the same bike sold for in 2018 at Julien's Los Angeles auction. This just proves how tricky it is to price bikes with celebrity provenance, where even if it sells for a sky-high price once, it only takes another buyer to be swept away on a wave of nostalgia and send the price spiralling higher still.
1974 Kawasaki Z1 and 1971 Honda CB750 K1
Sold for: Kawasaki £18,164 and Honda £25,284, Bring a Trailer
Snapshot: High-production Japanese bikes are muscling into the price space usually reserved for rare Italian or German motorcycles.
In step with the fast increasing interest surrounding Japanese cars in the collector car market, values of Japanese bikes have skyrocketed in the past decade. What was considered expensive for a Honda CB750 or Kawasaki Z1 prior to this upswing is now what a restoration project might sell for. A pair of Bring a Trailer sales from early 2021 saw a perfectly restored CB750 hammer for £25,284 after fees and a '74 Z1-A for £18,164, illustrating how far the market has moved.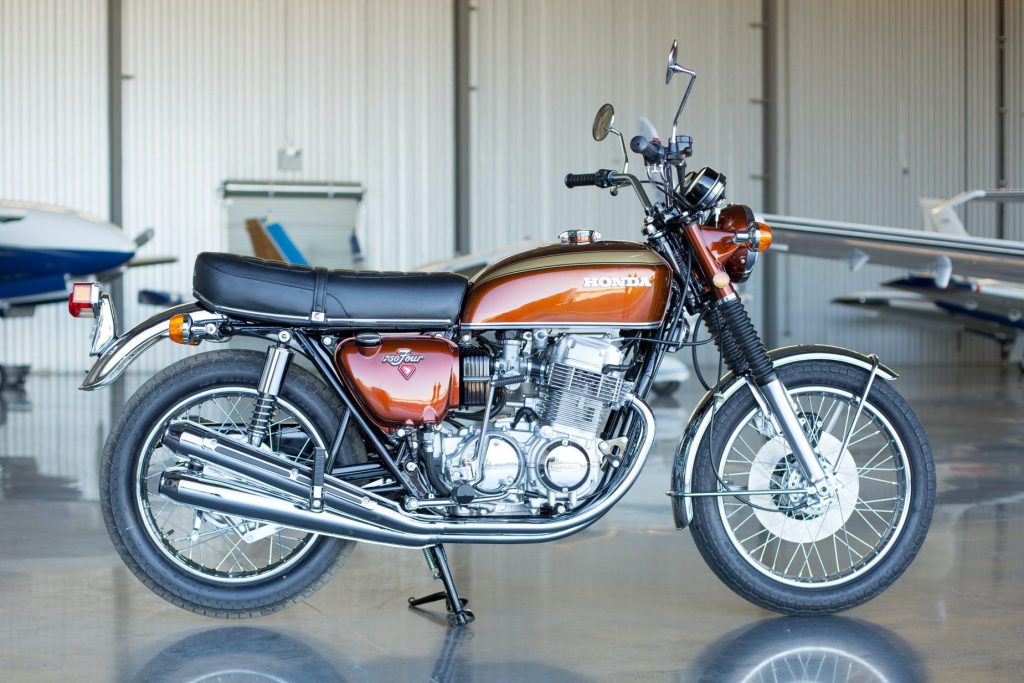 It's partly explained by money from the car collecting world which is muscling in as collectors begin to realise the value for the taking in the two-wheeled world, all while motorcycle collectors scramble to keep up with shifting trends. A sum of £25,000 used to be enough to score a perfectly restored sandcast CB750, a rare '70s Ducati, or a pair of pristine BMW "/2s." These days, that's maybe just enough for a lone CB750, at least according to this pricey sale. Similarly, Z1s have long remained more valuable than an equivalent CB750, but BaT's preservation-quality Z1 brought £7000 less than the Honda. In other words, trends come, trends go.
Mecum's sale of Harley Knuckleheads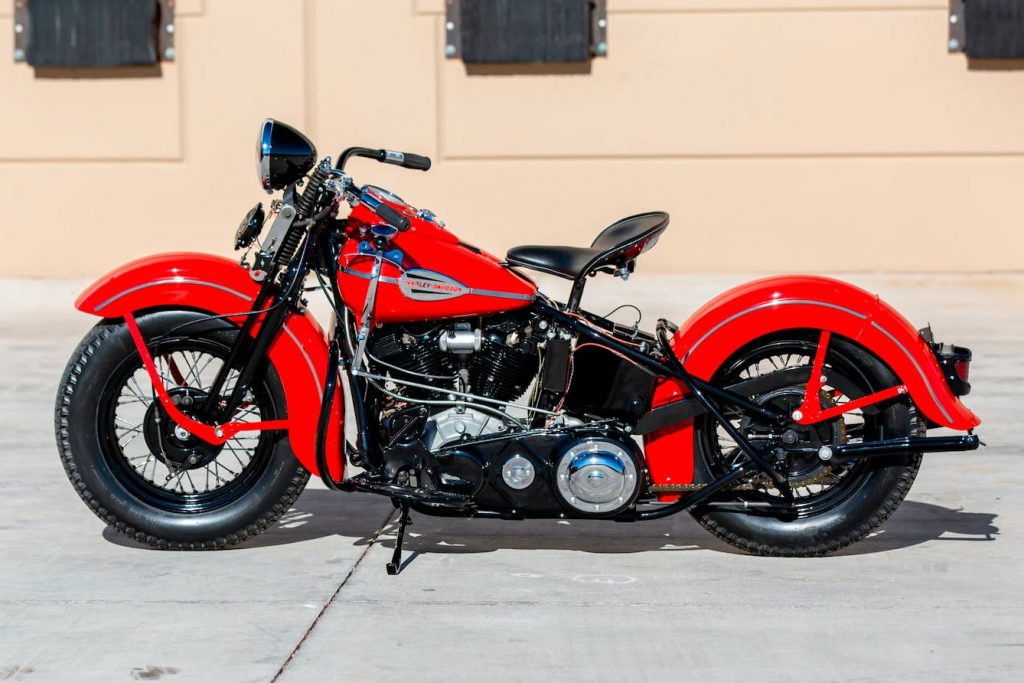 Sold for: £159,000, Mecum
The Upshot: 1940s American cars aren't gaining much but original Harley Knuckleheads are thriving and attracting younger buyers.
This past year's most noteworthy Knucklehead sale was shared by a 1943 and 1946 example, each claiming a healthy £159,000 at Mecum's Las Vegas sale earlier in 2021. These superstar standouts were part of the J.C. Burgin Motorcycle Collection, and shone in a field of other Knuckleheads produced between the 1937 and 1943 model years that individually brought well over £72,000 each, proving the Harley-Davidson Knucklehead's rise in value continues at an unprecedented rate.
We have had our eyes on the Knucklehead for several years, and even had it slated for inclusion in the annual Hagerty US Bull Market List until the owner had to cancel just prior to the photoshoot. It's proven to have a surprisingly strong reaction from millennial collectors, despite values doubling or even tripling what they were not too long ago. That's hard to say for any other vehicle from the 1940s.
1995 BMW R100GS Paris-Dakar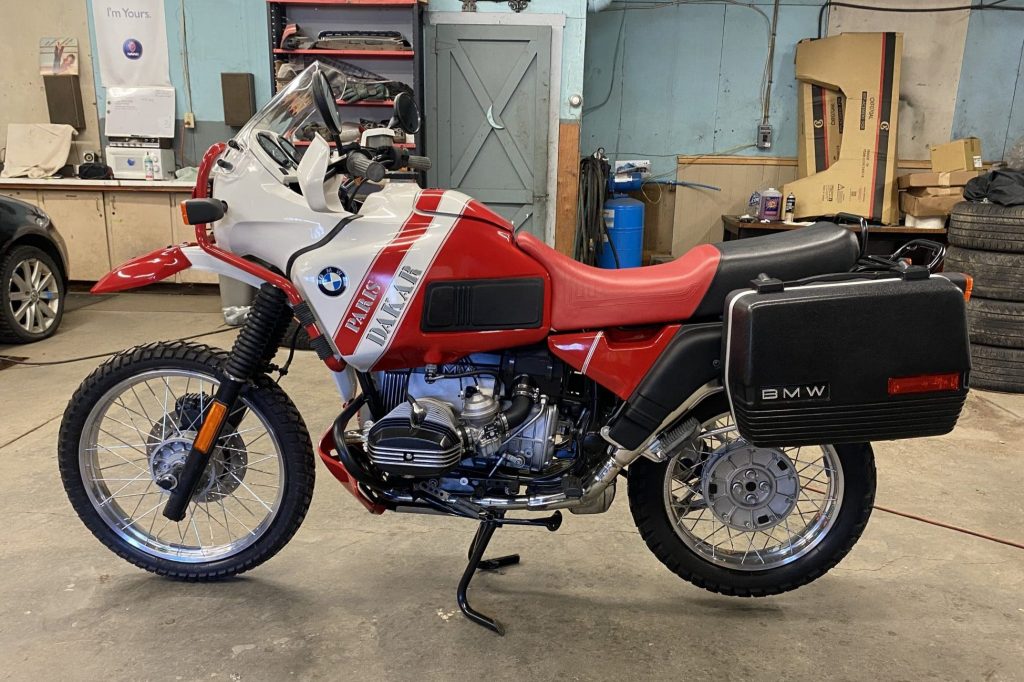 Sold for: £30,745, Bring a Trailer
Snapshot: A strong result for a BMW motorcycle from the '90s; likely to rub off on other adventure bikes.
A final sale price of £32,282 after fees makes this 520-mile R100GS more expensive than almost every R69S sold thus far, and that mid-century icon stands as one of the most collectible motorcycles to wear the BMW roundel. Well, it beat 'em all except for September's 1967 R69S restored by marque specialist Tim Stafford, slightly edging out the R100GS at a final sale price of £33,971 including fees on BaT. That R100GS sale is more expensive than a sandcast Honda CB750, a Kawasaki Z, and even the Ducati 916 SPS – a 'Duc' that's widely considered one of the most desirable bikes of the '90s.
This is quite the come-up. The R100GS has always sat in the shadow of the more collectible R80G/S, the bike that kickstarted the adventure motorcycle genre and proved a roaring success for BMW. It often takes an exceptionally collectible vehicle to bring a huge price spike for a Condition #1 model; a near-perfect condition 1995 Yamaha Virago is a great bike, for example, but likely not going to bring exponentially more for a low-mile specimen. This sale proves that the R100GS is in that arena, and with it will come price boosts for other overlooked '90s adventure bikes, including the ice-cool Honda Transalp.
Read more
Friends reunited: Why I need a Norton Commando back in my life
9 Cinderella classic bikes hidden in the shadows
Teenage kicks: The Kawasaki H2 and Suzuki GT750 are revving up like it's 1972 again