The report we published last month into the May 2018 MOT changes for Vehicles of Historical Interest (VHIs) over 40 years old generated the most interest, both online and in direct communication, that we've ever had. You can read the story and some of the comments here.
The issue has obviously aroused a great amount of debate and the responses we received raised some very important points. Therefore, we've contacted both the DVLA and DVSA on your behalf to answer some of the more specific questions. Here are there (and our) responses:
How much is your car to insure? Find out in four easy steps.
Get a quote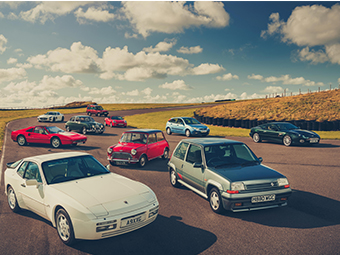 Does Hagerty insist on an MOT to insure a classic, even over 40 years old?
No. This is entirely your decision as an owner.
The DVLA Form V112 doesn't have an option for cars over 40 years old (just pre-1960 vehicles).
The V112 is the form you must fill in to claim exemption from MOT due to VHI status. We posed this question to David Whitbread from the DVLA Press Office. He said, "The forms will be updated when the changes come into effect on 20th May 2018".
Hagerty says: We expect some old forms will be held by Post Offices, so the online form, when updated, may be a better bet at first. As of 20th May, the online form has been updated; the link is here.
If my car is classed as an Historic Vehicle for tax purposes, and I choose not to register it as a VHI (e.g. want to voluntarily continue with MOT testing) does that affect my tax status?
Again, we received a response from David Whitbread. "No. The tax status and the MOT status are separate". So, if you have a car that is in the historic tax category, it will remain so whether you apply for MOT exemption or not.
Apply for historic tax status by following the guidance here.
We spoke to Neil Barlow, Head of MOT Policy at the DVSA. He gave us the following answers:
Is it 40 years from manufacture or from first registration?
"A vehicle won't need an MOT from the 40th anniversary of when it was first registered or first used (whichever came first)".
MOT Regulations state the car must be 'of a type no longer in production' to qualify as a VHI. What about a car that IS still in production, like a Morgan 4/4?
"In the case of specific vehicles, we would refer motorists to the published guidance".
Hagerty says: This did not answer the question we set so we have asked for clarification but are still awaiting a response. This will only affect a tiny number of models; a name that is still in use (like Range Rover, Mini, Beetle etc.) is not the same model so won't be affected. If your car is one that is still in production, please consult your owners' club.
We understand that you'll have to fill the V112 only once, but then reconfirm the MOT exemption at every subsequent tax renewal. Is this correct?
"Owners of vehicles that are eligible for MOT exemption by virtue of their age will be able to be declared exempt formally as part of the vehicle exemption duty (VED) renewal process. This can be done on-line at each tax renewal, or by paper form for those that wish."
What if the car is registered as a VHI and MOT exempt, but then subsequently substantially modified?
"If vehicle is subsequently substantially modified then it will need an MOT".
What about cars that were assembled from kits at franchisees, other garages and first owners?
"If an owner is unsure if their vehicle needs an MOT, they should get one. Alternatively, they could contact the Federation of British Historic Vehicle Clubs".
Will specific guidance for VHI motorcycles be given?
"Specific guidance for VHI motorcycles is available from DfT".
Hagerty says: We searched the DfT website but couldn't find any. However, the FBHVC has some useful information regarding the matter here.
Emissions: DVSA guidance change pdf states the metered smoke test date has been changed to 1 January 1980. Can you clarify what this refers to?
"The 01 January date replaces the 01 August 1979 date in section 7.4, compression ignition. The 1975 date in 7.3 remains, as it relates to spark ignition".
What is the situation regarding VHIs over 40 years old in Northern Ireland?
We received the following reply from DVA NI:
"This has not come into force in Northern Ireland as of yet, it is due at some stage later in the year. The changes require the clearance of any incoming Minister before the legislation could be made".
Mr Barlow also said:
"DVSA's priority is to help you keep your car safe to drive. 20 May 2018 sees major changes to the MOT and it's important that motorists are fully aware of them. We would recommend that owners of classic vehicles consult the guidance which is available on GOV.UK"
Relevant links below
https://assets.publishing.service.gov.uk/government/uploads/system/uploads/attachment_data/file/670431/vehicles-of-historical-interest-substantial-change-guidance.pdf
https://www.gov.uk/government/consultations/roadworthiness-testing-for-vehicles-of-historic-interest
We hope that helps to clarify matters. Now the new regulations are in force, let us know in the comments below how you get on!