On 20th May 2018 the MOT system is changing, with new regulations for Vehicles of Historical Interest (VHIs) over 40 years old. This article is intended to highlight those changes, clarify what action needs to be taken by owners, and show where additional information can be found.
MOT Exemption
How much is your car to insure? Find out in four easy steps.
Get a quote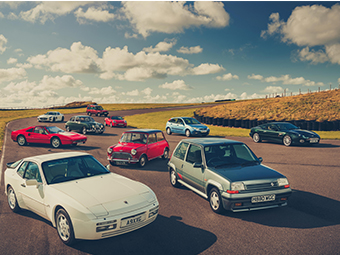 One of the biggest changes for classic vehicle owners is that VHIs over 40 years old may be exempt from annual MOT testing, as long as they have not been 'substantially changed' in the past 30 years. Critically, the exemption will not be automatic, even for cars already exempt (pre-1960) and those registered in the Historic Vehicles tax class. Owners must therefore declare an exemption every time they tax a VHI; details of how to do this are below.
What constitutes 'substantial change'?
To qualify for an exemption to MOT testing, the VHI must not have been 'substantially changed' in the past 30 years, in a major component area of chassis, axles & running gear, or engine. More information is here, but in general if the changes have been made to improve safety, are using replacement parts of the same design as original, or using the same basic engine design, then these are not considered substantial. Therefore, the following examples would not be considered substantial:
MGB 'Heritage' bodyshell (same design as original).
Replace original Alfa 1300cc 4-cylinder Nord engine with 2000cc 4-cylinder Nord
Install later front disc brakes on early VW Type 2 (safety upgrade)
However, the following examples would be considered substantial:
MGB re-bodied as a racing special.
Replacing Alfa Nord engine with an Alfa V6 Busso engine (different cylinder capacity)
Installing substantially different axle or suspension (Porsche on a VW, for example).
The responsibility for ensuring a declared VHI meets the criteria falls on the owner as part of his or her due diligence. If they are not sure of the status, owners are encouraged to speak to their respective owners' clubs or find an expert through the FBHVC website.
What constitutes '40 years old'?
The Government website is not clear on this matter: on one page of the gov.uk website it states 40 years from the day it was first registered; on another 40 years from the date of manufacture. We're checking with the FBHVC legal compliance team and will update this article shortly.
How to claim for VHI Exemption
An owner must declare an exemption when renewing their vehicle tax. As before, if your classic is moving into the Historic Tax band, then the application must be made at a Post Office using the appropriate form. The first time a car is declared as exempt for MOT testing, a form V112 must be used.
Roadworthiness
Whether a vehicle is MOT-exempt or not, it remains the owner's legal responsibility to keep the car roadworthy, and those who do not risk fines and points on their license, not to mention a risk to their safety and those of other road users. Owners may voluntarily put their car through an MOT even if exempt.
Vehicles other than cars
Historic lorries, coaches, kit cars and similar are not exempt from the MOT check. The www.gov.uk site states that guidance for motorcycles will be issued separately.
Other changes
The other main change to the test is the inclusion of new categories of problems identified. These are:
Dangerous. Don't drive.
Major. Repair immediately.
Minor. Repair as soon as possible.
Advisory. Monitor and repair if necessary
Pass. No problem identified.
Hagerty's View
Hagerty has to look at this issue as both enthusiasts and professional insurance providers. As the former, we want to keep as many safe, older vehicles on the road as possible. As the latter, the legal requirement to maintain the car to a roadworthy standard would probably be investigated by the underwriter should a significant claim be made. While we will not require exempt classic vehicles to have an MOT, we believe it is a good idea for owners to have their VHIs MOT tested on a regular basis and recommend an annual service by a reputable garage for peace of mind.
A PDF of the detailed changes for historic vehicles is provided by the DVLA here.
Hagerty's article on the existing (pre-May 2018) regulations is here.