Perhaps 'GTi' wasn't the best name for it. Not that the Proton Satria GTi didn't deserve those three little letters – in fact, quite the opposite – but their greater familiarity on the back of Golfs and Peugeots means they could do nothing to lift Malaysia's hot hatch from near-obscurity.
To be fair, nor could Lotus. Many cars have enjoyed tenuous association with the Norfolk sports car brand over the years, in much the same way manufacturers have been only too happy to throw around associations with Porsche. But just like the GTi badge, the Satria GTi genuinely deserved those Lotus roundels on its flanks.
How much is your car to insure? Find out in four easy steps.
Get a quote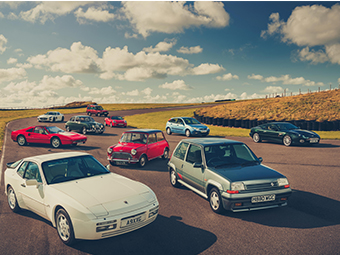 Cast your mind back to 1996. The most significant event at Hethel that year was the launch of the Lotus Elise, but behind the scenes it was also when Roman Artioli sold a majority share of Lotus to the Malaysian carmaker, Proton.
Proton wasted little time in drafting in Hethel's engineers to improve its road car range, but the most overt recipient was the Satria GTi. Proton was still using old Mitsubishi platforms at the time and the Satria was essentially a fourth-generation Mitsubishi Mirage (known as the Colt in the UK).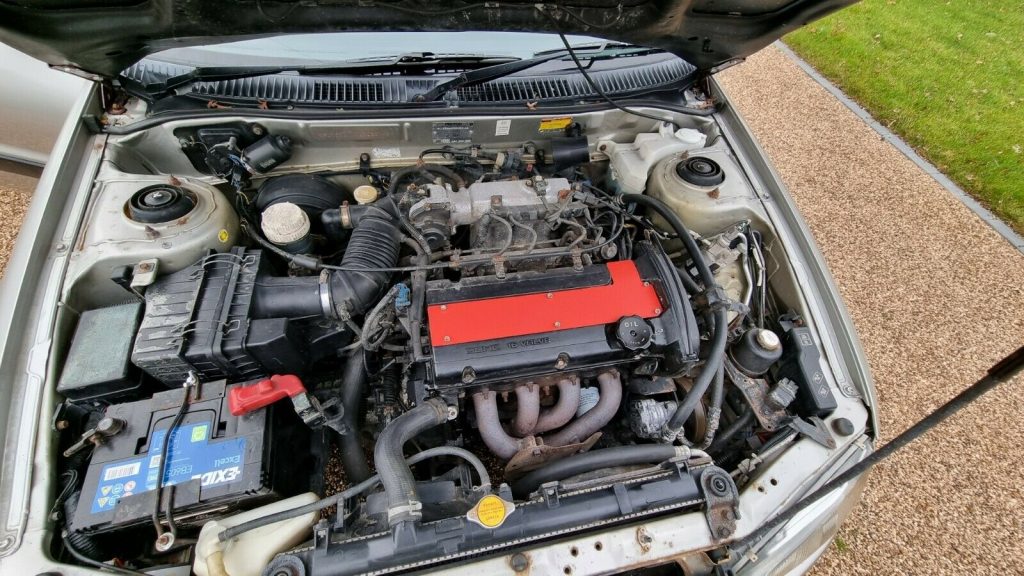 By the time the Satria hit the UK the Colt had already been replaced with an all-new model, so Proton was essentially selling a generation-old car. Viewed a quarter-century on, the Satria's curvy form simply looks like any other mildly attractive 1990s supermini, but at the time, surrounded by Clios, Puntos and Corsas, it was somewhat bland.
Behind the scenes though, Lotus was getting to work. The Satria GTi debuted in 1999, packing a 1.8-litre Mitsubishi four making 133bhp, with front struts and Mitsubishi's surprisingly sophisticated rear multi-link worked over by the folks behind the Elise. A modest 1115kg kerbweight sat over 16-inch wheels shod in 205-section Pirelli P7000s, and those sat beneath bolted-on arches of dubious styling merit, part of a racy bodykit exclusive to the GTi.
And wouldn't you know it, but all that Lotus tweakery worked. Well, sort of. Testers of the day still weren't keen on the styling, nor a desperately outdated cabin enlivened only by Recaro seats and dials as white as stilettos on the Southend seafront. But the chassis? That really hit the spot.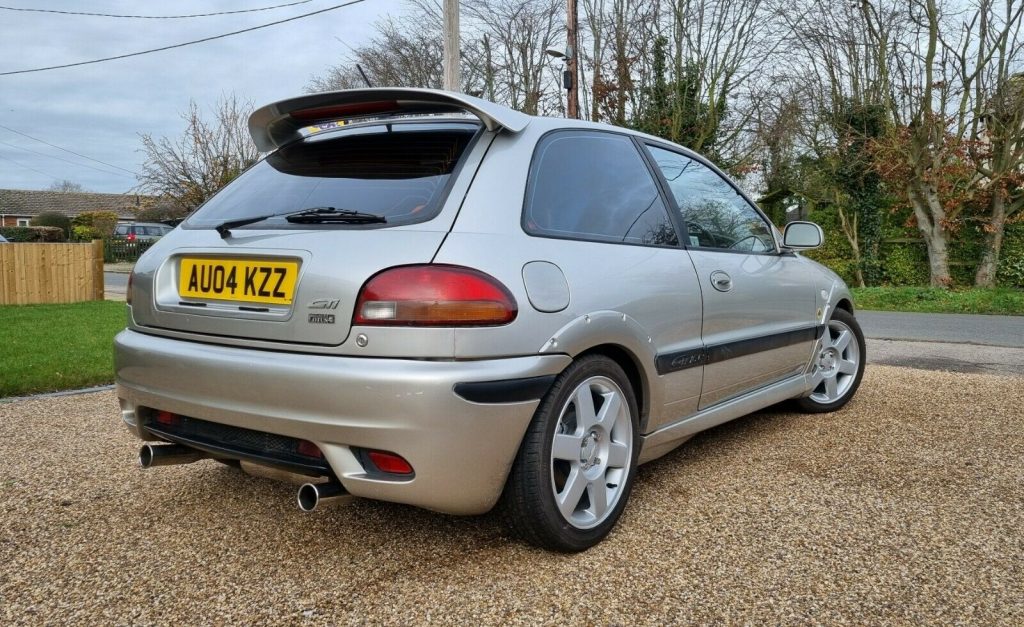 'The hand of Lotus is apparent within a quarter of a mile,' wrote evo in December 1999, adding 'the damping is tight, precise and effortlessly subtle.' While the Mitsubishi engine wasn't up to much, lacking the performance Proton claimed (timing it at 9.4sec to 60mph compared to the 7.8 in the brochure), the magazine awarded it four stars from five. The demeanour of the Proton, said the mag, was 'instinctively, grin-inducingly right.'
If you want to test that theory for yourself, then there's one on eBay right now. As a 2004 it's from the end of the Satria GTi's run, by which time it had largely disappeared from hot hatch group tests – cars like the Clio 172, Honda Civic Type-R and SEAT Leon 20VT had taken the class in a whole new and more serious direction.
It looks in good condition, and importantly original condition too. As the seller rightly points out, a lot were converted to budget track and rally cars back in the day so originals are rare. In context the £4250 price tag doesn't seem excessive, though this figure will get you all manner of other sporty hatches from the period, many with more performance.
It's sold with a current MOT, albeit one with a long list of advisories to look at before November, and previous failures suggest it has, like many hot hatches, led a fairly hard life despite its originality. It could probably do with decent rubber, too, unless you're happy driving hard on whatever 'Windforce' tyres are.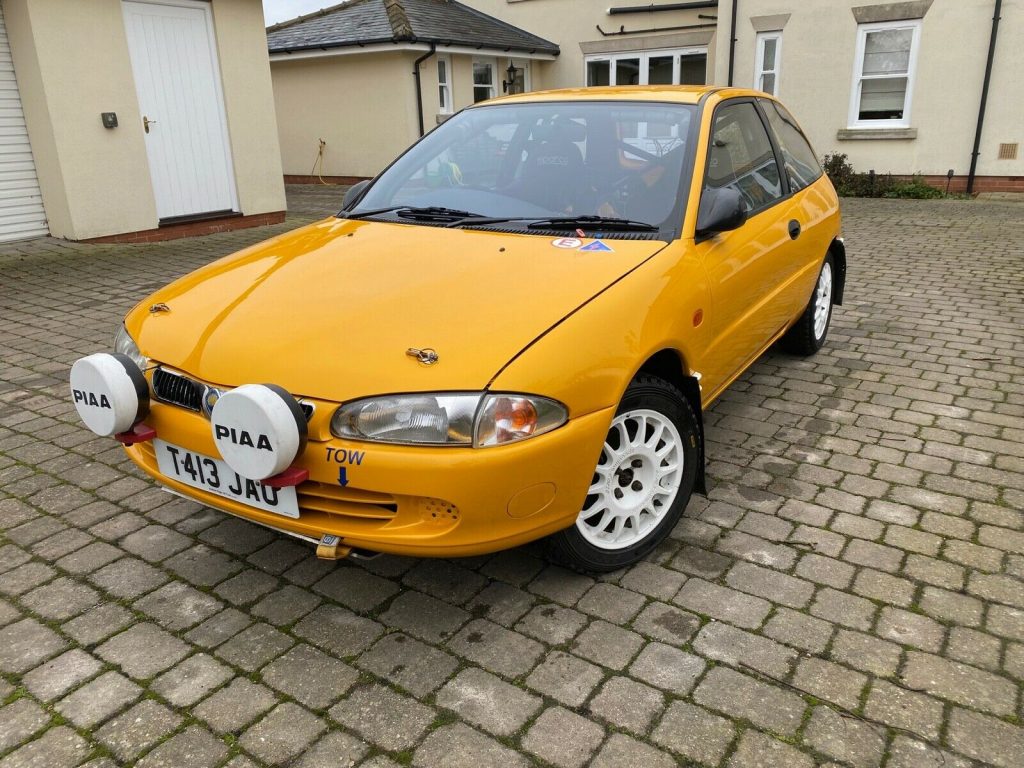 Treble your budget though and there could be an option that's even more fun. Also lurking on eBay – if something in such a bright colour is capable of lurking – is a rally-prepared Satria, priced at £11,000.
While not one of the original Super 1600 kit cars from Proton's British Rally Championship campaign in the late 1990s, Satrias have long been popular at a club level, and a well-prepared car like this one could be a cost-effective route into loose-surface driving. It might not wear Handling by Lotus badges, but for true motorsport kudos, only a car prepared for competition will do.
Read more
Young guns blaze at the 2021 Hagerty Festival of the Unexceptional
Who fancies budget fun from a turbo Skoda Rapid?
10 of the most extreme Dakar rally cars, bikes… and trucks