"Patina" is one of those words in the English language that in the car world has been adapted to mean something else. The dictionary says something along the lines of "a gloss or sheen on a surface resulting from age or polishing." What it doesn't mean is rust or being completely worn out.
Nuts, bolts, brackets and other small parts on engines and elsewhere that were not painted are usually plated. On classics, the bright silver or yellow plating on some parts would have been cadmium and in the UK, that's now banned. Yellowish plating may also be yellow zinc chromate which in the bad old days was produced using hexavalent chromium, great for plating but not so great for human health as Erin Brokovich will (and did) testify. As a result it's now banned in the UK but a good replacement is trivalent yellow passivate zinc plating which has the benefit of not being lethal to use (as usual in these columns, common sense and health and safety notes apply so handle any stuff like this with respect).
How much is your car to insure? Find out in four easy steps.
Get a quote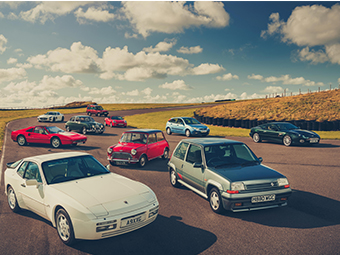 In my restorations I'd been using metal finishers for zinc and yellow zinc plating who were affordable and good but not all that local. What prompted me to see if I could plate things myself properly was the need to re-plate a Holley carburettor on my '68 Mustang GT390 resto. The made-for-Ford Holley carb in question carried a unique part number on the '68 GT 390 and to build one (the original had been replaced with a Carter) I'd had to source parts from three different countries. For that reason I politely declined when my plater said they could have a stab at it but may end up dissolving it in the process.
I can't be specific about the Holley but carbs were often die cast in Zamac, a zinc alloy, or something similar. I wasn't keen to leave it in that dull grey they acquire when the plating has been beaten by the years and set about checking out some home plating kits. I settled on a kit from Classic Plating in Dawlish, South Devon, which could supply everything I needed for bright zinc as well as yellow, blue and black passivate.
Depending on the version, a kit costs from £114 and includes zinc anode plates, zinc electrolyte, Alkaline degreaser, pre-plating acid pickle together with Alekos starter, Alekos brightener and all the other bits and pieces needed to set up a mini zinc plating plant. One of the most important things in zinc electroplating is the amplitude of the electric current which should be around a 100 milliamps per square inch, so simply using a car battery as a power source is likely to cook things.
I bought a hobby power supply with voltage and current settings which works a treat. I generally clean and bead-blast rusted bits before cleaning them in the alkaline degreaser, followed by a tap water rinse, then a distilled water rinse (tap water will mess up the electrolyte) then acid pickle before plating. The idea of using tap water followed by distilled water is to avoid contaminating the distilled water with one of the chemicals so the job enters the electrolyte completely chemical free.
The folks at Classic Plating were very helpful in advising on technique and away I went on a plating adventure. If you're anything like me, the sense of the unknown and satisfaction in achieving a DIY task that's new to you is immensely satisfying.
On a 50-year old Ford that had been sitting in the desert for the last 25 years, there was plenty to do. Steel parts were easy and I quickly measured the total surface area with a ruler before plating a batch to calculate the power setting each time. As usual, experience improves things, so for instance, light bubbles rising from the work piece are fine but rampant fizzing means the power is too high and the job gets burned with black patches appearing. For a smooth and shiny final finish, a smooth shiny surface is needed to start with, so if a part has been aggressively blasted the surface will have a matt or satin silver finish. I vapour blasted the Holley parts using a friend's kit and its came up beautifully smooth.
The end result is stunning and with new jets, floats, screws and so on it's good to go. Plating my own stuff is one of the most satisfying skills I've ever acquired because the frustration of getting half way through the assembly of something, then having to wait ages for plating is so frustrating. This way, the original part can be plated and on the car in an hour. It's also cost effective because one kit will do a lot of plating and most of all, as I always say, it's loads of fun.
Read more
A.C.F. Howell metal finishers is a shrine to shine
Socket Set: The simple beauty of MIG welding
How one man's scrap becomes another man's sculpture: The nuts and bolts of upcycling with metallurgist Mario Tagliavini