Jesse Crosse started as a motoring hack in 1982, was launch editor of Performance Car magazine and signed up an unheard writer called Jeremy Clarkson. He now writes about automotive technology, and spends his time restoring a pair of fast Fords, a 1968 GT390 Mustang fastback, and the same Ford Sierra Cosworth long-term test car he ran while editor of Performance Car. Here he shares tech tips for the have-a-go DIY car enthusiast.
A term you hear a lot in car chat is "spannering," slang for working on a car. It's a funny one because you'll need a few more things in the tool box than a decent set of spanners – or wrench to our American friends – but it's a good place to start. Browse online or walk into your favourite high street tool retailer and the choices can be bewildering. So here's a whistle stop tour on what kinds of spanners there are and the differences you should know about before getting set to build up your tool chest, roll up your sleeves and work on your car or motorbike.
How much is your car to insure? Find out in four easy steps.
Get a quote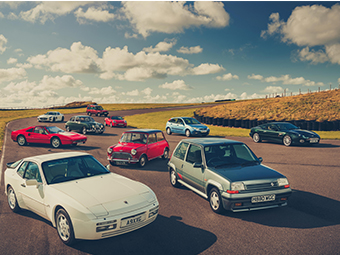 First of all, spanners are based on different thread types and while in the UK threads used on cars are now metric, it hasn't always been that way. Although Continental Europe has always used metric sizes, metric didn't become the standard in Britain until the 1970s, after the British Standards Institution recommended that British industry switch to International Standards Organisation (ISO) metric thread. 
Metric spanners are fairly straightforward to understand in that the size given on the spanner, say 13mm, refers to the distance in millimetres across the flat-sided surfaces of a nut or bolt head. The same is true of Imperial "AF", found on American classics and UK cars built after 1960. AF is short for "across the flats" and again, it's a literal measurement so if the spanner is marked 1/2 then it means the distance across the flats of the nut or bolt it fits is 1/2 an inch.
With older British classics it gets a little more complicated because you will encounter BSF (British Standard Fine) and BSW (British Standard Whitworth) threads which have nut and bolt head sizes corresponding to the diameter of the thread rather than the distance across the flats. This means that if the size stamped on a spanner is 1/8th BSW, the distance between the flats of the spanner won't be 1/8th of an inch.
Sounds confusing but it isn't a problem because the best advice if working on older classics like pre or post-war MGs for example, is to buy a set of BSF and BSW spanners. They're easy enough to find online from specialist tool suppliers, including King Dick Tools, although high street retailers are likely to sell only metric spanners, while socket sets usually contain both Imperial AF and metric sizes. Some dimensions are close from system to system (like 13mm and 1/2 inch for example) but not exact. Take care when tempted to use a substitute because a loose fit can all too easily round off a stubborn nut or bolt.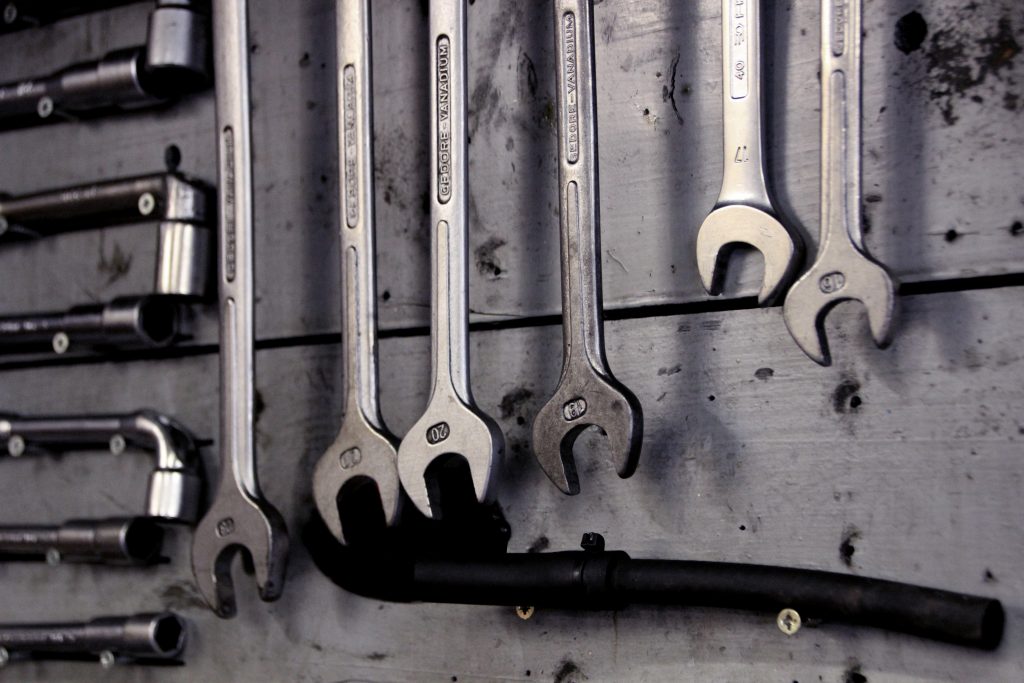 So much for the sizes then, but what about the different types of spanners? The most basic is the open-ended, so-called because the jaws are shaped like a letter "C". Each end of an open-ended spanner are of a consecutive size, so an AF spanner may be 1/2-inch on one end and 9/16th-inch on the other, or 1/2 inch and 7/16th and so on. Open ended are the most basic spanner and often the easiest to get into tighter spaces.
Ring spanners are just that. Instead of two flats, the spanner head is closed in a circle, its inside face resembling a kind of female gear which grips the angled edges of a nut or bolt head, rather than the flats. Ideally, pick up a ring spanner in preference to open-ended because there's little chance of rounding off the edges of a tight nut or bolt. They can also be positioned on the nut or bolt at a greater number of angles which can be handy in tight spaces. The head of a ring spanner can be bulkier than an open-ended though, and because it makes a full circle, it's sometimes a squeeze to get one onto a nut or bolt positioned close to another object. A tip is to buy good quality ring spanners because they generally have the thinnest possible walls while still being strong.
Combination spanners are the most common type found in sets and have an open end and a ring end, both of the same size. Ratchet spanners are ring spanners comprising a ring within a ring, the inner part rotating in one direction and not the other, so the spanner is used like the ratchet wrench of a socket set. They're very useful but like a ring spanner, better quality examples have slimmer components which again, helps when space is tight.
Sockets do the same job as a ring spanner, work in the same way but are even more secure. A good set will have different size square drive heads always measured in imperial sizes so a typical socket set will have 1/2-inch, 1/4-inch and 3/8–inch sizes, with correspondingly-sized sockets and wrenches for larger or smaller jobs.
Finally, let's not forget the adjustable spanner. Adjustables are less rigid than forged or ratchet spanners and don't give as firm a grip on the flats, but they can be invaluable as a fall back and a couple of sizes in the tool box are well worth having.
If you've got experience to share with the DIY community, drop a note below and share your tips.
Read more
Reviewed and Rated: 9 multitools put to the test
5 tips for keeping your garage organised
Socket Set: How to clear drainage channels and stop your car leaking and rusting