Now the car show and motorsport season is getting into swing, you'll be busy preparing your classic to make sure it shines and is ready for the admiring glances of other enthusiasts.
You might be assembling a 'show survival kit' to make it more comfortable for you too. Perhaps it'll have a picnic hamper, camping chairs, a brolly and some comfortable shoes.
How much is your car to insure? Find out in four easy steps.
Get a quote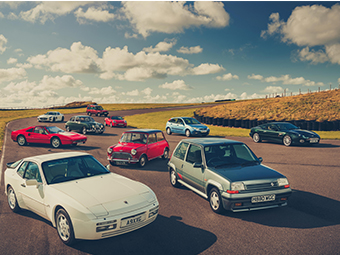 But some shows and race circuits can be huge. The beer tent or autojumble could be quite a distance from the parking area and you might need to get back in a hurry if the tannoy suddenly announces you're up for a rosette.
So how about including a little powered helper in your show kit? An electric scooter or e-bike can be folded down so it will fit in all but the smallest cars and will make darting between the concours and the coffee van or paddock and Portaloo effortless.
We rated a pair of e-scooters and two folding e-bikes to see which was the best for saving your shoes at the shows.
e-scooters
First a word about the law. Riding a privately-owned electric scooter on the public roads, pavement or parks in the UK is currently illegal, although there are rumblings that Britain may come into line with European cities and allow machines which meet certain requirements.
Based on this, we're only testing scooters which would be legal in Europe so they don't become obsolete if the law changes. This means they have a top speed limited to 15.5mph and the motor will not cut in until you 'push off' with leg-power. If you're not too worried about the future legality, there are electric scooters which will do 60mph – if you are brave.
Pure Air Go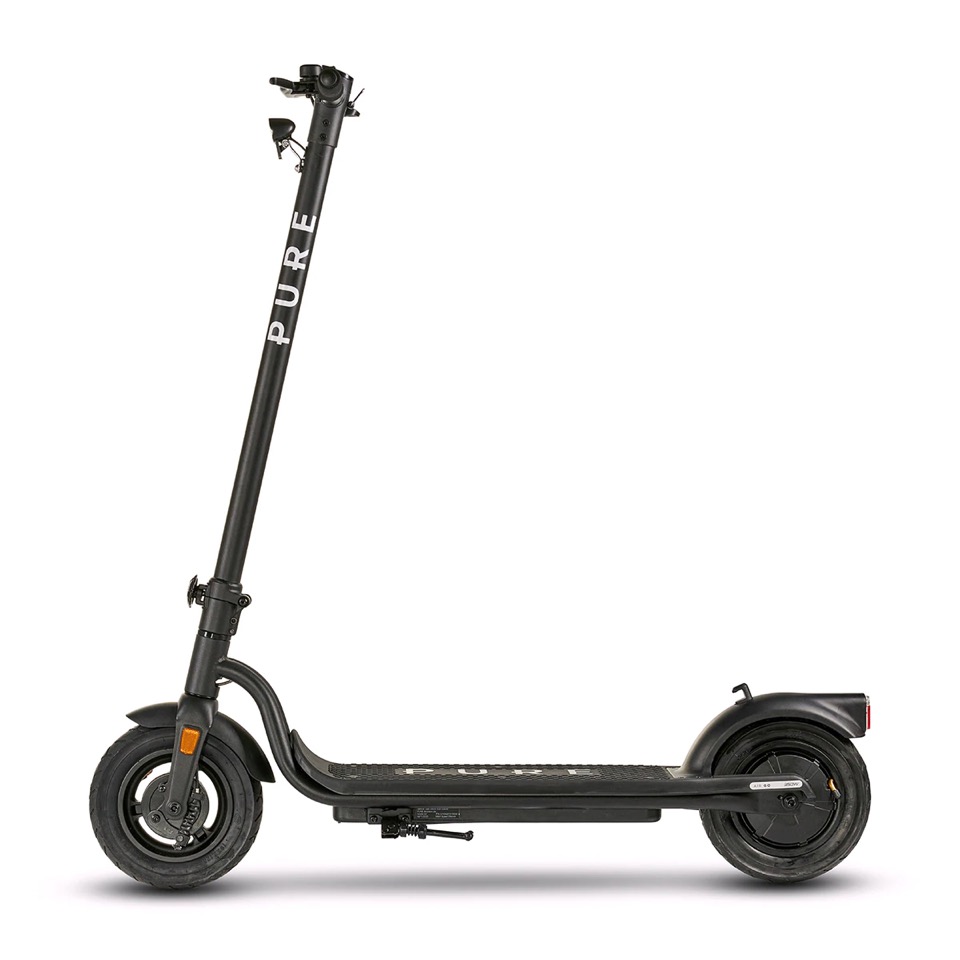 Price: £349
Power: 350w
Range (claimed): 12.4 miles
Score: 9
Contact: pureelectric.com
Pure is the biggest seller of e-scooters in the UK, and motor sport fans might be interested to hear that the company was founded by Adam Norris, father of Lando who drives for Mclaren.
Although Pure will happily sell you one of the many scooters on offer from other makes, it also has its 'own brand' machines which have been designed especially for the UK market.
Crucially that means it is water resistant enough to survive British weather and the frame is strong enough to cope with our larger… er, frames.
The 350w motor isn't hugely powerful in scooter terms but it doesn't feel weedy, even with a heavier rider tackling a gentle incline. The 10-inch, air-filled tyres also mean it feels more stable on rougher tracks and grass where solid or smaller wheels would struggle.
The physical controls are intuitive too, with a bike-like brake lever which controls a mechanical front drum and puts the motor on the rear wheel into reverse to slow you down. It works well and is more effective than other scooters which have switch-operated systems and foot operate friction brakes.
There is a downside though – because the Air is solid and substantial, it is bigger than average and heavy too at 16kg. Lifting it in and out of a boot will soon become tiresome and your car will need to be bigger than average too.
E-Twow Booster S+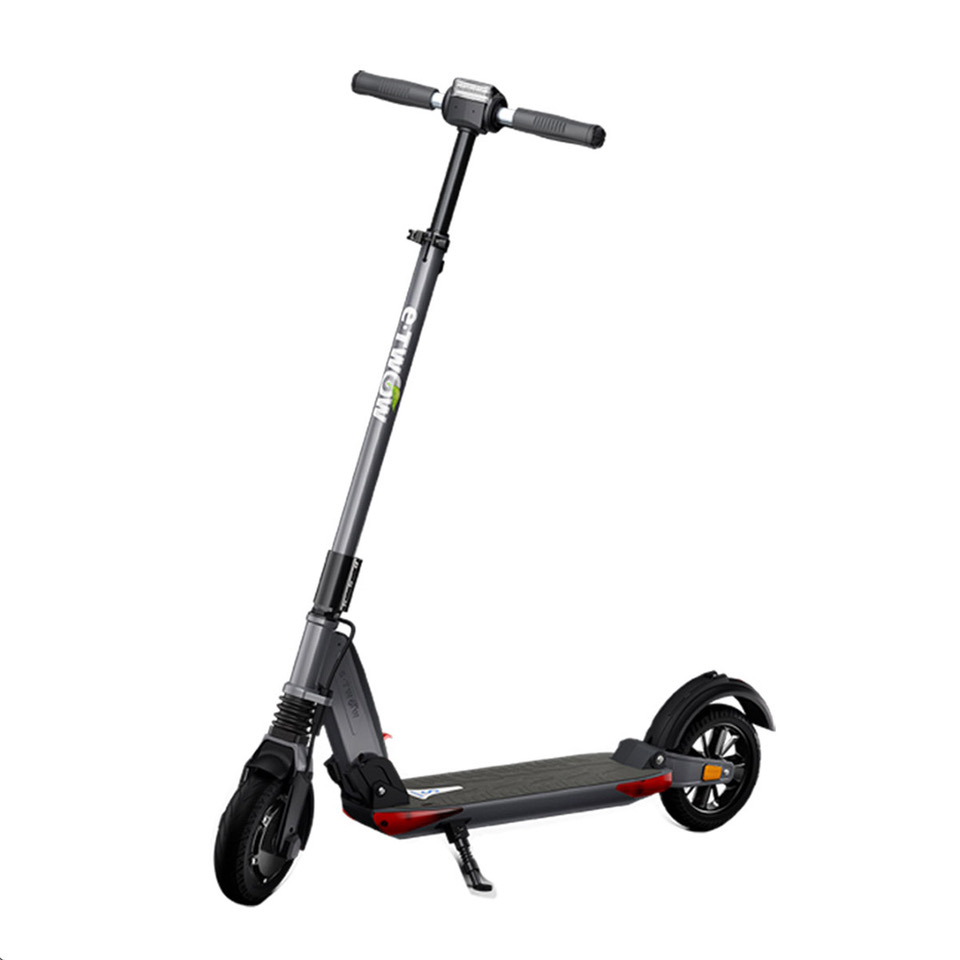 Price: £395
Power: 500w
Range (claimed): 14 miles
Score: 8
Contact: personalelectrictransport.co.uk
The E-Twow (pronounced e2) has a big advantage over the Pure – it's small. The handlebars stow to be flush with the stem and it is shorter than a metre long and 14cm wide when folded. This means it could be carried in smaller cars and could even fit behind the seats in a roadster.
It's light too. A comparative featherweight at 10.8kg, it's more than 5kg less than the Pure, so it's much easier to store on a shelf and lift into the back of a car.
Despite this 'Superleggera' spec, it also has a more power than the Pure too, with a 500w motor. This makes itself apparent on slopes, where the E-Twow will pull ahead easily.
There is a downside to this though. Although it's sturdy enough, it doesn't have the solidity of the Pure. The battery is smaller too, meaning you'll need to charge more often. Use the Booster in its more powerful mode and it may well be wilting after a long day zipping around at a show or circuit.
Despite having suspension, the smaller wheels and solid tyres aren't designed for rough surfaces either, so it's going to limit you to paved tracks and paths. The brakes take some getting used to as well. A switch brings in the electric motor's resistance to slow you down, but hard stops have to be made by stamping the rear mudguard on the wheel.
Finally, the E-Twow doesn't claim to have the waterproofing of the Pure so probably shouldn't be used in the rain. If you can make it work with all that in mind though, it's going to take up less space in your garage and car than the Pure.
e-bikes
Electric bikes have the advantage of being road legal, so you can use them for commuting, shopping, or going to pick up your car from the MoT station. We even used ours to collect a new purchase from a seller.
For this test we chose two of the smallest, as they will easily fit into the boot of almost any car.
MiRiDER One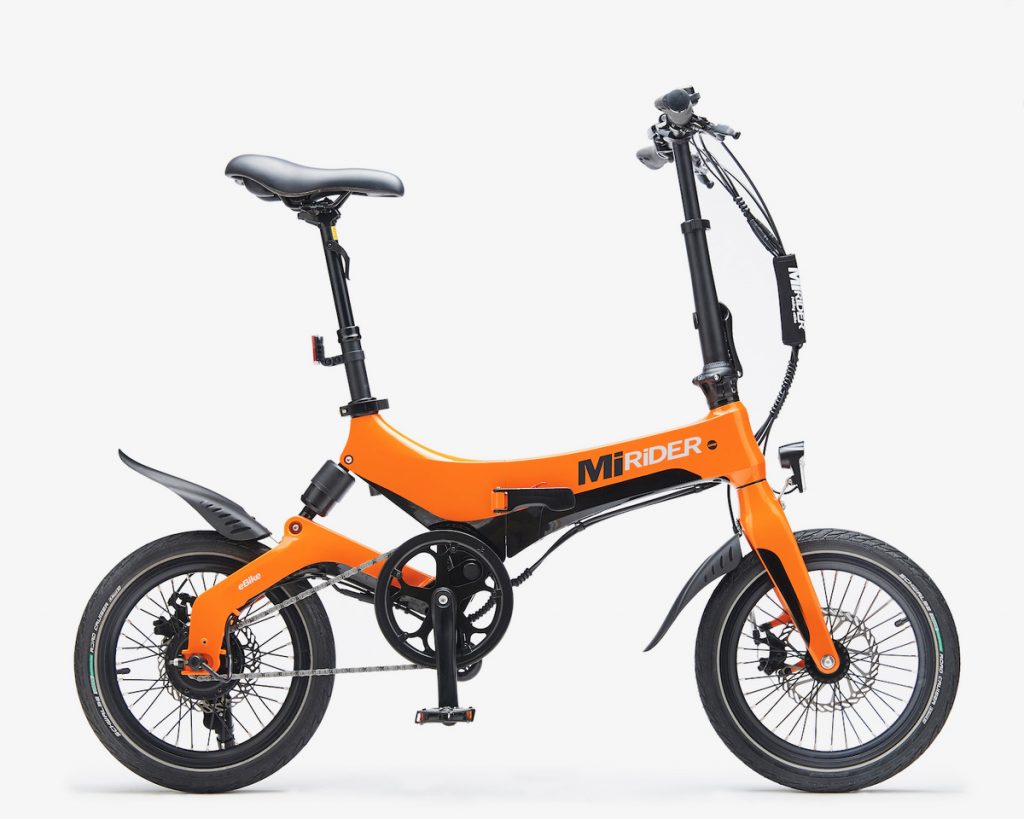 Price: £1595
Weight: 17.3kg
Range: 45 miles
Score: 10
Contact: mirider.co.uk
There's no doubt that £1595 is a great deal of money, but in the world of folding electric bikes, the Mirider looks like a bit of a bargain. There's little sign of any cost cutting in the specifications either, as it has a decent range, is actually lighter than the Brompton and folds almost as small. It will certainly fit with ease into the boot of most classics.
Unlike most of our cars the One only has a single gear, which makes it simple to ride but might be seen as a negative by some. And yet we had no trouble – even as a larger and unfit rider – getting up a steepish slope, occasionally making use of a special 'turbo' boost switch when we were hitting steeper parts or running out of pedalling puff.
We thought it was good fun to ride too, with a sturdier and more stable feel than other small electric bikes, helped by the chunky square frame and 16" wheels. It certainly felt more 'natural' to ride than the Brompton and coped with rougher surfaces better.
Once you've finished pedalling around the paddock, you can remove the battery pack so it can be charged away from the bike – handy if you are storing it in a shed or garage without power. Once slotted back into the bike the charge status and assistance level are displayed on a clear LCD display.
It might not have the cult following of the Brompton, but we think the Mirider is going to be a familiar sight soon.
Brompton M6L Electric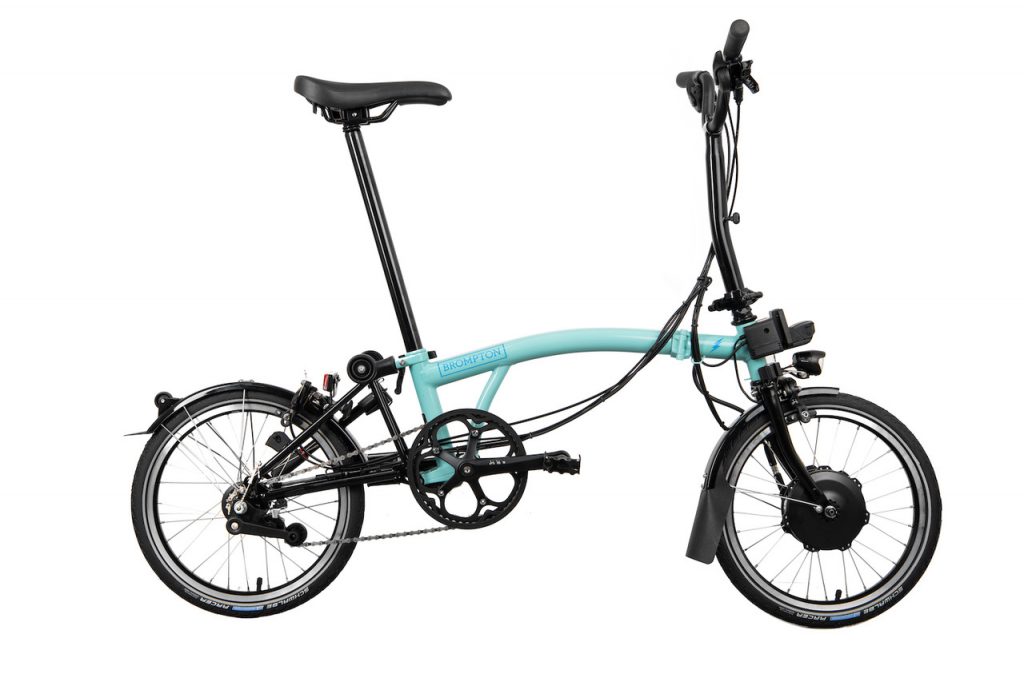 Price: £3215
Weight: 18.3 kg
Range: 45 miles
Score: 8
Contact: brompton.com
We are a little nervous about being too critical of the Brompton as owners are deeply passionate about them – as you'd need to be if you're prepared to spend £3215 on a bike.
There is plenty to love though. Each bike is handmade and wonderful quality, with a huge number of personalisation options.
The Brompton's ingenious folding system is what makes it special though. It takes a while to master the technique – we used YouTube tutorials to get it right – but watching seasoned commuters collapse a Brompton down ready to board a train is incredibly satisfying. Once completely folded it's tiny too – meaning it will fit in the boot of smaller cars and won't take up much precious garage space either.
The electric version is clearly a 'conversion' of the unassisted bike – F1 Team Williams helped with the engineering – but it has almost no effect on the way the famous fold works. The electric motor is enclosed in the front wheel hub, while the battery and controls are hidden in a rucksack-like bag which slots onto a rack at the front of the bike.
Like the Mirider, this means you can top up the charge without having to wheel the whole bike near to a plug, but it also makes the bike easier to carry. You can load the bike into the boot first, followed by the heavy battery, or you can divide the weight between two hands if lugging upstairs, for example.
But for the occasional user, the Brompton's cost is too great to ignore. While an everyday commuter can offset the price against the alternative parking fees or a season ticket, it is too much for a buyer simply looking for a convenient way of getting around a show, campsite or race track.
Read more
Reviewed & Rated: Discovering the best navigation apps
Ride on time: 13 collectable motorcycles to buy now
Gran Turismo 7 review: The racing game it took 25 years to perfect