While the company missed a trick not building its traditional wooden frame from driftwood, the recently announced, one-off Morgan Spiaggina is the latest example of the enduring appeal of that most carefree and dolce vita of runarounds, the beach car.
There's no fixed recipe for creating a beach car, but the general gist is to take an existing production car, remove the doors and roof (or perhaps clothe it in an all-new, roofless body) and then embrace the minimalism of the result.
How much is your car to insure? Find out in four easy steps.
Get a quote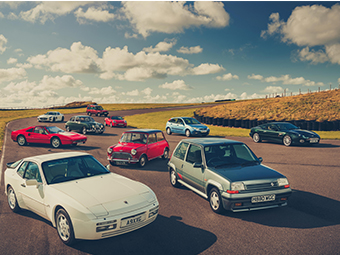 Oh, and while the new, one-off Morgan should be fairly brisk, performance isn't a prerequisite: if anything, beach cars are at their best driven at low speeds, where you're not fighting with the elements, where people can see you, and where you can stop in short order when you find that perfect pavement cafe or tranche of sandy shoreline. We've corralled a dozen chic beach cars that make every day just a little less serious.
Meyers Manx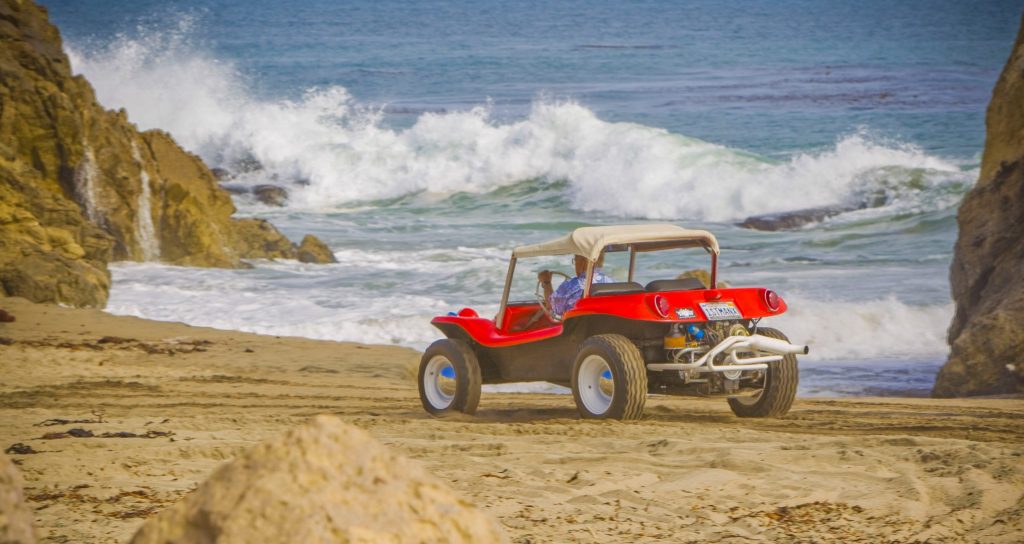 If we're to start with the most iconic of them all, then the Meyers Manx is most deserving of the title. Bruce Meyers set the template when he created the first prototype of his dune buggy in 1964, bolting a curvy, one-piece fibreglass shape over the top of a shortened Beetle floorpan, with nought but a windscreen for weather protection, and a hose-out interior.
If it differs from the direction most others here went, it's that Meyers created it with racing in mind: the minimalist structure was so much lighter than a full-bodied Beetle, making it ideal for dune rallying. But sprayed in vibrant metalflake and filled with beautiful people, there's perhaps no better way of cruising the coast of the late Meyers' native California.
Mini Moke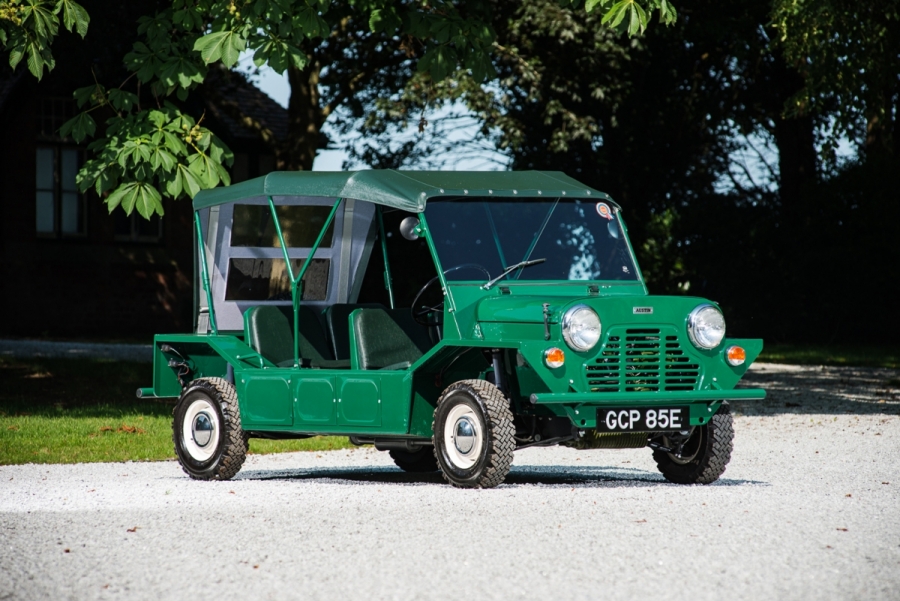 Like the Manx, the Moke wasn't strictly created for beach-side cruising, but has certainly been adopted for the task. The work of Alec Issigonis and John Sheppard, it was intended as a light military vehicle, but to no great surprise with the benefit of hindsight, a fairly low-slung, front-wheel drive car with tiny wheels and minimal suspension travel wasn't quite what Her Majesty's forces were after.
No matter, as the Moke has become a cult classic, broadly as simple to run as any other Mini but with added fresh-air appeal. And like the Manx, and indeed the Mehari (do they all begin with "M"?), it has also spawned many imitators, and revivals – you can buy a brand new, electric-powered Moke today.
Citroën Mehari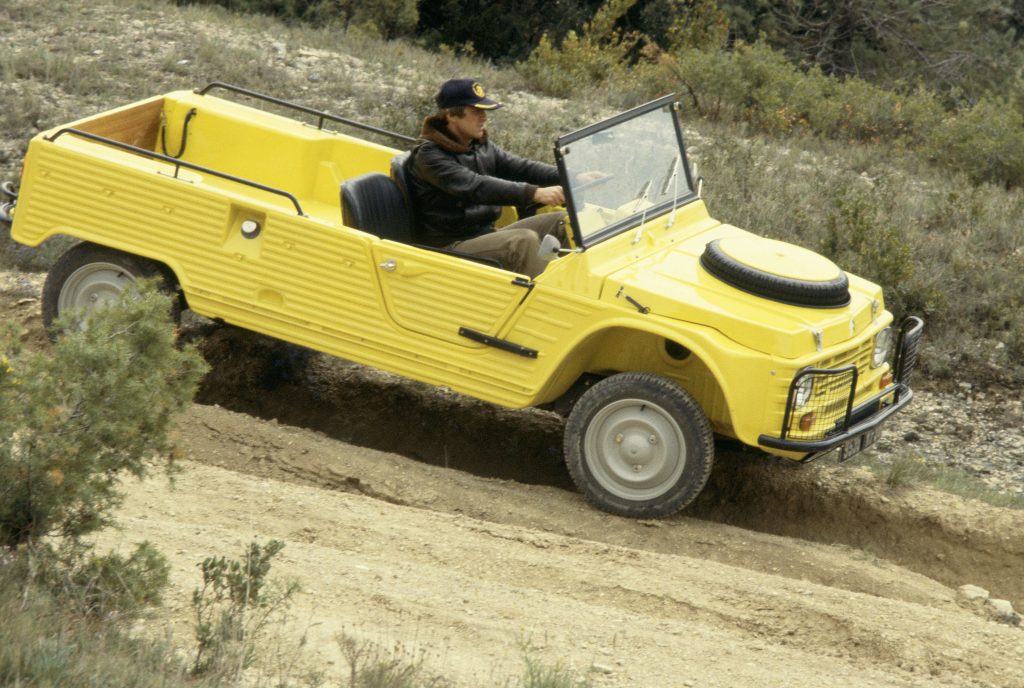 The Mehari – a name that references a breed of camel, to contrast with the Moke's "mule" and the Manx's cat – was born along similar ideas to the Moke, but with arguably much greater success. Designer Roland de la Poype even used the Moke as an example of what not to do, responding with a car with greater ground clearance, larger wheels, and a fibreglass body that doesn't rust.
And the French military actually bought some, so it clearly went down okay with the intended audience. But the unintended audience – the free-spirited, or those for whom even a 2CV isn't quite rudimentary enough – loved it too. Nearly 145,000 found homes, and that's before, like the cars above, third parties started building their own takes on the brilliant formula.
Fiat 500 Jolly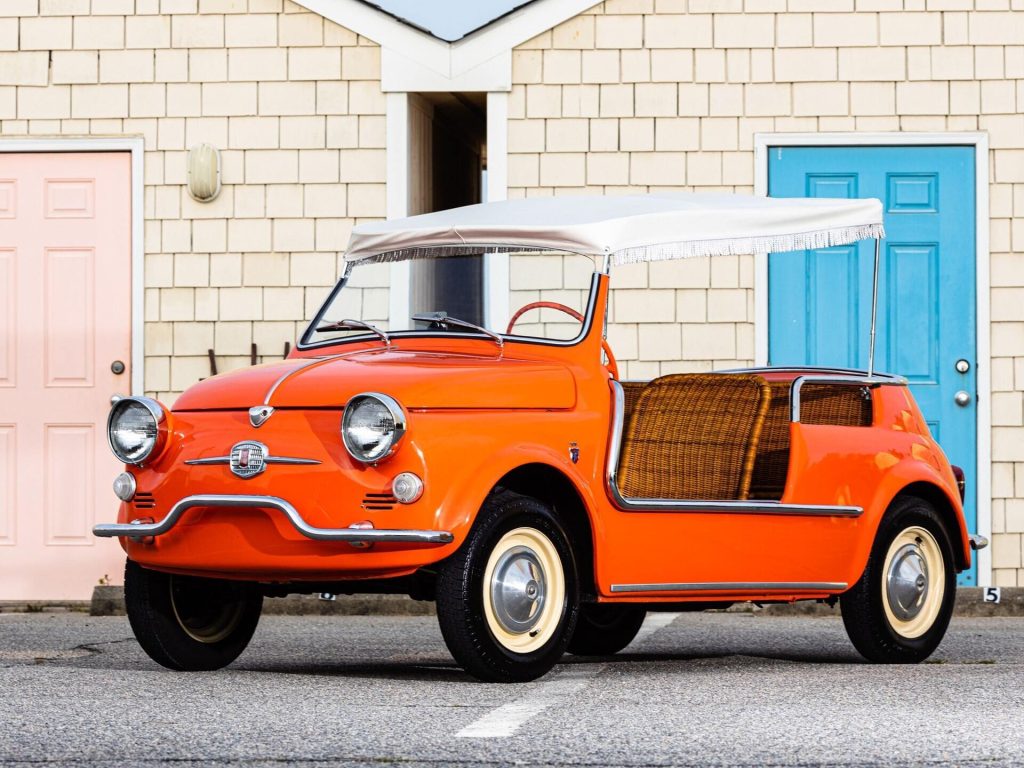 Finally, a beach car designed as such from the start. You wouldn't necessarily want to take a Fiat 500 Jolly onto the sand, not least as a child might mistake the tiny object for a beach ball and kick it into the sea. But the beach car definition is a loose one, and as a car to use by the coast, few come more stylish.
Carrozzeria Ghia had actually built a 600 Jolly beforehand but the 500's the icon, with its wicker seats – letting sand fall through, and imprinting patterns on shapely Italian posteriors – and deckchair-striped canopy. That it's slow is immaterial; who wants to go quickly when you look this good?
Renault 4 Plein Air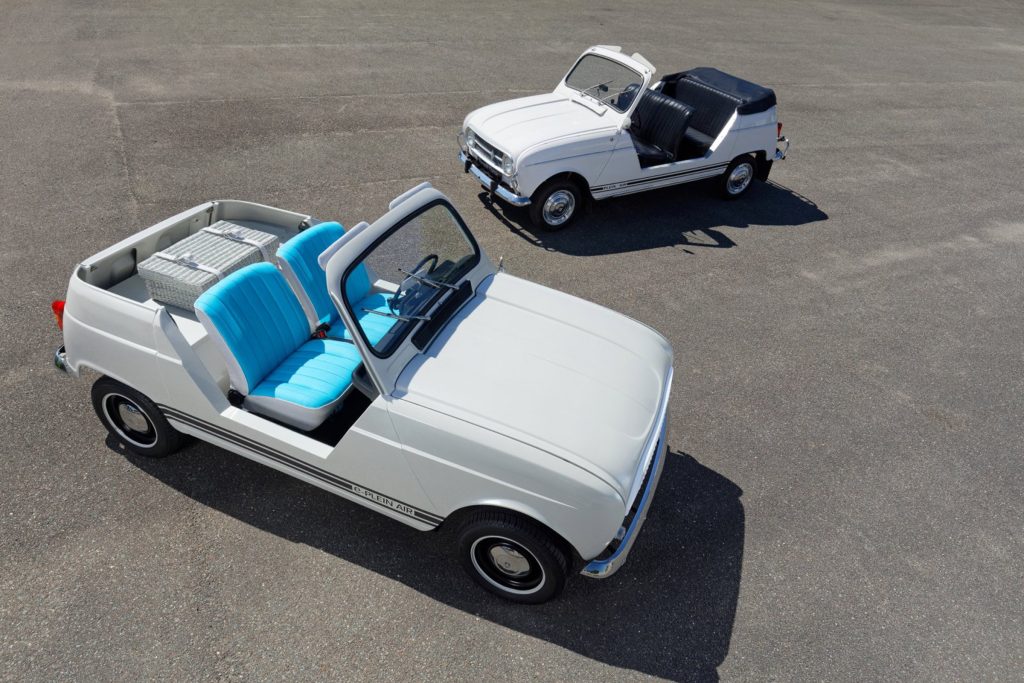 The French army knows a good beach car when they see one. In fact, they actually asked for the Plein Air, a doorless quatrelle that appeared at the 1968 Paris motor show, the same year the Mehari made its debut.
Clearly R4-based, unlike the Mehari with its dedicated body, the only thing to stop you falling out during vigorous cornering was a chain strung between the A-post and rear bodywork. In 2019, Renault reprised the Plein Air in electric form for the tenth 4L International Festival, with a 17bhp motor from the Twizy and a range of around 60 miles.
Volkswagen Thing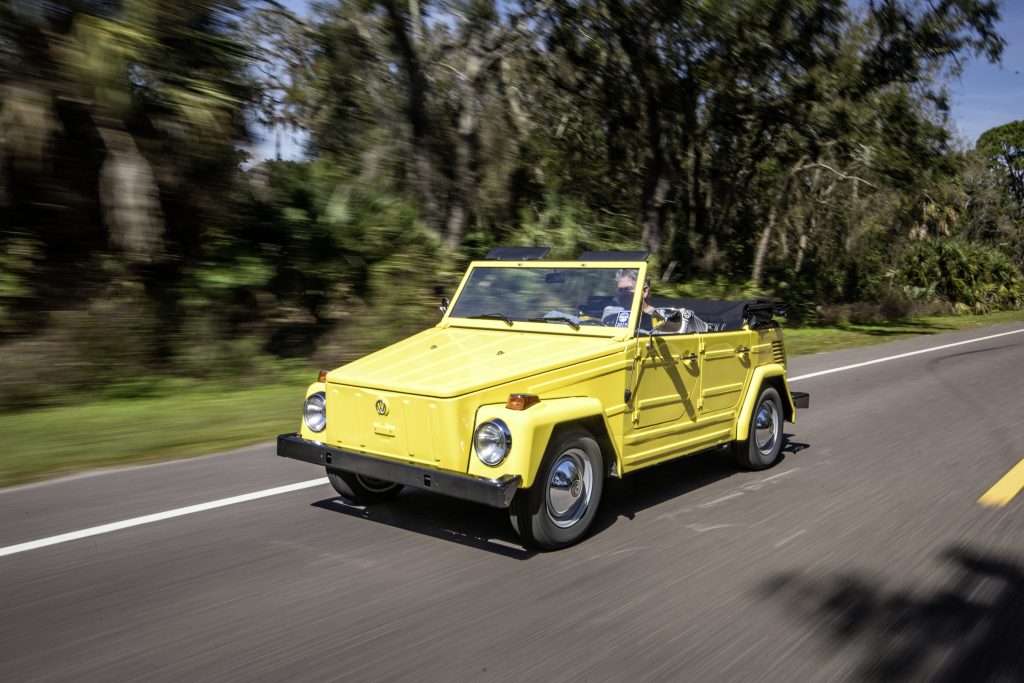 The North American name is best, we think, for the Volkswagen Type 181, or the Trekker as it was known in the UK. Yet another beach car intended as military wheels from the outset, the Thing was a mix of Beetle, Karmann-Ghia and Transporter bits, clothed in a boxy four-door body.
Another 1968 debutant (there must've been something in the water that year), it's among the most recognisable here, with more than 90,000 built, thanks mostly to its success in the US and Mexico. Unlike the Bug-based Manx though, it's a heavy old Thing, coming in at more than 900kg; maybe avoid soft sand in this one.
Teihol Tangara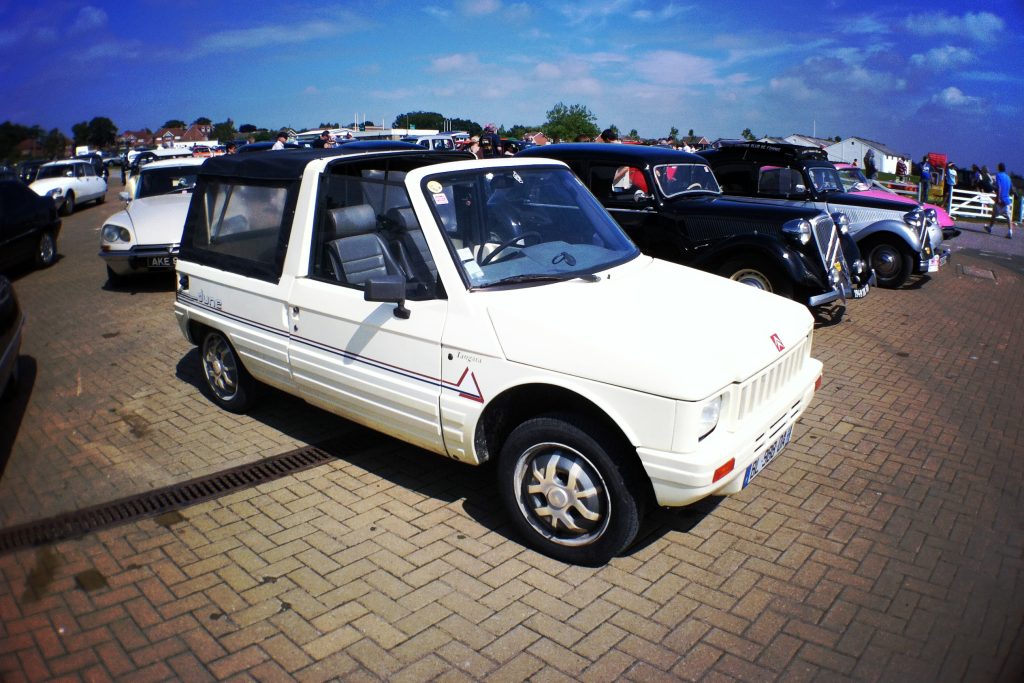 As well as direct imitators, the success of the Citroën Mehari among the civilian, mostly coastal-adjacent population, spawned dozens of thematically similar cars in the French market. The Teilhol Tangara, produced from 1987, picked up where the Mehari left off as production wound down for 1988.
Early cars were again 2CV-based, but from 1988 the Tangara was built instead on the platform of the new Citroën AX. According to Citroenet, these weren't quite as successful, with 151 built to the 2CV version's 1400-or-so units, while a plastic body meant the shape would keep pace with the long-lasting mechanicals.
Trabant Tramp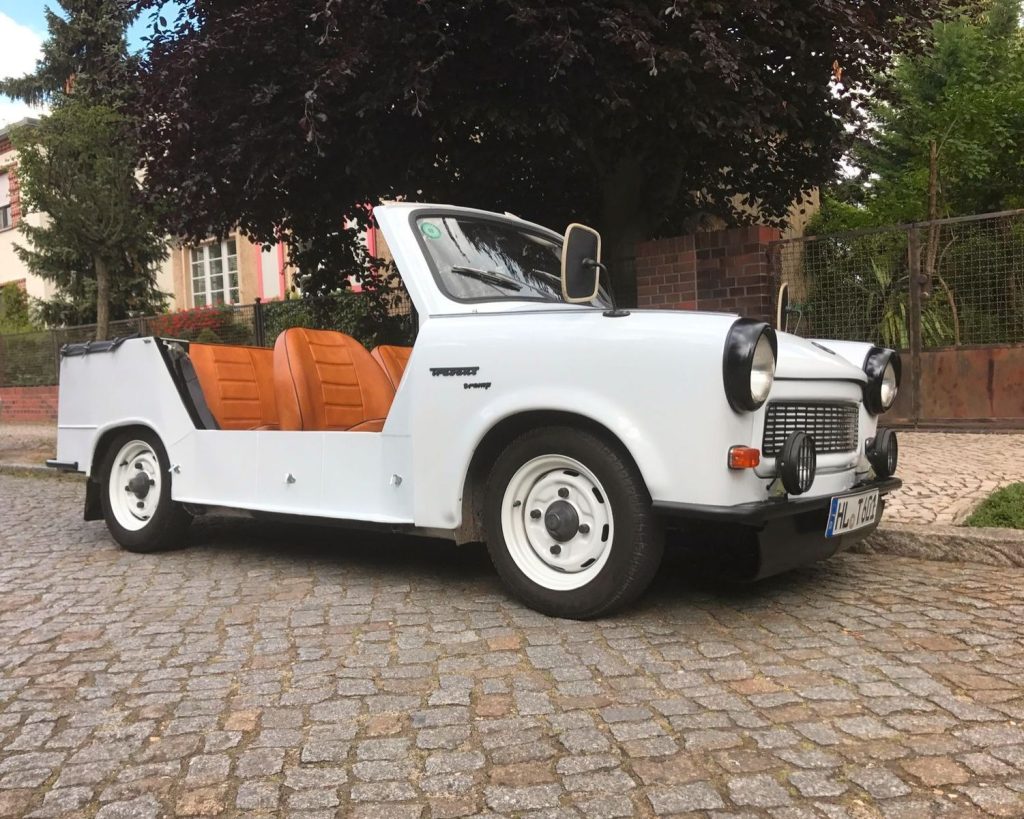 Zwickau is nowhere near the coast, but the idea of a beach car still made it behind the Iron Curtain – though like several others here, the car we know as the civilian Trabant Tramp started life instead as a military model, the Trabant 601 Kübel.
The playbook here is familiar: a boxier and more rugged body, no doors, a basic roof, and in military form an ignition system that wouldn't mess up radio transmissions. How elegant and carefree owners looked with a haze of blue two-stroke smoke following them everywhere is a matter up for debate, but even the proletariat need leisure time.
Fiat Eden Roc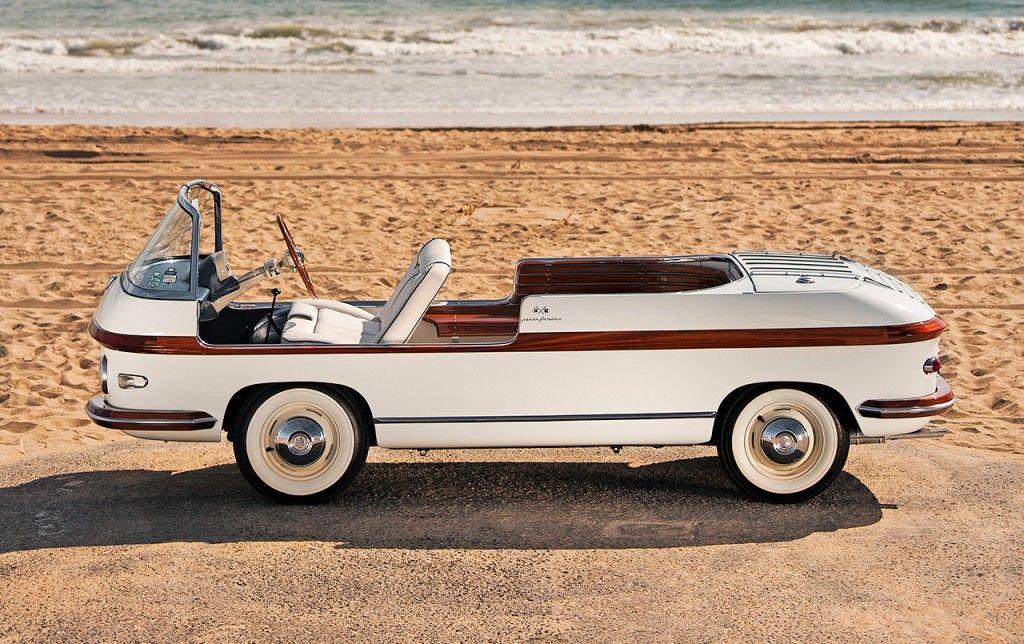 Being cars of the people, Minis, Beetles, Trabants, 500s and 2CVs make natural bases for alternative variants, and the examples above have, we think, retained much of their accessible appeal in transition to something more whimsical and less practical.
But when one of only two Pinin Farina-built Fiat Eden Roc beach cars sold through Gooding & Co at Pebble Beach in 2015 for $660,000, it's fair to say it's in a slightly different class from the aforementioned, even if the mechanicals underneath hail from the 600 Multipla of the 1950s. Still, beach cars don't come much more beautiful; if a Mehari is a rubber dinghy, the Eden Roc is a Riva Aquarama.
Domino Pimlico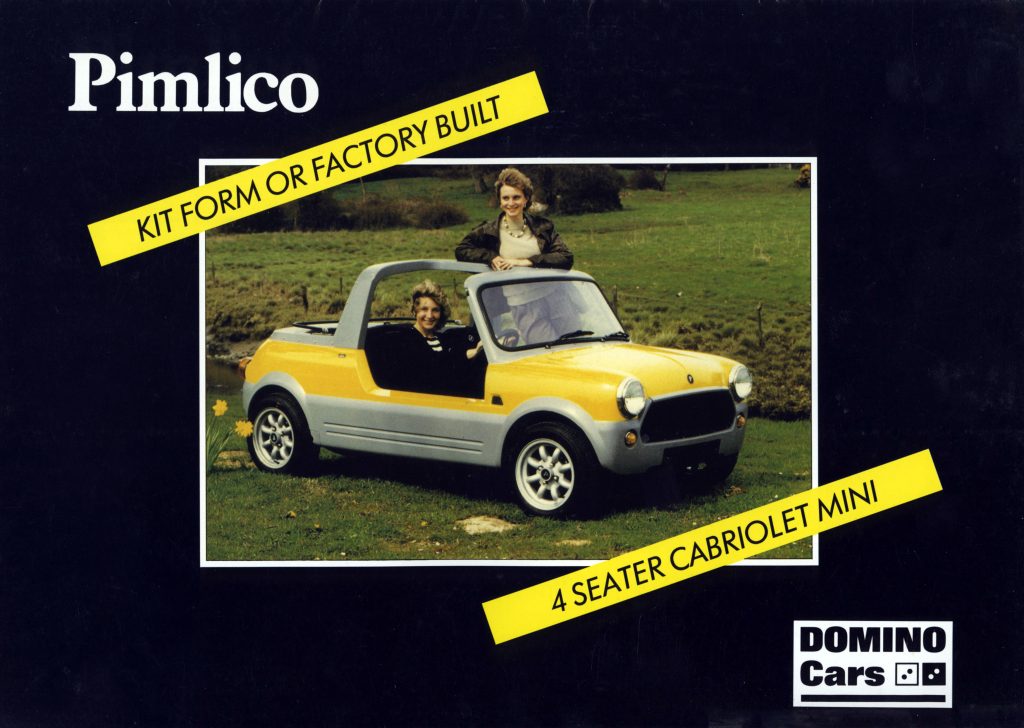 Any Mini owner who has spent time chasing rust will understand the appeal of the Pimlico, which replaced the car's cute but rot-prone body with a GRP monocoque to which the front and rear subframes were bolted.
Unlike the Moke, the Pimlico, built by kit-car maker Domino Cars, retained much of the original's look in its transformation to fresh-air transport. There was still originality here though, with its wider arches and sills, round tail lights, and a Caterham-style pop-on hood and optional doors – making it a potential alternative to Rover's Mini Cabriolet.
Honda Vamos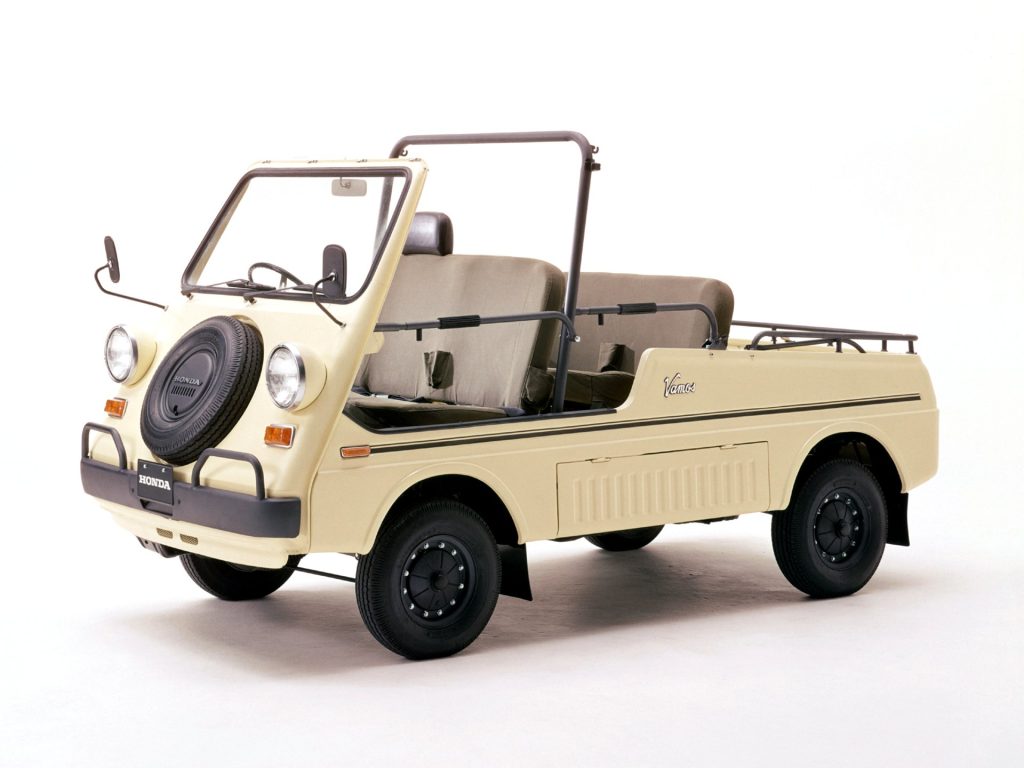 Despite Japan's penchant for the sublime and ridiculous, its makers seem to have overlooked the beach car. Perhaps that's because, Okinawa aside, the country's cloying summer heat, frigid winters, and general lack of sandy coastline mean there's never really been a call for them.
One exception, from a company that certainly produced vehicles you might describe as beach bikes, was the Honda Vamos. A kind of four-wheeled Monkey bike, the 1970 Vamos had a vaguely Moke-style pseudo-military look, particularly in olive drab, but with a forward control layout and rear-wheel drive. The name was later adopted on a much more conventional boxy kei-class van.
Daihatsu Fellow Buggy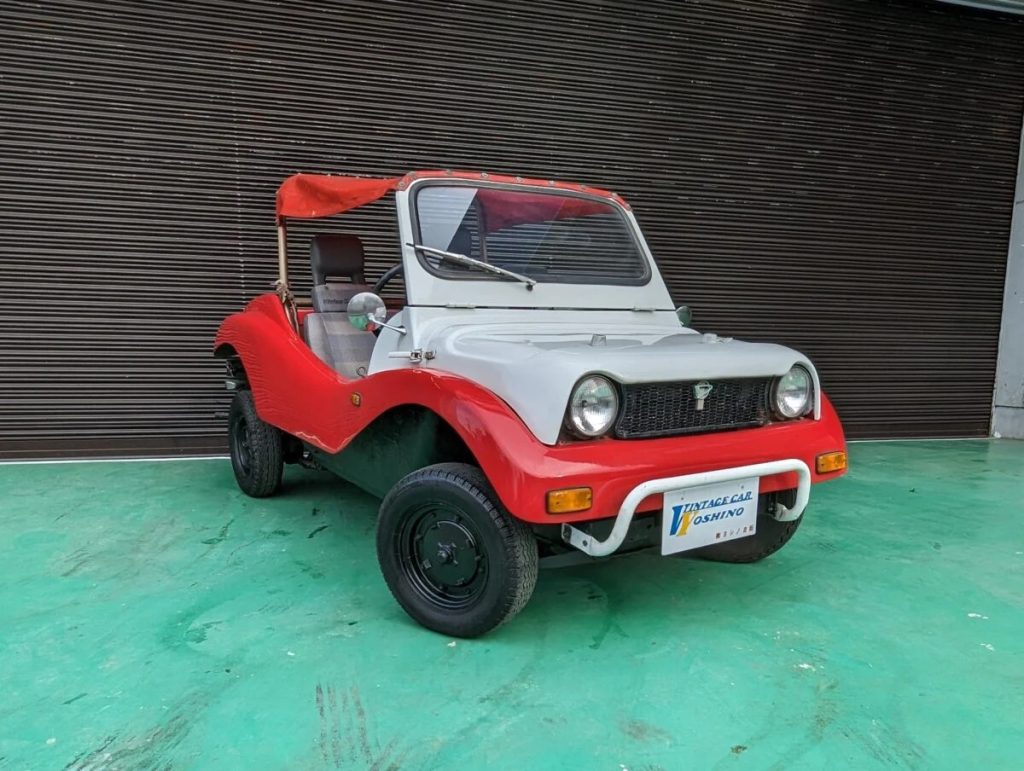 Exceptions to rules need not be singular, and the Daihatsu Fellow Buggy is the "other" Japanese beach car of note, coincidentally also arriving in 1970, the same year as its chief competitor from Honda. Daihatsu's effort was more of a traditional beach car though, with more than a hint of Meyers Manx about its curvy structure.
While using the Fellow name from the company's primary kei-car line, the Buggy was more closely related to the Hijet commercial vehicle underneath. Like both, it used a two-stroke parallel twin of just 356cc capacity – the limit for kei-jidosha at the time. Light weight ensured a top speed of nearly 60mph, but this, we suspect, is another beach car best driven slowly.
Check out the Hagerty Media homepage for daily news, features, interviews and buying guides, or better still, bookmark it.