"I'm terrible at parking, I need to apply for planning permission it takes me so long. It was that bad when I had the Audi 100 I would always go shopping late at night when the car park would be empty. From tootling around in my mum's little 1972 Mini 100, the car I learnt to drive in, the Audi was like driving around in a four-bedroom flat. It was huge. The contrast between the two was astonishing, and the power; I couldn't believe the kick that it had! It was probably a little too much for a 20-year-old.
I think it was quite a good spec, it had a 5E on the front grille, but to this day I don't know what that means other than it seemed to go quicker than the other cars setting off at traffic lights. [It was Audi's first five-cylinder engine. Ed] I cherished that feeling of going at warp speed in short bursts (it felt that you could time travel if you'd got the right angle) before going back to tootling. Most of the time I drive like a pensioner.
It was the summer of 1988 and I was a DJ in Blackpool when I bought the Audi off a mate of mine. He was a DJ too but was always buying and selling things, he was quite entrepreneurial in that way, and this Audi 100 looked quite impressive but was pretty beat up. He'd bought it from a local chap who dealt in fruit machines and had it resprayed Glacier white. I have no idea what I paid but I loved the slightly boxy design, it was a 1982 car so it was just before Audi started to make their cars look all sleek. In contrast, I had very silly, very big hair. I looked like a cumulus cloud on legs, or a lump of beige broccoli, a cross between Bon Jovi and Dynasty.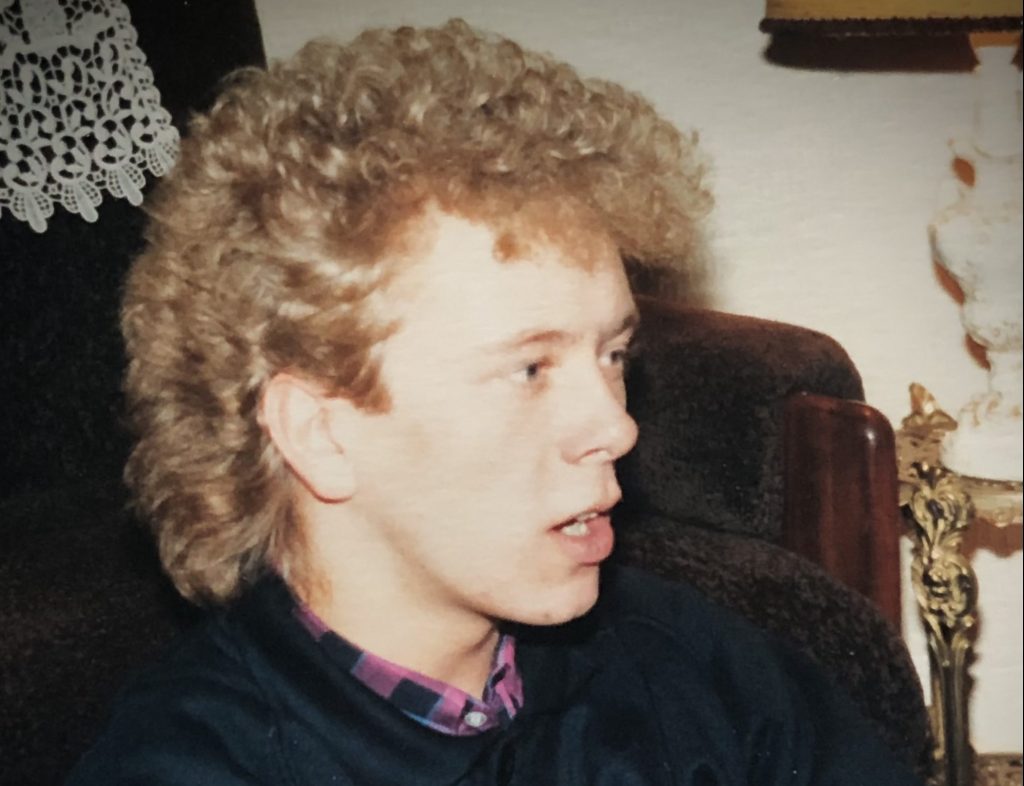 It did what it needed to do. I'd put boxes of records in the back – Rick Astley, Level 42 and Blue Rodeo were of the era – and take it to one of the clubs in Blackpool where I worked; Jellies, Shades or the Palace. I always thought the Audi maintained its station next to the cars owned by the club owners, often a Bentley. I'd look back at it and think 'Yeah, you're doing all right.'
When my mum first looked at it, she said 'Whatever have you bought that for?' but soon came round to the idea because my brother Jim, who is fifteen years older than me, had a 1969 Dodge Monaco which was about 800 yards longer than the Audi, it was like Guernsey on wheels. When I was growing up, I had a great ringside seat watching all the cars he bought, including an alpine metallic green Pontiac Firebird.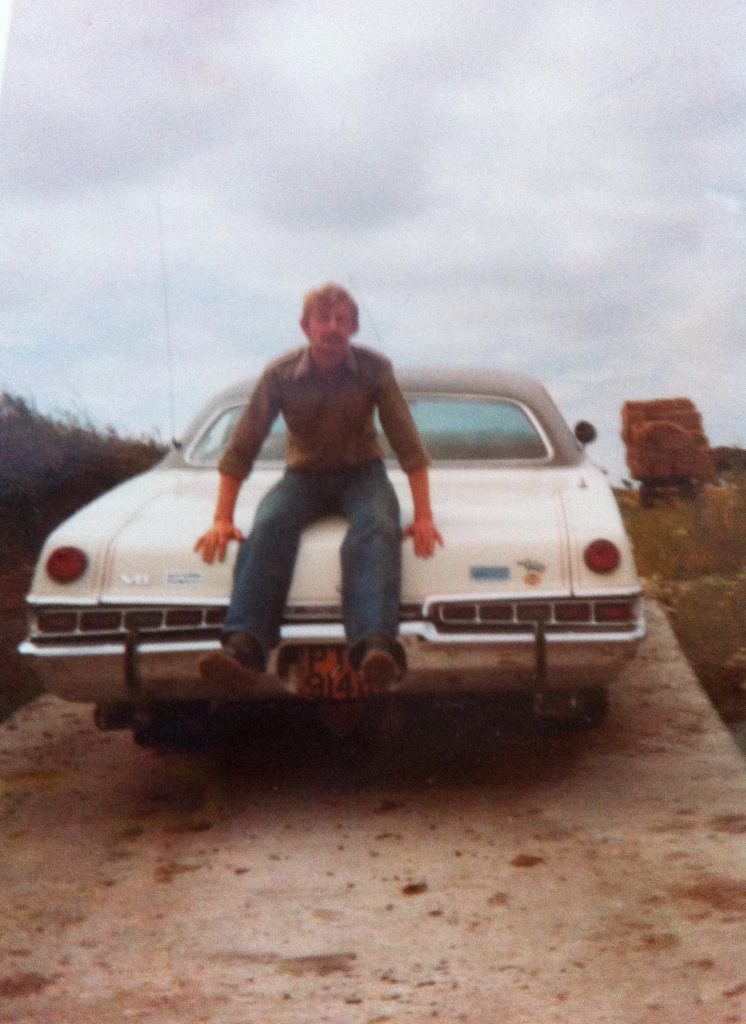 Sitting in the Audi's cockpit felt rather like sitting in a space shuttle. The windscreen was big enough to see the whole of Nebraska through it and had just the right amount of aqua tint at the top so that it faded away nicely to where I needed to be able to see. The three clocks on the dashboard were big, the numbers and the letters were so bold and dials were so sure of themselves. I loved it at night when the back lighting came on; it all lit up in a dark amber.
There was a military sense of efficiency and energy about it, in my imagination the voice of the dashboard sounded powerful, it had this great sense of strength and perhaps a little benevolence to it. I imagine it saying [delivered in a German accent] 'This journey, it is simple for me, I shall transport you,' whereas I'd probably choose my mother's voice for the Mini, it was a bit more 'Oh hello how are ya?'.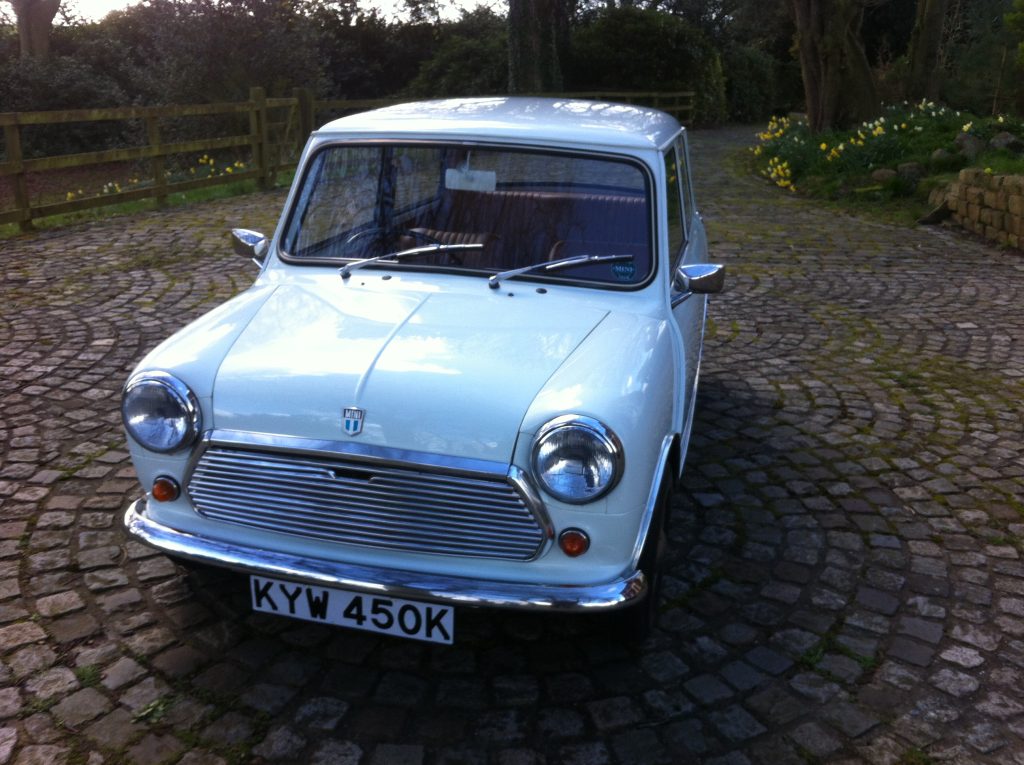 When I got a job on Pennine Radio [now Pulse 1] in Bradford it was quite a wrench to leave Blackpool. It was the first time I'd moved away from home, but like a faithful steed, the Audi came with me. I chucked all my stuff in, slammed the door, tapped the roof and said 'come on then.' Everything else in my life might have been changing but the interior of the car felt very reassuring. It was brown velour with a brown steering wheel and felt like sitting in a velvet overcoat. In a way it was like driving along in my parents living room.
The only modification the Audi needed was to have the water emptied out at regular intervals; it leaked everywhere and gradually fell to bits. I did upgrade it with some stickers of the Audi rings that I bought from a local Audi dealership. They were really expensive, and I can't tell you the number of times I got it wrong trying to put them on under the door handles, a place that seemed to make sense.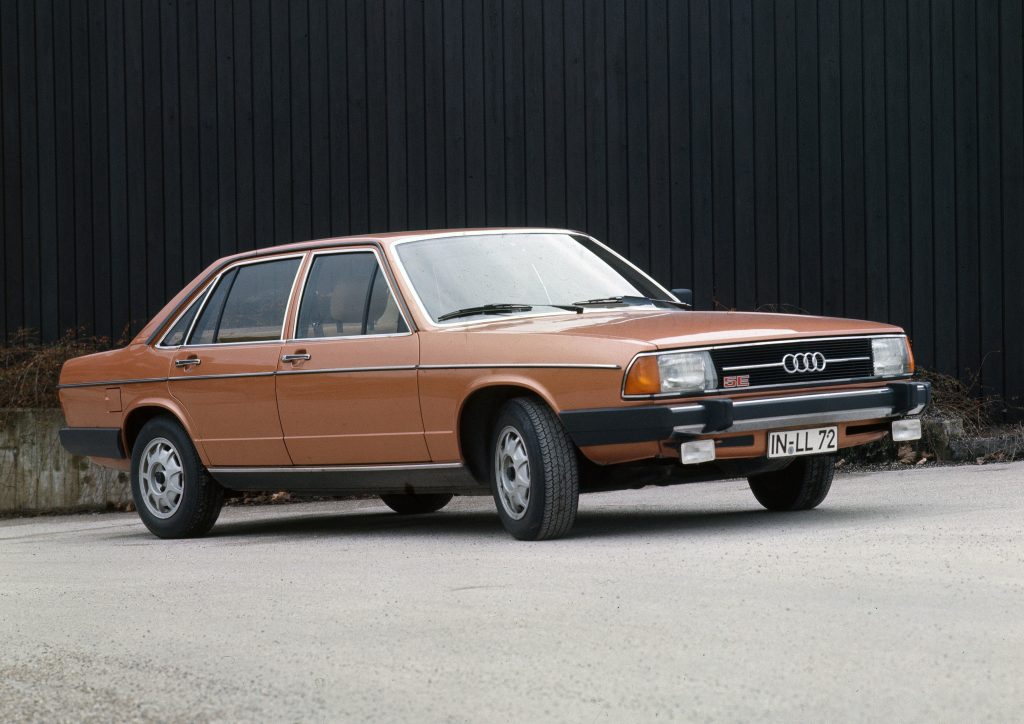 One morning I found someone had crashed into it. The impact on the door was like an asteroid strike, I don't know what on earth had happened, there was no sign of anybody or anything, but after that it had to go. I had to choose a car quite quickly and found a Vauxhall Cavalier 1.8 at a local garage which I think I got fifty quid off as a part exchange. I didn't realise the sadness of it at the time, that came later, and it's a feeling that's lingered. I think you become absorbed in that sort of transactional getting the job done-ness of it, circumstances overtake, and then you've got this new car to get to know. I did enjoy the novelty of driving around in something that wasn't filled with two inches of water with a big dent in the side.
If I could go back, I'd garage it and give it the nurture it needed. Cars are a great way to measure and remember parts of your life, I have a real affection for that Audi. I've got a funny way of remembering odd details and the DVLA confirms 'MCW 966X' [the Audi's number plate] is non-existent, but in an imagined scenario, I think it's in Belgium. It was brought by somebody on a trip to the Yorkshire Dales who saw that it was in a very bad way but thought, yes, that's part of the challenge. They took it back to Belgium, started to fix it, gave up, and it's stayed garaged ever since, but it's just about to be discovered by one of those TV programmes and they'll do it up properly. The Audi then shakes itself off, and says [delivered in a German accent] 'Right where were we?'
Cars come and go. It takes a while to get used to those passing cycles, maybe we get more philosophical as time goes on which is why you feel a sorrow for the ones that got away, but you temper it with the anticipation of the new one that's going to come along. I'm excited to think about what my next car might be, perhaps something electric, for short journeys. I'll be back to pootling again."
Check out the Hagerty Media homepage for daily news, features, interviews and buying guides, or better still, bookmark it.