It might have looked like a car that would be used by a travelling salesman, but my Mercedes four-door saloon was massively pumped up. It had a 6.3-litre V8 engine that sounded like a thundercloud cracking when I started it up, it was rear-wheel drive so tremendously frightening to drive in the wet, and it had lots of idiosyncrasies that needed to be tamed. It was a very, very daft purchase, but it was very, very fun to drive, and I wish I'd never sold it.
I bought my red C63 AMG new for around £60,000 from Mercedes in Beaconsfield in 2013. It was fairly showroom standard, and the performance package was included, but I paid extra for black wheels to match the black leather interior. It had four big exhausts and a nice bulge in the bonnet, but it wasn't out there as a sports car, so I'd describe it as a saloon that had done a load of steroids.
How much is your car to insure? Find out in four easy steps.
Get a quote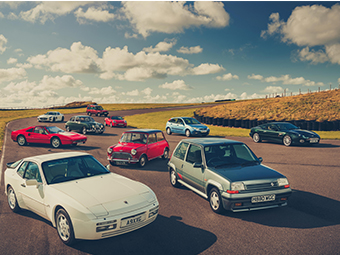 I've always liked fast cars with big engines, my previous one had been an Audi S8 with a V10, but it was a cruiser and I wanted something that was a little bit more nimble. The power to the rear wheels was unbelievable, it was proper tail happy and it was super fun getting used to it, but every time I got home I would feel very pleased that the car hadn't killed me.
I think if you're a car lover you should never go for the safe option, and by that I mean don't go for the one you think will have a good resale value, go for the one that excites you. I'm not interested in clothes or fashion or watching TV, and I haven't got a massive social life, nor am I a drinker, I live my life by thoroughly enjoying cars – they're the ultimate toy for grown-ups.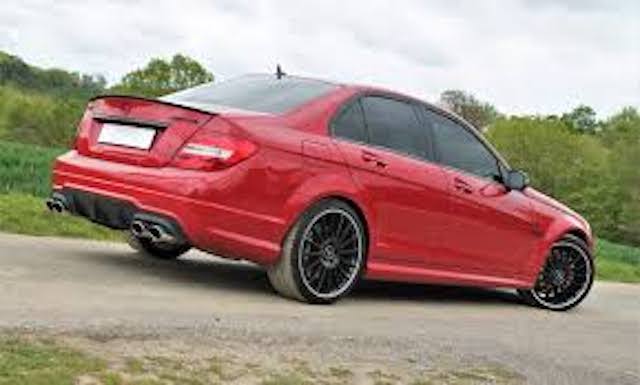 I'm a big person, and some would say I have a big personality, but I don't consider myself brash like the C63 was, and I think that's why I liked it. It was embarrassingly loud and would make everybody jump, but I enjoyed the fact that there was nothing subtle about its presence, at all, and so I'd use it for everything.
I did a lot of miles going up and down the country visiting suppliers and filming various programmes, so it was a big part of my life. Even now, if I finish at my restaurant in Manchester at midnight, I'm very happy to drive the three hours home to Marlow because I enjoy that little bit of time. My world revolves around 250 members of staff and the responsibility of running multiple businesses so I enjoy the process of putting music on and being on my own; driving is my escape zone, and my release.
Cars have characteristics that you have to understand, control and be part of, which is why they require different styles of driving. It's really important that you embrace those nuances so you can handle them on windy country roads as well as motorways. One of the best journeys I made in the C63 was on the motorway up to Yorkshire, it was the morning after my 40th birthday, and the car just sat on the road beautifully. As for scary moments, they happened pretty much every time it went round a roundabout in the rain.
I think old cars are the ones with the most character (I'm lucky enough to have a 2005 BMW M3, 1986 BMW 518 and a 1997 F355 Ferrari in my collection) but the C63 was special because it was the last 6.3 litre V8 engine that Mercedes did. In my view, that motor will probably become a collector's item in another ten years, if it's not already. It represents everything that's anti-environment, but if used sparingly I think it's one of those ones that people will look at and go, actually that's pretty cool.
I like quirky cars, they're very much like the people I buy my food from, and the food I cook. I find individuality rather than mass market stuff far more interesting (as a child, our family car was an old London Taxi) and the C63 stood out from the crowd. Unfortunately, somebody crashed into it whilst it was parked and when it was away to be repaired the insurance company swapped it for a Porsche 911; which was a lot more refined.
After three years of fun, I wasn't gutted when I traded the C63 in for a 911 (which I've still got) and even though at the time I couldn't afford both, I look back and wish I'd kept it. I've no idea where it is now but if I could find its owner I'd love to make a little offer on it. I know how it would have been driven over the years, and I hope someone has given it a very hard life because that would mean they've thoroughly enjoyed every moment of making it go tail happy.
Given the chance, I would take care of it to the point when my little man, who is aged six, is old enough to drive; he's already mad into his cars and pretty handy behind the wheel of his electric drifter go-kart. I'm not sure a C63 with 500 brake horsepower is the right thing to be in the hands of a 17-year-old, and I'm fairly certain he wouldn't be able to get insurance, but on a private track he could really have some fun in it. That's why I'd buy that ridiculous car back in a flash.
Real Life Recipes by Tom Kerridge is out on 1 September (£26, Bloomsbury Absolute)
Read more
Future classic: Mercedes-AMG C63 S
The One That Got Away: Actor Jim Piddock on cars, miscarriages and VIP passengers