It's 9pm in Downtown Denver, Colorado. The Manual Ware woodshop's roller door is up, and that means maker Damon Stevens is home. Technicolour swirls of skatewood sawdust have settled on his sneakers and scattered across the floor around him.
At this time of the night, his neighbours in the River North Art District are winding down in brewpubs, and a few blocks away, boarders, 'bladers and bikers ride ledges, rails, banks and bowls beneath floodlights in the city's biggest skatepark, but Damon won't be joining them, because he's in far too deep.
How much is your car to insure? Find out in four easy steps.
Get a quote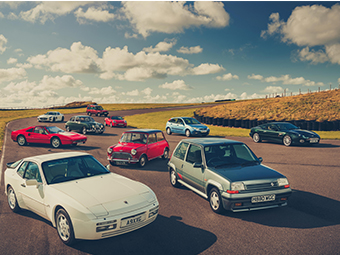 He's been lost in his craft for hours and it's impossible to know how long it will take him to find his way back. For Damon, transforming old and unwanted skateboards into tools, jewellery and accessories is an activity that engulfs him because of its "endless possibilities" and ability to draw him into a flow state, known colloquially as being in the zone.
"Skatewood is still a novelty material that's vastly unexplored in terms of what you can do with it," he says. "I want to push the boundaries of design with new combinations that experiment with the inherent traits that each deck has; the shape, the stripes and the colours."
During his school years, Damon was part of a skater crew that practiced in parking lots and abandoned buildings. Back then, the board represented freedom and friendship, but towards the end of college he began exploring ways he could repurpose rather than ride them.
"Making beautiful and functional artwork that can be used for years to come from decks that have been ridden is a way to capture all the hard work and appreciation that has gone into riding them, it gives them a new life," says Damon. "I sometimes get to meet the people who ride the decks that I end up working with. It's awesome to see how their characteristics and style carry over to their skateboards since no deck is ever the same by the time it gets into my hands."
Traditionally, skateboard decks are made out of seven layers of North American maple wood, which due to its slow growth, is particularly durable. Each layer is dyed before being glued together and pressed into a curve, with a nose and tail.
In Damon's woodshop, works in progress, or WIPs, lie in wait for his attention. For the inquisitive visitor they build a picture of how his upcycling process works.
New arrivals at Manual Ware, a mixture of donated decks and batch purchases, are stowed tidily on shelves. Some wear the patina of their previous life, their edges battered and gnarled, while others are immaculate and scuff-free. "Finding decks with vivid colours can be tricky," says Damon. "I want my pieces to pop, so occasionally I buy from brands that put out quality colour combinations."
An alarming number of skateboards, he tells me, end up in landfill every year so he does his best to rescue as many as possible. "I usually cold call skate shops, reach out to skaters on social media, and ask friends to spread the word," he explains. "The response has been incredibly supportive."
Next to Damon's workbench, glue oozes down the sides of a stack of decks that have been stuck together and held in position by bar clamps. Once dry they will be chopped into chunks and readied for the next stage of manufacturing, which could involve several rounds of re-cutting and re-gluing.
"I take slices of varying thicknesses from these blocks to use in different ways depending on the product I'm working on," says Damon, who combines the decks with recycled plastics and metals to create gear shift knobs, wine stoppers, bolo ties, cutting boards, frames, necklaces and earrings.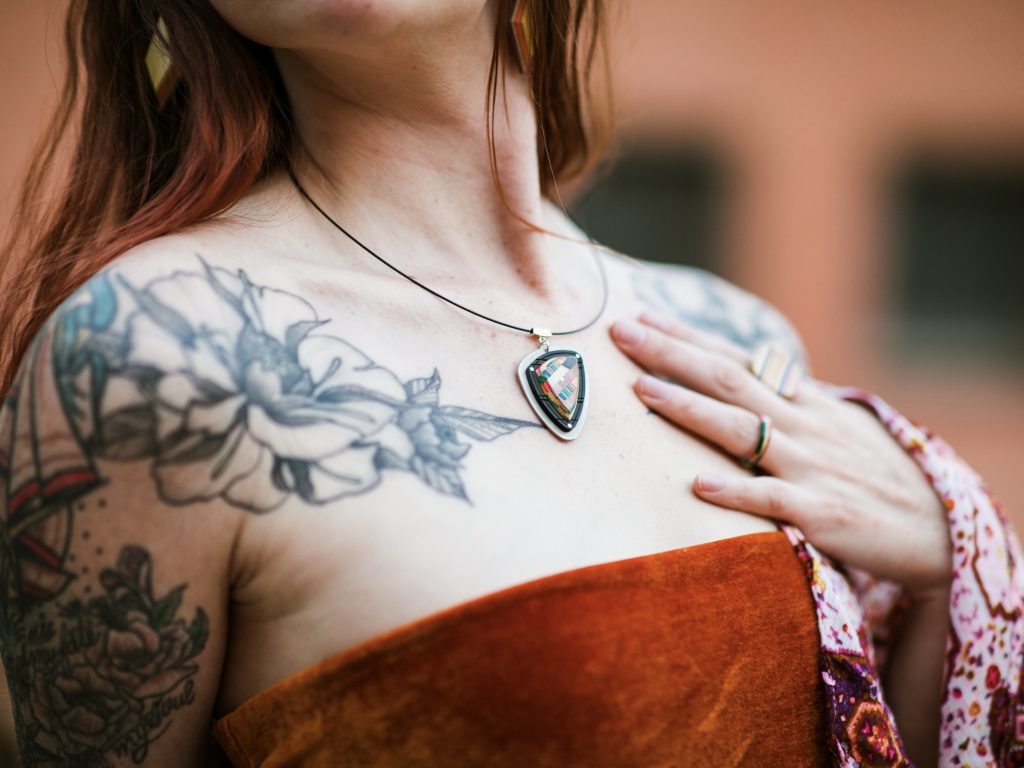 To do so, he uses tools that are deemed must-haves by woodworkers and jewellery makers including hammers, hand saws, files, screwdrivers and pliers. The nature of his designs rely on making "cold connections" between different materials.
"A cold connection is when you attach metals or mixed media together without the use of a heat source or solder," explains Damon. "My intricate and geometric design aesthetic revolves around cold connections, structurally and in the overall detail. I have access to a laser cutter to easily cut jigs, templates, and mock up new concepts. Additionally, to prepare and turn all of the scrap material I have into usable lumber I use a variety of clamps and power tools such as table saws, miter saws, band saws, wood lathes, routers, and drum sanders. I make new things to test my skill set, but also improve on my systems of production for products that I make repeatedly. Part of this practice is for me to understand how to make things and why tools or materials are good for certain situations."
When inspiration strikes, Damon will often test a potential layout and gauge its scaling using 3D modelling software, but most of his patterns are "happy accidents" and it's not until those final, exciting moments when a piece has been fully shaped that its composition really emerges.
"Embracing this level of uncertainty is what makes working with skateboards so thrilling," he says. "Most of the patterns I use today I have stumbled upon when messing around with scraps while trying to understand the best way to break down and utilise my stock material."
"For the gear shift knobs, I take slices of skatewood and offset their pattern so that the grain doesn't line up. This is for aesthetic and structural purposes since cross-laminated layers yield more strength as a whole. From here, the patterned block simply needs to be turned or shaped on the lathe. Each one is unique not only because of the colour and pattern that comes out, but also because each knob is being turned by eye and overall feel. Working on a wood lathe can be very intuitive technically speaking, so it's an amazing tool for making ergonomic handles and accessories."
To finish, Damon seals his pieces with lacquer. It makes the colours pop and provides a durable, long-lasting surface.
As his "happy place" it's quite likely that Damon will be busy in the Manual Ware woodshop well into the night, but this habit of spending long hours on his own, making and tinkering, is something he considers a bit of a personal downfall. "I believe in embracing your passion, but I'm learning to separate my time in the shop with outside activities to make this creative endeavour a sustainable act for me moving forward."
During normal working hours, Damon is the lead industrial designer at MATTER Ltd, a design studio, manufacturer and retail store. His goal is to collaborate with other artists as well as host workshops for those interested in learning about the skateboard upcycling process "Just because something is old doesn't mean it's trash," he says.
Until then, Damon is happy to continue grinding on alone, mastering his craft.
Read more
Hard Craft: Yannick Read, miniature vehicle maker
Hard Craft: Philipp Eissner, the man who makes lights from car parts
Making history with Crosthwaite & Gardiner