On the surface, classic or collector car insurance may appear similar to the standard car insurance policies you're already offering. But a hard look under the bonnet reveals key coverage differences that are important to understand.
In many cases, you'll find collector policies are a more valuable option for your car enthusiast clients.
Here are five principal benefits to share with your clients when recommending classic car insurance against standard motor cover.
Agreed-value policies
Most standard car insurers offer actual cash value policies. That means if the insured's car is stolen or declared a total loss, your client receives only what the insurance company determines is the cash value of the car at the time of loss.
However, this stated "value" is usually based on used-car prices or third-party sources, not the car's true value in the collector market.
For example, standard insurers may value a 2003 Porsche Boxster 986 at a trade-in amount of £5,320.* Hagerty's valuation in the collector market could be as high as £11,030.*
In a payout situation, the difference between actual cash value policies and agreed-value policies can be significant. Writing with Hagerty, you can be confident knowing your client will be made whole after a covered total loss (minus any excess that may apply). Guaranteed.**
You and your client together can decide the amount for which to insure the car using Hagerty Valuation Tools®. This free benefit includes make and model data with condition guidelines for collector vehicles as far back as 1946.
Discounted premiums
Clients looking for the best value for price will love this. Classic and collector car insurance premiums are typically much lower than those of standard automotive policies. That's because these special vehicles are used much less frequently and deserve a rating as such.
Standard insurance providers may rate a classic the same as a regular use vehicle (or a "daily driver") with a much higher mileage use.
At Hagerty, we adjust our premiums accordingly with use — and this saves your clients money. Additional discounts for car club members and multi-vehicle policies are also available.
Inclusive breakdown and recovery cover
Collector policies through Hagerty include full breakdown and recovery insurance across the UK and Europe. As standard, clients will benefit from being able to tour Europe for up to 90 days in their classic vehicle. When brokers write with Hagerty, they provide clients with additional peace of mind knowing help is on the way should a breakdown occur.
Expert claims knowledge
When accidents happen, large insurers likely cannot offer the expert claims knowledge required to repair a classic or collector car the right way. At Hagerty, we're enthusiasts, just like your clients, so we understand the importance of getting a classic vehicle back on the road in the same condition. Hagerty offers clients their own choice of repairer to ensure their car goes to a specialist that they trust. We will only recommend repairers if the client wishes.
Daily driver insurance companies also lack resources to quickly obtain the parts necessary to ensure your car remains a true classic. Though they may have a network of repairers, these repairers may not provide the specialist work your client's collector cars rightly deserve.
Flexible insurance cover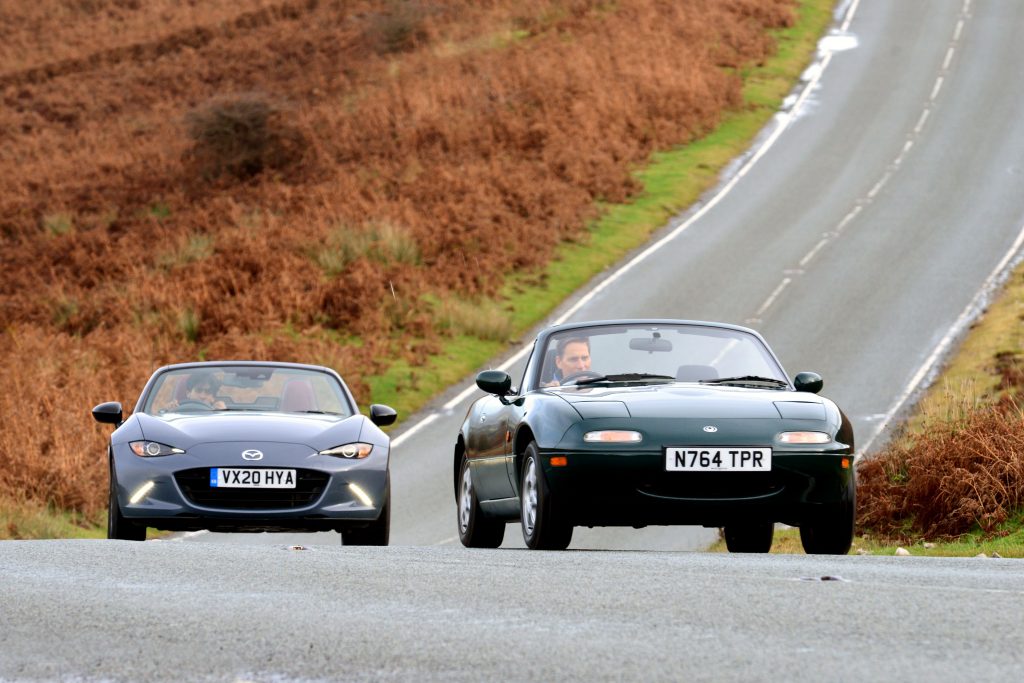 Through Hagerty, you can offer one of the most comprehensive classic car insurance options in the UK. Our cover includes both your client's car and third-party vehicles for damage, fire, and theft.
And since we know classic car owners love road trips, drivers insured by Hagerty are allowed to take the wheel of other Hagerty-insured vehicles, with the owner's permission, and benefit from comprehensive cover. That means your client is free to enjoy long drives through the countryside with friends and even swap cars and drivers on the way to local events.
Bonus: Optional Laid up cover
Many drivers choose to store their classic cars through the harsh winter months. This gives clients a choice – to either eliminate insurance altogether or keep paying a standard insurer a full rate.
The obvious solution is writing the car on a collector policy that includes a less expensive storage cover. Policies through Hagerty can include "Laid up coverage", which protects against accidental damage, fire, and theft while the special vehicle is off the road or under restoration.
When you know a client's car is not being driven, consider offering a collector policy that maintains protection at a more affordable cost than full coverage.
Offer specialty policies for classic vehicles
Hagerty is one of the global market leaders in insurance for classic and enthusiast vehicles. Our UK team is local, and consists of classic car enthusiasts and owners too, so we protect your clients' classics as if they were our own.
Brokers writing collector car policies with Hagerty can take advantage of:
Nimble underwriting. With niche product offerings to provide clients with the best coverage for their collector vehicles.
Customised policies. Whether your client owns one car or a hundred, we'll design a Hagerty policy specifically for them.
Flexible usage. Classics were made to be driven. Whether clients are going to a show or taking a trip to the seaside, they'll know they're protected.
Hagerty makes it simple to quote your customer and retain classic car insurance policies. For more information please contact your regional territory manager below or email enquiries@hagertyinsurance.co.uk.
George Morton
UK Regional Territory Manager – Midlands
07493197293
Carl Campbell
UK Regional Territory Manager – North
07901288512
* Trade-in value calculated as of press date.
** Less any excess and/or salvage value, if retained by you. Agreed value includes all taxes and fees unless prohibited by law.