Over the last few winters, the UK has been hit by some appalling weather. It may be, as some forecasters believe, a long-term change in the country's climate or just a bad run of luck, but recently we've experienced more than our fair share of blizzards, high winds and extreme flooding.
For many classic car enthusiasts, this doesn't affect their hobby; the cars remain safely tucked up in the garage until the worst of the weather passes. But for the unfortunate few, bad weather can have a devastating impact on their classic vehicle, whether it is crushed by a falling tree or submerged in floodwater.
How much is your car to insure? Find out in four easy steps.
Get a quote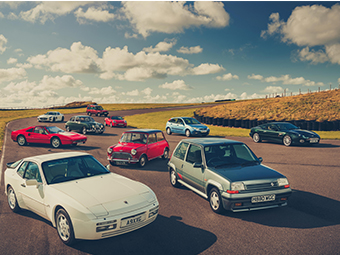 One Hagerty client from Carlisle suffered such a fate this winter. His 1932 Jowett Special, a car he had spent over six years restoring and rebuilding, was caught in a very significant flood and totally submerged. It was days before the waters subsided enough to allow him access with a trailer and remove the car.
In a situation like this, the underwriters- the company that actually insure the car- carry out a blunt calculation: is the cost involved in cleaning, drying and restoring the car worthwhile, or would it be more efficient to write off the vehicle? For flooding claims, the answer is almost always a full write-off (Category A or B) meaning the car is only to be used as scrap. Our unfortunate client from Cumbria was told just this: his car was to be categorised as a Category B write-off.
But as every classic car enthusiast knows, there is much more to a historical vehicle than just the monetary value, and many owners (and indeed brokers) may be unaware that classics may be treated differently, as Bob Owen, the Legislative Chairman of the Federation of British Historical Vehicle Clubs explains.
"The insurers are working under the Salvage Code of Conduct from the Motor Insurance Bureau. This Code is in the process of being changed and is in draft form at present, but we (the FBHVC) have lobbied so that it specifically states that classic cars should be treated differently."
All well and good so far- except the Code is not published and it requires the owner or the broker to know that some leeway may be given to classic cars. Fortunately, as Hagerty International MD Angus Forsyth explains, our client was in a strong position. "Hagerty just deal with classic car insurance policies and we're aware of the emotional and historical value invested in classic, vintage and veteran vehicles. In this situation we were able to talk to the underwriters and explain this, and that the owner was prepared to decontaminate and restore the car primarily himself. That allowed them to reclassify the vehicle as a Category C write-off, allowing it to be restored to the road."
Unfortunately, not every historic vehicle involved in an insurance claim can be protected from being scrapped, but Hagerty hopes that the protection afforded to other historic assets could be further extended to classic cars; can you imagine the furore if a Grade 2 listed cottage was marked for demolition following a flood?
So, if your classic vehicle is involved in a weather-related claim, what should you do? First, explain to your broker that your car is an historic vehicle and make sure its provenance or history is understood. Second, as Bob Owen advises, tell your club. "If the club is a member of the FBHVC, we can help by providing advice." Finally, if you are not already covered by a specific classic car insurance policy, consider changing- it may be worthwhile in the event of a claim to have someone onside who understands that classic vehicles can't often be simply replaced.