Goodwood's recent decision create a Fellowship level of Goodwood Road Racing Club membership has not been without controversy.
The GRRC Fellowship allows access to an online community, a lapel badge, offers and – most importantly for many – the chance to buy Members' Meeting tickets early. Critically, it also maintains that person's place on the full GRRC waiting list, all for £39 per year.
How much is your car to insure? Find out in four easy steps.
Get a quote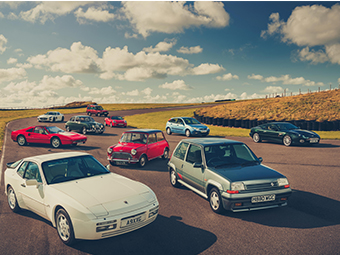 This has not been popular from a number of angles. Full GRRC members have grumbled that many of their benefits are being offered at a fraction of their £220 annual subscription cost, but it is those on the waiting list who have been most vocal in their criticism. With Goodwood even telephoning those previously on the list to 'remind' them that their GRRC waiting list place will be lost unless they pay to join the Fellowship, some have suggested it is nothing more than a revenue-building exercise.
So, for those of you unwilling or unable to become Fellowship members, we thought we should investigate other motoring clubs, and what they offer. Here are our top six.
Automobile Club de l'Oest (ACO)
Ask any petrolhead in the know why they should join the ACO, and you'll receive a one-word answer: "showers". Ok, so the reasonable annual membership charge (€109 for Racing Auto and €65 for Racing Moto) gives you discounted tickets to the main Le Mans events, but it is at the 24 Hours of Le Mans event that your ACO entry pays for itself many times over. Anybody who has braved this automotive rite of passage knows that it is not just an endurance event for the competitors but also for those spectating, and use of the members only shower block is a huge privilege when compared with the grim, Gallic alternative of the campsite ablutions. Oh, and an ACO sticker on the windscreen is possibly the coolest statement there is. https://www.lemans.org/
The Beaulieu 100
Beaulieu 100 member Nick Mason called it "probably one of the smallest, yet most distinguished, car clubs in the world." He's right- the tiny organisation, limited to only 100 members, is littered with a who's who of motoring names, from Murray Walker and Bernie Ecclestone through to Chris Harris. The highlight of the club year is a black tie dinner at the 800-year-old Beaulieu Domus with a reception in the National Motor Museum, and you can't buy tickets; only members and their guests are invited. At other times of the year, members are offered tours to locations usually out of bounds to the public, from F1 team headquarters to exclusive restorers. At £1,000 per annum it isn't cheap, but the Beaulieu 100 lapel badge says a lot more about the owner than other similar items, and members have the benefit of knowing that their payment is actually a charity donation that helps to maintain the National Motor Museum. http://www.nationalmotormuseum.org.uk/Beaulieu_One_Hundred
Club GTO
Now, if we're talking limited membership then even the Beaulieu 100 can't beat Club GTO. To gain membership you need just one thing: a Ferrari 250 GTO. With only 38 ever made, and the Hagerty Price Guide currently valuing them at up to £53m, places don't come cheap. In fact, it is so exclusive that they don't even consider themselves a club, instead meeting for 'Anniversary Reunions' every few years or so. The last of these took place only a few weeks ago in Tuscany, when 20 of the iconic cars met together for a tour, lapped Mugello and Fiorano, and finished up at the factory in Maranello. There's no website, or if there is, it is very private.
The British Automobile Racing Club (BARC)
Formed in 1912 as the Cyclecar Club, the BARC arranges race meetings at nearly every circuit in the UK, and between 1949 and 1966 was the club in residence at Goodwood. When the circuit closed for racing that year, the BARC sought another home and Thruxton was identified, where BARC headquarters moved to in 1974. Today, the BARC run a huge range of motoring events including the Classic Touring Car Championships, the MSA British Hillclimb Championships and the Porsche Carrera Cup GB. Members of the BARC are not only given the option of competing on track, but also offered training courses to become a marshal. At just £35 per annum (£7 for juniors) the BARC is the most reasonably- priced option on our list, and you still get a superb badge to put on your car. http://www.barc.net
The British Racing Drivers' Club (BRDC)
If a car with a BRDC shield displayed on it turns up to an event, you know the driver is the real deal. If you want a club that is easy to enter, this isn't for you; full members not only have to compete in three seasons of racing in a series the BRDC consider to be 'proper' (F1, NASCAR, BTCC etc) but you also need to enter at least eight races each season and finish in at least six. Oh, and you must achieve three podiums or win your endurance class too. There are Associate members (people who are considered to have made a significant contribution to motor racing) but a quick glance down the list makes you realise this isn't an easy option either. www.brdc.co.uk
The Hagerty Club
In the US, Hagerty already has over 1m members, and the club will soon be open to UK classic vehicle enthusiasts. We plan on providing special insurance offers for members and a huge rage of other benefits, but we'd really like to hear what you would like from such an organisation (within reason!). Email us on enquiries@hagertyinsurance.co.uk or let us know in the comments below.