Tomorrow sees the 125th anniversary of Britain's longest-running motoring event, The London to Brighton Veteran Car Run 2021. More than 300 late 19th and early 20th Century cars tackle the 60-mile route from Capital to coast, in celebration of the dawn of motoring. Meet some of the hardy souls who will undertake the challenge come rain or (rarely) shine – and who care for our elderly cars and preserve history for all to enjoy.
Barbara Dedmen, 1902 Deckert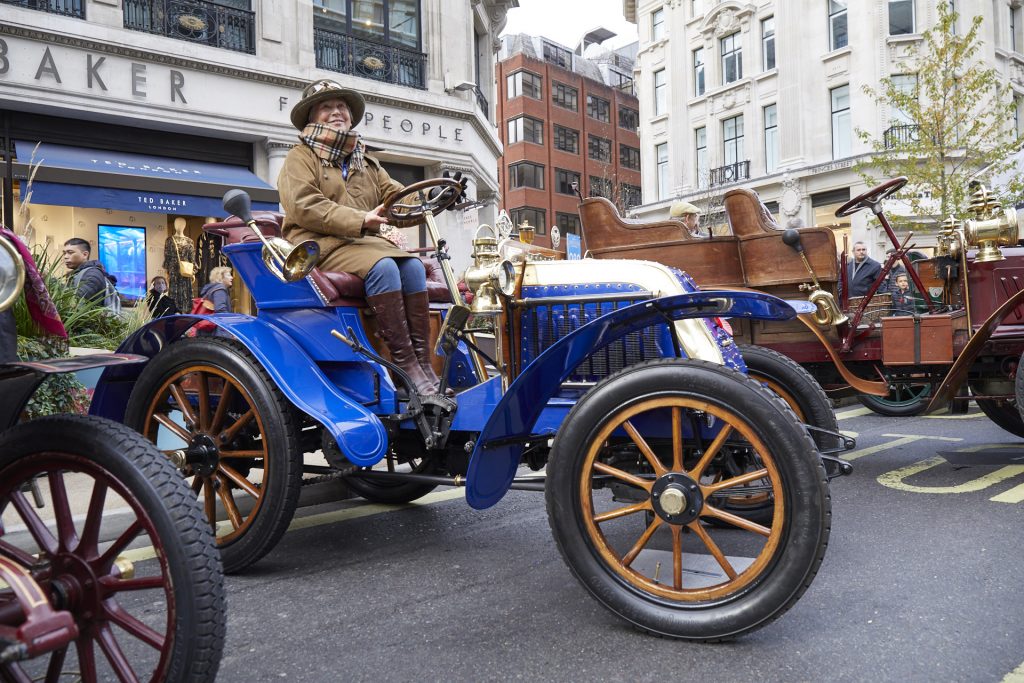 Made in: France
Body: Two-seater
Cylinders: 1
Power: 8hp
"This is now our twelfth London to Brighton. My husband, Michael, and I fell in love with the Deckert. It's the only surviving one, a French car built just outside Paris. We don't know how many were built. It came into our life 12 years ago, after we sold a beautiful little narrow boat, in Little Venice. I used to have Morgans, and would use them every day, to go shopping in and everything. Then I thought the Morgan days are gone and I decided to buy this.
"It was advertised by Bonhams, and was on the front cover of the brochure for the Bond Street auction, and I thought, 'That's a pretty car' and we stepped into a completely different world. It came with an entry for the London to Brighton run, but we're not that mad – you've got to be sure about the car, how it runs and how it works, before entering an event like this!
"My advice to anyone thinking of thinking of going on the journey into veteran cars would be, with hindsight, to perhaps be a little less gung ho than us. There was another car during the same auction which we could have bought for considerably less, but it came up after our Deckert. But having said that, it is lovely having one of only one. Unique. We intend to take great care of it."
Bill Cleyndert, 1900 Phébus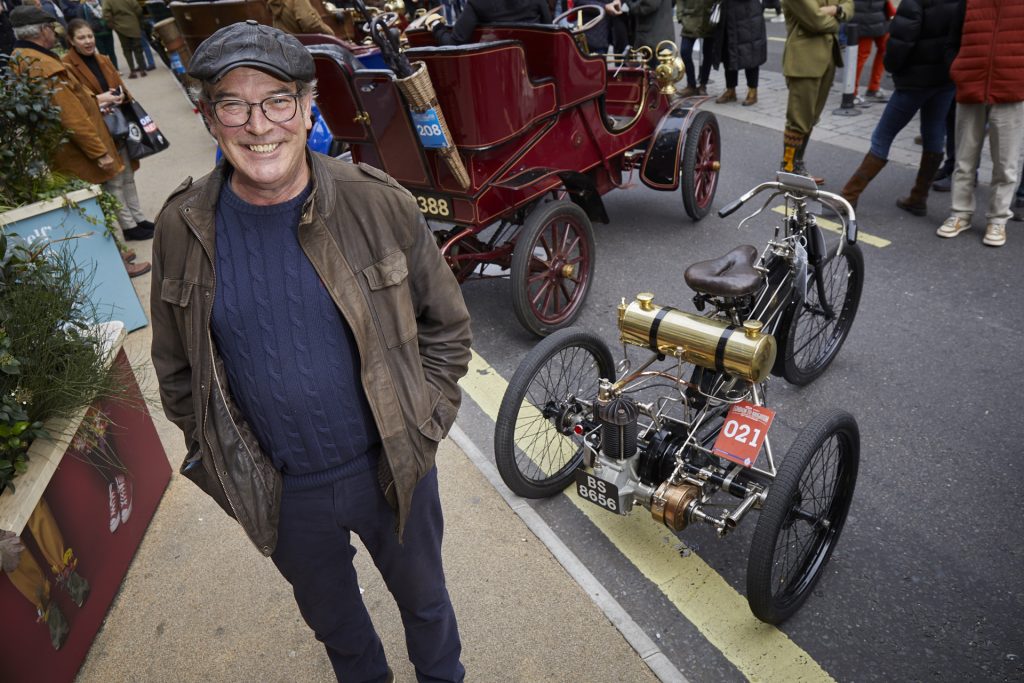 Made in: France
Body: Tricycle
Cylinders: 1
Power: 2hp
"The Phébus came into my life four years ago, so it's a relatively new experience for me and I am thoroughly enjoying it. My friend Robert Abrey kindly invited me to passenger in his [1899] Daimler about four or five years ago and I thoroughly enjoyed the event and thought, 'I've got to get involved somehow'.
"I always fancied a tricycle and this came up for sale and I jumped in. When it runs it's lovely, but when it doesn't run it's a pig to peddle – and she's not running particularly well this morning.
"We've got a problem with the carburation. It has an atmospheric carburettor which basically sweeps the fumes off the top of a pool of fuel, and she's running very lean so she's overheating and there's no power, so we're just looking for air leaks. It's all part of the fun!
"It's uncomfortable to ride, even with that big saddle. You're busy, it's full-on, with lots of levers to fiddle with which constantly need attention to have it running right. And you have no passenger to help – or get off and push! There's a knack to keeping it in the sweetspot and I'm still learning, and that's what makes it so fascinating.
"It's the second time I've done the event. The appeal is the fantastically wonderful machinery and the characters who partake in it. These vehicles are part of our history – the start of modern history – so it's important they get used. If we haven't got events like this they'll sit in garages and no one gets to see them."
Dan Suskin, 1904 Cadillac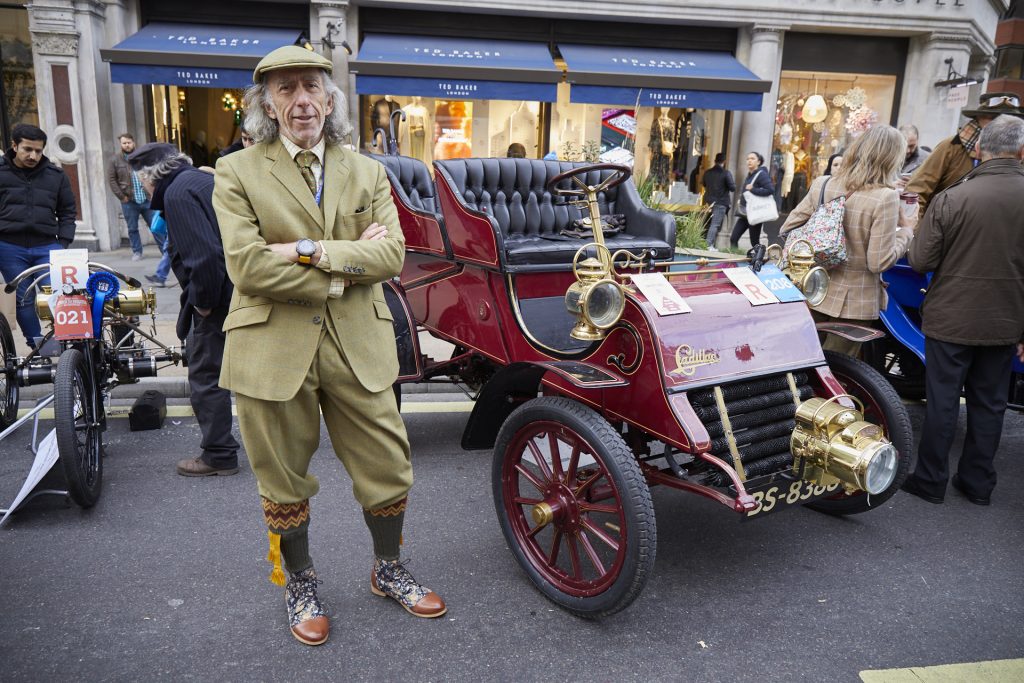 Made in: USA
Body: Tonneau
Cylinders: 1
Power: 8hp
"Why have I come all this way, from America, on the day of my birthday? Because this is the single greatest motoring event in the world. London is a good place to celebrate your birthday, and of all the car stuff we do – and we do a lot – this is by far the best.
"What makes it the best is the people you meet. Massive crowds come out and the people are genuinely interested and they chat to you, and tomorrow on the run to Brighton there will be people most of the way from here [London] to Brighton and they wave and are enthusiastic. It's really the people that makes it all worthwhile.
"The Cadillac is a four-seater with a single-cylinder engine with around 8hp, so it should get three or four people up the hills between here and Brighton without too much difficulty. I bought it four years ago, so I didn't have to ship a car between here and the US, which is a logistical challenge.
"My primary car interest is vintage Rolls-Royce, and I have several Silver Ghosts and early Bentleys, and I knew of this event but I didn't have a car that was eligible. So I said to my wife, 'We need to do that event. I'm going to buy a car , we'll do it once, I'll sell the car and then I'll have it out of my system.' That was 11 years ago and I now have five Brighton veteran cars, because they're just so much fun!
"My advice to others would be to do it if you can. The fun about driving an old car is taking the roads less travelled, stopping in small villages, having lunch, visiting pubs – we have one or two that we know well along the route – and meeting people.
"I think I could do almost anything to fix any of my cars to keep them on the road, but if not the RAC are just fantastic. The service they provide is unbelievably good, the volunteers and marshals are brilliant. This event sits at the top. I would not come for 11 years in a row if it wasn't – and I was annoyed that Covid stopped it last year!"
Kevin and Sandra Mate, 1904 De Dion Bouton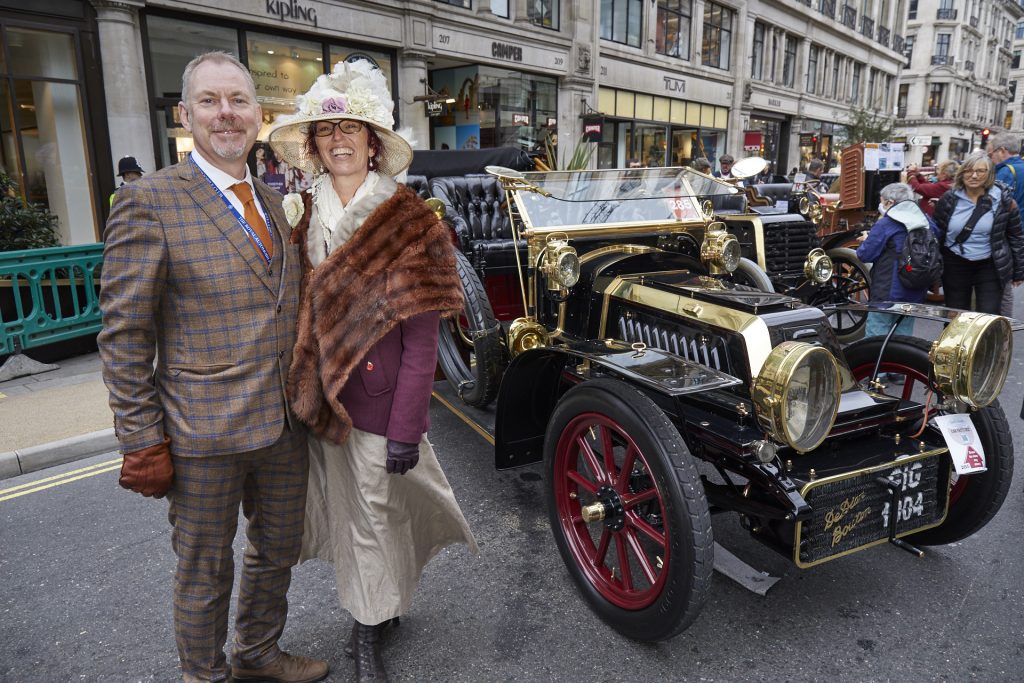 Made in: France
Body: Tourer
Cylinders: 4
Power: 20hp
[Kevin] "The car we're with today is part of a collection owned by Bernard Holmes, and he's a passionate advocate for veteran cars, someone who has always encouraged the younger generation to get involved with the veteran cars. Today we're encouraging the kids to get in the car, take a seat, have a photo taken and hopefully spark an interest.
"The car is one of the first-ever built and is the only 1904 four-cylinder De Dion left anywhere in the world, and is still in regular use. It has done Brighton seven or eight times and attends other events, often around southern VCC events such as the Creepy Crawly, Best of West Kent, New Year's Day Run and more."
[Sandra] "They kindle a bit of excitement. They are loved by all sorts people. I'm a primary school teacher and am trying to organise to bring them to school to show the children, in Brentwood, Essex, and I'm a Cub and Beaver organiser so we use the cars a lot. This morning, we had a secondary school with about 12 girls from year seven to year 12, and we got them to all sit in the car and they were a bit nervous – but one of them was looking to go into automotive engineering, which you can imagine we encouraged!
"We drove the car from Essex this morning, along the A13 into London, through the Limehouse Tunnel, and the reaction was fantastic. People are always excited, beeping and waving, but my hat won't survive the wind! We got to go up to Buckingham Palace and stopped to pose for a couple of photos, and the police were waving at us. It's fantastic.
"My role as a navigator is looking out for other cars, distances to junctions, obstacles, red lights, marshals – and then waving to all those people having parties in their front gardens!"
John Worth, 1900 Daimler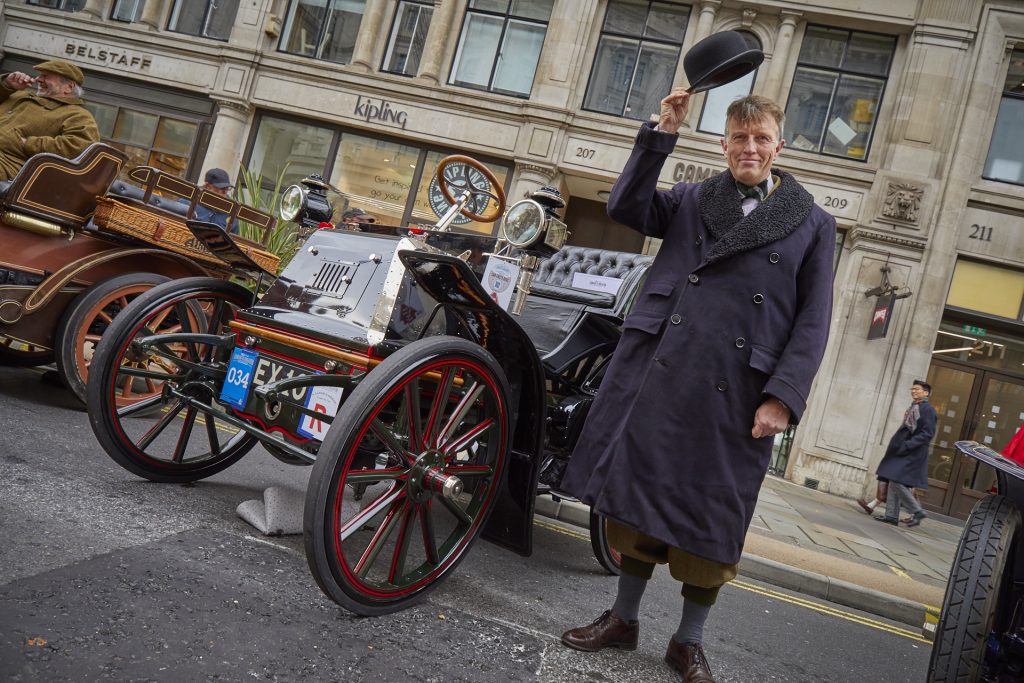 Made in: Britain
Body: Tonneau
Cylinders: 2
Power: 6hp
"This is my fifteenth run, including last year's virtual run. The Daimler came into my life because I was keen on getting a British, four-seater veteran car to do the run, and I contacted a few people who I knew had such a car. One of them was a lady who lived in Florida, in the US, who I knew owned this car but kept it in a museum in Yorkshire and pulled it out of the museum once a year to do this event. Unfortunately she had an accident and broke her hip, and I wrote to her and she wrote back, saying, 'If you'd like it, go and see it' so I did and that was the slippery slope…
"We know the history of the car since new. It is the sister car to another Daimler Type A which was supplied by [the same dealer] Frank Morris to the Prince of Wales, which was the first Royal car.
"That car is in the Royal Mews at Sandringham. The Royal car was restored by the Marquis of Beaulieu, in 1977, as a gift to Her Majesty the Queen, for her Silver Jubilee. Because this is the most original British Victorian car left, they used this as a pattern to restore the Royal Daimler in the Silver Jubilee year.
"The car as you see it now would have been exactly as it was supplied. This is the original paint scheme. It was sympathetically restored about eight years ago, which is when we put it back to hot-tube ignition. That means no spark plugs, no battery, no electrics; the way that this car ignites is through two naked flames, under the bonnet, which heat hot platinum tubes and that's what sparks the petrol. As for the paint scheme, it's hand-painted with about 20-coats of paint and five coats of varnish. The coachlining is as-original and the spokes alone have about 1700 coachlines on them.
If we get to Brighton tomorrow, work then starts on preparing the car for the 2022 run, on Monday. Because it's 120-years old, if anything needs to be made it takes months."
Shane Houlihan, 1904 Fiat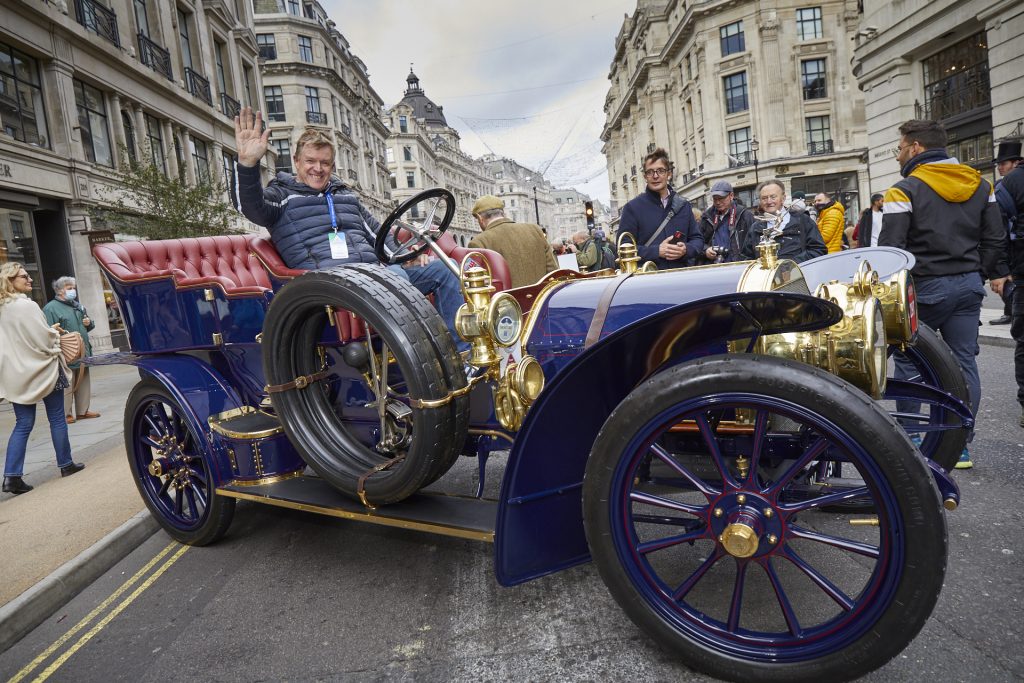 Made in: Italy
Body: Roi-de-Belges Tourer
Cylinders: 4
Power: 40hp
"I came with a friend in 1986, for the 100th anniversary, and a couple of years later I bought a Talbot and entered the event, and I've been coming ever since. It's exciting, a great challenge. If the car is going well it's easy but if the car takes on a few maladies it becomes a challenge.
"I'll be driving the Fiat but have two other, older cars in the run, and am a qualified mechanic in a previous life, so I'm gathering up any problems.
"The surface is infinitely better than it would have been before 1905. The challenge for us is the modern traffic, and some of today's motorists don't fully appreciate our ability to stop. You have to be thinking ahead all of the time to leave enough space so that you can stop safely.
"The Fiat was a competitor for Mercedes in its day, and is very like a Mercedes. It has a 7.1-litre, Simplex-type engine, has a four-speed, H-pattern gearbox and is capable of 60 miles per hour!"
David Pain, 1904 Albion A3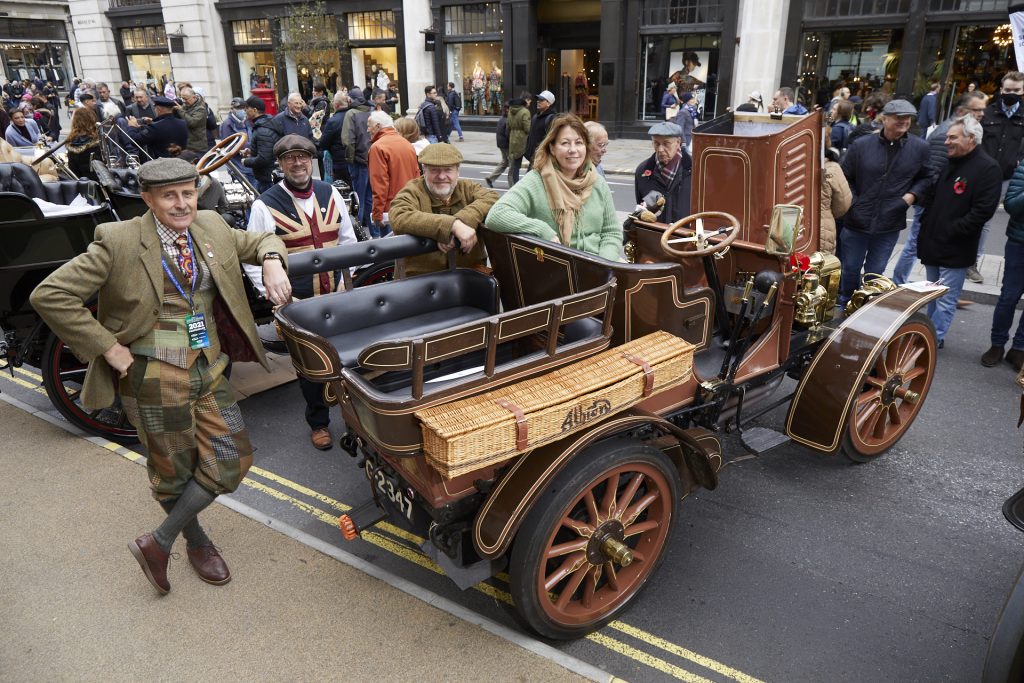 Made in: Britain
Body: Wagonette
Cylinders: 2
Power: 16hp
"Albion is a Scottish company and started producing dogcarts with tiller steering, before moving into car manufacturing, and the A3 is the first of the cars made by the company. It made up to the A10 model, then moved into lorries, making them for the First World War, before the company was bought by Leyland and they wrecked the whole thing.
"This car survived because it was returned to Albion for a retrospective engine refit, from 12hp to 16hp, and it stayed with Albion before moving into the Sword Collection. Then it went to the British Heritage Museum before being auctioned off and that's when I got my hands on it.
"I was already into classic cars, and we went to that auction and thought that its shooting-brake type body would make a fun thing for pottering about on our farm – and Albions were built for rough Scottish terrain. When we bought it, we didn't know it was eligible for the Veteran Car Run, and it was described as a 1906 model. Once we owned it, we realised that certain things on the car meant it couldn't be a 1906, and entered into discussions with the Veteran Car Club, did investigations and stripped down the engine to measure the cylinders, and in the end they agreed it was a 1904 car.
"The London to Brighton run is an intrinsic part of the appeal to anyone with a veteran car. We didn't buy it for that but now we can appreciate its appeal. In the 1960s and '70s, people were throwing these cars away, cars of this age would be on the scrap heap because they didn't know what to do with them and they were a pain to run. My sons are 33 and 36 and the eldest takes more of an interest in the car. I have to hope that my children will get more interested over time; I would like one of them to take it over and keep driving it. If it's not them there will always be someone. Engineers would be in their element, as these are cars that need babying and looking after."
Mitch Gross, 1903 White (steam)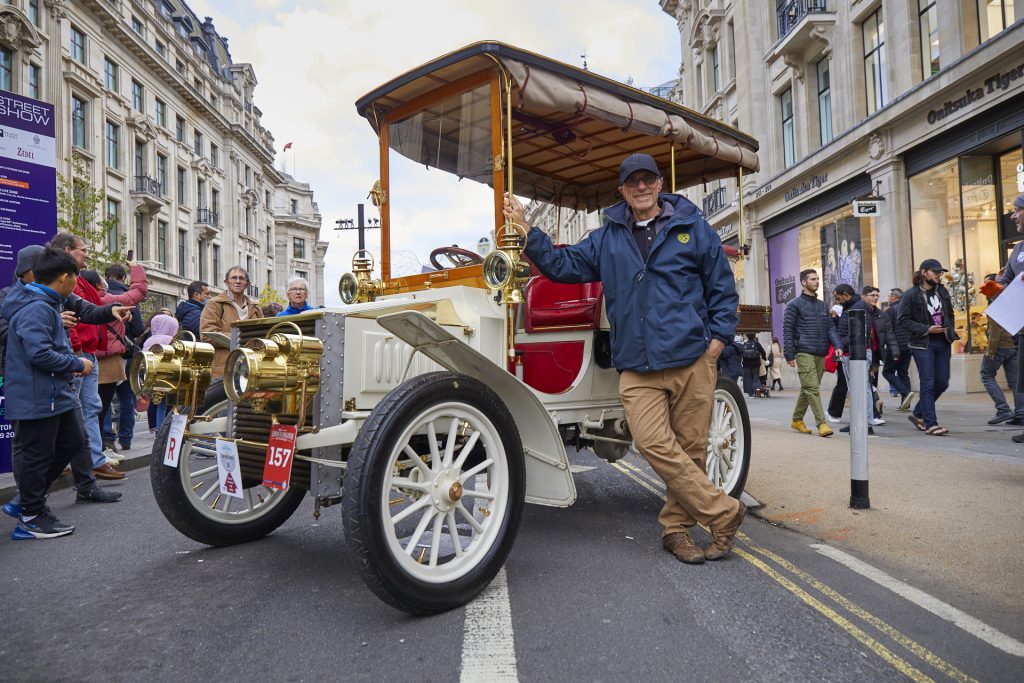 Made in: USA
Body: Rear-entrance tonneau
Cylinders: 2
Power: 10hp
"We're from New York and the attraction for us is that this is the oldest motoring event in the world. We love the people here – we have hundreds of friends here – and we love keeping the car here and driving in British countryside. I enjoy the one-track roads, the pubs – we stay above one when we're here – and even the warm British beer!
"The friendliness and passion of the people, and the passion for the history and originality of the automobile is remarkable. And the fact people here love to get out and drive their car is very important to us.
"It's also important to me to keep these cars in the public eye. I'm a member of the Veteran Car Club and Horseless Carriage Club of America and our goals are pretty similar, and we're starting to do stuff together. Car collecting is in danger. Keeping it in the public eye, and getting people to see and feel the spirit and history of motoring is vital.
"When I was growing up, you worked on cars. Kids today are not 'wrench turners' but then again I don't know how to play video games! In the US, we have the 30/30 concept at the Audrain Car Show, with a concours class for cars costing less than $30,000 owned by people under 30-years old, which is a neat idea.
"This car is a steam car that runs on gasoline [petrol]. The gas goes into a big 20-inch burner and the flame passes through that, and on top is a steam generator with 330-feet of coiled pipe which creates the steam that's sent to the engine at the front, which exits to a condenser and is pumped back into a water tank. It's a big tea-pot!
"As an early 1903 model, driving it is tricky. You have to manage the fire to control the pressure, so there's an art to it and you a throttle wheel above the steering wheel, so you have to be ambidextrous!"
James Shackleton, 1906 Ford Model N hearse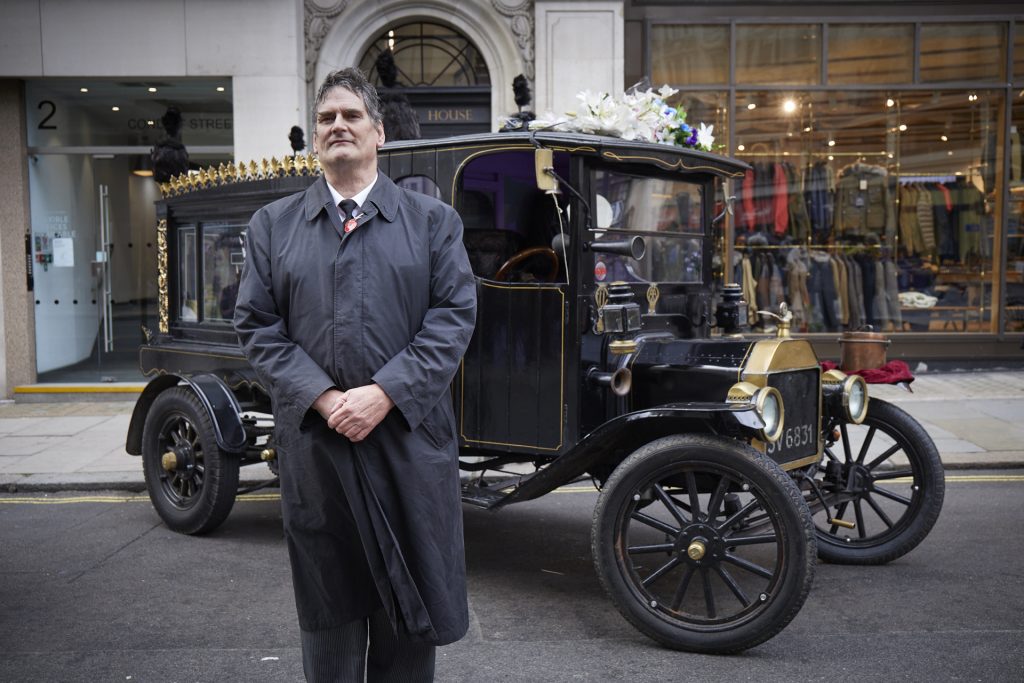 Made in: USA
Body: Rear-entrance tonneau
Cylinders: 2
Power: 10hp
"This was the world's first motorised hearse. It was Jeremiah Frederick Shackletone, the great uncle of [explorer] Ernest Shackleton, who started the business in 1703. In the back you can see the original coffin that was made for Ernest Shackleton, after his death in 1922, but in the end his wife decided to have him buried where his died, in South Georgia.
"So since day one this Model N has been in our family. We come as invited guests of the [London to Brighton] event rather than drivers, because it's a 1906 model. I'm now the keeper of the car and I do feel a moral obligation to care for the car. They're easy to maintain but when they go wrong they really do go wrong, so I know the right people to get things made or repaired. They're so good they can diagnose a problem over the phone!
"It started life as a one-ton flat-bed lorry, to lift headstone and gravestones, with a crane on the back. On the outbreak of the First World War, the government requisitioned the horses that pulled the horse-drawn hearse, so it was decided to take the crane off the lorry and place the hearse carriage onto the back, and that was it. The car has been something of a star, appearing on television in Downton Abbey and Mr Selfridge, and Suffragettes."
Read more
Complete guide to the 2021 London to Brighton Veteran Car Run
From London to the sea, by Knox and by golly
Learning to drive… like a Victorian