The idea of converting classic vehicles to electric power is one of the most divisive subjects of our times – a hot topic that Tom Ford waded into last year.
Many would argue that the original engine and gearbox is the heart and soul of the vehicle, the engine's characteristics inherent to the sounds, smells and vibrations that define how a classic feels.
Others may counter that innovation is exciting and the opportunity to have classics with zero local emissions is the only way forward. Yet doubters will point out that producing new electric motors, batteries and installing new infrastructure undermines any environmental benefit.
There are plenty of advantages to electric power that are completely unrelated to any environmental argument you'd care to make. Increased performance, ease of use, reduced maintenance and (hopefully) greater reliability in some cases, while the relatively low mileage profiles of many classics means typical EV issues like limited range may not be the hurdles they are for mainstream vehicles.
How much is your car to insure? Find out in four easy steps.
Get a quote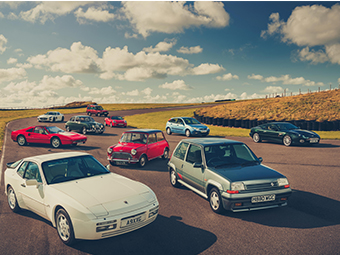 Once you've driven a few EV-converted classics you realise that, while something has definitely changed, the experience is neither unpleasant nor, as you might expect, a complete character bypass for the classic in question. Many of the smells, sounds and feelings remain unchanged with an electric classic car, and without devoting so much attention to merely proceding, as some classics force you to do, you might actually derive a little more enjoyment from the driving experience.
If absolutely none of that applies, electric power can at least give classics a new lease of life, whether it's reviving an example with decrepit mechanicals or, in future, allowing classics to venture where combustion vehicles may no longer be welcome. And while even the cheapest conversions seem expensive right now, increased adoption (plus a growing number of modern donors for things like batteries and motors) ought to bring costs down in future.
For those that are fascinated by the idea of an electric classic car, we've rounded up some existing options – and it's difficult not to be tempted by at least one or two…
Swind E-Classic Mini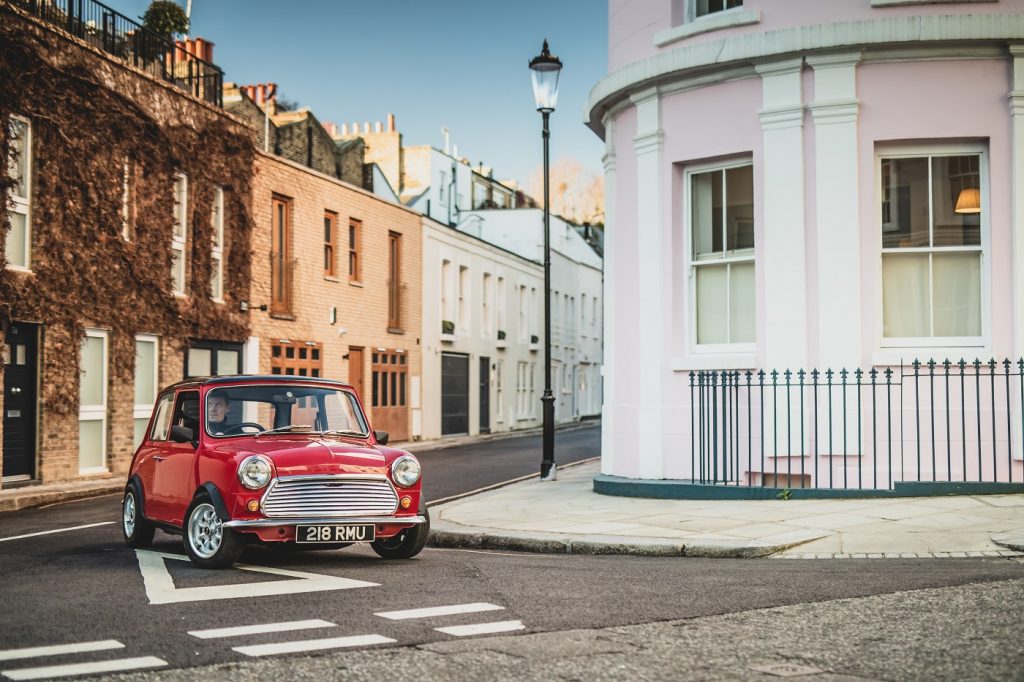 Speaking purely hypothetically, is there a car better suited to being transformed into an electric classic car than a Mini? Not only does the immediacy of electric power undoubtedly tally with the Mini's own hyperactive handling character, but a Mini is already just about the perfect city car, an arena in which EV power is ideally suited and relevant. And even folks not that keen on cars have to smile when a Mini whizzes by, don't they?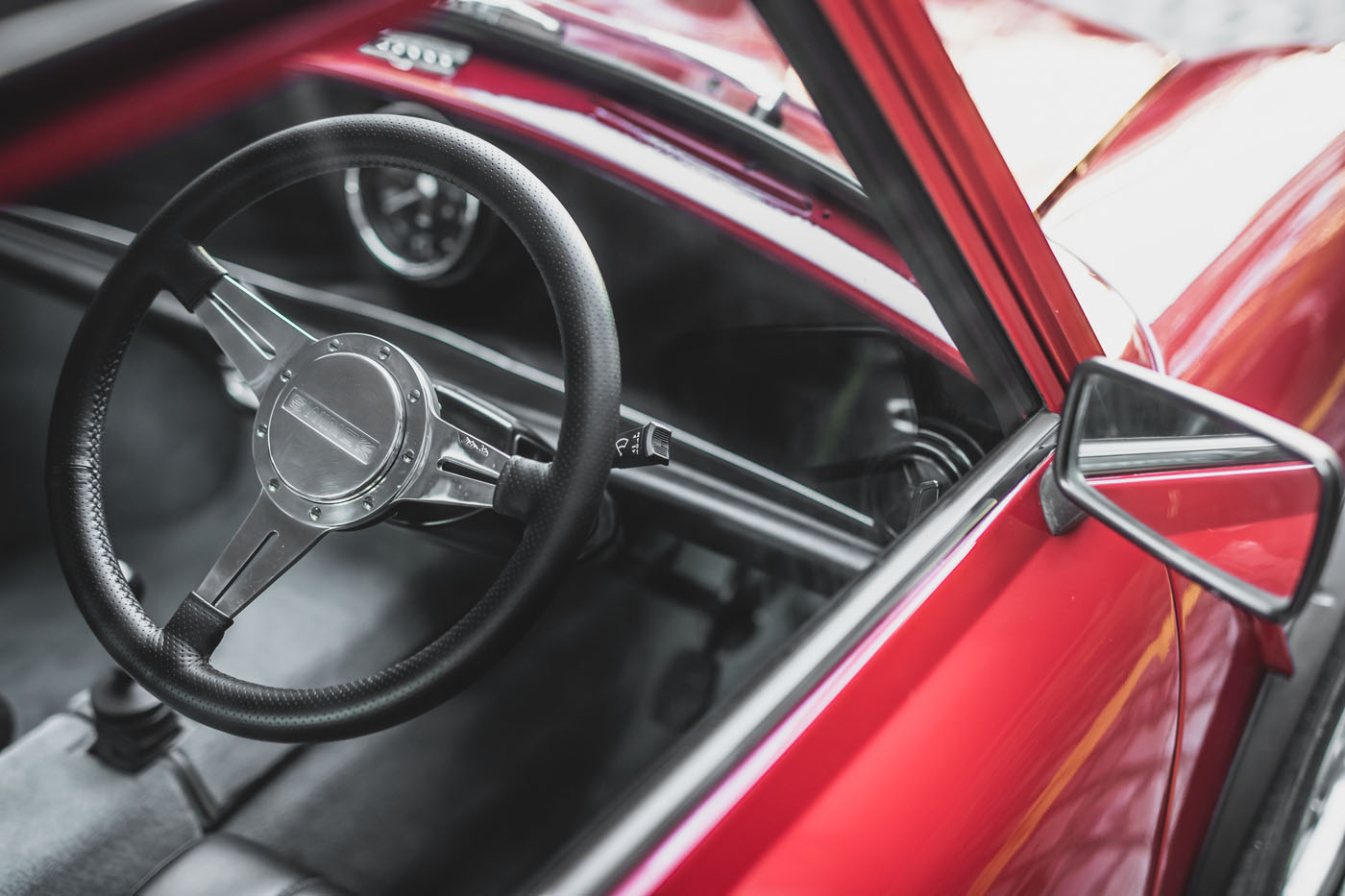 In that context, Swindon Powertrain's take on the classic Mini seems hugely appealing. You'll pay £79,000 for the privilege, but then David Brown's petrol-powered "Mini Remastered" is almost a hundred grand and has none of the benefits of EV ownership. The Swind E-Classic will go 125 miles on a four-hour charge at a typical on-street charging point, does 0-60mph in 9.2 seconds and a perfectly acceptable 80mph. Removing the fuel tank means the Mini's notoriously mini boot has even grown in size.
AC Cars Cobra Series 1
Cobras should be powered by V8s, right? Preferably an enormous 427 cubic-inch monster that makes every drive feel like a brush with the Grim Reaper. Well, perhaps not, and not just because early 260 and 289ci AC Cobras are arguably prettier without the cartoonish arches and almost certainly less terrifying with their lower outputs, but also because there's another option entirely: electric power.
AC Cars itself is behind the new electric Cobra Series 1, and will build just 58. It features a 308bhp electric motor (a little more than a 289, and about 60bhp less than a 427), and while it's heavier than any old Cobra at around 1250kg, it'll still dispatch the 0-60 sprint in under seven seconds. Range is quoted as 150 miles from the 54kWh battery pack (which charging at 6kW should take about six hours to boost from 20 to 80 per cent) and prices start at £138,000.
Zelectric Motors Bug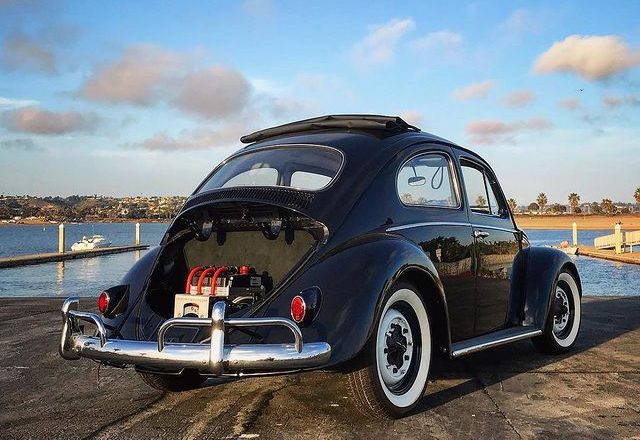 People in sheds have been carrying out EV conversions on classics for decades, but Zelectric Motors in San Marcos, California, was among the first to turn restorations and conversions into an actual business. In 2012, in conjunction with nextdoor-neighbours EV West, the first Zelectric Bug rolled silently out of the garage, a beautiful 1963 Beetle fitted with an 80bhp motor (twice the muscle of the original flat four), a 24kWh battery pack and a real-world 100-mile range.
As you can imagine, subsequent cars have become faster and can go further, and while conversions aren't cheap (the website currently states $68,000 – £50,000 – and up, before taxes and import costs), they're certainly effective. Zelectric also tackles other aircooled fare, from VW buses to Porsche 914s, 356s and classic 911s.
Totem Automobili Alfa Romeo GT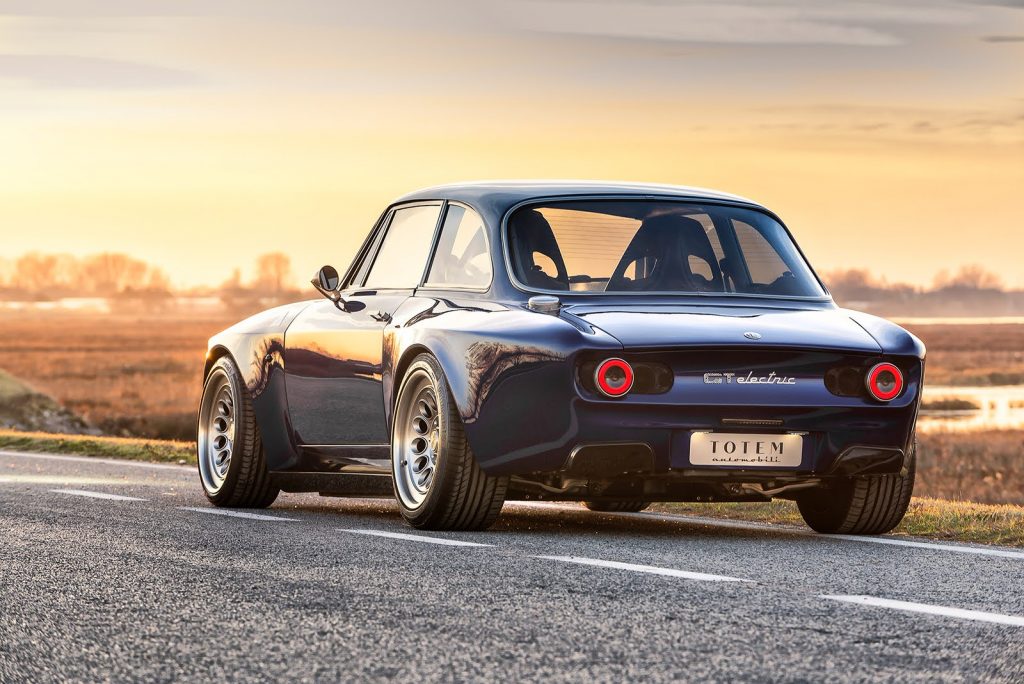 There are risks inherent to Totem Automobili's reimagining of the classic Alfa Romeo Giulia GT. There is not a great deal you can do to the shapely Bertone lines or raspy Alfa twin-cam to effect a significant improvement, but Totem has had a go on both fronts with this wide-body and electric-powered interpretation, and while the first cars are yet to hit the street, we're waiting with baited breath for the final result.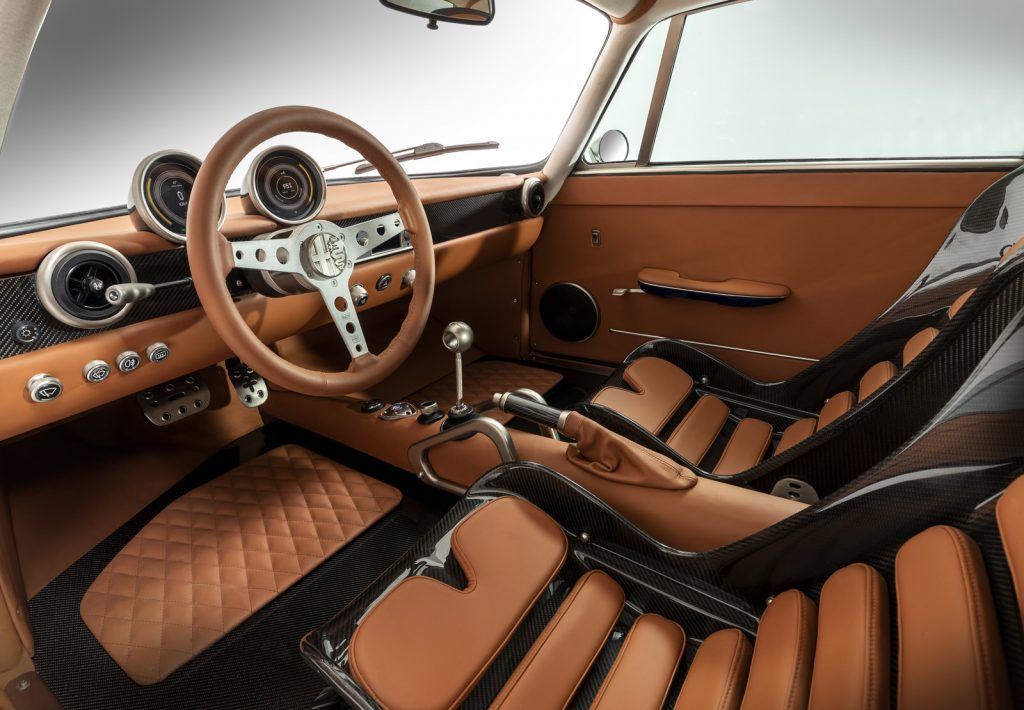 The specifications are promising. A claimed 50.4kWh of electrons means a potential 224 mile range, which is in the ballpark for something modern. As is 518bhp, 0-62mph in the mid-threes and over 150mph, while the shape is partly the result of carbonfibre panels. It's rather tasty inside too. Rather expensive too, with a quoted price of €430,000 – around £390k. That's a hard sell for an unproven product next to something by say, Alfaholics, but only 20 will be built, and it shows you really can give anything the EV treatment.
Jaguar E-Type Zero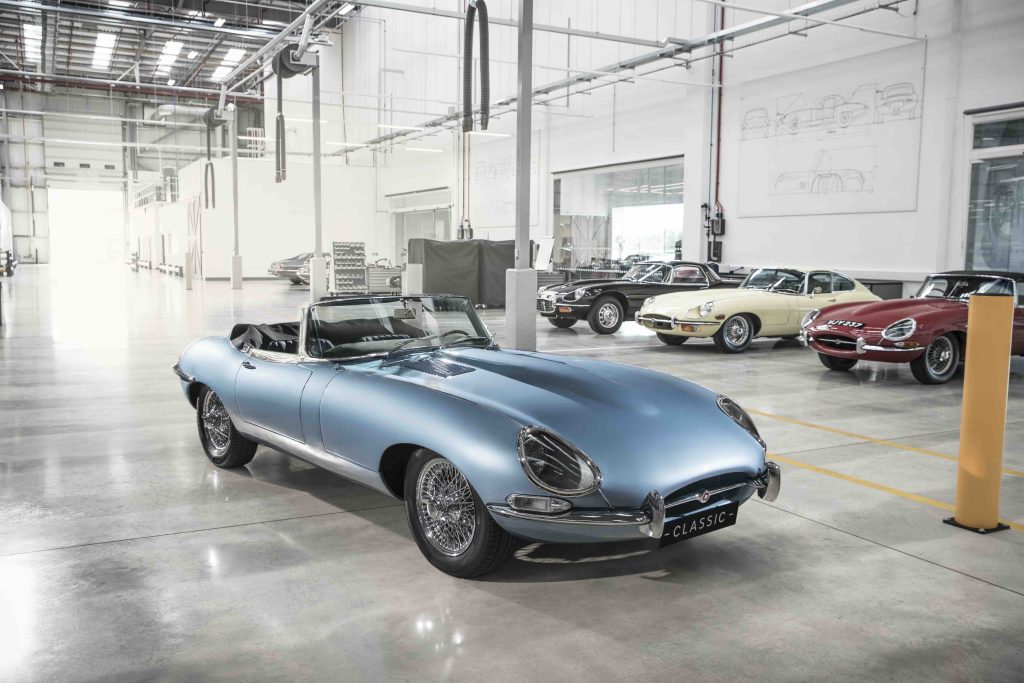 Car manufacturers are beginning to realise they have all the tools to keep their own back-catalogue relevant and driveable well into the 21st century. Jaguar Land Rover Classic's E-Type Zero, best known for transporting the Duke and Duchess of Sussex from their wedding in 2018, is case in point. It looks like, and indeed is an E-Type, but its familiar straight six (or V12) mechanicals have been replaced with electric components – an i-Pace-sourced 295bhp electric motor and a 40kWh battery pack from the JLR plug-in hybrid parts bin.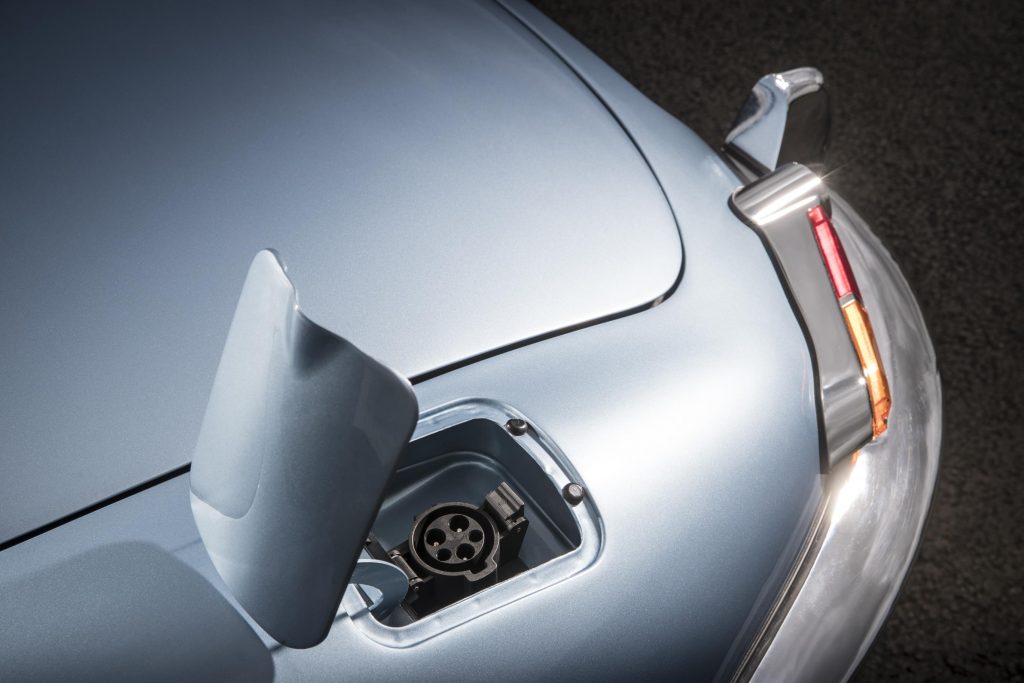 Weight and weight distribution are similar to the original, but performance is improved (a silent swish to 60 in 5.5 seconds, and a claimed 150mph), while range is 150 miles. There's no official cost but Tim Hannig, director of Jaguar's Classic division, told Top Gear it would be in the region of £300,000 for Jaguar Classic to buy in and convert an E-Type, less if the customer owns a donor car.
Electric Classic Cars Fiat 500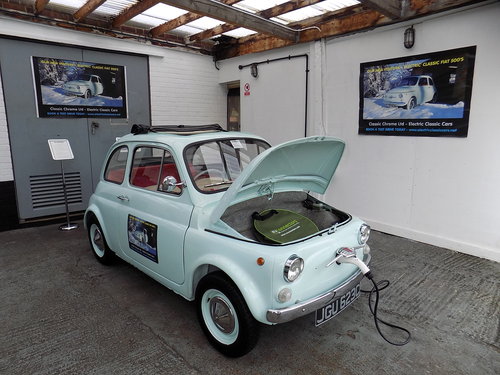 It may not have escaped your attention that there's a new Fiat 500 out, the first since 2007, and that it's powered by electricity. But a couple of years ago Electric Classic Cars beat Fiat to it when it turned one of the all-time cutest petrol cars, the "Nuova 500" first launched in 1957, into an equally cute electric classic car.
Like only a handful of others on this list, they didn't go overboard with the specifications either, perhaps reasoning that 500s are not fast or suited to long distances even in standard form. Even so, with 47bhp and 70lb ft of torque it's more than twice as potent as the original (and 10bhp brawnier than the old Abarth 695 SS), does 50-75 miles on a charge, and at around £25,000 is actually among the less expensive cars here.
RBW EV Roadster
It can't be a coincidence that so many classic sports cars are undergoing the conversion treatment, when the choice of electric production sports cars is virtually nonexistent below the dreamland of thousand-horsepower hypercars or family-sized SUVs. Britain's famous MGB roadster seems like the perfect candidate, and that's exactly what RBW Electric Classic Cars has done with its EV Roadster.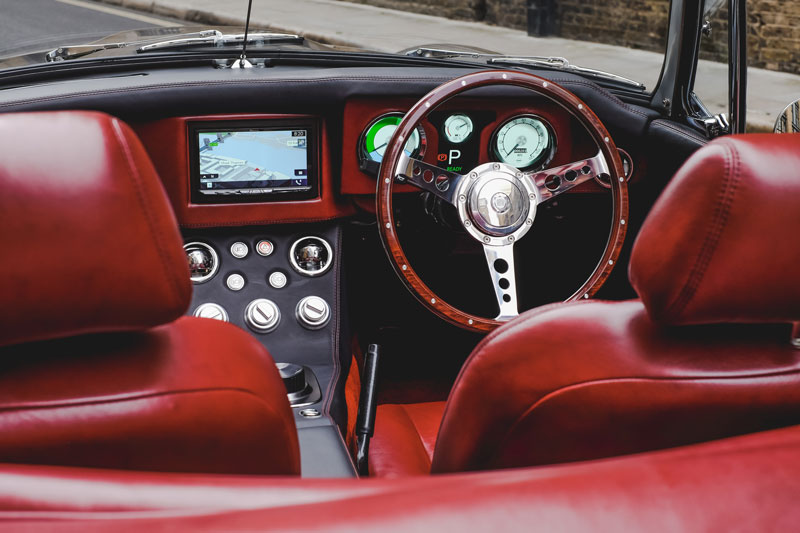 We're so used to seeing excessive power that the specifications are refreshingly sensible, too. The 94bhp motor allows for a nine-second 0-60mph time and 80mph top speed, so a little slower flat-out than the classic but usefully quicker to accelerate. There's a 160-mile range and an eight-hour charging time through a 3kW DC charger, and the whole lot is dropped into a fresh British Motor Heritage shell so there's no dilly-dallying with rotten old BL tin. But at £108,000, it's something of a luxury.
Renault e-Plein Air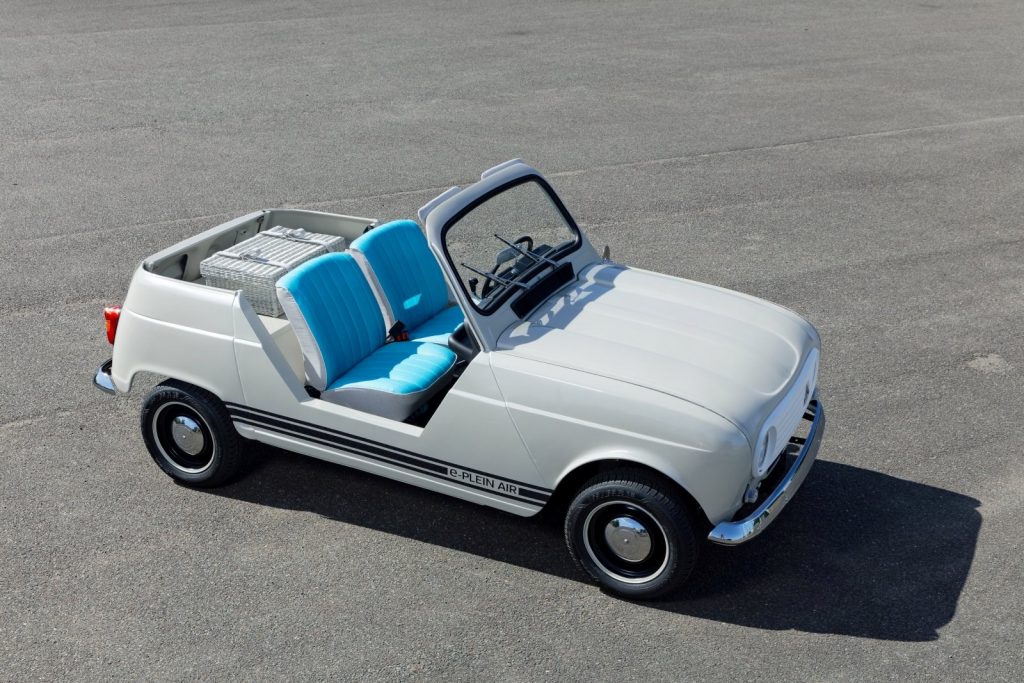 It's quite appropriate that "peoples' cars" like the Mini, Beetle and Fiat 500 have become popular recipients for EV conversions, as their original ubiquity means there are still relatively large numbers left, ripe for conversion to electric power. Some might think of the Citroen 2CV as being France's car of the people, but it was the Renault 4 that sold in greater numbers, and Renault, one of the pioneers of volume electric production cars, celebrated that in 2019 with the Twizy-powered e-Plein Air.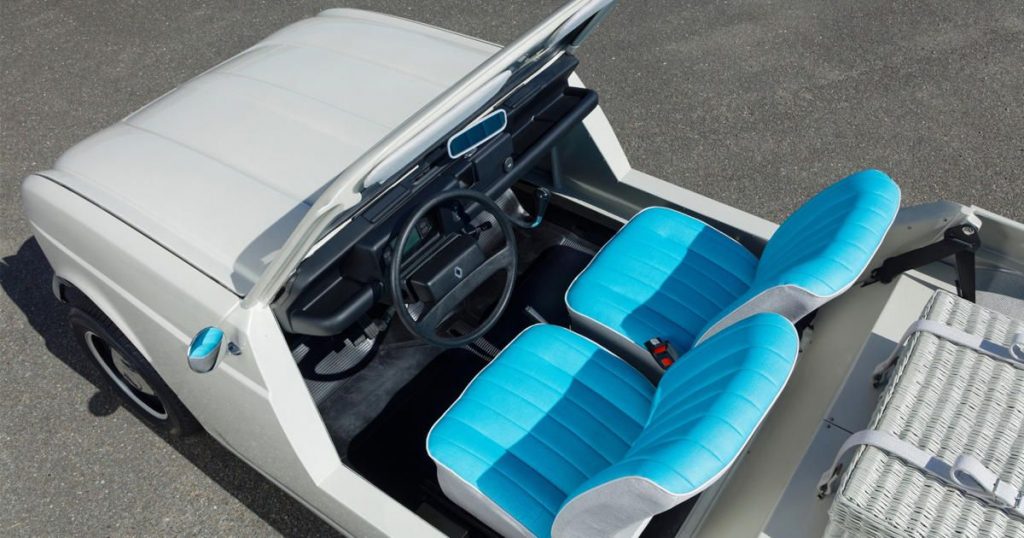 Unfortunately it's a concept car, which means those who fall head over heels for its simple charms will have to carry on dreaming or commission a coachbuilder like Niels van Roij to create something similar. Based on the elemental "beach car" version of the 4L, the 17bhp motor needs to pull along a modest 580kg. Still, that's 130kg more than the Twizy, so it's not fast but then it was never meant to be; 53mph is the claim, but would you want to go faster by the beachfront anyway? A range of 50-ish miles seems likely from the 6.1kWh battery pack (as does a two-hour charge with a three-pin plug), but as we say, this adorable thing is not yet available.
Aston Martin Works DB6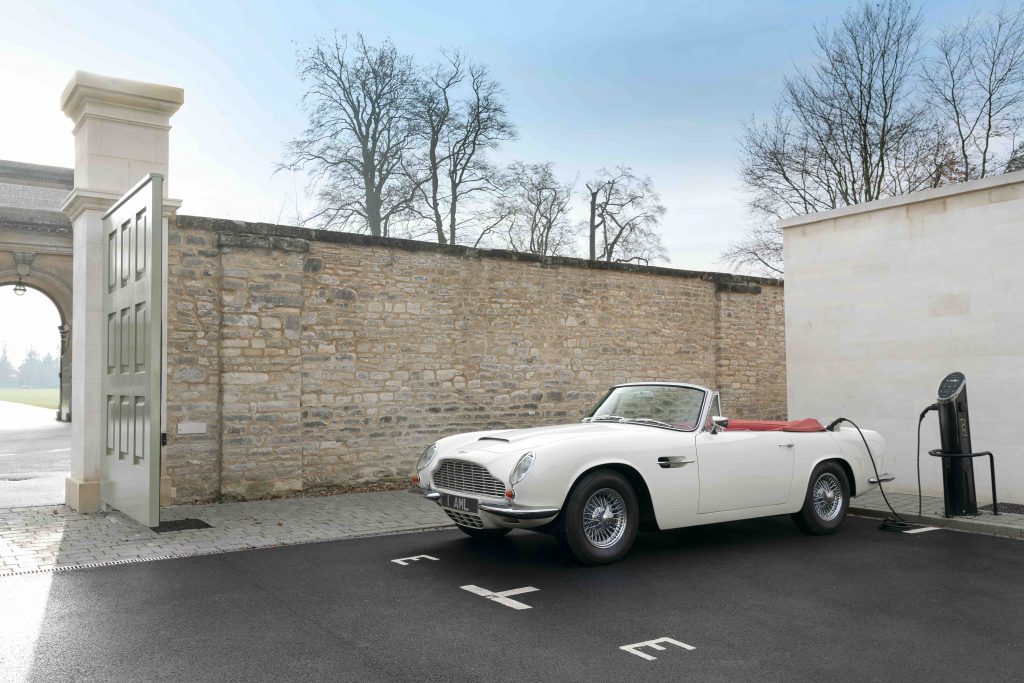 The DB6 is just one example of what Aston Martin's Works division can do when it comes to electric conversions, and much like the E-Type Zero also in this list, the end result almost doesn't matter when the car receiving its transplant is so beautiful. EV power could be beneficial for everybody else too, and not just for the environmental and air quality reasons you expect. Nobody is going to convert a car just to have it sitting in an air-conditioned bunker since the result would be less valuable than the original. They're going to drive it, and in the DB6's case, that means enjoying up to 300bhp in production form, along with up to 200 miles of range.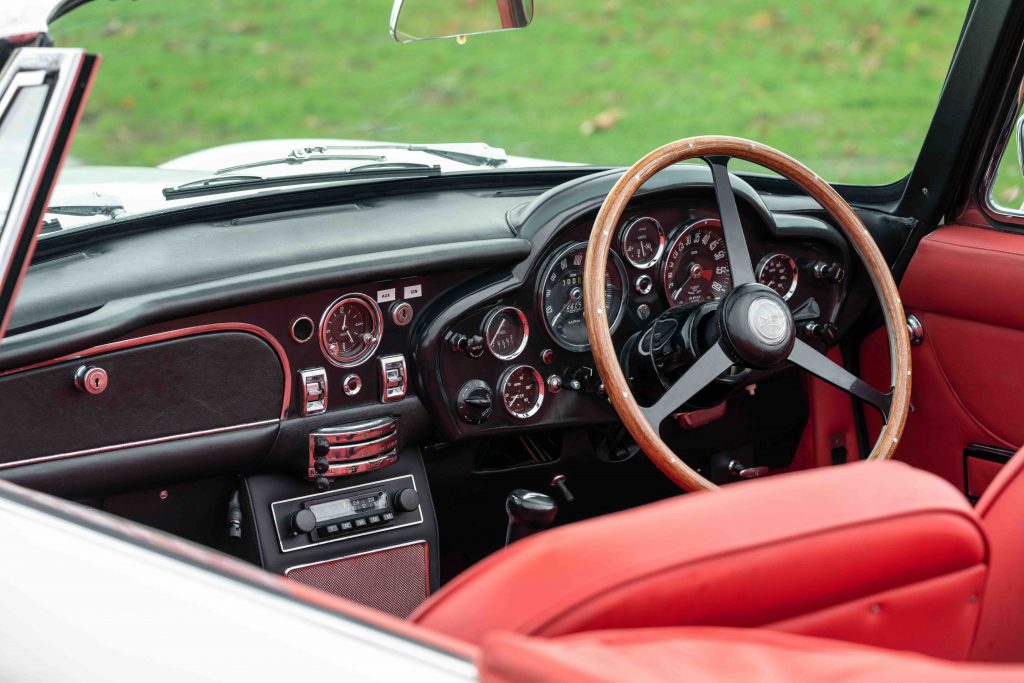 The estimated cost? At least £200,000, and that's not including your donor DB6, which the Hagerty Price Guide lists as starting at £200,000 in #3 'good' condition for an early, 1965 model.
Chevrolet Blazer-E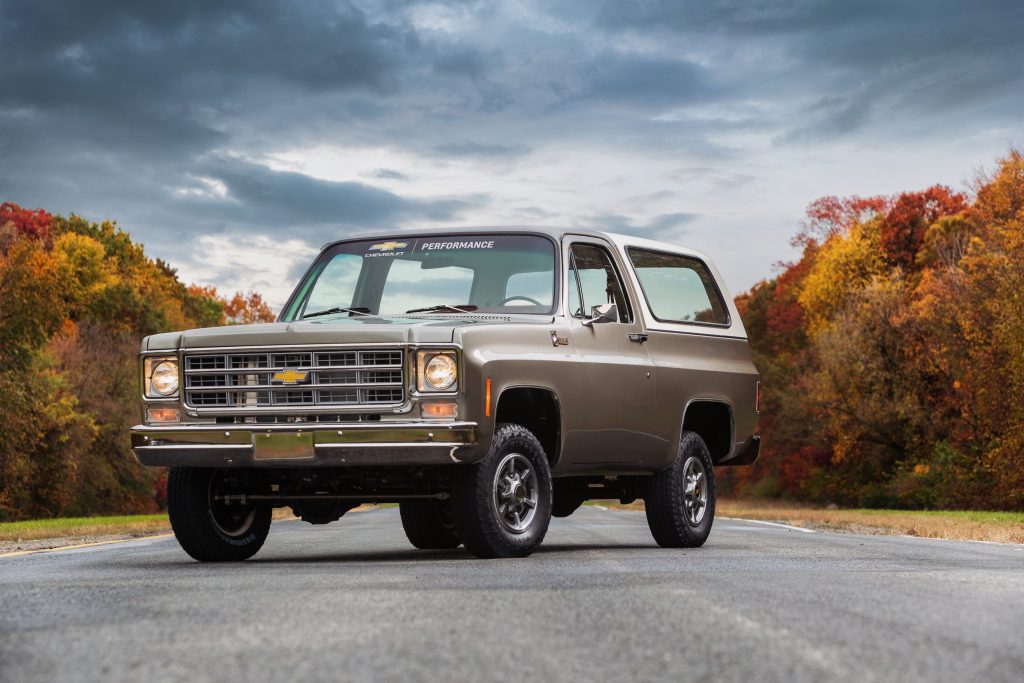 General Motors has been supplying "crate motors" for years, which is why you can barely move on the internet for cars powered by the famous LS small-block V8. In 2020 the company announced it would supply electric crate motors too, so perhaps over the next few decades the term "LS swap" will slowly be replaced with "EV swap".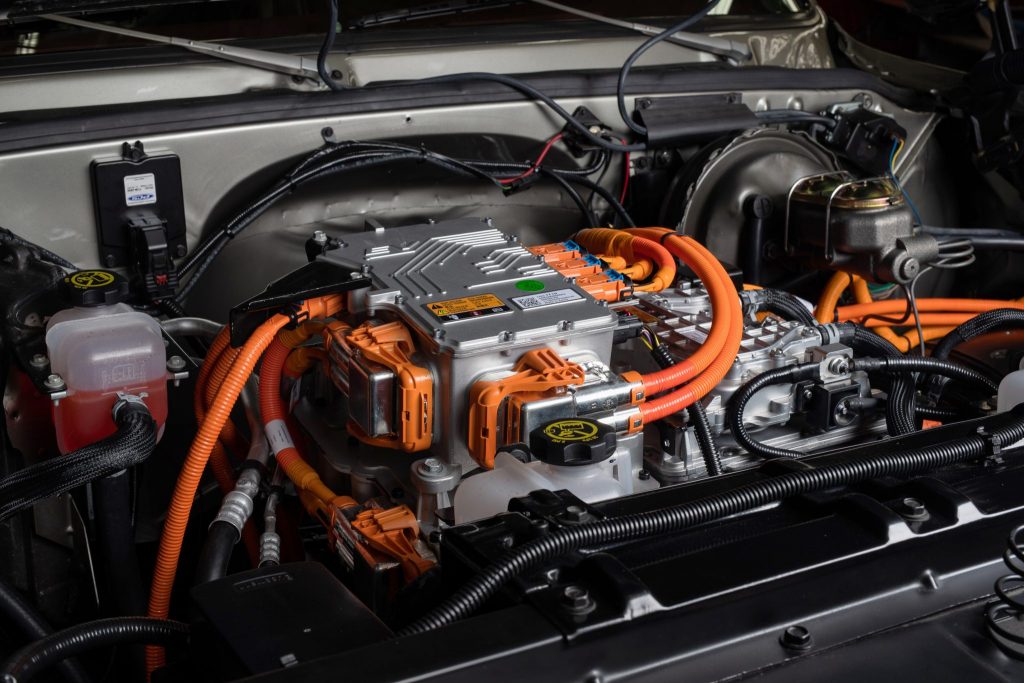 Called eCrate, around 90 per cent of what the package comprises is sourced from Chevrolet's Bolt electric family car – including its 200bhp, 266lb ft electric motor and sizeable 60kWh lithium-ion battery pack, good in the Bolt for just shy of 260 miles, a 9.5-hour charge from a 3-pin plug or 90-minute DC fast charge. Chevy hasn't announced a price for eCrate just yet, but the Blazer-E is a good example of its potential. Given the scope of LS swaps, don't expect eCrates to end up only in GM products, either…
Read more
Best electric cars… for a car enthusiast
What nobody tells you when you buy an electric car
Everrati Series IIA review: Meddling with a national treasure turns out to be no bad thing