A lot of car clubs exist to help keep the owners of elderly classics running. In some cases, the marques that those clubs represent are long gone, and without the right approach these owners' groups will wither and die. The answer is to be active, inclusive and innovative, just like the Cambridge-Oxford Owners Club (COOC).
Club chairman Eddie Foster comments: "The Cambridge-Oxford Owners Club was established in 1980, and it's the largest international club for all BMC four- and six-cylinder Farinas, and the cars on which they were based: the Cambridge A40 and A50, Westminster A90 and A95, plus the commercials. As such, within our ranks there are no fewer than six different marques represented: Austin, Morris, MG, Riley, Wolseley and Vanden Plas.
How much is your car to insure? Find out in four easy steps.
Get a quote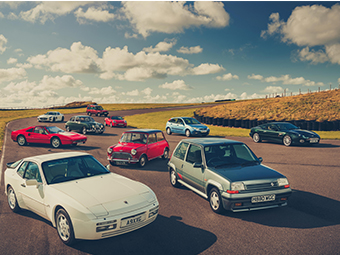 "We welcome all owners regardless of the condition of their car, and we're not slaves to originality. Although there are concours cars within the club, we also have customs and hot-rods. The COOC is also a very progressive club when it comes to using technology. We were one of the first car clubs to have a website back in the 1990s, and to have a social network in 2009, yet we remain a very traditional club, with the engagement and enjoyment of our members at the heart of everything we do."
Events
The Cambridge-Oxford Owners Club holds numerous local and national rallies throughout the season, and in recent years it has been more active than ever. Its annual National Rally is held in a different part of the country each year, and the season always ends with an Autumn Rally which incorporates an AGM. By having the AGM as part of a national rally, more people will take part so the club can make sure it's moving in the right direction.
Eddie adds: "Although the club is based in the UK, and we hold an annual tour there, we have an international membership. To reflect that, in 2018 we launched our Virtual Rally to mark 10 years of the Farina Forum. It's something that other clubs adopted during the Covid pandemic, but we were there first, with an event that allowed our members from all over the world to take part in an online gathering, by taking a picture of their car wearing a plaque downloaded from our website. The Virtual Rally was a tremendous success, and we now run it each year over the last weekend in February.
"The club has always celebrated the big birthdays such as the 40th, 50th and 60th anniversaries of the Farina being launched. The most recent birthday was in 2019, when we celebrated Farina 60; we even put together a film to mark the occasion. Our guest speaker Tony Gledhill was awarded the George Cross for bravery, after chasing a villain's 6/110 in his similar 6/110 police car.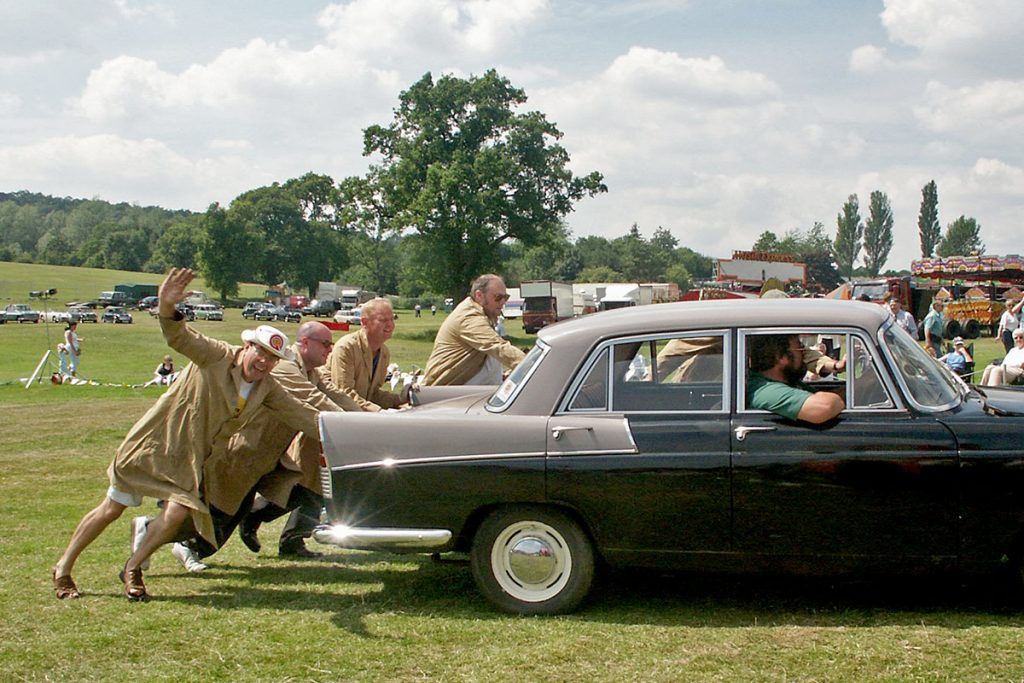 "Since the start of lockdown we've held regular Zoom meetings, which are now a permanent part of our activities. A Wednesday evening chat attracts members from the West – literally America across to Europe. Our Sunday morning chats link members from Europe across to Australia. Members show us their cars, garages, automobilia, and even take us on road runs or around local shows. I've sat at home in Wigan while being driven around Normandy in an MG Magnette!"
The club's publicity officer John Lakey adds: "It's a friendly club that enjoys trying new things. Thanks to some fertile imaginations within the club, we have our own one-act play, Badge Engineering for Beginners, and a few years ago we built an A60 over a weekend at a show and called it Pimp my Riley; it had a walnut radiogram where the back seat should be…
"At another show we had radio-controlled model banger racing, which ruffled a few feathers, but we raised money for charity, and had fun. Banger racing is an important part of the heritage of our cars, and in a way it's helped to preserve them. Many members grew to love the cars through banger racing, but in later years they've restored an example and joined the club."
Key initiatives
The Cambridge-Oxford Owners Club aims to make the buying and owning experiences as straightforward as possible. To that end it has put together a buying guide as well as an overview of everything that you need to know about owning one of these characterful family cars. With technical officers and marque secretaries for every car covered by the club, there's always an expert available. The club also has access to a huge archive of original BMC material ranging from workshop manuals and parts books to colour charts, road test reports and sales brochures.
Eddie adds: "In May 2018, the requirement for cars over 40 years old to have an annual MoT was removed. Our club was very much against this, and we encourage our members to continue to get their cars MoTed each year. We've produced a guide for owners to conduct their own checks to find faults and weaknesses that need addressing; it can be downloaded from our website."
John Lakey concludes: "At our heart is the principle of keeping this range of cars in use. We welcome prospective members, with or without a club car, and are always happy to offer advice on maintenance and modifications, as well as helping to re-register cars that have been laid up for so long that they don't have a V5."
Need to know: Cambridge-Oxford Owners Club
Founded: 1980
Current membership: 760
Membership fees: £21pa (+£2.50 for two additional members)
Regional groups: 26
Publications: Quarterly magazine Rosette Recorder
Club website: www.co-oc.org
Facebook: facebook.com/groups/thecooc
Forum: The Farina Forum (members only)
Read more
Join the Club: Micro Maniacs Club
13 British cars floored by flaws
Your Classics: Keith Harris and the 40-year restoration of his Morris Eight