In a scene obsessed with discovering the undiscovered Cowland ponders how those dusty classified and auction gems ended up resting in peace.
We've all seen the adverts, haven't we? We've clocked the auctions, and followed the listings. It's even one of the most searched terms on everyone's favourite online auction site. The words 'barn find' trigger all manner of excited responses from the buying public. But have you ever wondered why? And how those cars got there in the first place?
The why is perhaps the easy part. Anyone who's ever watched an Indiana Jones film can easily fantasise about the unalloyed thrill of rounding a corner or opening a creaking door to reveal a treasure that's lay undisturbed for decades. The thought of finding a car that has been, to all intents and purposes, forgotten about is a genuine moment of pure, heart-beating elation for anyone that has been privileged enough to discover one.
How much is your car to insure? Find out in four easy steps.
Get a quote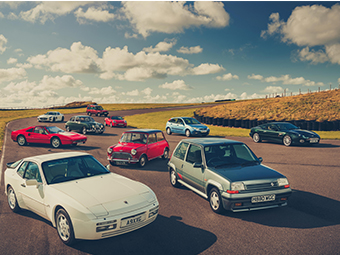 You may feel that the comparison to the career of the fictional archaeologist is a tad strong. After all, 'Raiders of the Lost Cars' don't quite have to suffer poison-tipped darts, rolling boulders or vengeful tribes, but then, I have been stung by nettles quite a bit in my travails – as well as being chased away by an irate farmer, before being bitten by his dog. If Spielberg wishes to take a closer look at this genre for his next blockbuster, he's welcome to DM me on Twitter.
In my near 30-year career, finding, fixing and flogging old motors, I've been lucky enough to stumble upon a handful of genuine treasures like this, and let me tell you, the rush never diminishes. And, if we're being brutally honest, the associated premium that usually goes along with such treasures doesn't hurt any, either.
The how is a little more convoluted, though. The causes behind a car being parked up for years are as bizarre as they are varied. I once had the pleasure of doubling the 150 miles recorded on the odometer of Toyota UK's heritage Yaris. How had this humble hatch managed to acquire so few miles in TWENTY years, you may ask? Well, on the day of delivery, the owner misjudged the entry of his new purchase into the garage, causing a minor bumper scuff and grille damage. He was so upset with himself and the car that he simply locked the door, and chose to never drive it ever again.
Other reasons are more practical. I once bought a delightful Triumph Herald Convertible, on television, from perhaps the nicest man who has ever lived. The car was his mother's from new, still had the factory plastic on the door cards and roof and started on the very first turn of the key. It had incredibly been trapped in the garage, for almost 15 years, simply because the 'up and over' door had seized and he'd had neither the energy or inclination to fix it. An hour or two with a little WD40 and my trusty sockets soon liberated the tiny Triumph into the sunshine where it even managed to drive itself onto the trailer.
The main reason though, I suspect, is simply a lack of time. Life gets in the way, right? Perhaps children come along. Maybe your job changes and free time isn't so freely available. Or as likely as not, the car throws a mechanical or electrical tantrum and you don't know how to repair it – and at that moment in time don't want to spend the money on someone else who does know how to fix it. So the car ends up being set aside and added to life's never-ending To Do list.
I can guiltily confess that time is genuinely a factor – having spent a hectic two days liberating some of my own collection from the barn in which it was once kept. I'd parked these cars in there 'for a couple of months' some, ahem, six or seven years ago before commencing on a particularly hectic bout of filming which turned out to take us right up to the present day. Even though I tried to pop in as much as I could, life happened and the cars quickly became dusty and dishevelled. Nothing that a little fresh petrol, a few new batteries and a bout of recommissioning can't sort, though and I hope to have them all back on the road this year.
Although you could argue that there is somewhat of a thrill in unearthing a 'forgotten' classic at some point in the future, simply by leaving your own car in storage for a particularly long time, I'd wager that keeping your car on the road and enjoying it is an even greater buzz. So, if you've got something that's been in storage for a while, fire up the boost pack, fill the jerry can and liberate it as soon as you can. It's why we bought them all in the first place!
Read more
This barn find BMW 1800 is dying for a second chance
Barn Find Hunter: Uncovering thousands of British motorcycle masterpieces
The One That Got Away: Mike Brewer's once-in-a-lifetime Lamborghini Urraco barn find