"By nature the Lancia owner is an insufferable snob."
Gosh. Seems a little harsh.
"But he is not" …it goes on… "insufferable in the way Alvis or Citroën owners are, in that they feel obliged to force on you their awareness of the superior product they own; the difference is that the Lancia owner couldn't care less whether you know or not."
The words of Australia's Wheels magazine in its 1966 road test of the Lancia Fulvia. If it sounds derisory or negative, not a bit of it; the magazine raved about the new coupé. As did basically every other journalist that drove Lancia's new front-wheel drive range, offered in both saloon and coupé, back in the 1960s and 1970s. From Australia to the United States and the UK, it attracted universal praise.
Lancia, and apparently their owners, were probably used to such glowing reports, if they weren't too snobbish to ignore what those peasants in the press were writing anyway. Down to the humblest models the marque had long been designing and engineering at a level virtually unmatched outside of Citroën or Mercedes-Benz in the postwar period, and the Fulvia was undoubtedly sprinkled with this fairy dust.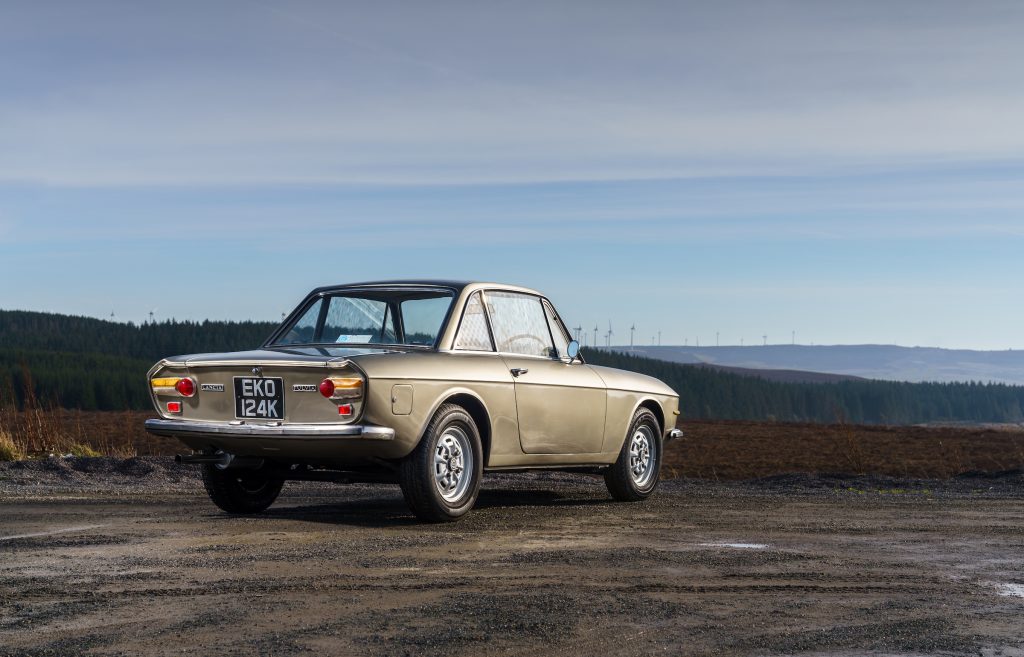 Citroën is probably the most relevant comparison, not because of innovation or snobbish owners, but because like the French concern, Lancia was spectacularly good at engineering itself into debt. Only three years after Wheels' review, Lancia would be bid for, and successfully bought, by Fiat. The Lancia hardcore (subtext: snobs) might consider this the beginning of a painful and still ongoing end, but it did pull the company from a £20 million (£250 million in 2023 money) mire.
Another three years after Fiat started writing the cheques, Lancia would build the very car you see here, a 1972 Fulvia Coupe 1.3 S, and our window into one of the company's most iconic and desirable postwar models.
Kindly loaned to us by Manor Park Classics (and if you're reading this prior to February 25, 2023, soon to be offered at auction), this Maltese car is representative of both the model, and, with a £9000-£11,000 estimate, the almost inexplicably affordable entry point into these little front-drive coupés, as their contemporaries spiral to ever higher values.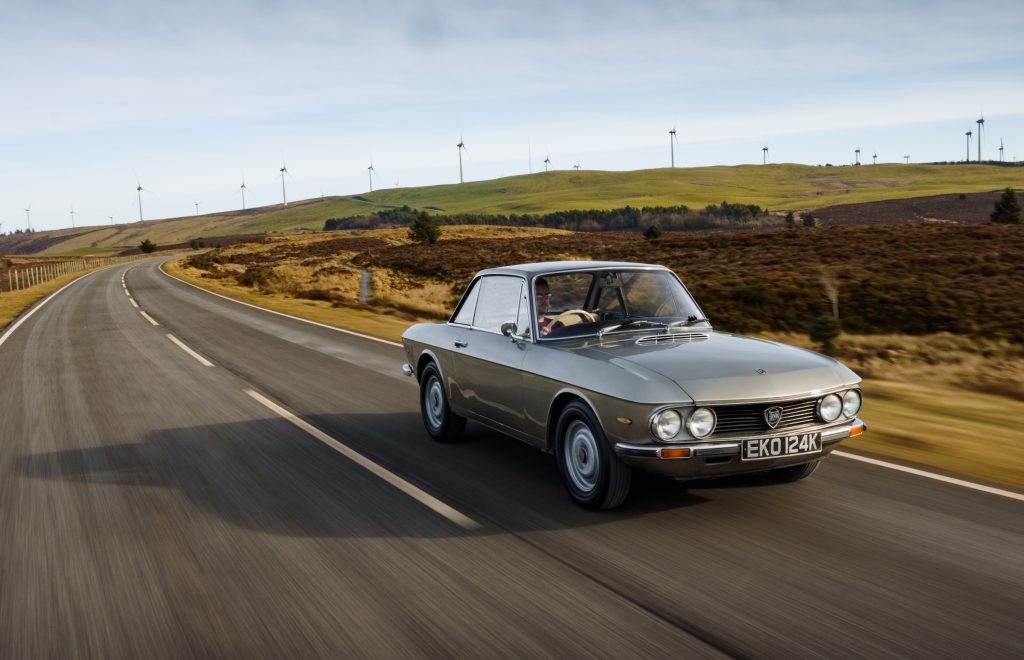 Maybe that drivetrain is a part of it. Opt for period rivals like the 105-series Alfa Romeo Giulia or Fiat 124 Coupé and you're investing not just into an Italian classic, but also a desirable front-engined, rear-drive layout and a snorting twin-cam inline four. The Fulvia is an outlier in a very literal sense, with its compact V4 slung ahead of the front axle line, sending its power to the front wheels alone.
The truth is this harmed it on neither the road nor the rally stages. Indeed, the Fulvia was Lancia's ticket back into motorsport after withdrawing from Formula 1 back in 1955, and after adopting privateer team HF Squadra Corse – HF standing for "High Fidelity", somewhat appropriate given the marque's reputation for quality – it entered the world of rallying in 1965.
Instantly successful, Lancia's biggest moment came in 1972, the year the car you see here was made, when it won the International Championship for Manufacturers – predating the WRC manufacturers' title – with a Monte Carlo Rally win along the way. Enthusiasts may remember the Stratos taking WRC titles in 1974, '75 and '76, the 037's Group B win in 1983, or the Delta's sextet of wins in Group A, but the Fulvia was where it really started.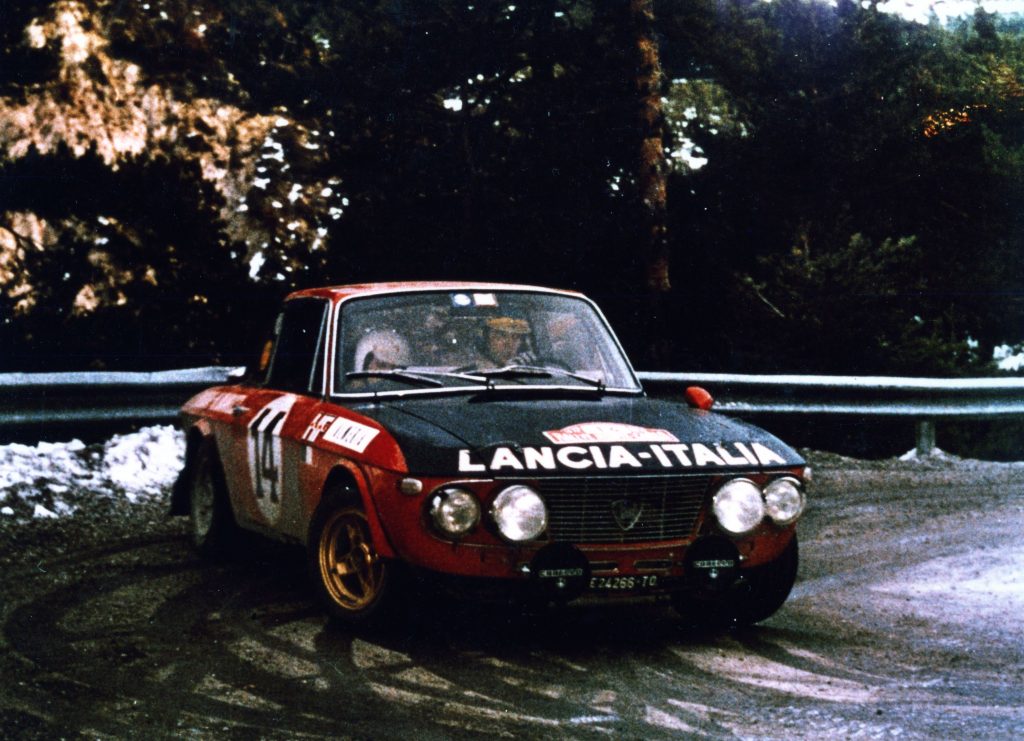 Anyone reading early road tests would have been unsurprised by the Fulvia's prowess on the stages, as it practically redefined front-wheel drive handling ability on the road too. Only the Mini, itself a rallying giant-killer, could really compare, but the Fulvia was altogether less frenetic, less tiring – a quality sports coupé that just happened to be front-wheel drive, rather than a city car whose layout dictated everything about it.
Advanced though the Fulvia seems for its era, the engineering was well-trodden in Lancia terms. 1963's Fulvia followed a line that could be drawn all the way back to the Augusta of the 1930s, a car that already used a monocoque structure and a V4 engine, albeit with rear wheel drive. And the layout was otherwise like the larger Flavia, including its use of a front subframe to carry the engine, transmission, and front suspension.
That front end is sprung by a transverse leaf and controlled by wishbones, while the rear also uses leaf springs, one per side attached to a beam axle and located by a Panhard bar. If cart springs seem rudimentary, then know also that Lancia fitted disc brakes all round, which were anything but.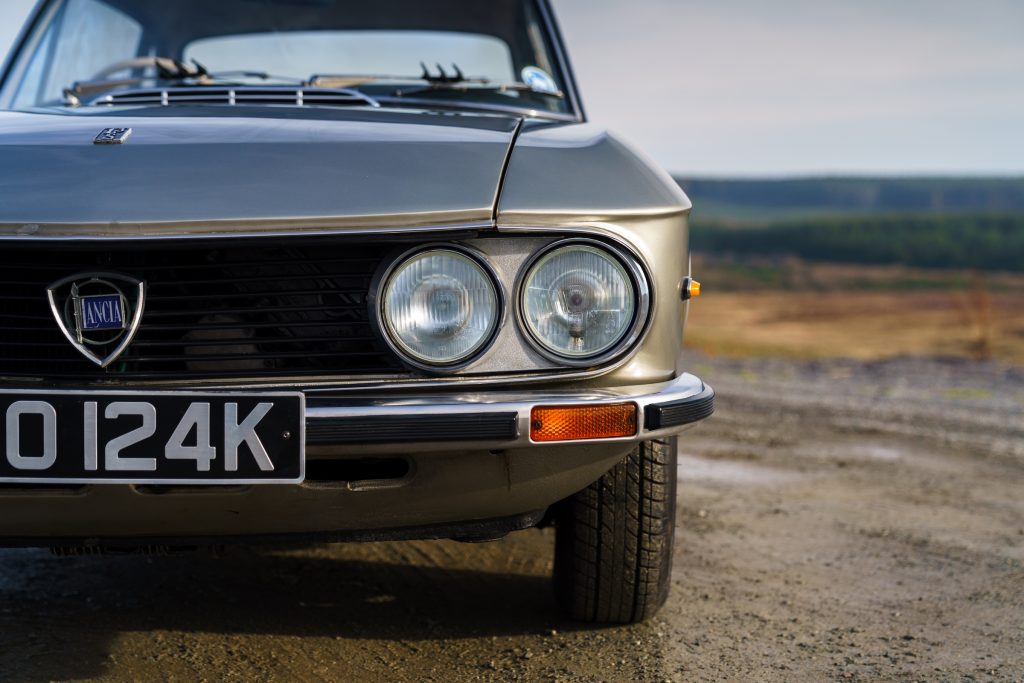 And then there was that engine, a V4 like all the small Lancias before it. It's tempting – but also incorrect – to describe it as a VR4, since like Volkswagen's VR6 the vee has an extremely narrow angle at 13 degrees, and both banks share a cylinder head (made from aluminium).
However, the crankpins are arranged like those in a traditional vee, rather than an inline engine. Yet unlike Saab's (really, Ford's) contemporary V4, the Lancia unit required no balancer shaft. And it leans over like a listing ship, the 45 degree angle ensuring it squeezes under the low bonnet with room to spare.
Early Fulvia saloons used a 1091cc variant making 60bhp, with later derivations upping this to 71bhp, and then bored out to 1216cc, coinciding with the launch of the coupé. In this series 1 form the two-door made 80bhp, but by 1968 that had expanded to 1298cc and an output of 87bhp. Top of the tree was the 1.6 HF, its 115bhp comfortably on a par with Alfa's twin-cam 1.6, and more potent than the Escort Twin Cam out of Ford's competition department, while homologation cars raised that further to 132bhp.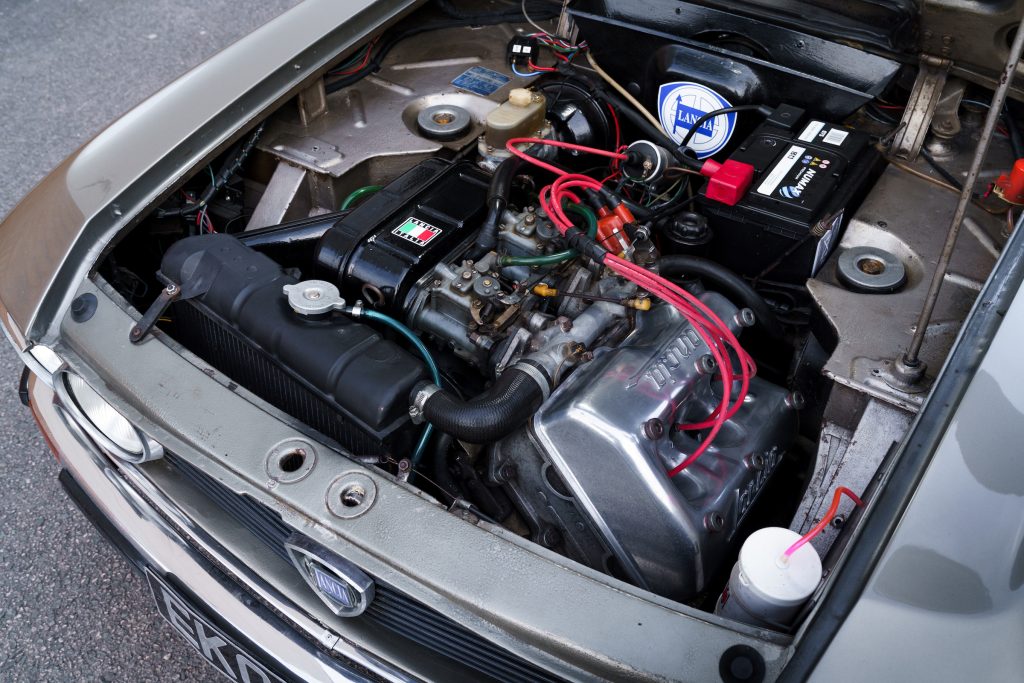 The series 2 arrived in 1970 and that is the car you see here. The 1.3 versions still displaced 1298cc but now used a five-speed gearbox with a dogleg first, and a small power bump to 90bhp at 6000rpm (and 84lb ft of torque 1000rpm below that). A pair of twin-choke, sidedraught Solex carbs handle fuelling, and apparently don't use a great deal of it; period road tests frequently recorded numbers in the 30s, while Lancia's commitment to fine detail engineering meant it wasn't a great consumer of oil either, at least when new.
We'll hopefully not be using a great deal of the latter today, and before adding a touch of the former to cover a day's driving between Manor Park Classics in Runcorn and our photography location in Wales, I've got time to settle into the drive with a cruise down the M56.
Squeezed in between the trucks and SUVs, photographer Dean Smith says the Fulvia looks like a spaceship, tiny in stature but with a big glassy cabin like something George Jetson might hop out of. Inside, it feels a lot less intimidating than it sounds. While the driver's door mirror might as well be opaque given it's placed precisely behind the quarter window pillar, the UFO glasshouse offers near-360 degree vision. The seat is nearly as squashy as it looks, and the ride is long-legged.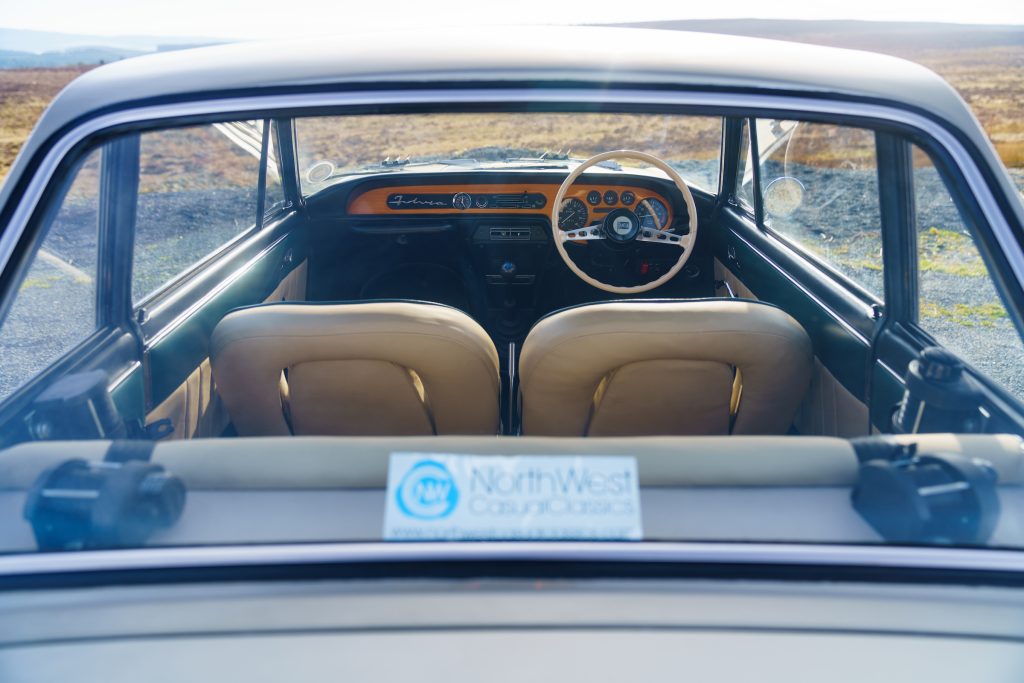 It really romps along too. Dean, perhaps forgetting he's got a mighty V8 diesel in his Range Rover and I a mere 1.3-litre four, charges effortlessly off ahead, but even without using the full extent of the rev counter the V4 scampers eagerly in the Rangie's wake. It's turning over no faster at 70mph – around 3500rpm – than my 1.6-litre Peugeot 106 Rallye, and were it not for a shriek from the frameless window seals it'd feel no busier either.
Away from the major roads, some of the Fulvia's other qualities begin to percolate. Only 3975mm long and 1555mm wide (and 1300mm tall) it is roughly the length of a modern five-door Mini but comfortably narrower, and weaving through urban areas, or slicing along hedge-lined roads, even the narrowest of roads feel like highways.
The controls are light, the steering surprisingly so (a corollary of low gearing, with 4.2 turns lock to lock, and a large, slim Bakelite-style rim). The throttle is smooth and responsive, with no flat spots or stickiness in its delivery, and the clutch is light too, pairing nicely with a long but accurate gearchange throw topped by its cueball knob. And the brake pedal feels fabulous – no doubt thanks to that full quartet of discs and their dual-circuit plumbing.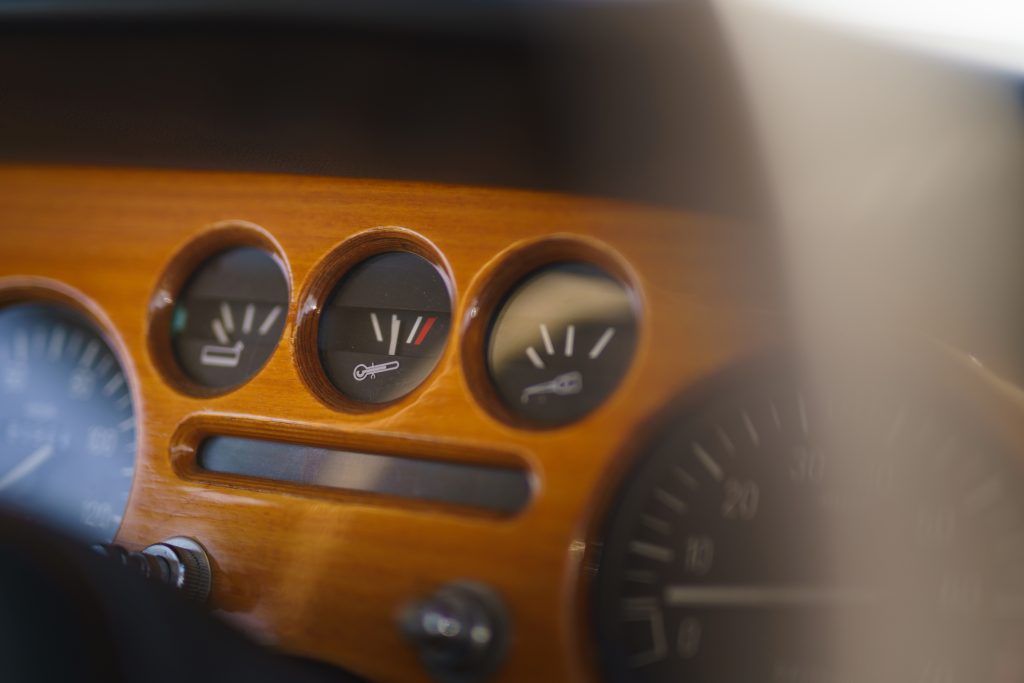 Stopping in a windswept layby for the first batch of photos, I get a chance to poke around the rest of the car. The detail design is worlds away from many other cars I've driven from this period. The door buttons are a tactile delight, and each door closes with a reverb-free thunk. Minor switches glide smoothly, rather than grating, scraping or cracking through their pathways, and while the indicators in this car self-cancel a little too easily, the oily action of the stalk wouldn't feel out of place in something made by Honda a few decades later.
Large Jaeger dials stare at you over the steering wheel's twin spokes, with a trio of gauges between them for petrol, coolant temperature, and oil pressure. Fuel is denoted not with the traditional pump, but a pictogram of the tank itself – with the filler neck on the correct side for the car. The coolant gauge never budges beyond the half-way mark even left idling or dragging up longer hills, and the oil pressure needle indicates a healthy figure throughout.
The fact it stops and restarts easily all day only adds to this trustworthiness, not least because anyone familiar with older cars will know even the friendliest models can sometimes turn grumpy when asked to do more than just travel from A to B. Only selecting reverse proves tricky when manoeuvring around for photos, but given Will from Manor Park Classics snicks it straight in first time when we return the car later that evening, I'm putting this one down to my own temporary ineptitude.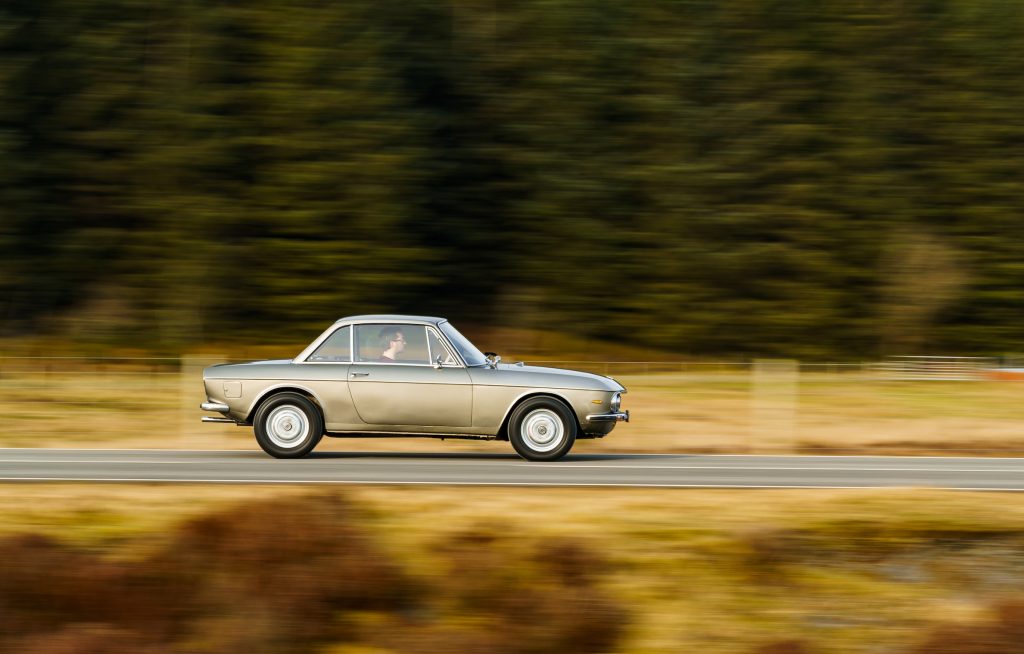 Anyway, going forwards is much more fun than creeping around backwards. A great many have said a great many things about the Fulvia's chassis over the years, which inevitably elevates expectations beyond any reasonable point. And quite inevitably, it takes a while to warm up to the Fulvia's cornering capabilities. For just a while, I wonder what all the fuss was about.
That slow steering ratio, for instance; there's no Mini-style hyperactive dive for every apex here, little of its reassuring weight, and it's not as sharp off-centre either, so the first moments of entering any corner are based on trust rather than information.
Throw in the roads in this part of Wales – which are quite fast and open, with corners that don't really give you a chance to build up to the car's cornering limits – and the early miles border on frustrating. It's enjoyable, sure, but a long way from feeling like one of the best front-drivers ever made. Either the legend is doing the car a disservice, or I'm not really getting under its skin.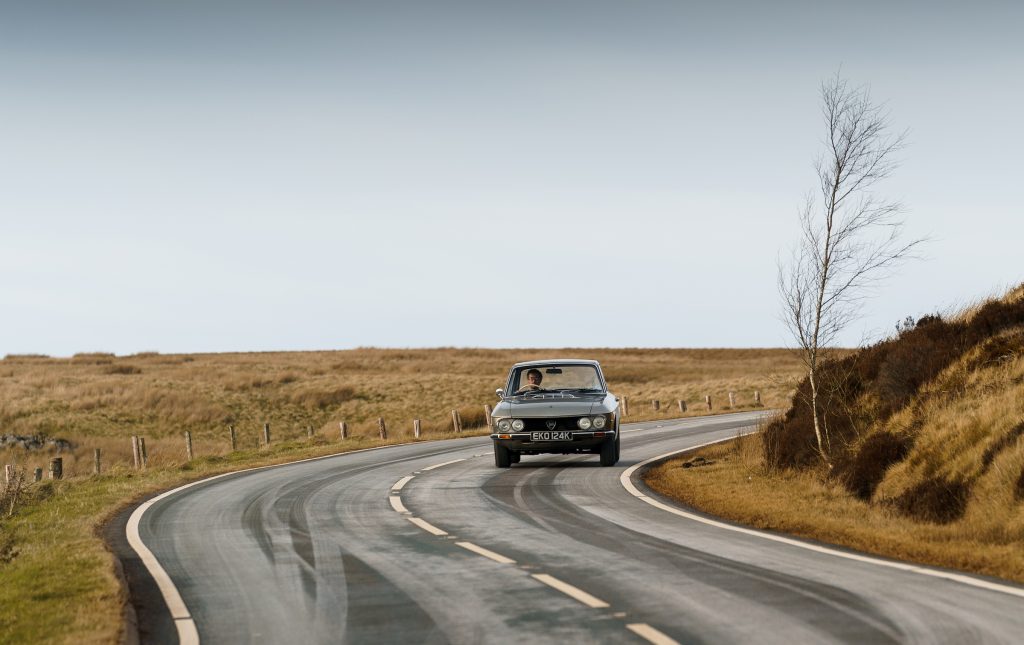 On the plus side, the engine and transmission are a joy. The gearing is sensible for extracting the most from the tiny alloy 1.3 – top is a 1:1 ratio – and second, third and fourth handle the bulk of road driving, with the two lower gears on the same plane thanks to that dogleg shift pattern.
The little V4 hums quietly at idle, with just a small steamboat chuff from the exhaust, and in its 2000-3500rpm everyday sweet spot it simply feels like a particularly smooth inline four. From that point on though the V-engined character starts to emerge, the note becoming increasingly offbeat, accompanied by a harder tone from the twin carbs, and a more insistent parp from the exhaust as you pass around 4000rpm. Even with a self-imposed rev limit of just over 5000rpm – the red paint starts at 6250 – the engine really wakes up over this upper third, without ever losing its surprising smoothness.
Guiding the precise gearshift feels more akin to a contemporary rear-driver than something sending its power to the front wheels. It's possibly even better on the way down, where you get to interact not just with the 'box snicking neatly into each ratio but also that firm brake pedal, and the perfect spacing to the floor-hinged throttle for quick, snorty downshift blips.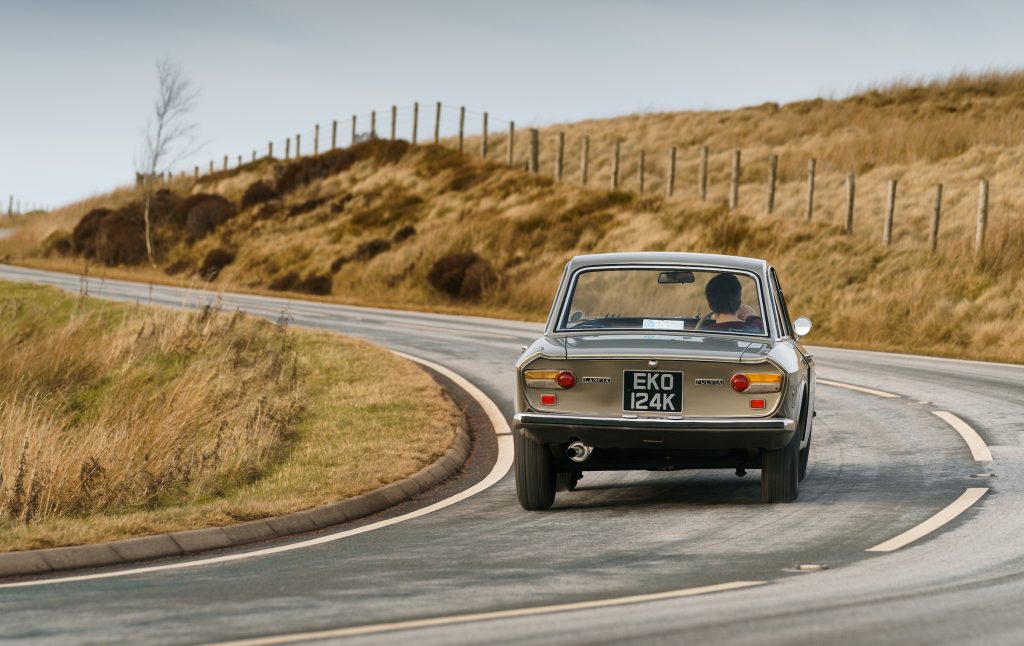 And just as I feel like I'm getting the most from the V4, the handling suddenly clicks too. Roads slightly dusty from winter salt have given our photography corner a little less grip than it might otherwise offer, while subsidence has given it some camber to work against. Through here the nose does wash out slightly on the polished surface, but while it still doesn't impart the kind of feedback to put it among the great steering racks, there's now enough information and precision to know what the tyres are doing – and enough load through the chassis to feel the rear tyres sharing the cornering efforts.
It's neutral and doesn't roll much – not unlike a Mini, in fact – but perhaps most impressive is how that apparently old-school leaf-sprung suspension seems untroubled by the mid-corner compression. Nor any other bumps, now I think about it – it's been smooth all day, despite a wheelbase barely more than 2.3 metres long. It's not all in the 80-profile tyres either (175 in section on this car, 10mm more than factory), so Lancia clearly got its damping and spring rates right.
It feels though like a car built for much tighter roads, where you could really exploit the Fulvia's agility, and spend much more time working the engine in the lower, more enthusiastic gears – ideally that straight shot between second and third. A proper rallying road, in other words, of the kind you might find in the hillier bits of mainland Europe.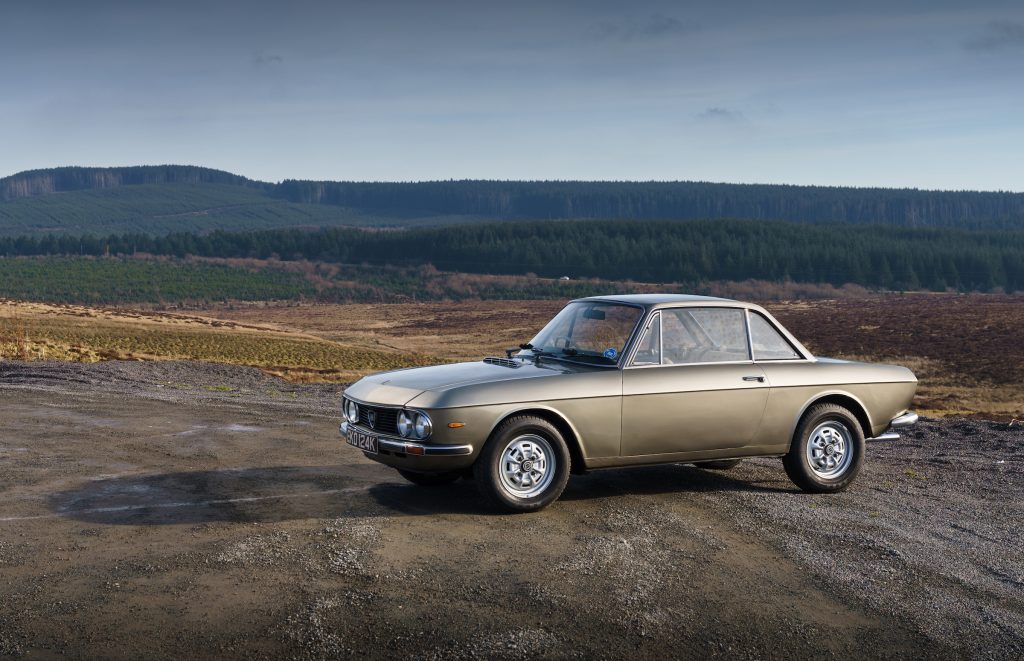 Our correspondent from Wheels would probably agree, later describing the Fulvia as "the best-handling car we have ever driven in our lives". Autocar meanwhile praised both its neutral behaviour and excellent ride, and interestingly given my own slow warming to the car, Motor said it seemed "unimpressive" when you first start out, but then quickly realise its talents emerge on the open road – while also noting its muted steering feedback.
Not that such a thing would put me off. Stomping back up the M56, half-century-old 1.3 more than holding its own amongst modern traffic, and instrument needles still all pointing where they should, I'd happily have driven straight past Runcorn and joined the M6 en route to the Riviera – via much twistier roads, of course.
As it turns out, you don't need to be a snob to appreciate Lancia's way of doing things. But if you own a Fulvia – indeed, if you buy this one – we'd forgive you for feeling just a little superior, now and then.
With thanks to Manor Park Classics for the loan of the Fulvia. The car will be auctioned on February 25.
Check out the Hagerty Media homepage for daily news, features, interviews and buying guides, or better still, bookmark it.