The sheer majesty of this is immense. I'm sitting at 60mph along Warwickshire's Fosse Way, but my right foot is only, maybe, a third of the way through the throttle's travel. I'm at Transit-driver height, so my view is commanding, putting most large SUVs to shame. The mechanical concerto playing before me is by Benjamin Britten at his loudest and proudest. And there's a mild sense of dread at the amount of damage I could do to myself, this car, and untold other road users if I had to stop quickly. Which I cannot. To top it all, my conveyance today is worth slightly more than the average British house, so there will be no liberties allowed at all.
What I'm driving is the UK's first 100mph production car. That it wears a Vauxhall badge and was built nearly a century ago may be surprising to those who automatically connect the Luton brand with post-war Victors, Vivas, Cavaliers and Astras. But in fact, the Vauxhall brand that existed in the veteran and vintage era (up to 1930) was the antithesis of the mainstream doyen that it became in later years. In fact, it was not only square-on to Bentley in terms of its products at the time, but it also possessed an enviable 16-year back-catalogue of vehicles before Walter Owen's first prototype even turned a wheel.
How much is your car to insure? Find out in four easy steps.
Get a quote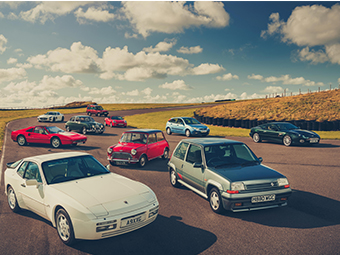 That back-catalogue had already produced the C10 'Prince Henry', so named for its success in Prussia's Prinz Henrich Trial in 1910, and what Laurence EW Pomeroy, The Motor's technical editor and son of the car's designer, declared many years later as '…the first catalogued sports model offered by a British manufacturer, (and) in some senses … the first of its kind in the world.' So how could Vauxhall follow that?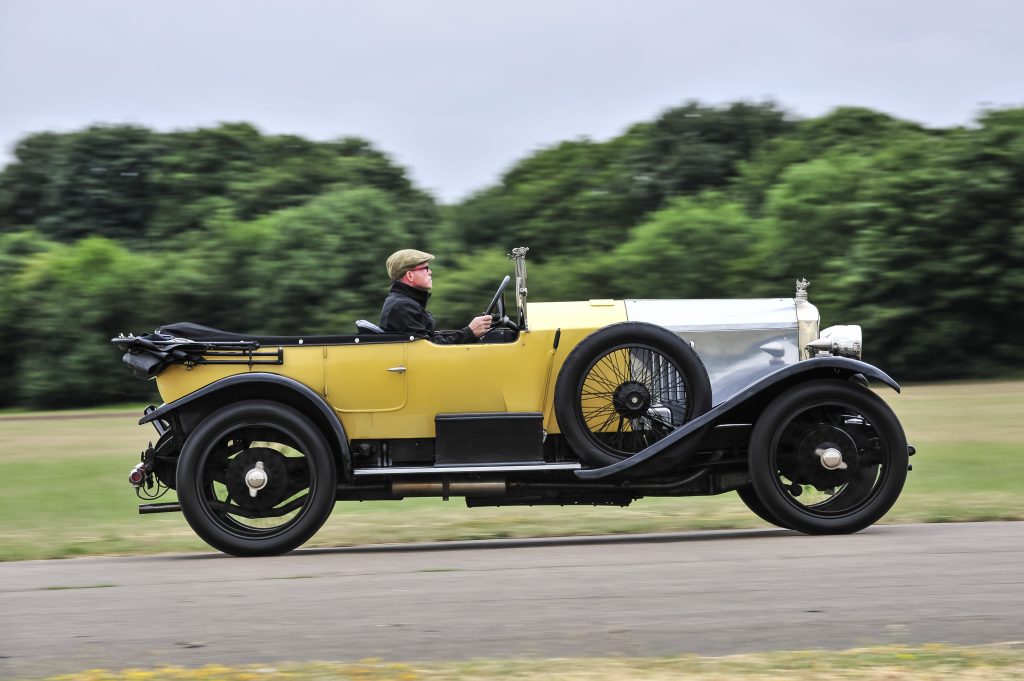 Enter Joseph Higginson, a wealthy industrialist and amateur racer, who set Vauxhall a seemingly impossible challenge: to build an unbeatable production car that could take the Shelsley Walsh hillclimb record. What emerged from Luton's Kimpton Road workshops was to become one of the legendary sports cars of its time. Originally called the '30-98hp', Vauxhall's technical director Laurence Pomeroy, had crafted an ultra-lightweight, four-seater car powered by a 4525cc, four-cylinder, side valve engine producing around 90bhp. It was effectively a racing car with registration plates, capable of 80mph, but with brakes so marginal (a Vauxhall bugbear until the '30s) that it took 400 feet to stop it from that speed. But it did just what Higginson wanted, and in June 1913, he set a new Shelsley track record of 55.2 seconds, which was to remain for the next eight years.
The outbreak of hostilities the following year stymied Vauxhall efforts to develop the 30-98 any further, but in 1919, with a return to peace, the 30-98 was refined ready for its public debut at that year's Olympia Motor Show. While the basic ingredients remained, a more robust engine block was used, and electric lighting added, as was an electric starter to save owners the ignominy of having to crank-start its mighty engine. And in a very early example of quality control, every 30-98 rolling chassis was taken for an half-hour test on roads near Vauxhall's Kimpton Road factory.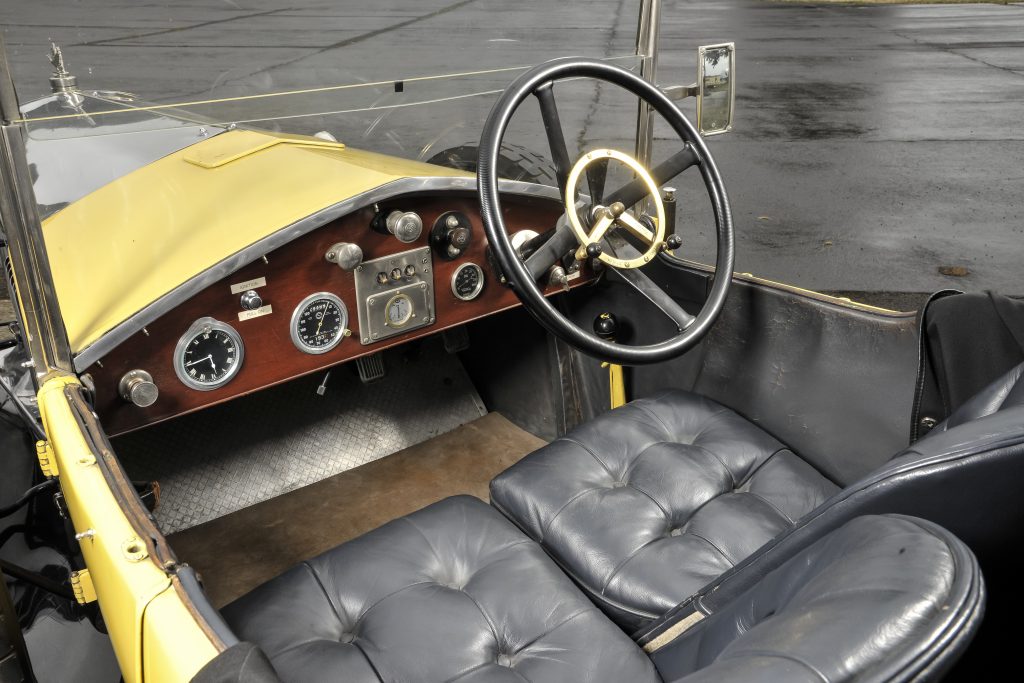 Now known simply as the '30-98 E-type', the model was a hit with well-to-do motorists – and at £1675 with its factory Velox touring body, they needed to be; in 1922, you could buy ten Austin Sevens for the same money. It also bolstered Vauxhall's export ambitions, with the Australian market in particular being partial to its speed and – literally – flexibility over broken roads. But more development was on its way. Vauxhall's C.E King had taken over from Pomeroy as technical chief after the Great War and set about developing an overhead valve pushrod engine for the 30-98. While the new unit's swept volume dropped to 4224cc, the move from side- to overhead valves liberated a generous 115bhp. The valves were so large, they needed the rockers to be offset on their pedestals, and with the engine now capable of 3400rpm, double valve springs and four-bolt Duralumin con-rods were used to beef up the bottom end. The first 'OE's remained rear-axle-braked when launched in late 1922, but five months later, Vauxhall fitted four-wheel brakes – well, nominally, but we'll come to that later…
So, had it always been Vauxhall's intention to crack 'the ton' in one of its production cars? Well, not until a certain Major L. Ropner made a complaint to the editor of The Autocar. Ropner was frustrated that he could not buy a production car capable of a 100mph flying mile, so with gauntlet laid, Vauxhall invited him to Brooklands to prove that the OE-type 30-98 – with some minor production tweaks – was indeed capable of reaching that speed. Fitted with twin aero screens, blade wings and a cowled radiator housing, the two-seater bodied car reached a measured 100.7mph in the hands of factory test driver, Matt Park. Ropner took delivery of the car there and then, and most importantly, Vauxhall was able to use the proven top speed in its marketing ('The Car of Grace That Sets the Pace').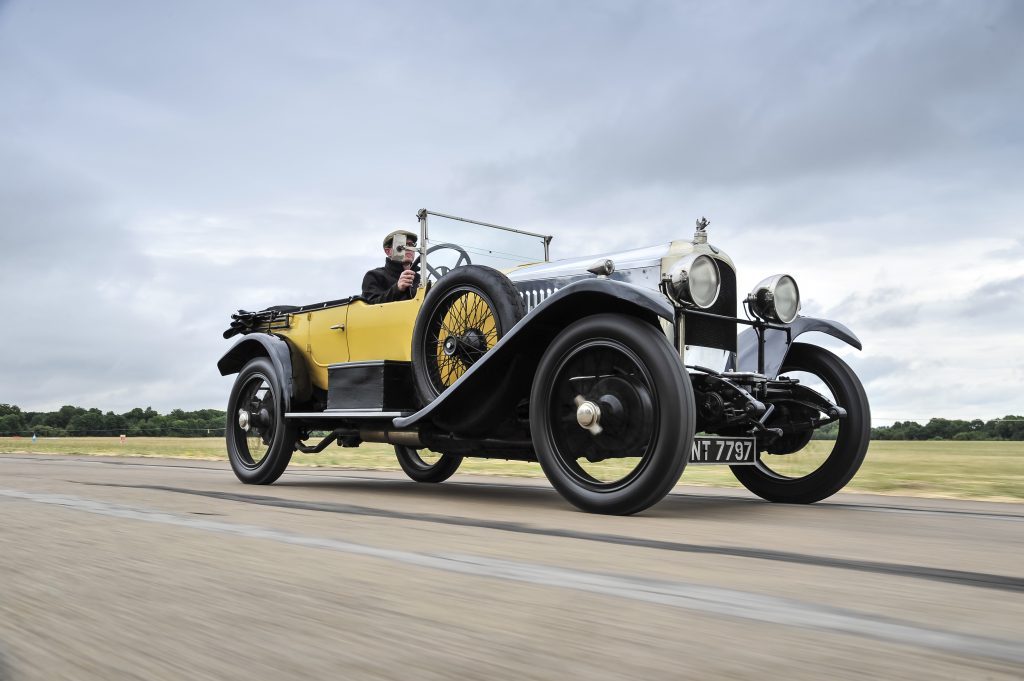 Alas, by the mid-'20s, Vauxhall's somewhat elitist product range, with the 30-98 at the top of its tree, had fallen from favour, as a raft of more affordable cars became available to the buying public. In fact, by 1927, when the last OE-types rolled off the line, the company was having to discount them heavily to secure sales.
And the car we're driving today may well have been one of those. Built in 1926, chassis OE268 has been owned by Vauxhall Motors since 1947, and is now arguably one of the most original of the roughly 200 30-98s that survive from a total production of 600 cars. Its originality also means that the driving experience is, shall we say, unvarnished and pure. Starting is the easy bit: lift the nearside engine cover, flick down the fuel lever below the Autovac fuel supply and tickle the button atop the large single Zenith carburettor until a couple of drops of 99-RON appear in the tray below it. Enter the car through the passenger side (there's a brake lever where the driver's door would normally be), pull a chromed knob to turn on the ignition, and then press a large Bakelite button to fire-up. Which it does instantly.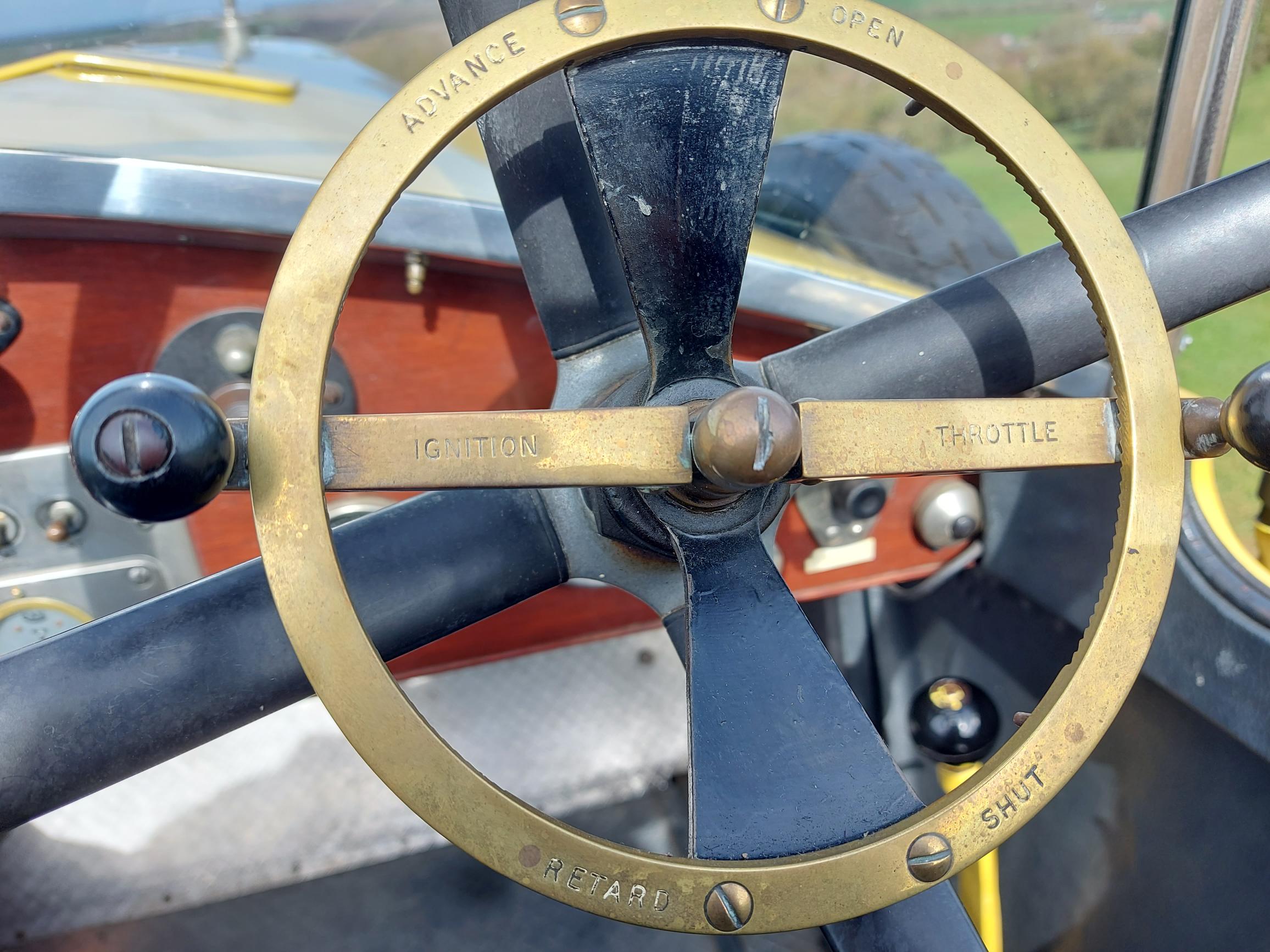 Before you is a huge-diameter steering wheel, with a large brass quadrant at its centre, sprouting controls for the hand throttle and ignition advance/retard (you start with it fully retarded). The gear lever is inboard by your right knee, with its four ratios selected in a reverse H-pattern – so, first is to the right and up. At your feet are three pedals, but just to make things interesting, the throttle is in the centre, with the brake to the right and the clutch to the left. Except that the brake pedal, which simultaneously operates the front drums and a prop-brake, should only be used in emergencies; you use the outboard hand lever, working the rear drums, to slow progress. If I told you that the flywheel weighs roughly the same as a lorry's, and the gears have no synchromesh, meaning double-declutching for every change, up and down the 'box, and you can probably guess that this is not a 'hop-in-and-drive' car.
It's heavy, too. At a ton and three-quarters, plenty of heft is needed to turn the low-geared steering at any speed. Pull away, remembering to leave plenty of time for cogs to engage between shifts, and gear noise dominates through the intermediate ratios, but once you're in top, surprisingly high gearing makes for relatively refined progress in a near century-old sporting car.
And it's fast. With standard Velox touring body and upright 'screen, OE268 is rated at a mere 85mph, and a quick schlep up the M40 from its home at the British Motor Museum proves that 70mph is easily attainable. (Ever seen a vintage car travelling that fast on public roads?) But the 30-98's forte is motoring along at 60 on flowing A- and B-roads, slowing the big car with its sturdy brake lever as you approach tighter bends, and smiling if your down-changes mesh gears without a grate. You sit close to the wheel, gripped by the leather bucket seat and focus like never before on the road ahead, mindful that stopping this behemoth requires space and brawn (the latter in short supply). But you get into a nice rhythm after a while, happily powering through bends at speeds that would leave other vintage cars in its wake.
Over the years, I've driven this car across the French Alps and around the streets of Monaco; I've motored through early morning London in it with royalty at my side; I've competed in it at Brooklands and Shelsley, just as its first owners may have done. And to this day, I'd be happy if it were the very last car I drove. Truly, a 100mph British epic.
Thanks to Jeremy Townsend at Vauxhall (Vauxhall.com) and Stephen Laing and Paul Gilder at British Motor Museum (britishmotormuseum.co.uk), keepers of Vauxhall's 50-strong Heritage Collection.
Fast facts: Vauxhall 30-98* VAUXHALL 30-98*
Total sold/number built 1913-1927 / 600
Engine iron block and head, 4224cc, four cyls in-line, with Autovac and Zenith 48RA carburettor
Max power 115bhp @ 3400rpm
Max torque 175lb ft @ 3400rpm
Transmission 4-spd, manual, RWD
Suspension: front semi-elliptic leaf springs, Hartford friction dampers rear live axle, semi-elliptic leaf springs, Hartford friction dampers
Steering worm and wheel
Brakes drums front and rear
Weight 3803lb (1725kg) with Velox body
0-60mph 17.0 secs
Top Speed 100.7mph (with aero screen and cowled radiator)
Price new £1020 (1923; rolling chassis only)
Value now £250,000-£350,000
*All technical data for OE-type
Read more
Learning to drive… like a Victorian
Hagerty's Top 10 Vauxhalls
Hard charging in Bentley's new Blower continuation car