"Is that a gearbox between your legs, or are just pleased to see me?" Well, much as it always a pleasure to see my photographer chum of choice, one Antony Fraser, there is indeed a gearbox between my legs. To the left of that, is a clutch pedal, and on the right a brake pedal and throttle. Directly ahead, an upright, wood-rimmed, four-spoke steering wheel that feels comically oversized, an aero screen and beyond an impressively long and sleek, blood red bonnet, out of which an exhaust manifold sprouts, suggesting a powerplant of eight cylinders. But not all is quite as it seems.
This is the Tipo 184, a tribute to the Grand Prix Alfa Romeo 158, as raced in the 1930s, '40s and '50s by heroes like Giuseppe Farina and Juan Manuel Fangio. And it is one of the best, most well thought out kits that I've seen for some time.
How much is your car to insure? Find out in four easy steps.
Get a quote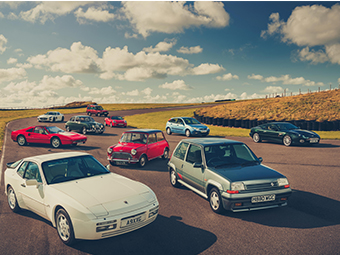 Part created by Dowsetts Classic Cars, the evocative machine is not a museum piece from Italy, it's Japanese. Underneath the delicate exterior is the beating heart and running gear of a perhaps slightly less glamorous Mk2 Mazda MX-5.
The project involves TV 'wheeler dealer' and 'master mechanic,' Ant Anstead. Anstead is also co-owner of Dowsetts and inspiration for the Tipo 184 came from the times he built an Alfa 158 replica, firstly for a charity classic build face-off between Anstead and Wheeler Dealers colleague, Mike Brewer and then a rather more bespoke replica for his Master Mechanic show on the Motortrend Channel. That build involved an MG TD chassis packing a contemporary Alfa, 2-litre engine, and was sufficiently authentic to sell for $100,000 (£74,000) at Barrett Jackson's Scottsdale auction, last year.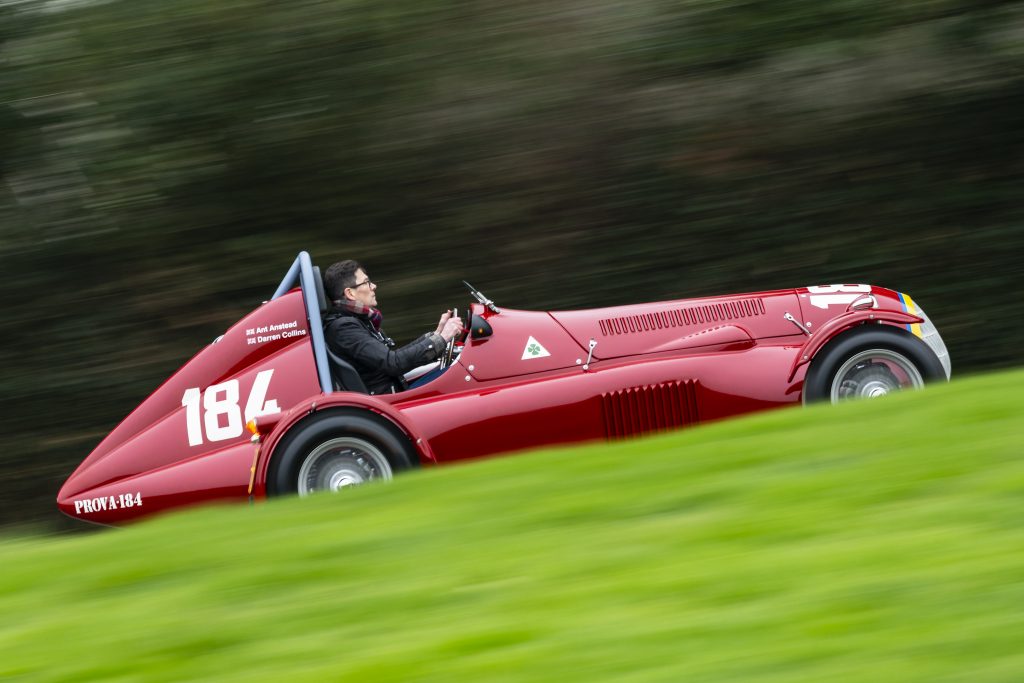 Neither of the above was built with a kit car application in mind, but with so much of the hard work and inspiration already nailed – including bodywork mouldings – it seemed too good an opportunity to miss to create a buildable version, which is why I'm straddling the gearbox, at Dowsetts' base near Bishops Stortford, Essex.
The Tipo 184 moniker is adapted from the Tipo 158 designation, so named because it was 1.5-litres and 8-cylinders. Tipo 184 is, of course, a nod to the 1.8-litre, 4-cylinder motor from the MX-5.
Anstead's partner in crime at Dowsetts is Darren Collins, who is on hand to talk us through the whole build, with the aid of a fully built up chassis and the blood-red prototype, which has just gained full SVA approval (Single Vehicle Approval is a pre-registration inspection for cars that have not been type-approved to British or European standards) and so is now road legal. Plans for a race series are afoot, too.
Dowsetts is one of those fascinating outfits with much going on. And while I would like to share with you I can't for reasons of client confidentiality. Crucial to the whole operation is Collins, who's evident engineering talent is passed down from parents who both worked at Rolls-Royce. In the '70s and '80s he messed around with Volkswagen Beetle-based kit cars and then embarked on a career with the Royal Navy as an engineer. After the Navy, he also worked at Rolls-Royce, before Anstead and Dowsetts beckoned, plus stints behind the scenes on Wheeler Dealers and other car shows, making the 'magic' happen.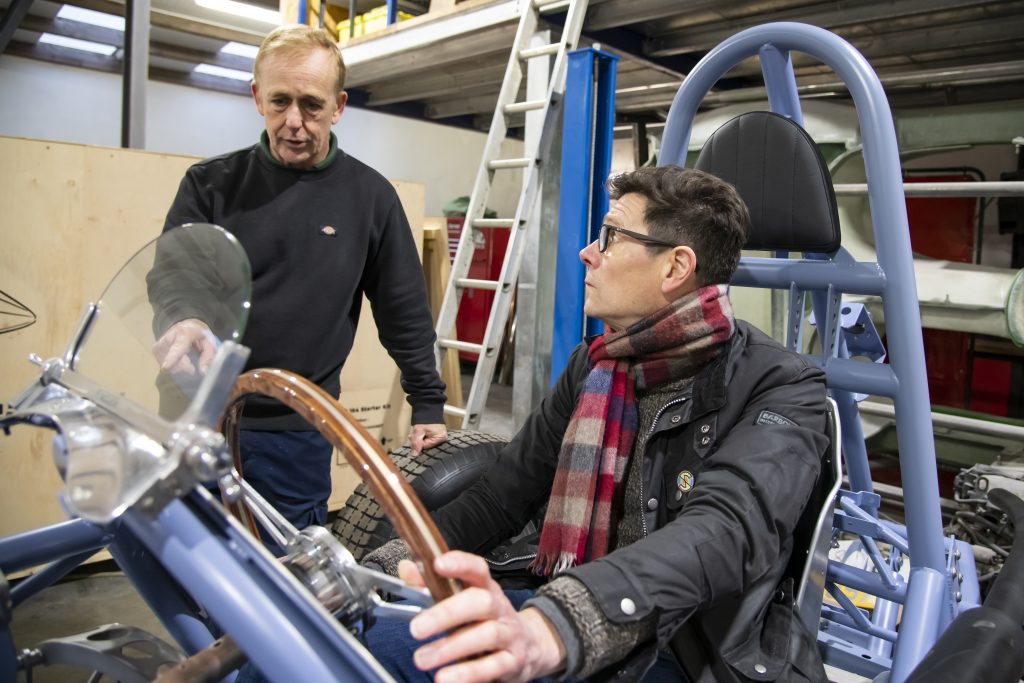 It's bloomin' freezing outside, so we're grateful for the warm workshop chassis walkaround. First impressions are of quality and scale. While not a perfect size replica, Grand Prix cars of the era were pretty big – notably long – but that's okay, because it needs to accommodate drivers of all sizes, including my giraffe-like limbs.
And quality? The tubular chassis is really rather well done and authentic looking, with its grey finish and built-in, Motorsport UK-approved roll cage. And while the Mk2 MX-5 might not be glamorous as such, it's an inspired donor choice, and Collins, Anstead and Dowsetts have made the most of its parts haul potential, with impressive 'waste not, want not' sustainability.
Key to the MX-5's donorbility is its equally pleasing costability and the ease with which the running gear can be removed and transferred to the Tipo 184's chassis. Front and rear subframes unbolt and typically house the wishbone front suspension, steering, brakes and rear differential. The front and rear subframes bolt straight onto the Tipo chassis, with just six and eight bolts respectively. And that's it, the Tipo is ready to roll. Of course, most – if not all – enthusiastic builders, will take the opportunity to refresh, blast, plate and paint the components but, nonetheless, this is plug and play stuff. A 200-hour build is realistic.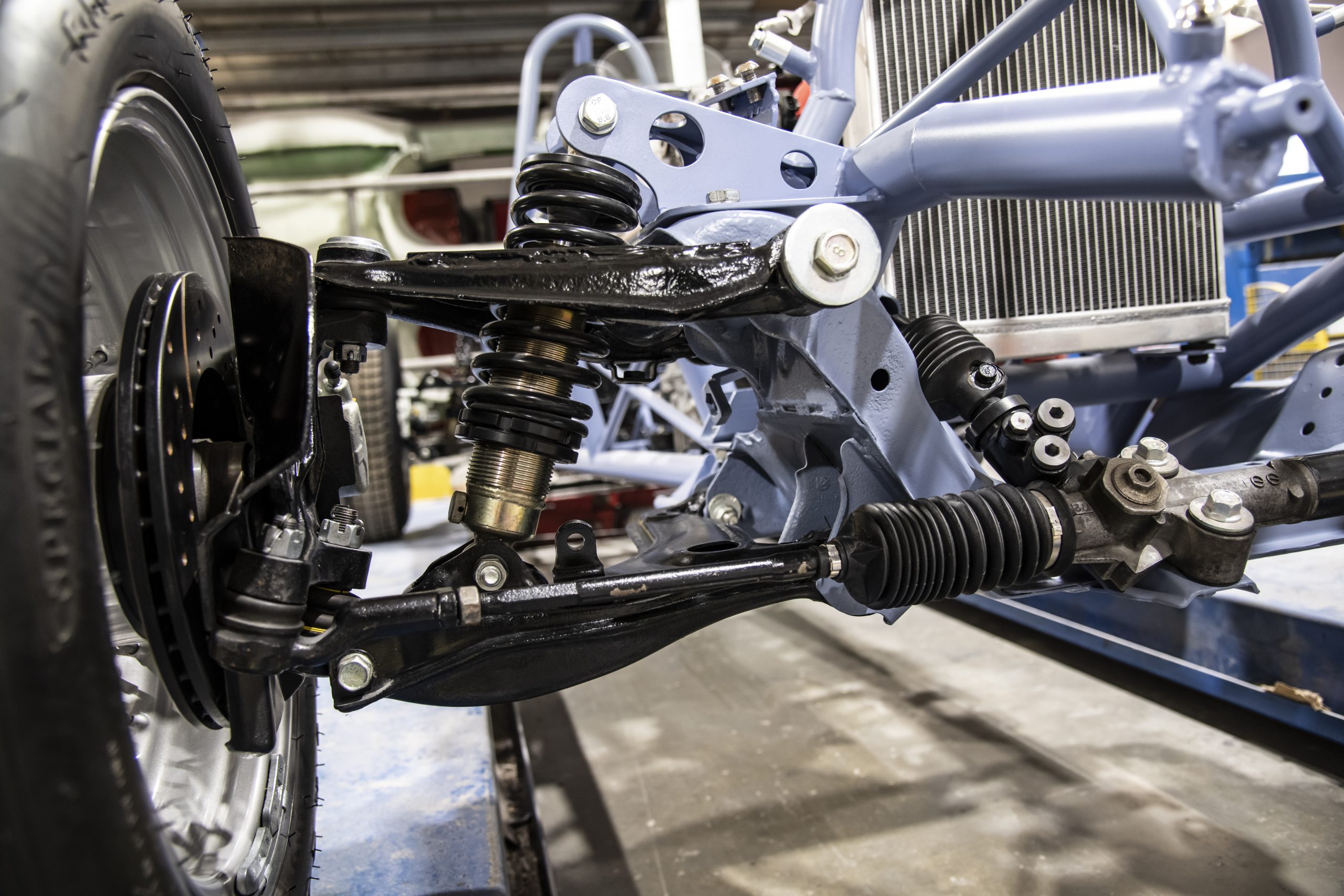 The engine and gearbox bolt straight onto the chassis engine mounts. A supplied propshaft connects front to rear. The MX-5's pedal box is already split, so mounting either side of the transmission tunnel is a cinch. Most of the steering column is utilised, with an additional section supplied. The wiring loom is retained and any redundant sections can be removed. Even the instruments are retained and sit neatly behind the aluminium dash panel. And there are plenty of retro aftermarket offerings for the MX-5, should a more nostalgic look be desired.
Bespoke components are actually few. A custom made radiator is an obvious requirement, as is the fuel tank. The wire wheels are clearly essential for the 'look' although a steel Dunlop-style wheel would work too. The skinny and tall of profile crossply Blockley tyres are again a must and are kept on the road by GAZ coil over dampers. Inside there is a lovely wood-rimmed, four-spoke Mota Lita steering wheel and the single bucket seat. To the right of the snug cockpit is a billet-machined gearlever and mechanism, and which arches over the driver's right leg to operate the central shifter rod. It's beautifully engineered and really the only way to achieve the central driving position that necessitates that aforementioned 'gearbox between legs' driving position. And finally there's that almost full-length exhaust manifold and attached system, with it's theatrical straight-eight cylinder tribute.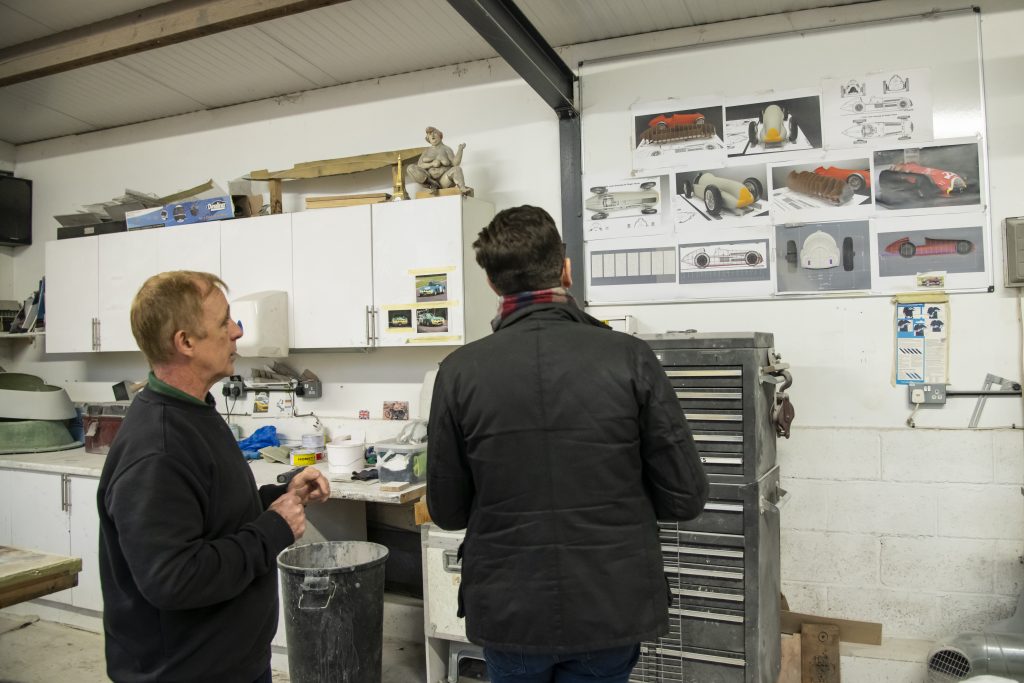 The Tipo 184 weighs 750kg, which makes it lively enough with 140bhp's worth of 1.8-litre twin-cam, 16-valve power. And of course the Mazda unit is eminently tuneable, with up to 200bhp possible via cams and throttle bodies, albeit at a price.
Talking of which, there are many ways to buy and build. A turn-key, fully built Tipo like the one I drive costs £60,000. Alternatively, Dowsetts will supply everything you need to build a Tipo 184, including the donor car, for £19,995, or you could do things gradually, sourcing your own donor – which with a Mk2 MX-5 could be just a few hundred quid for a structural MOT failure, with sound running gear – and buying the bespoke parts stage-by-stage and as your finances permit.
We're pretty sure that most self-spannerists could handle the build, and Collins is on hand – whether in person, on the phone or via Youtube (just search for Tipo 184).
Whichever way you choose to tackle the build, the chassis and bodywork are delivered in a large, liveried wooden crate. The sort you might expect to see transporting some sort of museum antiquity, which the Tipo 184 kind of is. It's a stylish touch.
So, time for a drive then. And while the Tipo 184 has passed its IVA and is fully road legal, Swansea has been dragging its tootsies with the official paperwork, so we are restricted to a brisk drive around the private roads surrounding Dowsett's farm location. Not to worry – the potential and grin factor are immediately apparent.
Clambering in requires a bit of practice: right foot on the right hand top suspension arm, pivot with left foot on the small cockpit-mounted footplate and slide in. Flick the master switch for ignition and push button to start. The exhaust manifold may be writing a cheque it can't quite cash, but it sounds suitably raspy, as opposed to a standard MX-5 which is a little meek and mild.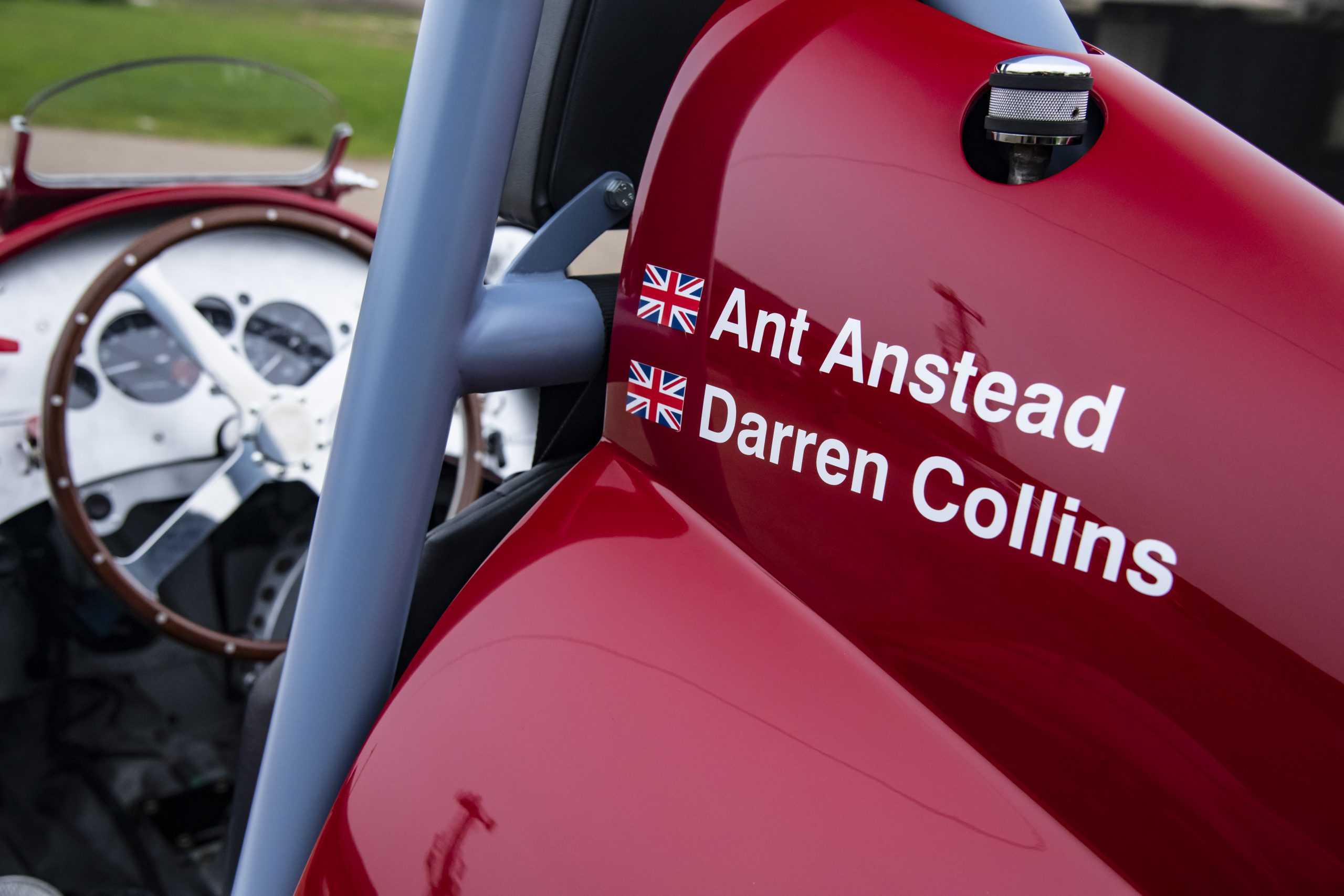 The clutch is standard in weight, while the ingenious gear-linkage slots in to first with finely engineered precision, a blip of throttle and we're off, with a hand on the enormous, near-vertical steering wheel, which makes light work of pointing the skinny 6.50x16in tyres. Yes you read that profile correctly!
The centre of gravity is high, as is the driving position, with a perched and commanding view all the way down the rocket-like bonnet. Performance is brisk and traction on a near freezing January day is not difficult to provoke. The legs akimbo driving position might make some feel a little self-conscious but in a single-seater there's no chance offence and if that's how Fangio and Farina did it, then that's good enough for me.
It would have been interesting to take the Tipo out onto the open road and it would certainly make for an invigorating drive, although one that would perhaps fall into the category of 'blow away the cobwebs,' as even with the aero screen you need to wear goggles. But hey, some folk love that sort of thing and it's no more exposed than a Morgan 3 Wheeler. Whatever, it's a brilliant, seat-of-your-kecks, plenty fast enough, sausage-shaped package of sheer fun. Which is what recreational driving should be.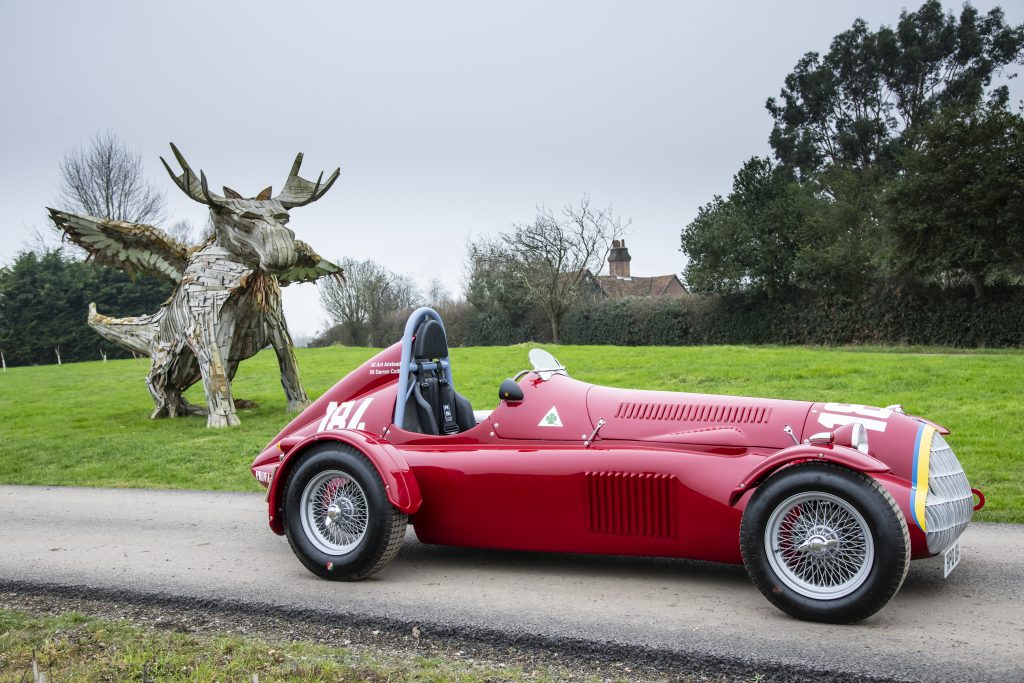 What intrigues me more, though, is the original intention of creating a one-make race series. I know that getting a race series of the ground is a tough gig, but c'mon, how much fun would a pack of these things be? Lowish cost, lowish power maybe, but equally low grip. Just imagine a wet race, with 20 odd cars in a Fangio style four-wheel drift… Indeed, colleagues that have driven the Tipo 148 on a wet track report thrills, spills and almost telepathic driftability. Oh, and for the longer term Collins mentions the possibility of different body styles too, a Maserati 250F, a Lancia D50 or Ferrari, or even a Vanwall. Why not?
The British Racing and Sports Car Club is on board and the plan is for a series of track days in 2022, culminating with a standalone Tipo 184 race at the scenic Cadwell Park in Lincolnshire, in late October. We can't think of a more perfect setting frankly. With a good few cars sold already, it's not hard to see this happening.
It's great to see some TV magic filter down into dreaming up a kit that uses easy-to-source MX-5 bits, mixed with bespoke parts to create something really rather special. And for many, much of the appeal will be to tick off a bucket list wish and build a car by their own fair hands.
Even if there's a bit of head-scratching, grazed knuckles and cursing along the way, you can take it from me that it will be worth it.
Read more
Rover, Bulgaria, and an F1 team owner: The curious story of the Ledbury Maestro
Retro Rewind: Mazda MX-5 1.8i vs MX-5 R-Sport
270mph in 1938: The 16-cylinder Auto Union was an engineering feat