You could call it the Goodwood Effect: No matter how frumpy or austere a car might be, the act of dropping it over a set of Dunlop historic racing tyres, strapping up a pair of throaty carbs, and handing it to an old BTCC star to spend half of every lap sideways is an instant ticket to the cool classic club.
The Austin A30 and A35 have probably benefitted from this effect more than most. Narrow, upright, and slightly cartoonish, they're neither as chic and sporting as a Mini, nor as iconic as other postwar peoples' cars like the Beetle and 2CV, but watch a grid full at Goodwood with the prim and proper little saloons and suddenly you're scouring the classifieds.
How much is your car to insure? Find out in four easy steps.
Get a quote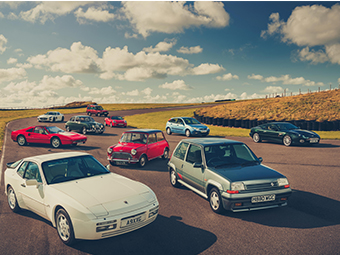 The 1955 Austin A35 of Andrew Willis though? That's something else entirely. It looks like it'd take up the same grid space as a pair of A35s squeezed side-by-side for a start, and if it looks at home on a race track, it'd be nipping at the heels of Baby Bertha rather than a bunch of other 1950s racing saloons.
It is, in a few words, gloriously bonkers: a tube-framed, wide-bodied A35 running a five-litre Ford Mustang V8 and Ford gearbox, and wearing 10-inch wide Formula 3 rear slicks (which probably have as much contact patch per tyre as an entire standard A35) at all four corners.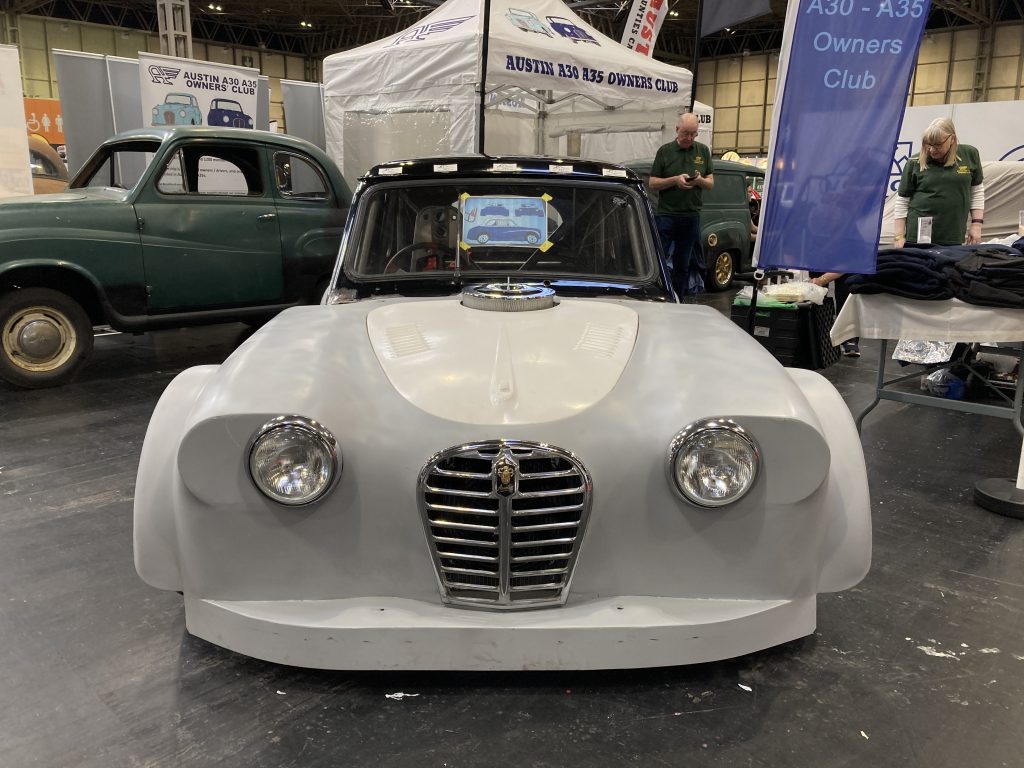 "I originally built an oval racing version back in 2015 or 2016" explains Willis when I catch up with him at the NEC Restoration show. "I built it myself, raced that for a couple of years, and was quite successful. It was painted bright yellow too, which made it stand out…"
Willis always had the idea of building an all-out race car, and with a 1964 Ford Falcon in the shop, the idea of a pre-'66 touring car was quite appealing to start with. "But I looked at how much that was going to cost to be competitive, and fell out with the idea of doing that. But I had this V8 sitting on the floor, and an Austin as a road car, and I thought… let's have a go, let's do it."
It probably won't surprise you to learn that there is no "kit" for this kind of project, so Willis slowly but surely cut the A35's shell into several pieces, and began building the spaceframe and new body from scratch. "There was no CAD, no computers," he says, "because I'm doing what they could have done in the 1970s. It's all just been drawn on paper, and out of my head."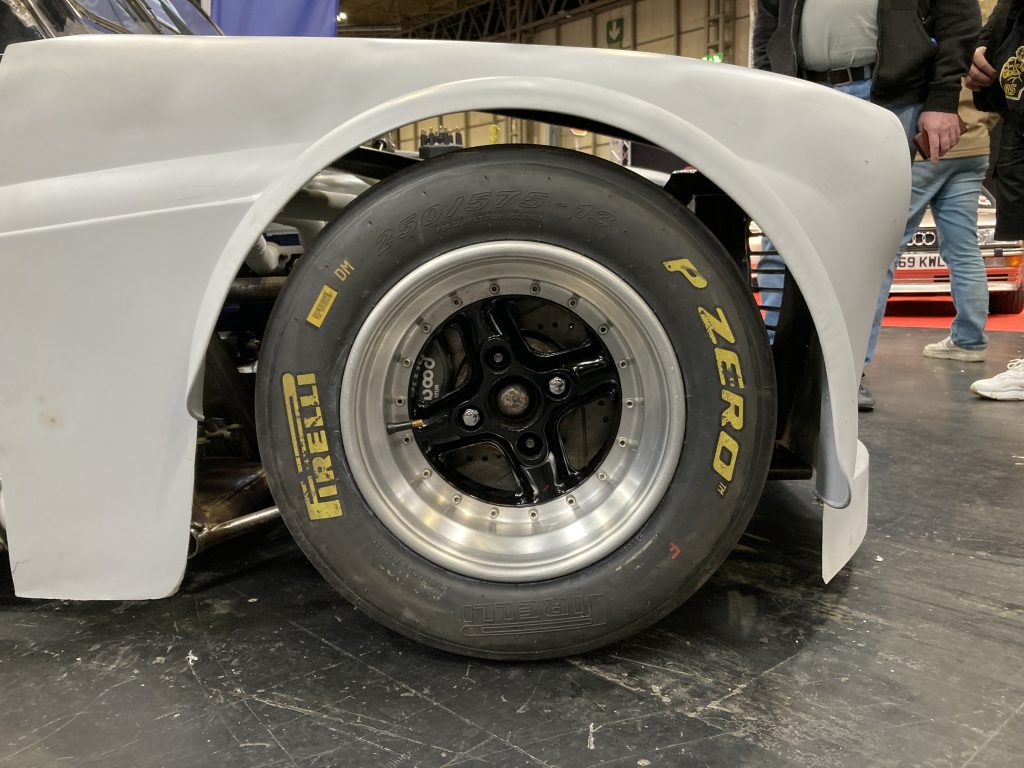 The project isn't without inspiration though, with that original yellow short-track racer taking cues from an equally barmy Holden-powered A30 built by Bathurst legend Peter Brock in the late 1960s. The bodywork on Brock's car was more conventional than the one being built by Willis (and its 179 cubic-inch, or 3.0-litre inline six wasn't quite as potent), but it's clear to see the inspiration in the wide-tyred, wide-arched styling in the project.
And like Brock's car, which the racer used to score more than 100 victories in period, the A35 will be a racing car rather than just a show pony. "It'll be racing in the CSCC [Classic Sports Car Club] Special Saloons, and the HSCC [Historic Sports Car Club] Special Saloons as well – to try and get it out there as much as I can."
Each series allows plenty of freedom in terms of modification, restrictions boiling down mainly to how the car looks from the side elevation – and if you peer at Willis's A35 from the side, it does look remarkably like the original still. Well, sort of. It also presents an interesting challenge due to the car's proportions.
"I don't really know how it's gonna drive," says Willis. "Because it's got the shortest wheelbase of any front-engined, rear-wheel drive car, short of Japanese microcars. And it's almost square; the wheelbase is 81.5 inches long, and the car is 70 inches wide!"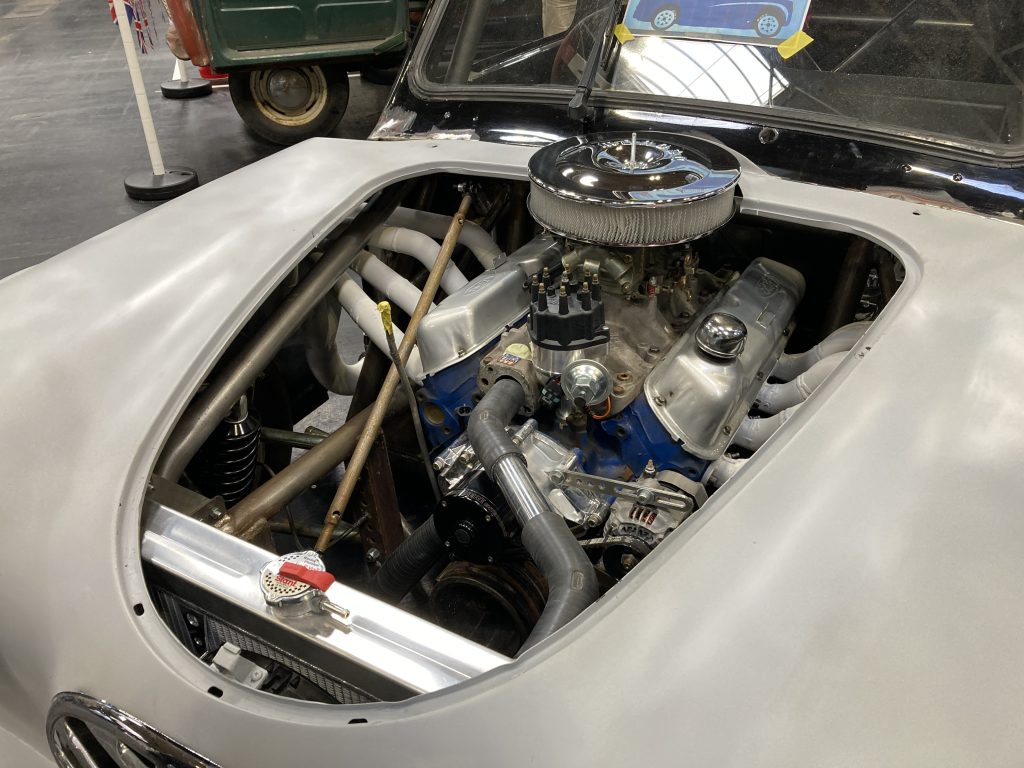 If Willis can make it work though, the car should fly. "I'm hoping there'll be a lot of mechanical grip in the car, with the big tyres and the way the weight is distributed. Weight-wise I'm aiming for about 850-900 kilos, and the engine has been dynoed at 310bhp. At Snetterton, it'll hopefully be doing around 140 down the back straight."
In theory, the car will be ready for its first race on 22 April. Which is impressive, and from the outside seems somewhat optimistic given how much still needs doing – though as Willis points out, calling his business 25/7 Race and Restoration isn't just tongue in cheek. "I was at work until half four on Friday morning putting this together. I went to bed, got up, and brought it straight to the show."
So if you've always found the Austin A35 a little bit fusty and lacking in excitement up until now, maybe you should head along to Snetterton on 22 April, where there'll be a very wide, very yellow and probably very fast little Austin roaring up the back straight at 140mph…
Read more
This mad Midget will soon be a show-worthy race car
Your Classics: Peter Graham and his love for building vintage specials
Your Classics: "Norman" the Austin A35 van