Just when you think you've seen it all from BMC's baby sports cars, the MG Midget and Austin-Healey Sprite – from pristine restorations, through ratty café racers, to V8-powered drag-racing monsters – it transpires the popular platform still has plenty more to give.
But perhaps in this case we shouldn't be too surprised, as the owner of this dramatic-looking Midget has form in this area. If you've attended many car shows at Goodwood or Bicester in recent years, and seen a Mk2 Sprite as good as grazing the road, spitting flames out of its bonnet, you'll have enjoyed Richard Woolmer's work already.
How much is your car to insure? Find out in four easy steps.
Get a quote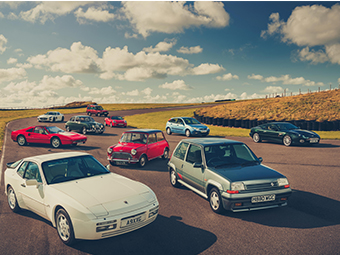 His latest project though is a little different. Well, in purpose anyway – because there's still a healthy dose of originality, some clever engineering, and perhaps a sprinking of madness in here already. And some of it is, like his previous Sprite, poking quite visibly out of the bonnet…
"This car's based on a Mk1 Midget, but the engine conversion is part of a kit you can buy now, developed by Barratt Engineering." And one look at the engine will tell you it's not the usual A-series in there – though it's closer than you might expect.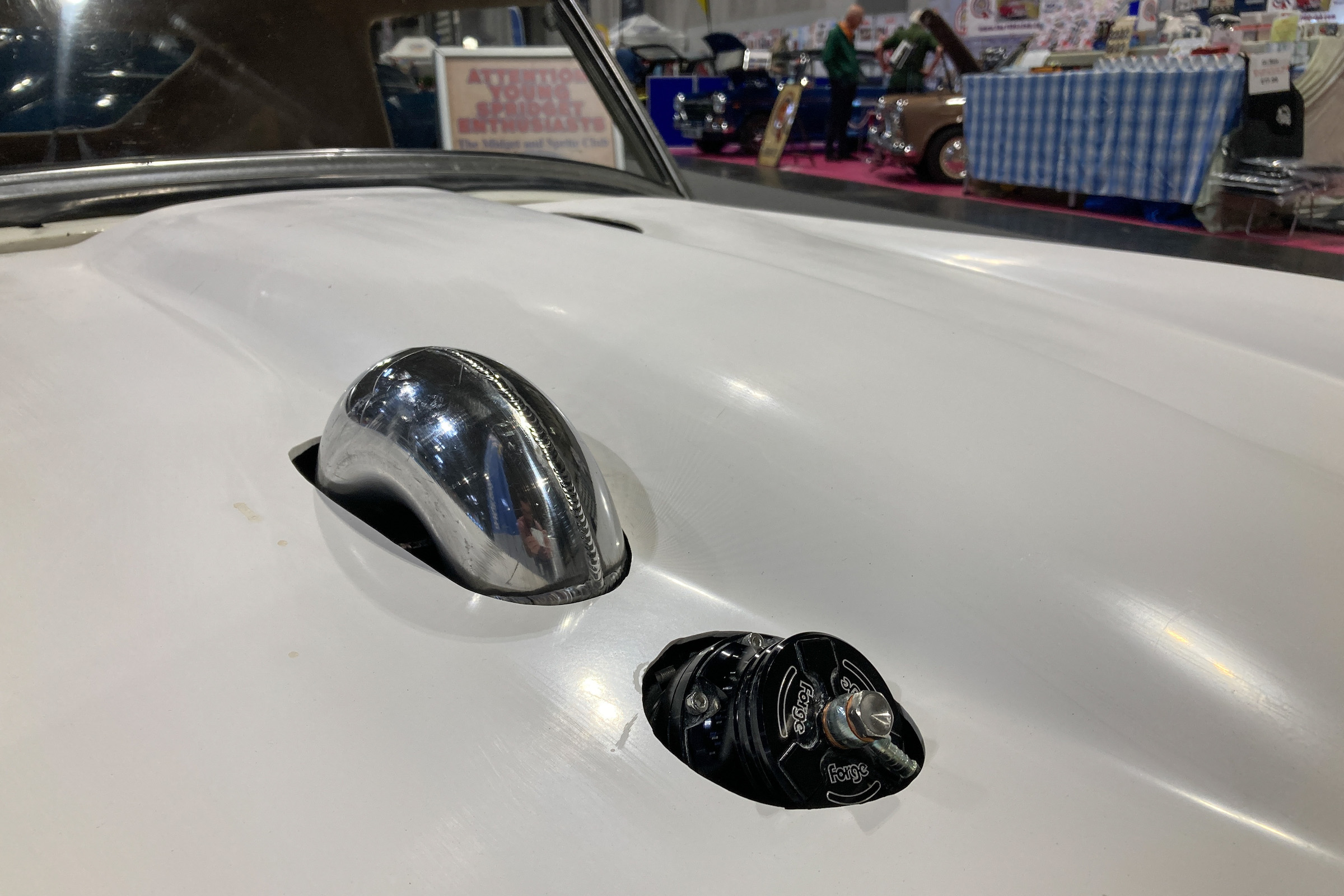 "The engine is a CG13 [a twin-cam, 1.3-litre four] out of a Nissan Micra," says Woolmer, "which was actually a direct descendent of the A-series engine…"
At this point a little explanation might be required. Back in the 1960s, Nissan licensed the design of the A-series for some of its own cars – and, while the model designation changed over the years, and there were several technological improvements, such as the CG's twin-cam head, some vestigial design similarities make it a surprisingly straightforward conversion.
"It bolts in on the original A-series mounts" explains Woolmer, "so no cutting, no modifying to the shell, it's just a drop-in, bolt-in conversion."
Even in standard form, the CG13 would be a useful upgrade on any original A-series, with later models making up to 84bhp, with the kind of reliability and driveability you might expect of a modern Japanese twin-cam. "And you save fifty kilos", owing to the Nissan engine's aluminium block and head.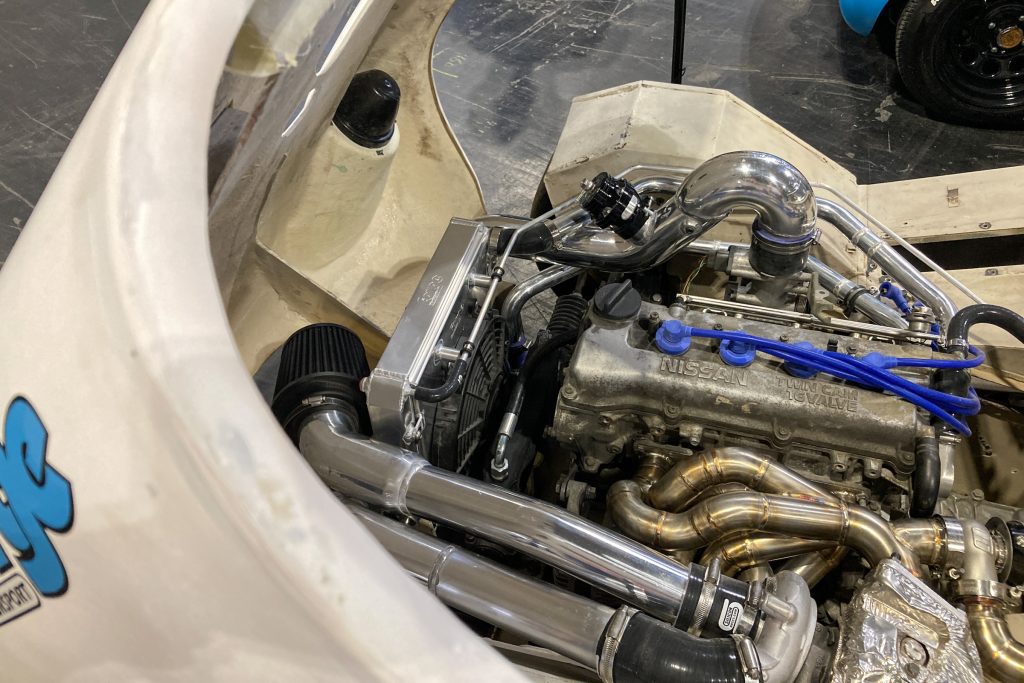 A look at the Barratt website suggests it's relatively affordable, for those considering going down this route – conversion kits start at just over £1100, though you'd need to find the engine, and if you go for a five-speed gearbox, a reconditioned Suzuki unit is £850.
Woolmer's car is… not standard, however. You don't even need to flip the large clamshell bonnet forward to spot the signs, with two cutouts in the top for a shiny intake pipe and its attendant blow-off valve, and two more, with teardropped tips, sprouting from the top and the nearside – respectively, a dump pipe for the wastegate, and the exhaust.
"I'm hoping for around 200, 220 horsepower… and the car currently weighs 510 kilos. So roughly the same power to weight ratio as a brand-new Lamborghini…"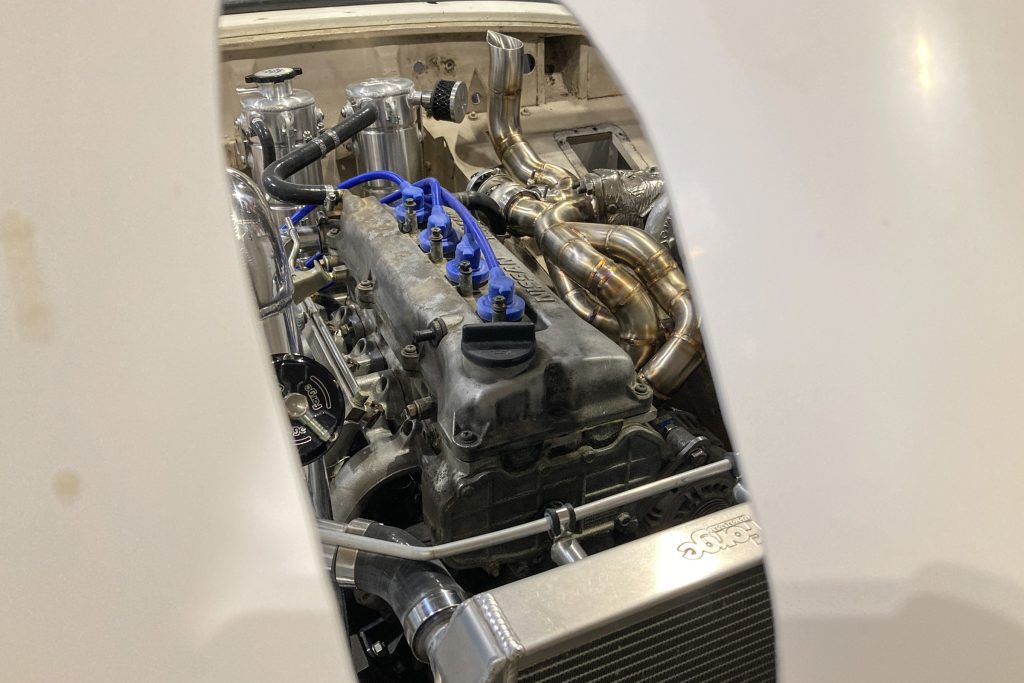 So where did the inspiration come from?
"I've got a habit of building slightly silly cars," says Woolmer, with some degree of understatement. "You might have seen a slightly scruffy red Sprite with a bonnet-exit exhaust, and at the restoration show, I had an Austin A30 van with a BMW bike engine. I've grown up around British stuff, so that seems to be what I build."
But while several previous projects are largely for road- and show-based enjoyment, the Midget has a different purpose.
"Next year I'm hoping to run it in the 750 Motor Club Sport Specials" he says. "It doesn't really fit into a Midget and Sprite racing class… but the 750MC series has good grids, and it's well supported. The class is under 350bhp per tonne, with driver. Which is the important bit, because as it is, it's a lot more than that!"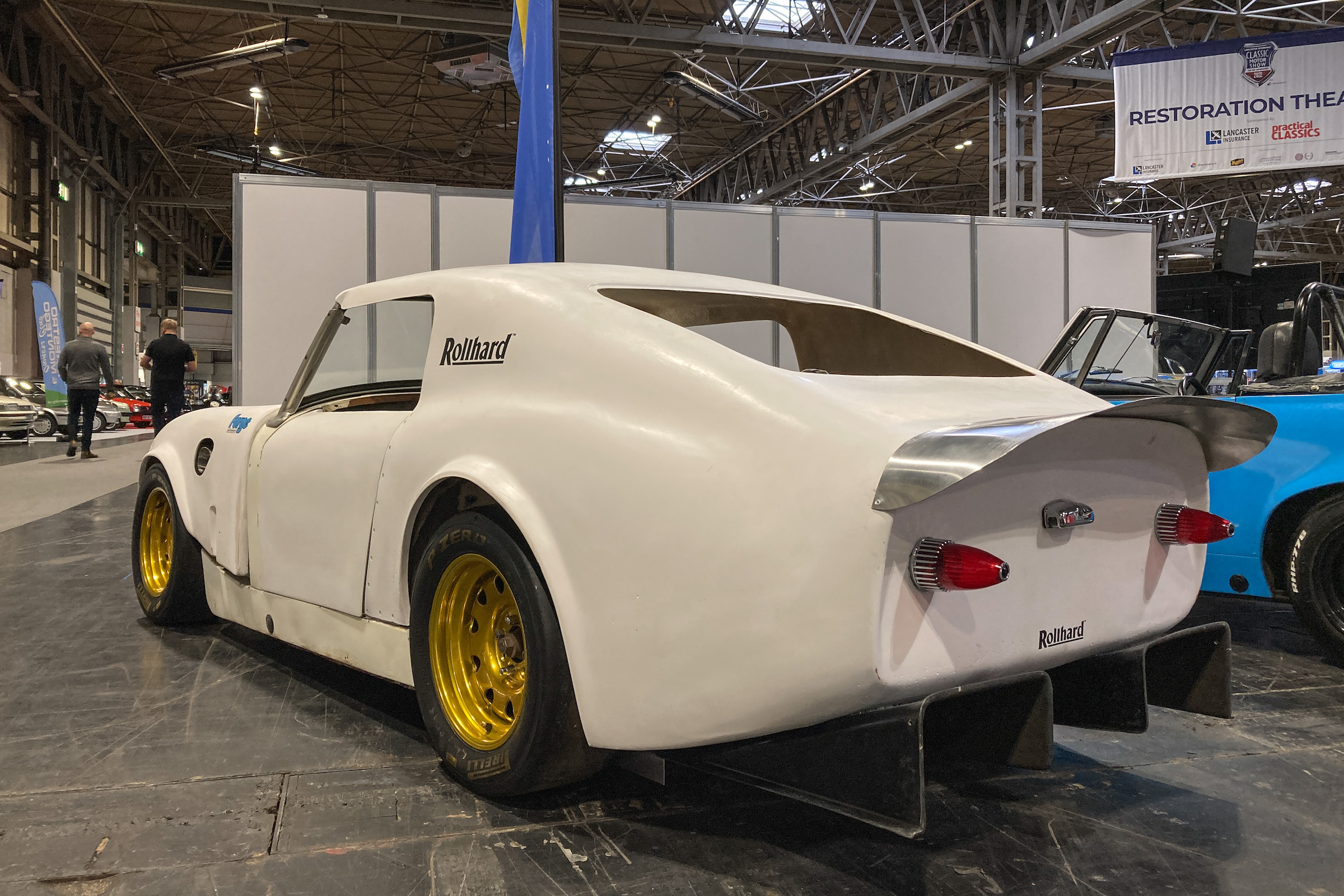 It'll stand out visually too. Woolmer goes through the parts of the dramatic body kit: "The back end is Lenham GT, which you can buy off the shelf. The doors are just a fibreglass version of the standard door.
"The front end… is a bit weird. I can't remember what the original company was called, but it was an early '70s kit that you could buy – a lot of people just called it 'the E-type Sprite'. I don't think there are any fitted to cars currently, that I can find anyway. I just think it looks absolutely stunning."
And if that all isn't enough, Woolmer won't just be building some rough and ready racer either. "It'll be built to a show-car standard" he says. "We're going with a mid metallic green, so a green and gold kinda vibe. I've always pictured this car as green… though I am kinda falling in love with it in the white…"
If it looks good now, we can't wait to see it in full race spec when it hits UK circuits next year. The Midget and Sprite platforms may just have more surprises in store for us yet…
Read more
The One That Got Away: Ant Anstead's hunt for Bridget the MG Midget
MGF driven: A fresh look at MG's MX-5 rival
British artist wants to build a Spitfire-powered racer