On a scale of one to ten, with one being "never leaving the house" and a ten being "Freddie Mercury on stage at Wembley in 1984 with 70,000 people wrapped around his little finger", how much does this 2002 Zimmer Golden Spirit stand out from the crowd?
We're pitching for at least a seven or eight; it's difficult to imagine the car show, wedding, book signing, or funeral for a wildly flamboyant celebrity at which you'd not be the centre of attention, and if that sounds like a bit of you, then the Zimmer going to auction soon via Car and Classic might be of interest.
How much is your car to insure? Find out in four easy steps.
Get a quote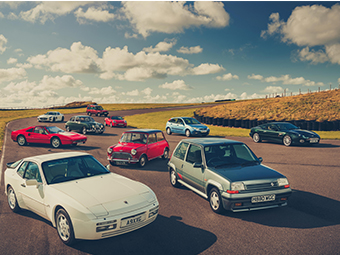 If, to your mind, it looks like an early-2000s Lincoln Town Car that accidentally stepped into a time machine with some DNA from a 1930s Duesenberg or similar and emerged, like Jeff Goldblum in The Fly, as a disquieting mixture of both, your eyes are not deceiving you.
The Zimmer Motor Cars Corporation existed between 1980 and 1989, transforming contemporary cars into neo-classics. The original Golden Spirit was Zimmer's flagship and was based on the Ford Mustang of the era, while the Zimmer Quicksilver was a more aesthetically-pleasing (but still very, very odd) retro reimagining of the Pontiac Fiero sports car.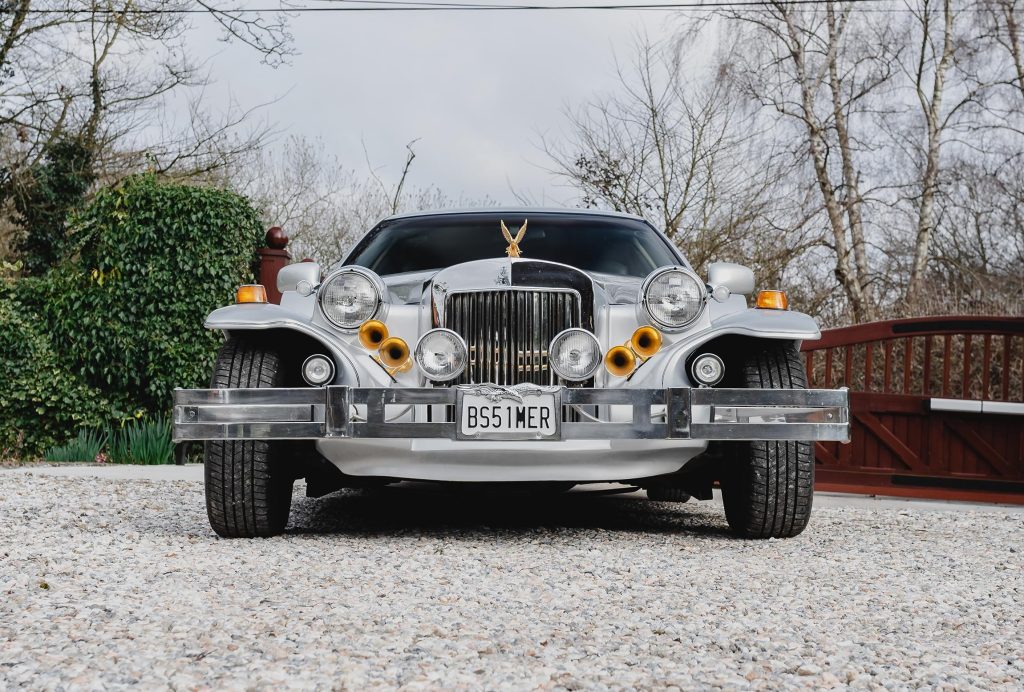 Zimmer closed in 1989 with its parent company making huge losses, but was revived in 1997 by Art Zimmer – amazingly, no relation to company founder Paul Zimmer – who continued building neo-classics under the Zimmer name until 2020.
That probably means this 1920s and 1930s revival style has persisted longer than the actual period that inspired it, though the look is so ornamental we're not sure it has ever really "fit in", even during that early-2000s period where retro styling made its revival in cars like the Beetle, Mini and Mustang.
Still, a Mini would only be maybe a three or four on the "standing out" scale these days. The Town Car on which this Golden Spirit is based is already a large car by European standards, at nearly 5.5m long, but the Zimmer transformation adds another half metre to that, or at six metres, about the same length as a long-wheelbase Transit.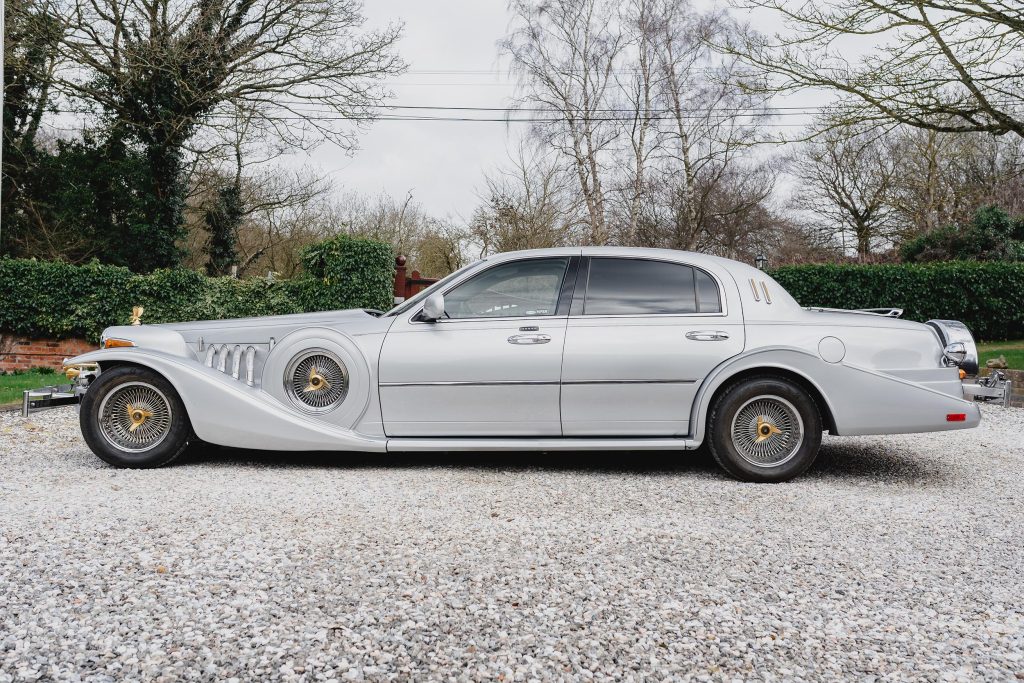 Its presence is enhanced – if that's the right word – by an upright grille, headlight pods, prominent front wings, spare wheel carriers, and an enormous chromed bumper at the front, while the rear, still mostly recognisable as its Lincoln base, gives you another spare wheel, another chrome bumper, and a great many lights.
Details like the Mercedes 540K-style chrome exhaust pipes emerging from the engine bay are entirely ornamental, and the engine bay from which they sprout houses the Town Car's standard 4.6-litre V8, sending its power to the rear wheels through a four-speed, column-shift automatic transmission. It's built for lazy torque, not speed – you don't even get a rev counter in the largely standard Lincoln cabin.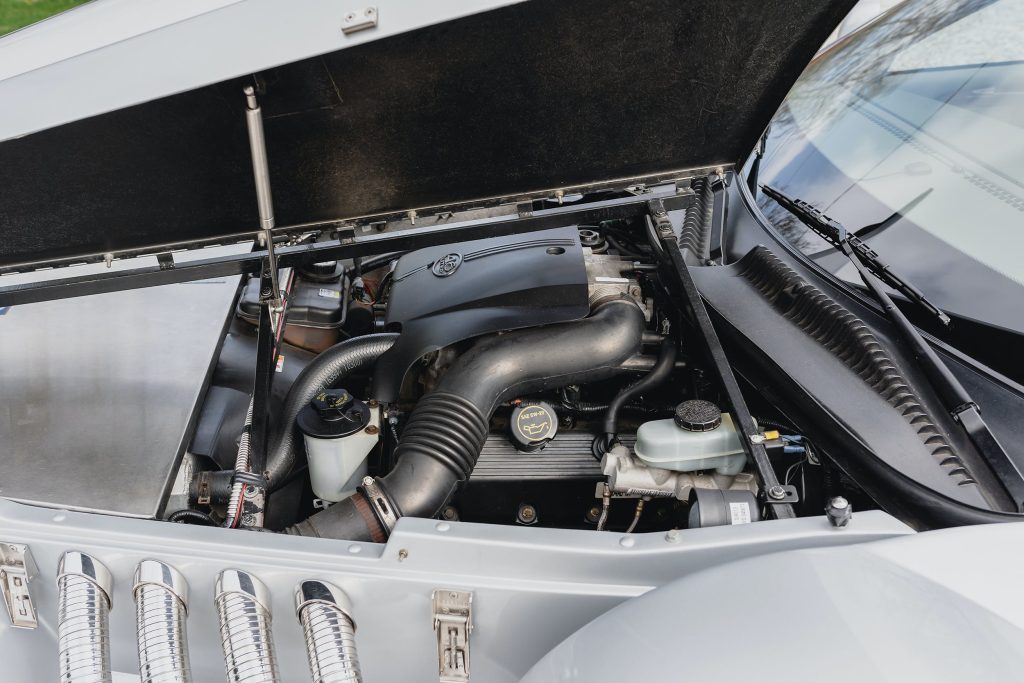 Zimmer, it has to be said, is far from the only company to have gone down this 1930s throwback route in the late 20th and early 21st century. Fans of Japanese metal will be familiar with Mitsuoka, which, perhaps influenced as much by Zimmer as any pre-war cars, launched a car called the Le Seyde in 1990.
This was based on rather sportier underpinnings than the Golden Spirit, using the Nissan Silvia S13 as a base – a car better known in the UK as the early-90s Nissan 180SX. More recently, it reprised the style again, this time with more similarity to cars like the Morgan Aero 8, with the MX-5-based Himiko. Mitsuoka's work wasn't half-baked: like Zimmer, it had to lengthen each car's wheelbase to replicate those early-century proportions.
Finding such cars isn't the work of a moment, which makes the appearance of this Zimmer a rare opportunity for the right person. It's actually been in the UK since 2009 and has had only one owner here since. Ford parts should make it relatively straightforward to maintain, and with little over 29,000 miles on the clock, it has a potentially long – and most definitely flamboyant – life ahead of it too.
The auction for the Zimmer opens on March 14, and if The Beast is already getting a little too rich for your tastes, there's little else you could buy right now that's likely to attract more glances.
Check out the Hagerty Media homepage for daily news, features, interviews and buying guides, or better still, bookmark it. Or sign up for stories straight to your inbox, and subscribe to our newsletter.