Anyone looking for an affordable modern classic roadster is spoilt for choice right now. You have your pick from the Mazda MX-5, Toyota MR2, Mercedes SLK, BMW Z3 and Z4, Alfa Romeo Spider, Audi TT, and even some less obvious choices like the Honda S2000, Smart Roadster, and Nissan 350Z. So why choose the MGF over any of these talented rivals? In short, a sorted MGF is a mighty fine car for not a lot of money.
When it was launched in 1995, the MGF was the Ying to the Lotus Elise's Yang. The two shared the same 1.8-litre K-Series engine and five-speed gearbox, both were mid-engined two-seat roadsters, and each was surprisingly easy on the wallet to buy. However, where the Lotus was laser-focused on handling, the MGF was a roadster to tempt in those who were moving on the from the hot hatch craze or just wanted a great-looking sports car. As a result, Rover's design team deliberately dialled in handling that felt very similar to a front-drive car's and avoided any of the sudden oversteer the Lotus Elise could demonstrate.
How much is your car to insure? Find out in four easy steps.
Get a quote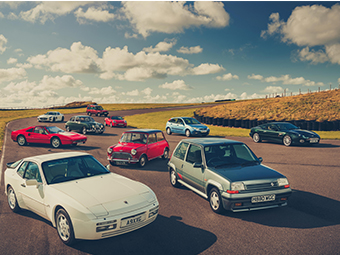 The MGF also came with a comfortable, roomy cabin, decent boot space, simple roof, and it could easily be used all year. So could the Mazda MX-5 of course, but the MG felt that bit more exotic thanks to its mid-engined layout. MG also used Hydragas suspension for the F, so it had an amazingly supple ride without undermining its handling credentials. Sadly, this was ditched when the suspension spheres were no long produced and MG switched to conventional steel springs with the later TF, which traded some comfort for a slightly firmer setup.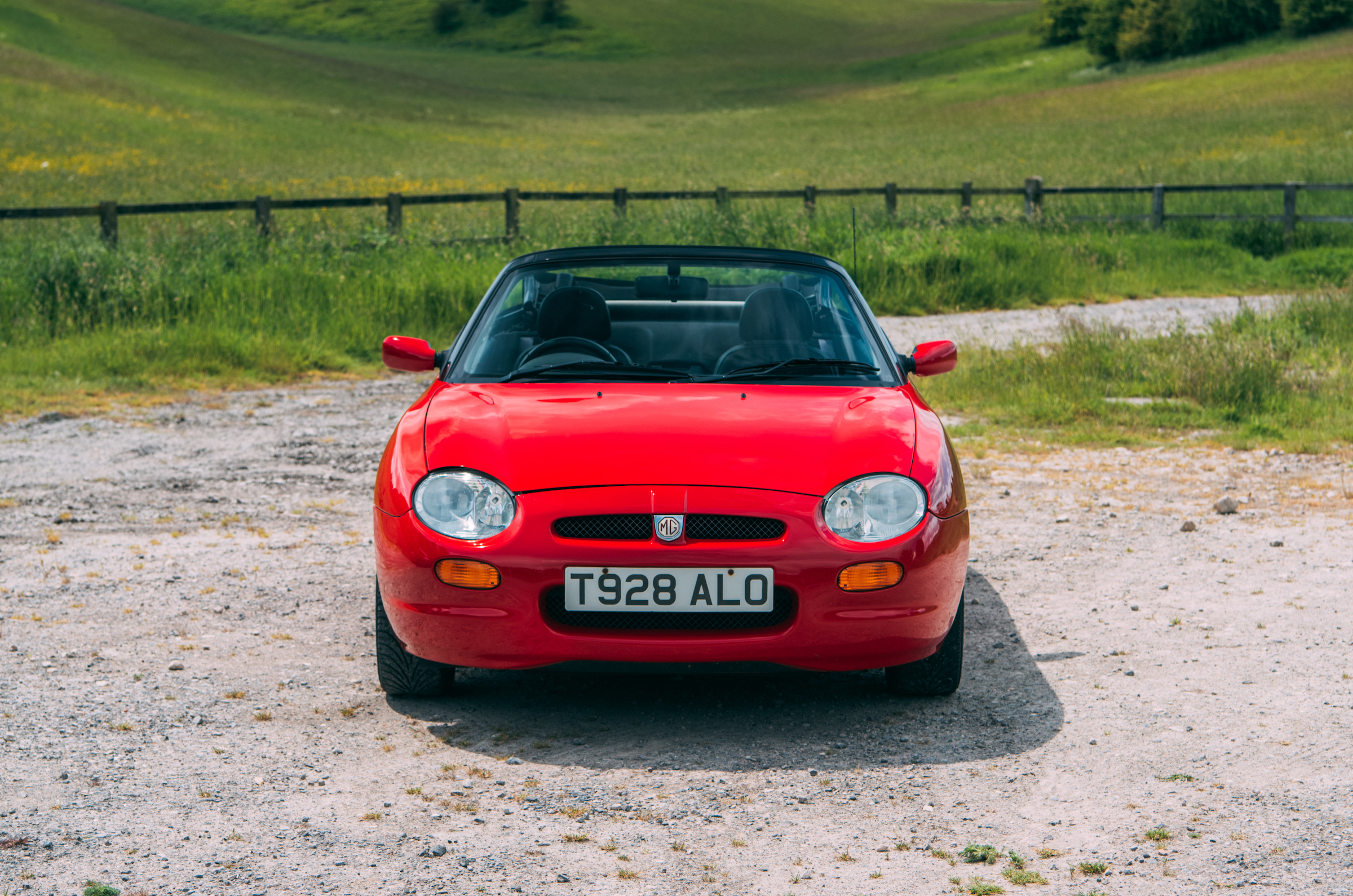 The 118bhp 1.8-litre engine was joined by a 143bhp VVC version with variable valve timing in early 1996, and this was the model to have. It offered 0-60mph in 7.0 seconds compared to the standard model's 8.5 seconds, though the 118bhp model was still very handy on twisting country lanes. A mild facelift followed in 1999, providing buyers with the option of a CVT (continuously variable transmission) Stepspeed automatic gearbox. This soon became known as the Steptronic in line parent company BMW's nomenclature. In 2001, MG added a 110bhp 1.6-litre engine as a new entry-level model, while the range gained a new top-spec version with the limited-edition Trophy 160 with, you've guessed it, a 160PS – or 158bhp – VVC engine.
There were also a few special edition MGFs offered during the car's run from 1995 to 2002. These include the Abingdon, 75, Wedgewood, and Freestyle. They kept the MGF relevant as its rivals fielded new or improved models, while the TF update came along in early 2002. Its styling updated the MG's looks, and most buying advice can be applied to the TF from the F, but the British roadster was now on a downwards sales slope and production ended in 2005.
There was a brief reprise for the TF in 2008 when new Chinese owner Nanjing sold the TF 500LE. Only 500 were made and the last TF left the Longbridge factory in late 2011 as demand had dried up completely. It was an ignominious end to a great little sports car, but with 77,212 MGFs made, there are still plenty to choose from now.
What's an MGF like to drive?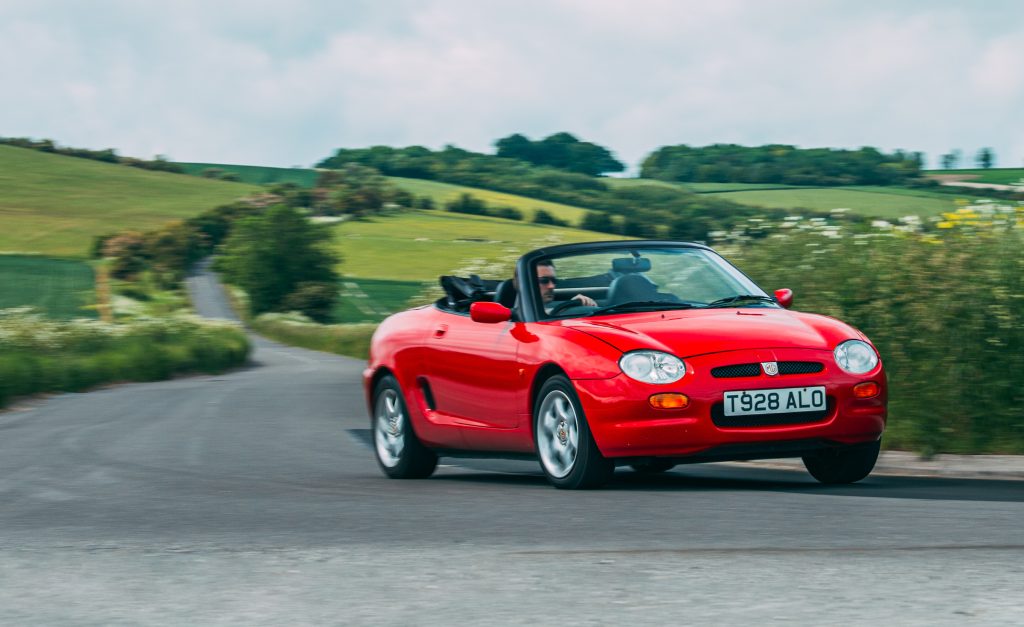 For anyone unused to a mid-engined classic car, the MGF is the perfect place to start. This is down to the way the car's handling was set up to behave like a front-drive hatch, so there's no lairy oversteer or edgy on-limit handling. Where a Mazda MX-5 of the same period can require some caution on wet or slippery roads, the MGF is amazingly sure-footed. Some road testers complained the MG was a little dull by comparison with the Mazda or Toyota MX-5 at the time, but the reality is that MG judged its buyers very well.
The F handles nimbly and with plenty of grip, so you don't have to fret about the engine being positioned in the middle of the car like you might in a Lotus Elise if you suddenly have to lift off the throttle mid corner. It means the F is perfectly stable and friendly when dodging other traffic, though you will also notice the MG's electrically assisted steering is not as full of feel as an MX-5's. However, you get used to this, though you may find early VVC models that didn't all have power steering more of a chore.
On back roads where the MGF is in its element whichever engine you choose. The ride is very supple, courtesy of those Hydragas spheres. A side benefit is that this soft ride doesn't make too many demands of the structure – so you don't notice as much scuttle shake as in some rivals.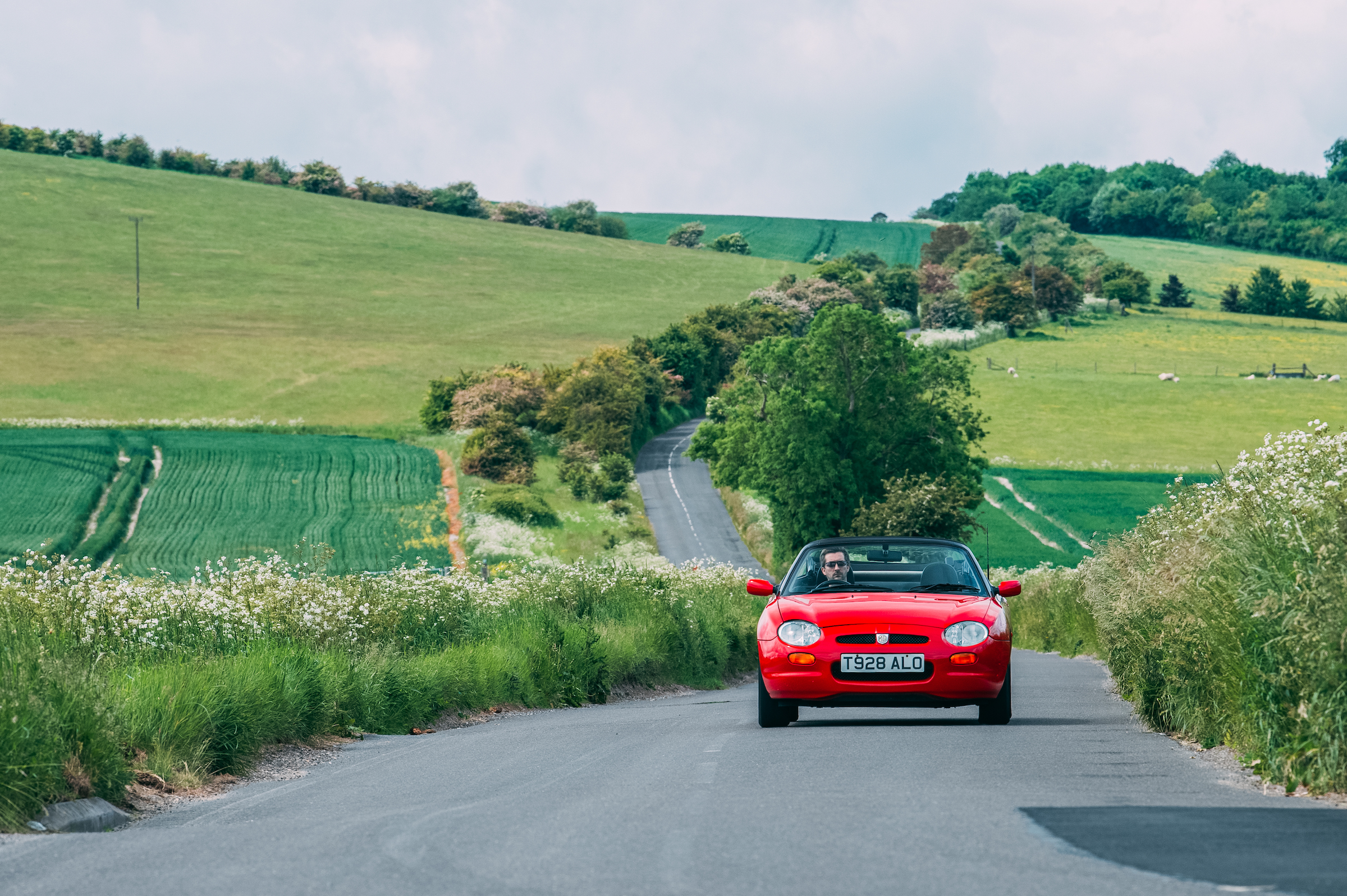 Hydragas is a bit more labour-intensive to maintain, but it's worth the effort for a car with the sort of comfort and handling equilibrium offered by the MG. This ability to deal with grainy road surfaces also makes the F ideal as an everyday car, helped by reasonable refinement when the hood is up and a roomy cabin. The seats offer saloon-like comfort, and post-facelift cars offer a bit more support, though this isn't really a car you 'wear', as the seats position you quite high. You should find the dash is clear and easy to read, and the controls are as logical as a small Rover hatch from the period.
However, don't think the MGF is just like a small hatch with the roof removed. Start to press on and it has the chops to entertain, and you can still get the rear end moving about in corners if that's the style of driving you prefer. Luckily, the F's brakes are strong, too.
From the engine line-up, the 118bhp 1.8 feels fine for most daily driving and Sunday pottering, but the 143bhp VVC is the better choice for more fun. It's eager to rev, pulls hard through the five-speed manual gearbox, which has a decently quick shift action, and even sounds quite good on the standard exhaust. If you find a Trophy 160 for sale, it is a little swifter than the standard VVC model, but MG tuned its ride-handling balance much more towards the latter. Road testers at the time reckoned it was quite firm, though by modern standards, that's no longer so much the case. As for the Stepspeed/Steptronic auto, this is best avoided unless you must have an automatic transmission.
How much does an MGF cost?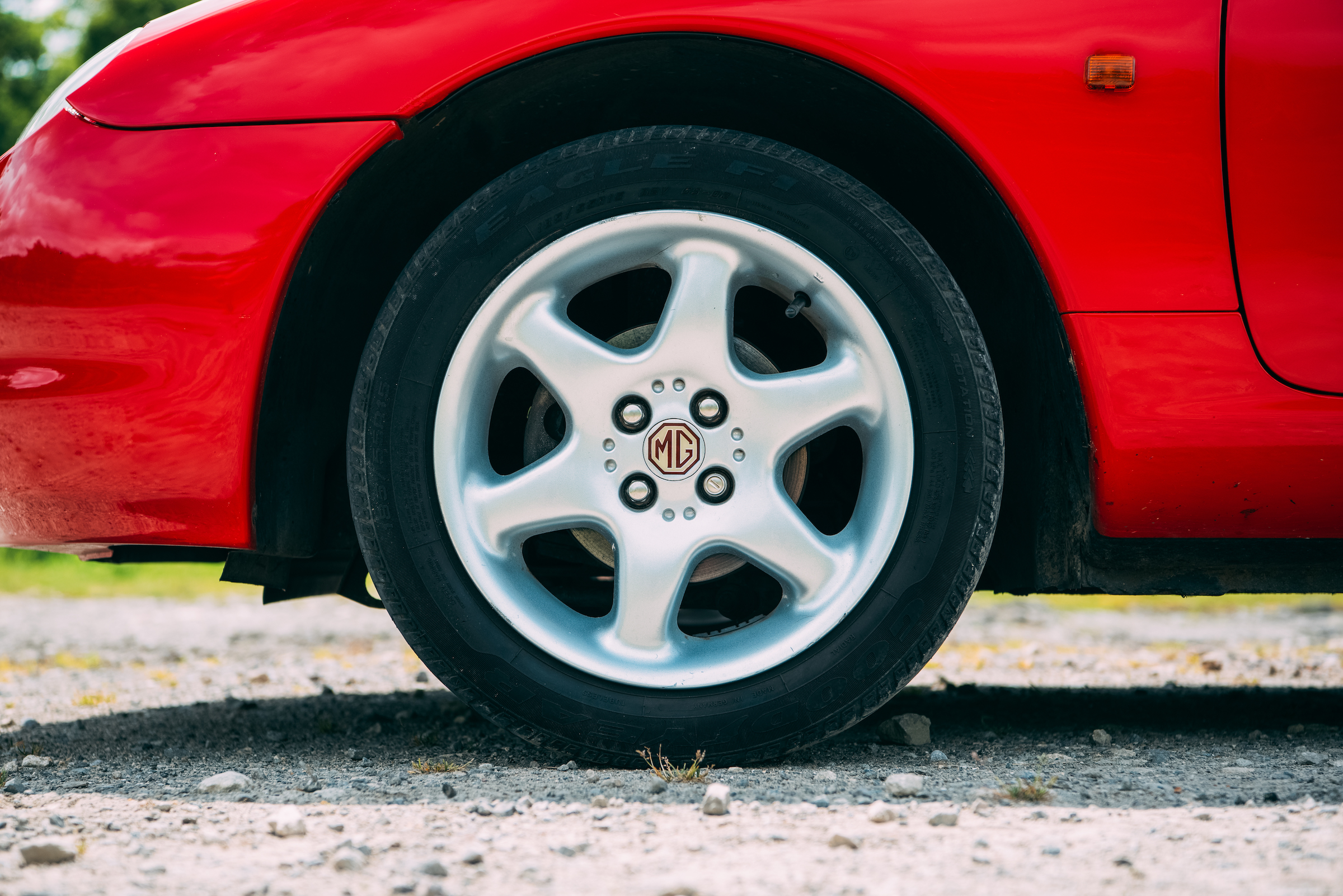 The MGF is that rare classic that you can still find in running, MoT'd order for as little as a thousand pounds. Cars at this sort of money won't be too pretty up close, with worn interiors, probably some visible corrosion, and peeling paint lacquer.
They will also be likely to come with some imminent mechanical issues that will need addressing and suspension to be refreshed, so we'd not necessarily recommend such a car if you simply want to get in and enjoy a weekend drive, but as a project, they can be tempting and not too difficult to work on. Spend £2000 and up though, and you'll find more usable cars which likely prove better value for money. They will look smart and have reasonable mileages backed up by good service records.
Another grand in the pot and you'll find a lot of well cared for, low miles MGFs around the £3000 mark. A VVC or one of the limited-edition models will come with a small premium of around £500 on top of this, while £4000 should bag you a very smart version of any MGF other than the Trophy 160. For the 160, a budget of £6000 will be needed to own a very clean example – these are definitely the collector models of the bunch.
What goes wrong and what should you look for?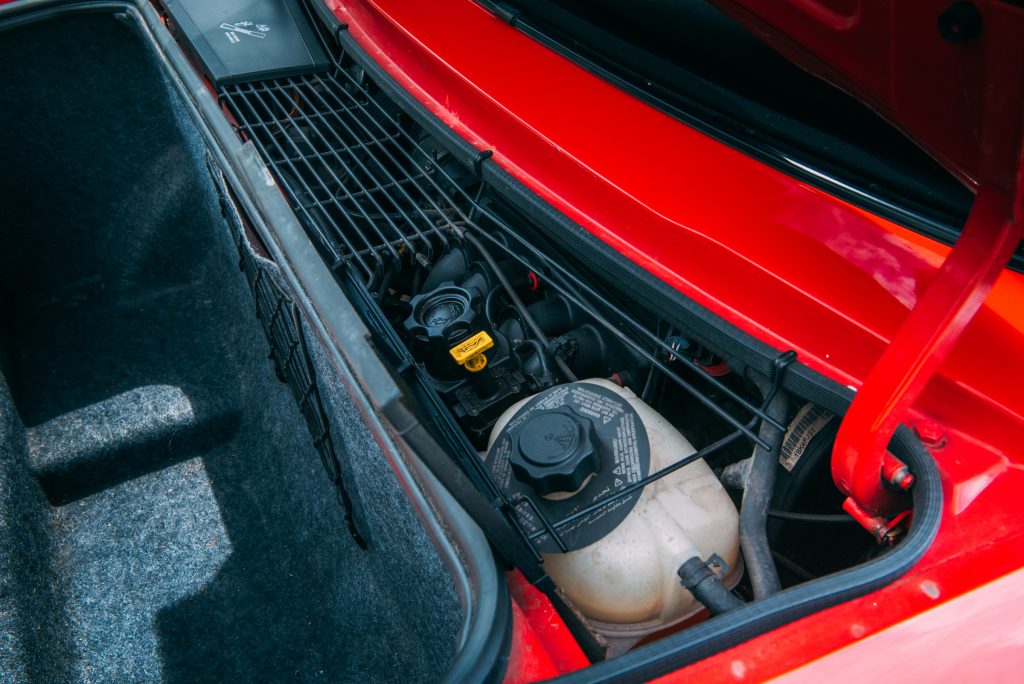 Mention the MGF among petrolheads and you'll first be greeted with a sharp intake of breath, followed by the phrase 'head gasket'. And it's true, this is the Achilles Heel of the K-Series engine, regardless of the car you'll find it in – K-powered Rover 75s, Land Rover Freelanders, and sometimes even the Elise have been similarly afflicted, putting a hex on what's otherwise a fine engine.
The crux of the problem lies in the small coolant capacity of the engine. This means that unchecked leaks or a low level leave a much slimmer margin before overheating, and this causes warping between the all-alloy head and block. So check the coolant level of any potential purchase carefully, but more importantly find out if it's had a head gasket replacement – there are aftermarket upgrades that prevent this issue recurring, and this is well worth seeking out. You also need to know the plastic dowels that locate the cylinder head have been replaced along with a new gasket.
Listen out for any rattles that point towards loose cam bolts or, on the VVC engine, an expensive failure of the variable valve control camshaft. Coil packs on pre-facelift Fs can suffer from water leaking on to them from the boot lid, so make sure the engine is firing smoothly.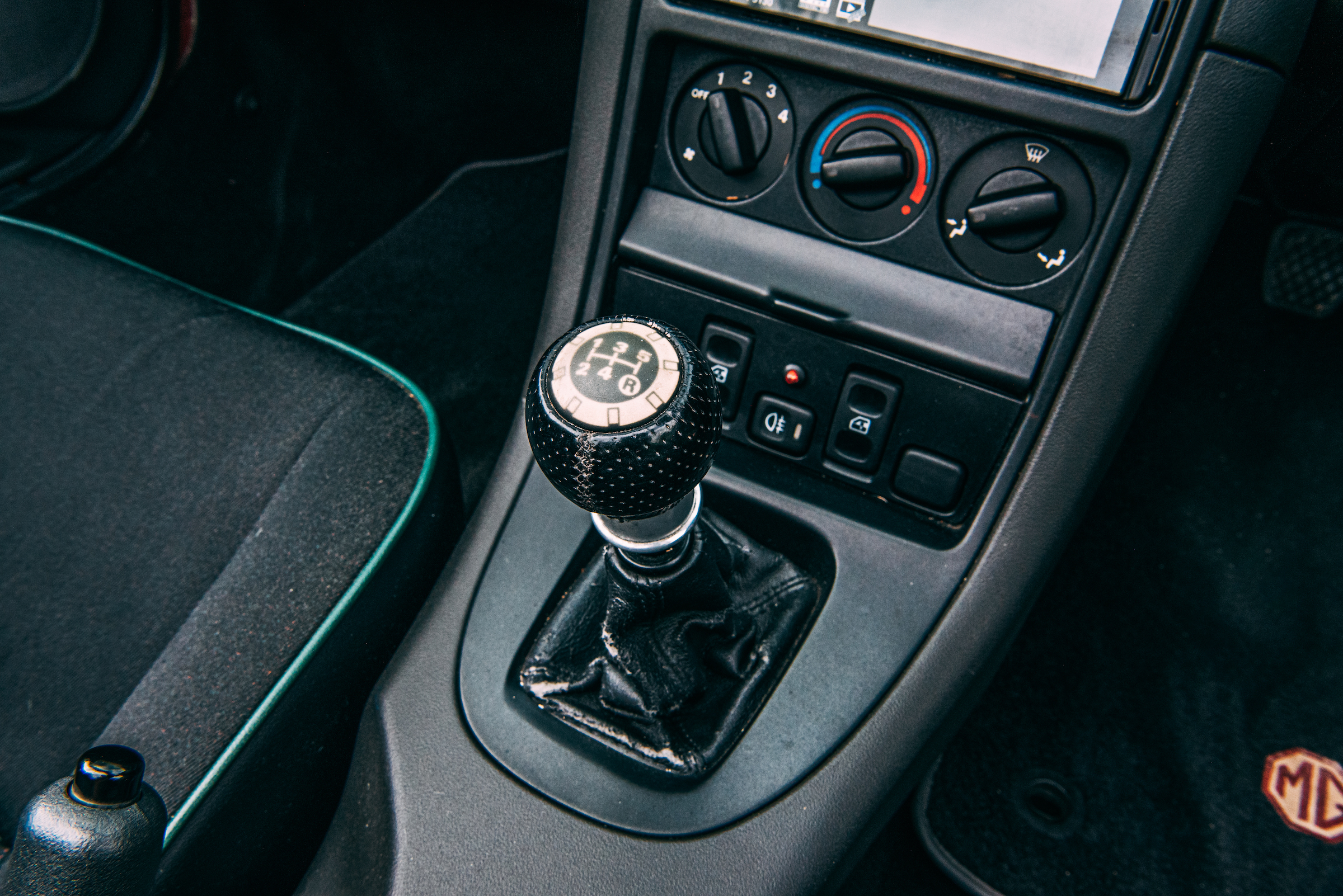 Otherwise, the K-Series engine is very solid so long as the cam belt is replaced every 60,000 miles. As for the gearbox, the five-speed manual is trouble-free. While in this general region of the car, check the clutch and handbrake cables are both working properly as they need careful adjustment to function correctly.
Next stop on your checklist is the Hydragas suspension. The nitrogen gas in the spheres leaks out over time, leading to a stiff ride quality and, in some cases, the car sitting low to the ground. The distance between the wheel centre and arch lip should be around 35cm on cars in good health. New spheres that can be re-gassed are the best solution, along with new rubber seals. It's also wise to budget for new suspension bushes all round and new upper ball joints unless there are receipts to show this work has been completed recently.
The MGF is very is sensitive to what rubber is used, as well as matching rubber on the front and rear axles, as the normally stable handling can be quite badly affected by poor tyres or mismatched rubber. If the car you're inspecting is wearing worn no-name tyres, it's a cue first to knock some money off the price, and then to budget for a proper high-end brand.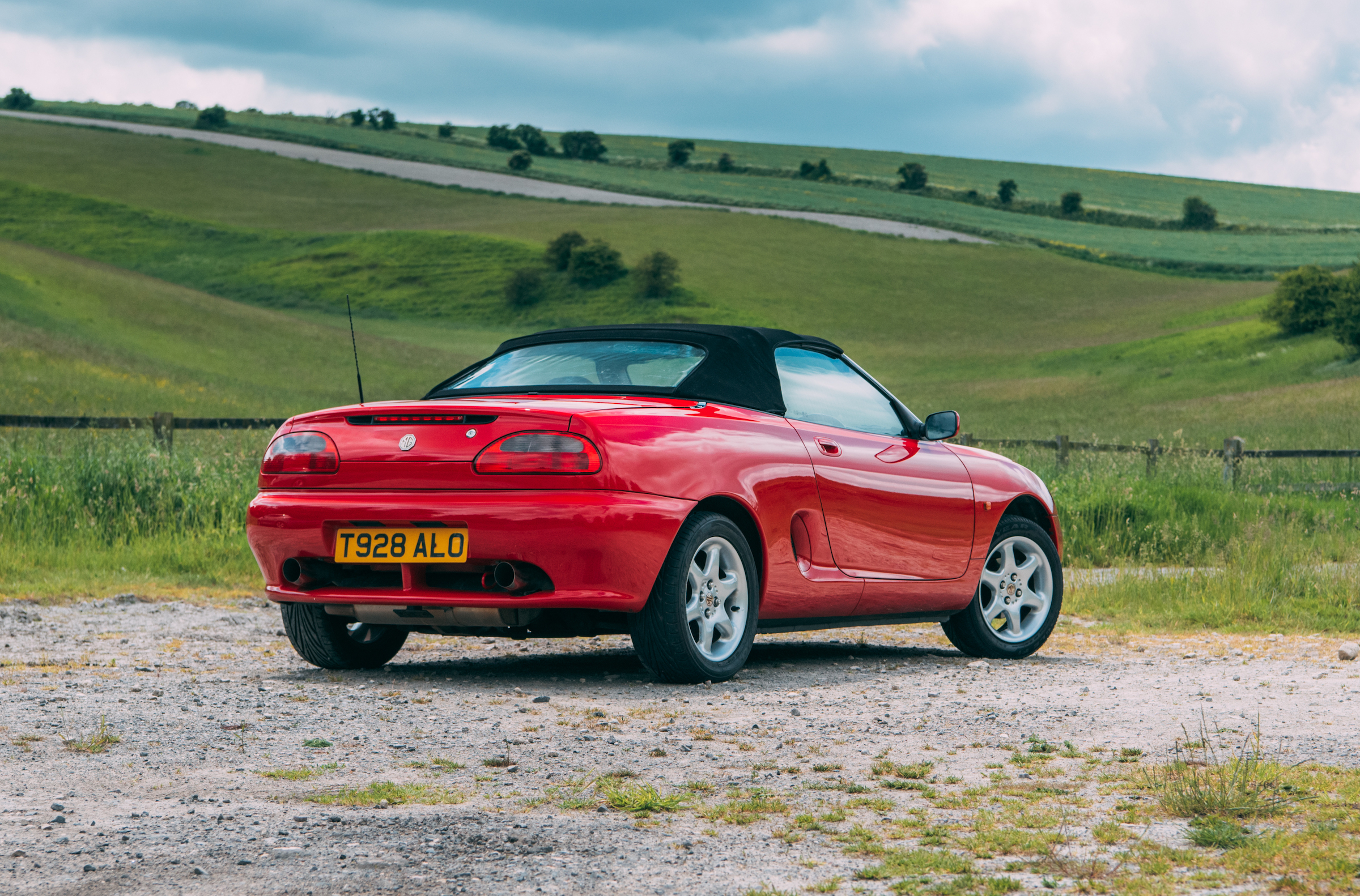 When checking the suspension, make sure the front and rear subframes are not seriously corroded. It also pays to go over the entire body looking for rust, which commonly takes hold around the wheel arches and the side air intakes. MGFs also rust along the sills, especially where this structural beam meets the rear wing as there's a drain hole here that can become blocked with silt and dirt. As for the hood, its condition should be obvious and a new replacement hood with heated glass rear screen will cost around £650 plus fitting.
Have a look for signs inside the MG for any water damage from a leaking roof. The interior trim and plastics are generally hard wearing, though the seat piping is prone to fraying and hanging loose and the cabin can start to look a bit shabby on high-mileage cars. With so many MGFs out there, it should at least be easy enough to find replacement trim.
On the test drive, listen for a rattle from the main instrument binnacle cover, which points to broken mounts. An original replacement means removing the entire dash, but there's an aftermarket kit that's easy to fit available through the MGF Register.
Which is the right MGF for you?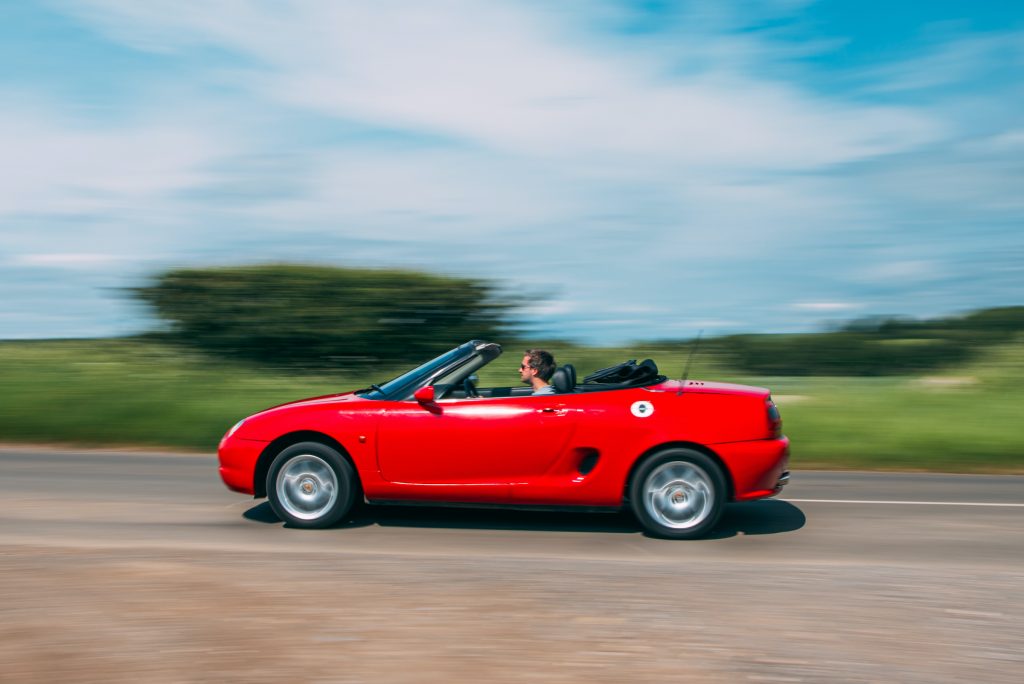 For most drivers, the MGF with the 1.6-litre engine or the 1.8 with CVT (continuously variable transmission) automatic gearbox will feel a bit too sluggish for a sports car. They still handle just fine, but when you can have the standard 1.8 with 118bhp and five-speed manual that feels so much peppier, it's worth looking for this model.
MGF 1.8 VVCs are thinner on the ground and prices are a bit higher as a result, but it's the model to have if you enjoy driving on the sorts of roads where a sports car excels. With 0-60mph in 7.0 seconds, the VVC with its 143bhp is a great trade-off between performance and easily affordable running costs as it can also manage 36mpg.
For those who want the most powerful version of the MGF, the Trophy 160 is the car to aim for. However, the Trophy's 0-60mph time of 6.9 seconds is barely quicker than the standard VVC's and you'll pay significantly more for this special edition than the 143bhp VVC. As for the various special editions, they are worth having if you want something a bit different and with some added extras, but don't pay any extra for them over a sound standard model.
Read more
MGF driven: A fresh look at MG's MX-5 rival
This electric MGB roadster is a breath of fresh air
Buying Guide: TVR Chimaera (1992–2003)