Fuel economy is far from the sexiest reason to develop a sports car, but it's what inspired Toyota to create the original MR2. The Japanese firm spotted the desire for a fun car that was cheap to own and run just as the trad Brit offerings of the MG Midget and Triumph Spitfire were coughing their last breaths. All this happened way before Mazda joined in with the MX-5, and Toyota took a much more radical approach with its mid-engined design.
Work on the Toyota MR2, which took its name from 'Midship Runabout 2-seater', began in 1980. There was some input from Lotus for the rear suspension, but the sports car firm's involvement with GM at this point curtailed its further input. Instead, racing driver Dan Gurney was tasked with a great deal of the test driving to make sure this mid-engined fun car lived up to its brief. In 1983, Toyota showed the world its SV-3 concept and a year later its was in production as the MR2.
How much is your car to insure? Find out in four easy steps.
Get a quote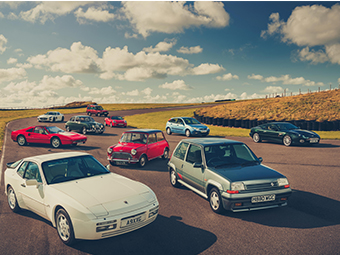 At launch, there was a Japan-only model with an 83bhp 1.5-litre engine, known as the AW10, while the rest of the world received the AW11 version with its 1.6-litre 4A-GE engine. This 1.6 was offered in various power outputs in different markets, but luckily the UK got the best (in naturally-aspirated form at least) with 122bhp. Toyota upped that with a supercharged 4A-GZE motor with 145bhp for the Japanese domestic market, though plenty have since been imported to the UK and elsewhere.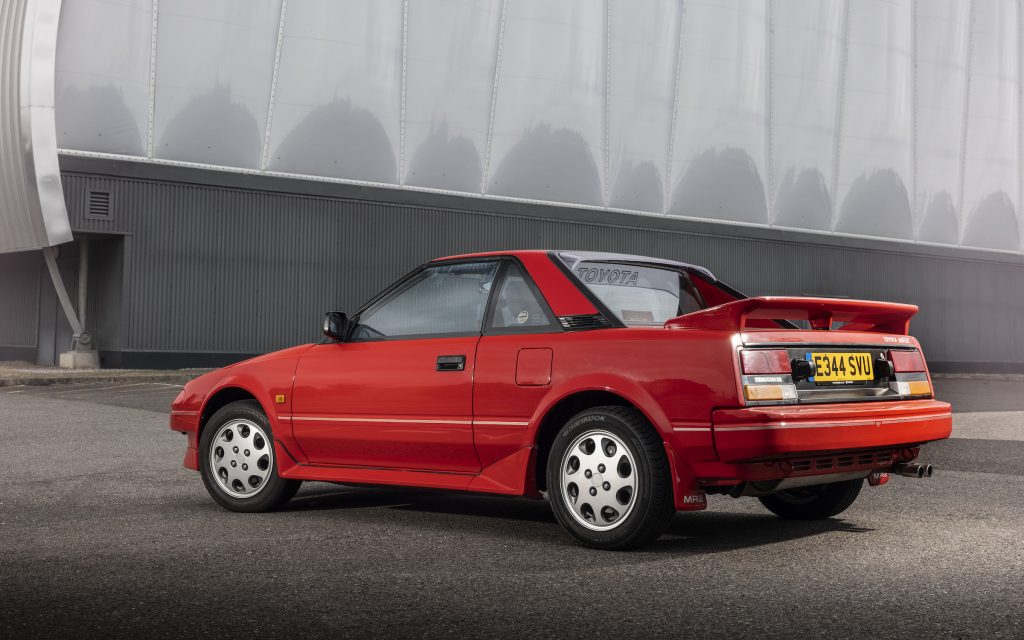 In October 1985, the T-bar model was added with its twin removeable glass roof panels. Further updates arrived in late 1986, creating what most owners now refer to as the Mk1b model, with the early MR2s called Mk1a. These updates included a stronger five-speed manual gearbox, and seven strengthening ribs for the engine in place of the original three, which should be denoted by red writing on the cam cover of the later engines and blue script on early models. Further improvements were a thicker rear anti-roll bar, body-coloured front bumper insert and headlight eyebrows, and the radio aerial moved to the right rear wing from the roof.
There were also some changes to the rear suspension design to make the Mk1b easier to drive at its limits, particularly in the wet. However, this also means several suspension components are unique to either version. Be wary when ordering parts that you know which car you have – particularly if it was made in late 1986 or early 1987 as there was some crossover of build. Most Mk1 MR2s sold in the UK were the later type, with 13,579 sold here from a total production run of 166,104.
What's a Toyota MR2 like to drive?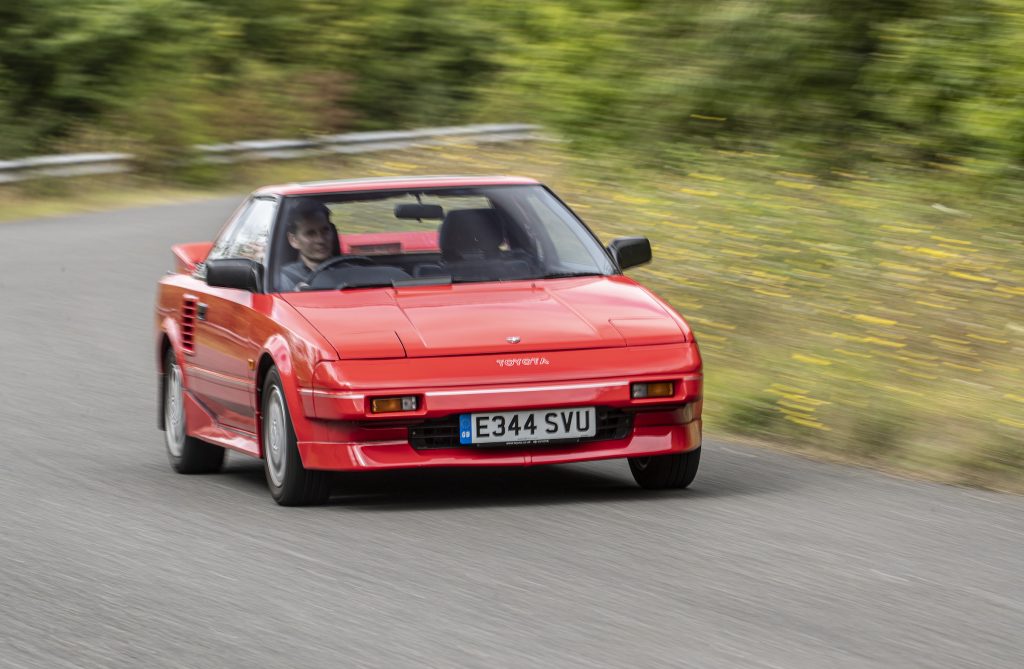 There's a lot of hype surrounding the way the first generation Toyota MR2 drives and performs. On the first count, it's all justified, but as far as pace goes it all has to be put into context.
When the MR2 was launched in 1984, brochure claims of 0-60mph in 8.1 seconds and a 124mph top speed were sufficient to see off a Volkswagen Golf GTI 8v in a straight line. The revvy 1.6-litre engine only had to push along 977kg. It loves to be worked hard too as peak power doesn't arrive until 6600rpm, while maximum torque of 105lb ft peaks at 5000rpm. In other words, you have to be prepared to put some effort into extracting the MR2's best.
This effort also requires a degree of deftness as the five-speed manual gearbox's shift action is precise but doesn't like to be rushed in the way a modern sports car can be. A deliberate action is needed, though it's way more pleasurable to use than the optional four-speed auto, while the rest of the MR2 controls are ideally weighted and work in harmony.
Avoid stabbing at the brake pedal though as anti-lock brakes weren't fitted here, and the standard tyres are dainty by modern levels – 185/60 R14s in earlier models and 195/60 R14s for later cars. The MR2 rewards smooth inputs, which is also obvious from the quick-acting steering that contributes so much to how agile it feels. On a twisty road, that contemporary Golf GTI would be run ragged keeping up with a well-driven MR2.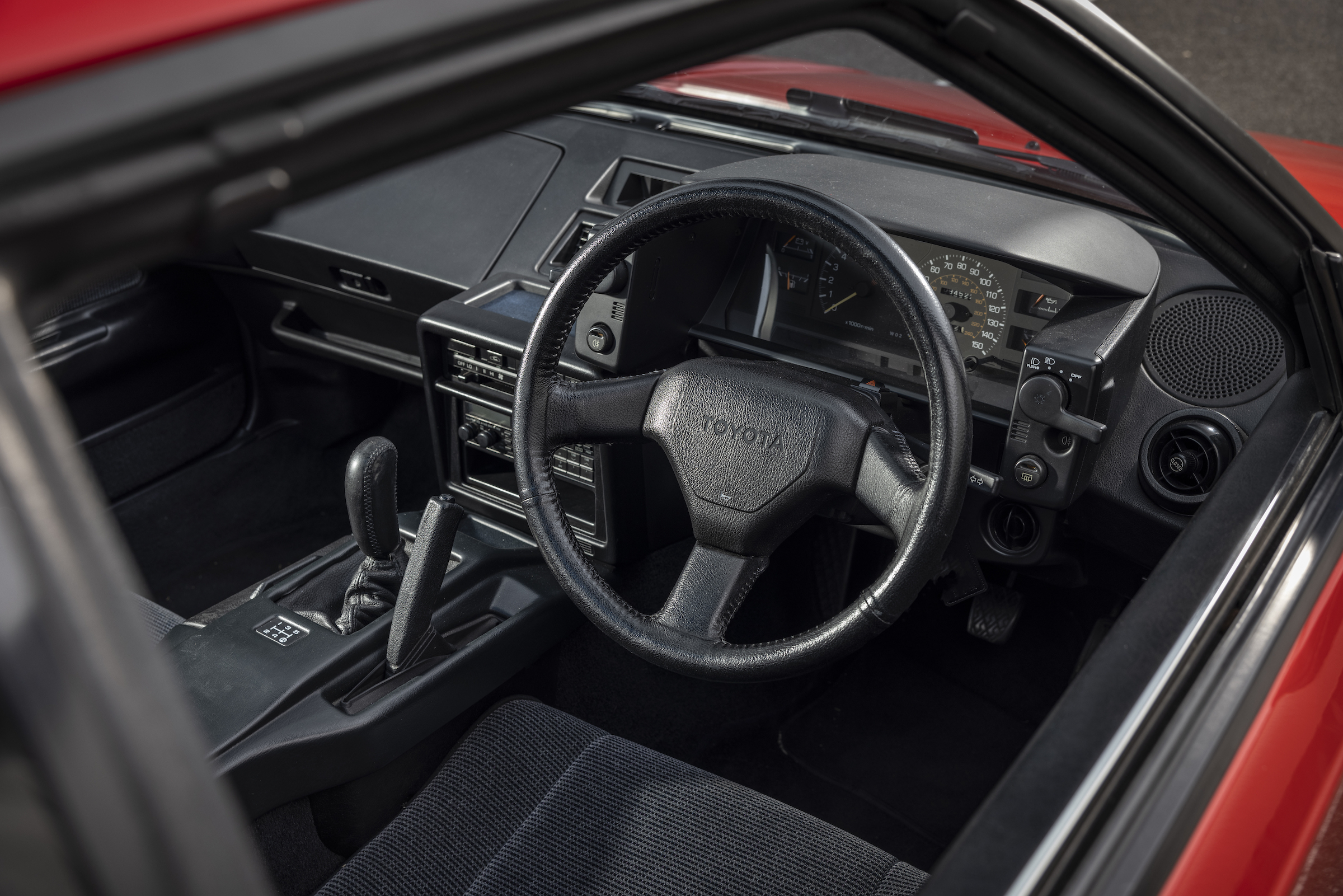 Much of the Toyota's talent at dealing with British back roads is down to its superb ride quality. Drive an MR2 Mk1 on well-maintained original settings and you'll discover a suppleness that current hot hatches can only dream of. Mix that with levels of grip that let you push the MR2 towards its limits at reasonable speeds, and it's a whole lot of fun.
It can even cope with motorways and longer trips, though the cabin can become a little noisy at higher speeds. Very tall drivers might feel a little hemmed-in but to anyone more familiar with a Mazda MX-5's cosy cockpit the MR2 will feel like a grand tourer in comparison – it's also better built, wobbles less and has more interior storage than Mazda's icon.
Effectively, the Toyota MR2 managed five years earlier what the MX-5 repeated by offering keen drivers all the fun of a traditional British sports car with none of the hassles.
How much does an MR2 cost?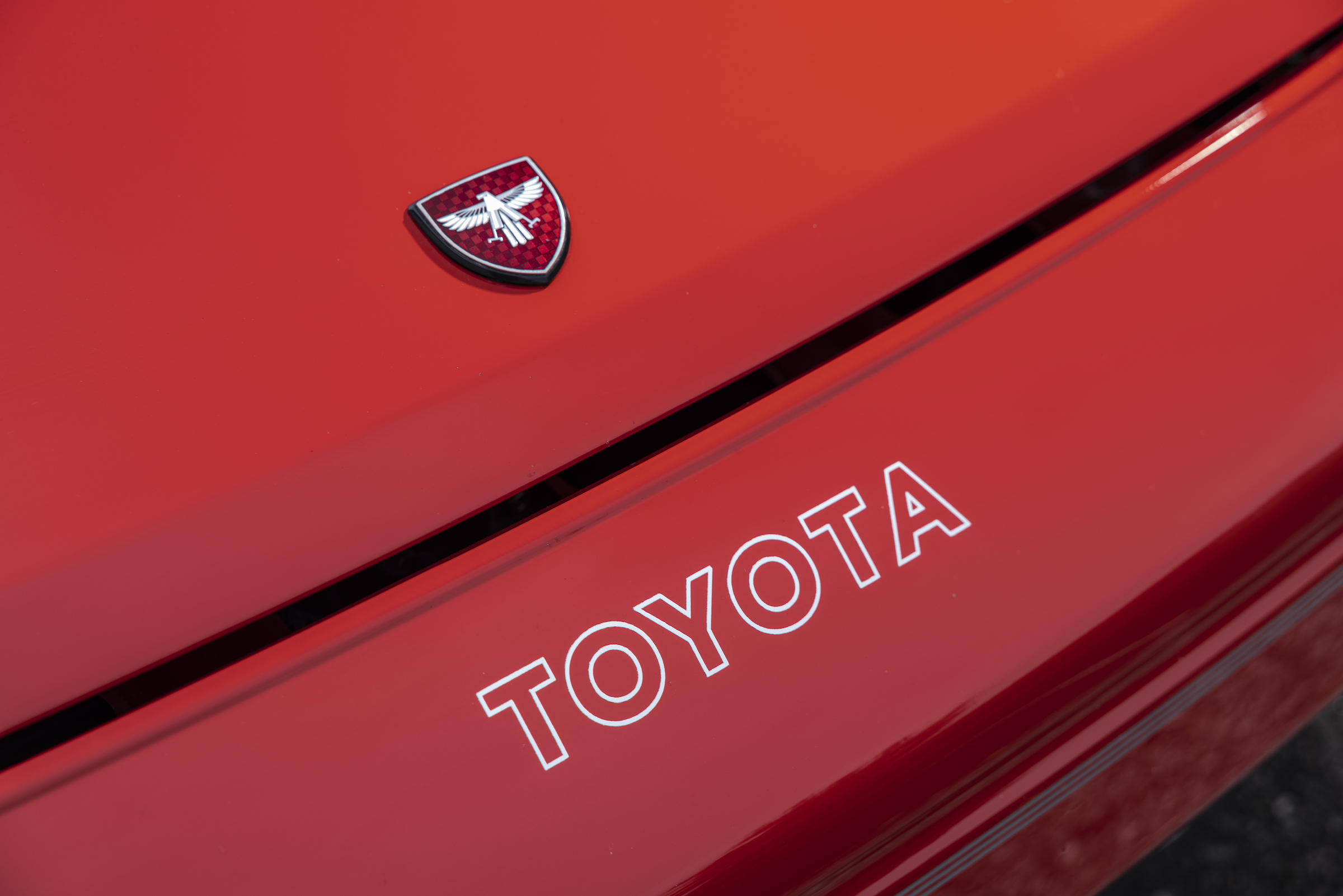 Given the spiralling prices of 1980s hot hatches, it's something of a surprise to find values for the Toyota MR2 Mk1 are still very much in the affordable realm.
Early UK MR2s with the black-painted front bumper insert are rare, but £10,500 will snare a near-perfect example, while half that will get you a car to use an enjoy immediately while carrying out some improvements over time. If you're not too worried by some frayed interior fabrics and a slightly down-at-heel example, you can still find this MR2 generation for less than £4000.
The one MR2 model that does attract a hefty premium is the supercharged model with the 4A-GZE engine. These cars will all be imports from Japan if it has right-hand drive, so you will need to satisfy yourself about its history before coming to the UK, or servicing records since arriving.
If the car checks out, is rust-free, and has solid mechanicals, a supercharged MR2 in top condition is worth around £16,000. That's keen money as this is a car that can get from rest to 60mph in less than seven seconds, showing almost all of its contemporary rivals the way to go. An example in good but imperfect condition is still going to require £11,000, while a straight but careworn supercharged MR2 should fetch £7000. Even ones in need of some work will be worth an asking price of £4500.
What goes wrong and what should you look for?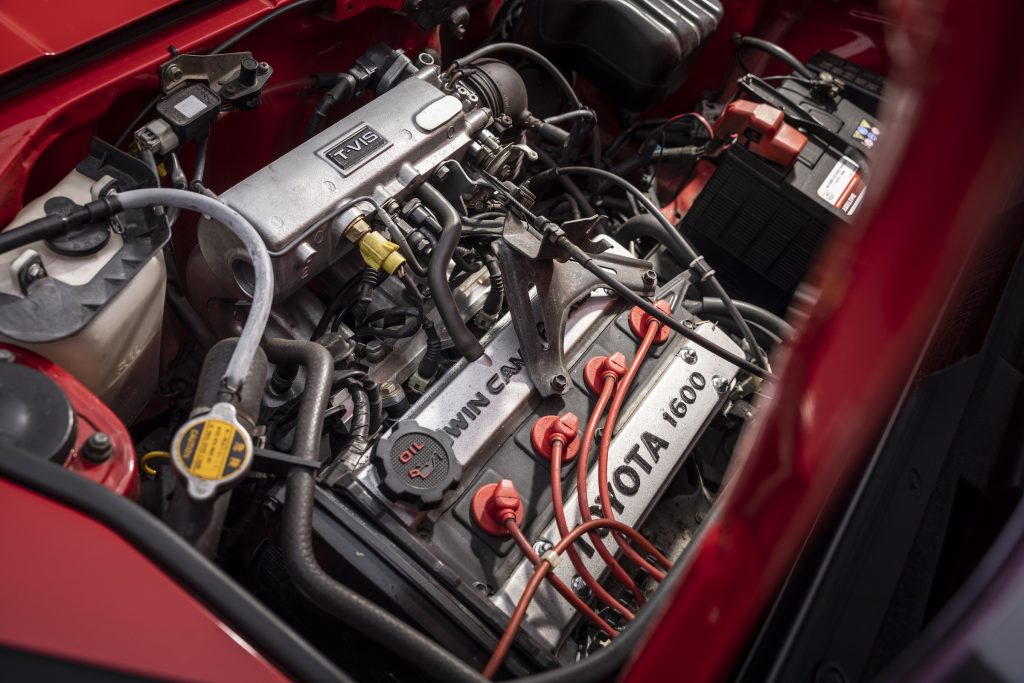 Above all else when looking to buy a first-generation Toyota MR2, you need to check for rust, rust and more rust.
Starting with the exterior bodywork, feel all around the front wheel arches for any crumbly metalwork, then check the sills. You'll need to reach behind the plastic sill covers and look underneath, which also gives you the chance to look at the jacking points – they can also succumb to rot. Then it's on to the rear arches, which corrode all around their circumference. Fortunately, factory replacement panels are still available direct from Toyota, but it's still major job to replace these panels. While you're here, have a good prod of the rear subframe mounting points to be sure they are solid.
Next, open the doors and look at the bottom of the A- and B-posts, which are prone to corrosion that is expensive to put right. Have a good look around the windscreen for any bubbling. This is especially important on cars with a sunroof, which was standard for UK cars, or T-bar models where the drain holes can become clogged with dirt.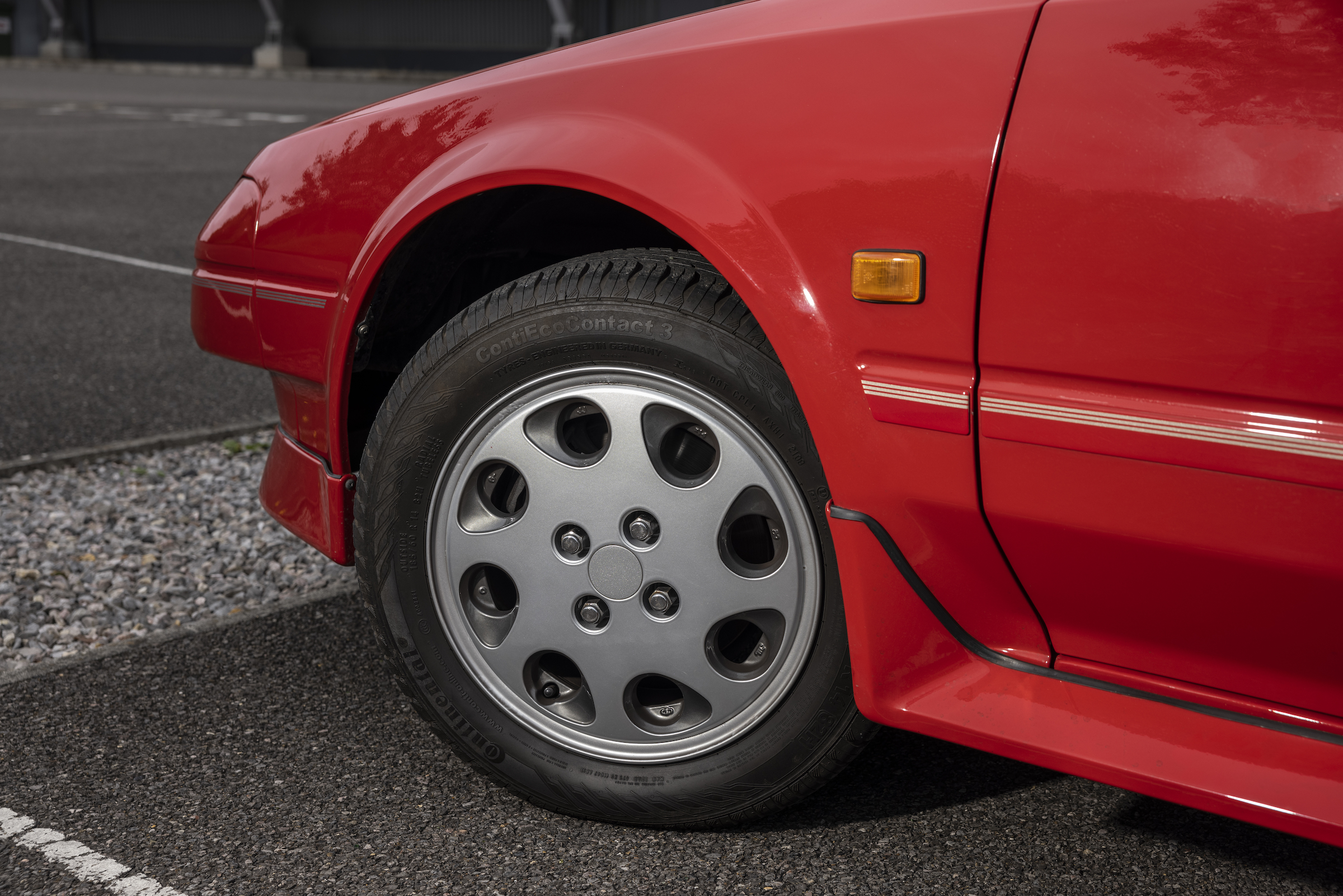 Now it's time to open the front bonnet and inspect in and around the luggage area. The front slam panel and the crash bar that sits underneath it are susceptible to rust, especially along the crash bar's seams. Have a close poke around the front corners of this boot area and, if you can, take out the spare wheel and boot liner to check all the seams for any signs of rot. Talking of wheels, check all four rims are in good nick and the right design for the car. Earlier MR2s had a three-spoke style, while later cars (like the model pictured) used a multi-hole design.
Assuming all of this checks out okay, you can move to the interior. UK cars with a sunroof should have cloth upholstery, though there was the option of leather, while T-bar models had leather as standard. Make sure the fabric is in good condition as there's no new stock available. Also check the electric window switches work, as used replacements are now the only option. If the heater fan isn't working, it's likely the resistor pack has given up, which is an easy and cheap job to sort.
Try the pop-up headlights a few times to make sure they work smoothly up and down. The same applies to the electric aerial, which is a known weak spot for all cars of this period.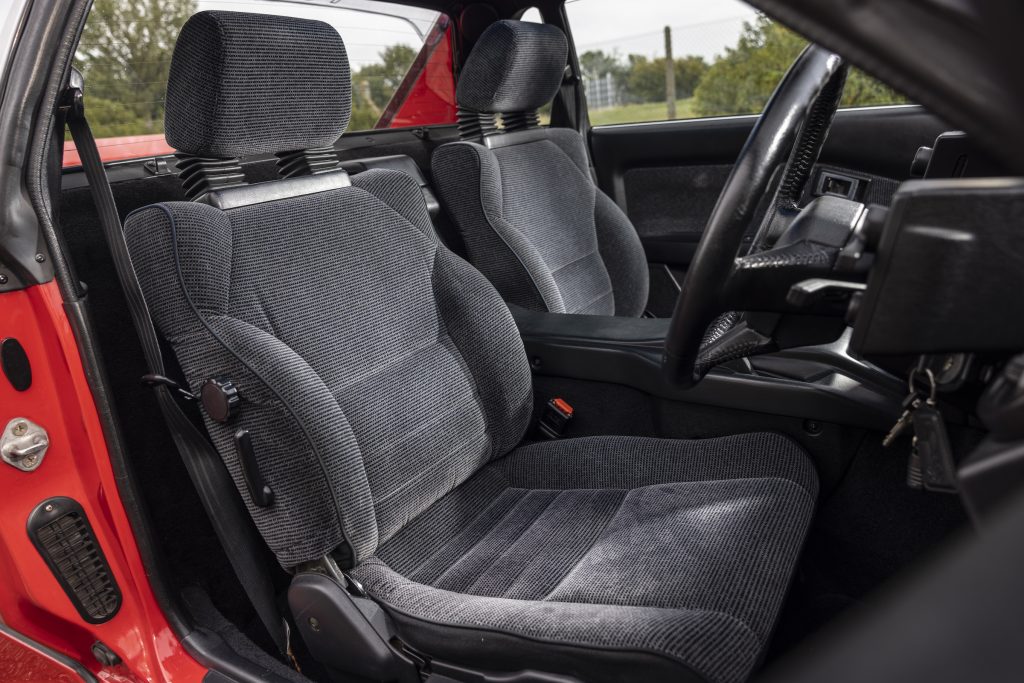 Engines are stout but thrive on good routine maintenance, including a new cambelt every 60,000 miles or six years, whichever is sooner. New spark plugs and valve timing adjustment were also needed at 60,000 miles when the MR2 was new, though as most will be driven infrequently as classics, reckon on every six years. A tapping noise from the top of the engine indicates the valves need to be adjusted immediately.
Toyota also recommended an oil and filter change every 5000 miles. The oil sump pan can become porous with age, so have a look underneath for leaks. A lumpy idle can be down to air in the coolant system causing the water temperature sensor to give inaccurate readings. Lastly, a standard mild steel exhaust is okay, but a stainless steel system is a good, and longer-lasting upgrade.
Fifth gear is the weak point in the transmission, indicated by it jumping out of gear, particularly on the earlier C50 manual gearbox fitted to cars up to 1987. The later C52 manual 'box is more robust but can still experience this fault. First and second gear synchromesh can weaken – crunchy changes signal an impending transmission rebuild.
Which is the right MR2 for you?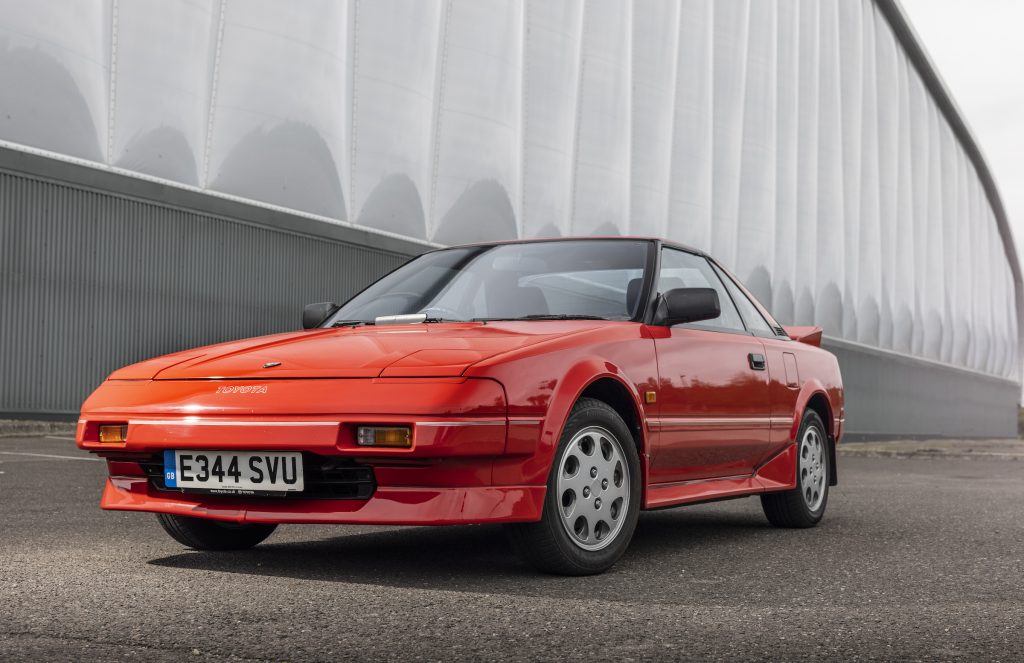 Finding an early Mk1a MR2 will require some searching and the best place to start is from members of the MR2 Owners Club or the MRS Drivers Club. The later Mk1b with its colour-coded front bumper is also easily identified by the electric aerial on the right rear wing. These cars are much more numerous, so they make the ideal entry to MR2 ownership.
The vast majority for sale in the UK will be the 122bhp model with five-speed manual gearbox and this is the car we'd recommend for its mix of performance, fun and reliability. There are some with the four-speed auto transmission, but they are not as quick or enjoyable to drive.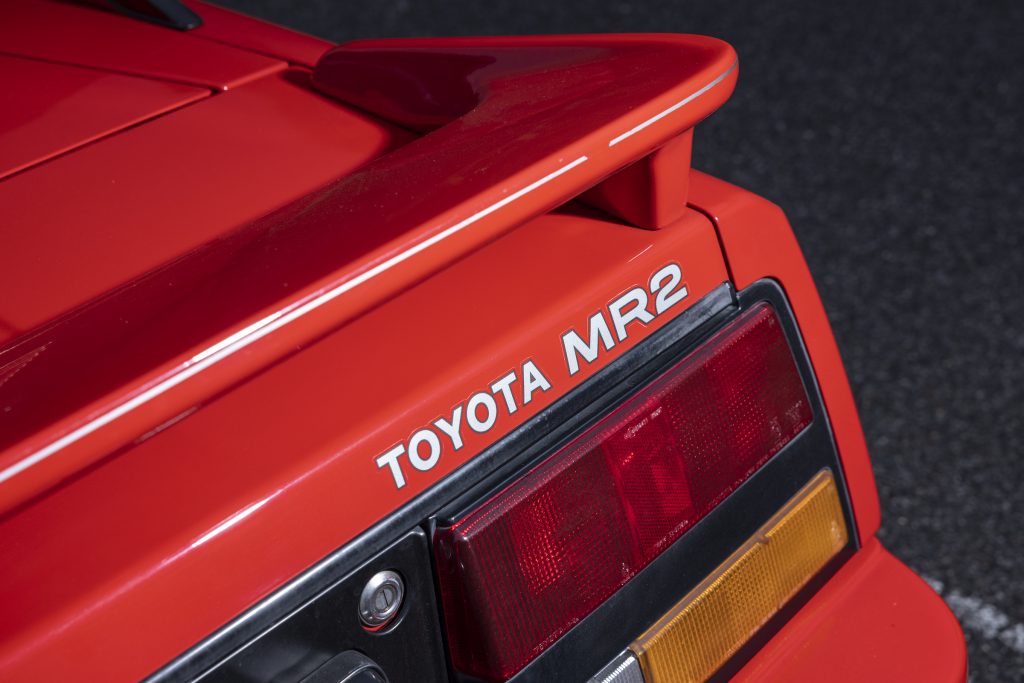 If you want the ultimate Mk1 MR2, the supercharged version is one to look for. There are a reasonable number already here thanks to imports from Japan, so just be sure the car is in good condition and be prepared to pay a 50% premium over a non-supercharged car in the same overall state.
Finding and importing a supercharged MR2 from Japan is now a much more expensive option as the car has a strong following in its homeland, so you're better to take your time and find a good example here in the UK.
The other decision for MR2 buyers is between a fixed roof car and the T-bar model. There's nothing in it for the way they drive, so it's down to how much you covet fresh air. The lift-out glass panels are easy to handle and store, and simple to put back in place when it rains.
Read more
Buying Guide: Mazda MX-5 Mk1 (1989 – 1998)
The Toyota GR86 is a modern day Porsche 944 | Jason Cammisa on the Icons
Retro Rewind: Mk4 Toyota Supra vs Mk5 Toyota Supra