Italy is home to some of automotive history's most expressive and impactful designs, but even among the nation's best-remembered concepts and productions cars there is a trio of masterworks that stands apart. Bertone built three concepts for Alfa Romeo in the mid-1950s – the Berlina Aerodinamica Tecnica 5, 6, and 9d – as a show of artistic vision at the 1953, 1954, and 1955 Turin Motor Shows, respectively. These jet-age marvels inspired an entire generation of designers, particularly in Detroit, to explore ever-more aspirational and creative heights for the vehicles that moved us. Reunited under single ownership in the early 1990s, the Alfa Romeo BAT cars will be going under the hammer at Sotheby's Contemporary Art Auction in New York, on 28 October.
The BAT "triptych"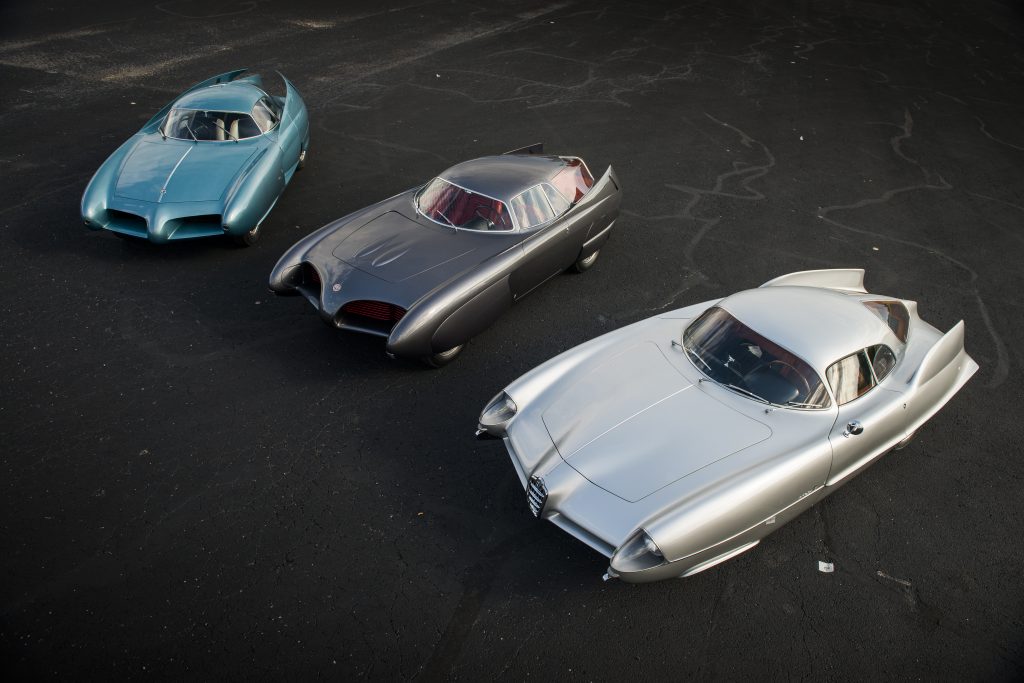 Nuccio Bertone and Franco Scaglione were the dynamic duo behind the BAT cars. With the prestige and pedigree of Bertone's namesake design house, alongside the aeronautics-inspired technical know-how that Scaglione brought to the table, the pair made their first big splash in 1952 with the gorgeous Abarth 1500 Biposto concept. The car's combination of aerodynamic-focused styling and dramatic flair prompted Alfa Romeo to wade into similar waters, approaching Bertone to deliver the goods. First came the BAT 5, shocking onlookers at the 1953 show in Turin. It was the final iteration of Scaglione's full-sized models, following four prior attempts. Although it was based on the Alfa Romeo 1900, the 5 looked like nothing else on the planet. Scaglione's dedication to minimal drag through study of laminar airflow and stability yielded a form that pushed boundaries in every sense. The wide front end featured a pair of prominent pontoon bumpers flanking a pair of massive grilles, which had hidden headlights and horizontal slots directing air to the radiator.
Under the bonnet and two rounded vents was Alfa's four-cylinder tipo engine, modified with dual side-draft carburettors and offering about 43bhp. The huge wings (with front brake ducts) directed the eye along the side body and to the rear wheel skirts, topped by a pair of towering tailfins. The elegant curves of these fins framed the tapered split-window rear and dome-shaped wrap-around glass cockpit. The car's coefficient of drag was roughly 0.23 – a mind-blowing figure for an actual running, driving car given that even today's super-slippery Toyota Prius and Tesla Model S have slightly more drag with a Cd of 0.24.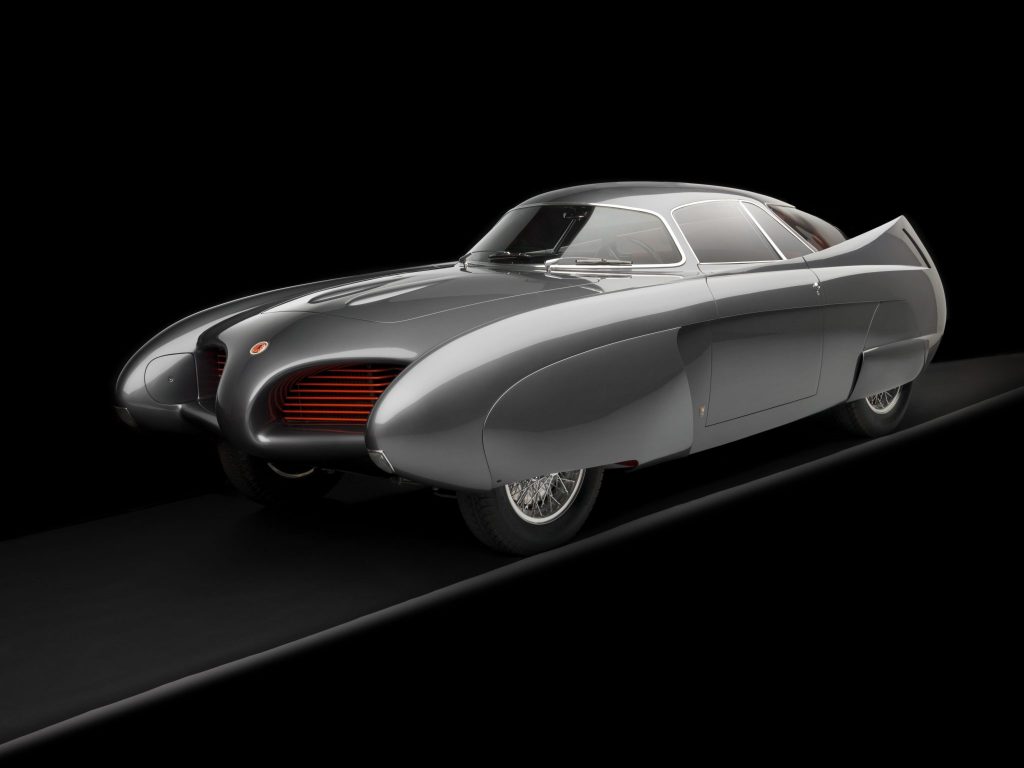 For Turin's 1954 show, the BAT 7 proved even more outlandish. While all of the same basic elements remained, including the 1900 running gear, Scaglione exaggerated several key components to even greater effect. The front air intakes became narrower and the bonnet two inches lower, accentuating the protruding nose. The bonnet lost its two vents, creating a more harmonious transition to the glass and roof. And then, of course, the fins, which extended and pitched more aggressively inward over a spectacular split rear-glass with a more prominent central spine. Not only did this evolution of the BAT 5 reduce the drag coefficient further to 0.19, but Scaglione and Bertone managed to also trim 90kg from its kerb weight, taking it to a bag of flour or two less than 1000kg.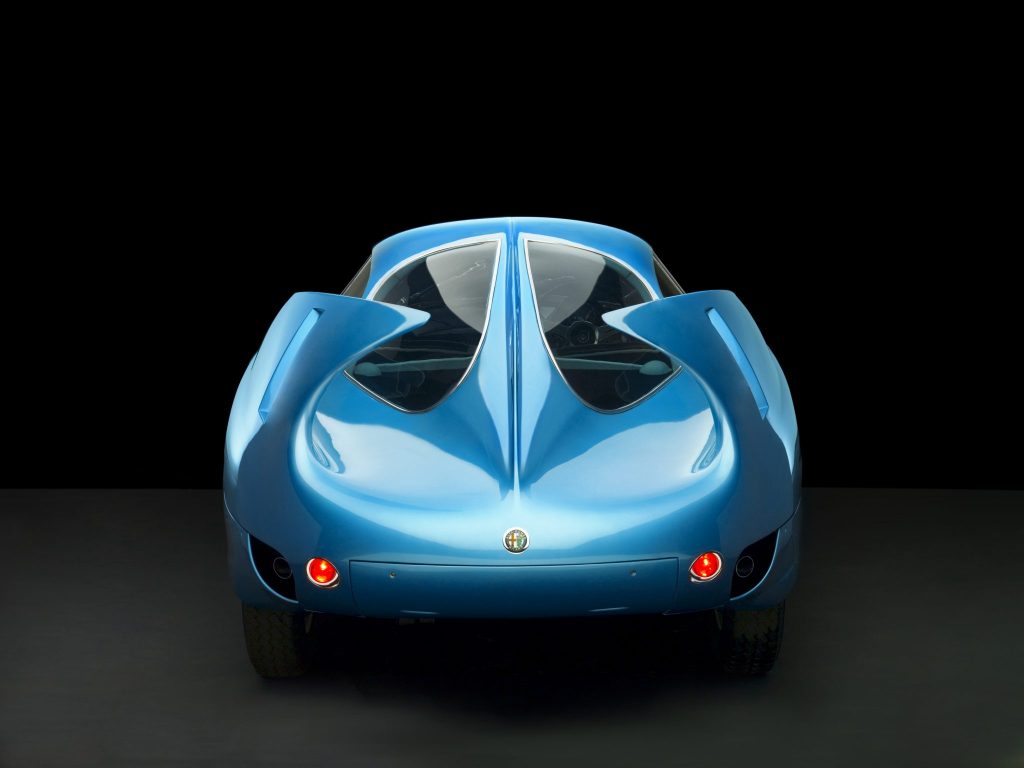 At long last came the BAT 9d. Making its debut at Turin's 1955 show, the ultimate realisation of Scaglione's vision resembled a road-going car more than its two predecessors. The enlarged and covered headlights play a big role in that effect, as do the familiar Alfa Romeo triangle grille and crest. BAT 9d arrived without the rear wheel skirts, and the tailfins were simplified to allow for a semblance of rear visibility. The grille was once again slimmed, and the bonnet visually lowered to further enhance the slope of the front hood.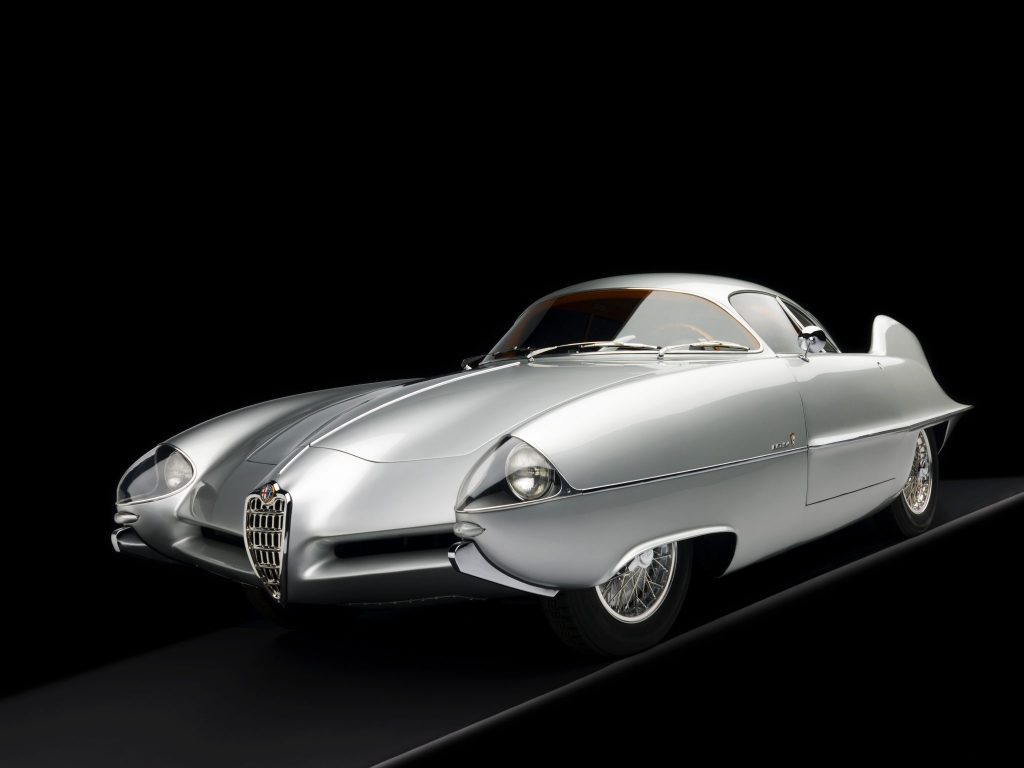 Works of art
In art history, a "triptych" is a traditional three-panelled painting that was widespread across Europe in Christian art of the Middle Ages. Often, the three distinct elements of a triptych tell a story. While there were plenty of influential design concepts in the 1950s, the story of the BAT cars is special for several reasons. First, their sheer adventurousness put them in an entirely different league to any concept car wheeled out before them. As former General Motors designer Robert Cumberford recalls, the influence of the BAT cars was felt widely in Detroit, the heart of America's indigenous car industry, and particularly by Harley Earl, the head of design at General Motors. "I remember them being put up on the wall at GM's Styling Section," says Cumberford. "They were so dramatic – way over the top compared to the GM Firebird or any of the other Detroit show cars. But what was truly astonishing was that such beautiful forms and surfaces could be made by hand, and flawlessly. These were masterpieces of metalwork," he said. "We looked at the BAT cars closely while we were working on the C2 Corvette." The extreme surfaces, Cumberford notes, had an enormous influence on the technology of metalworking as American automakers sought to replicate such results on an industrial scale. The 1959 Chevrolet is one example.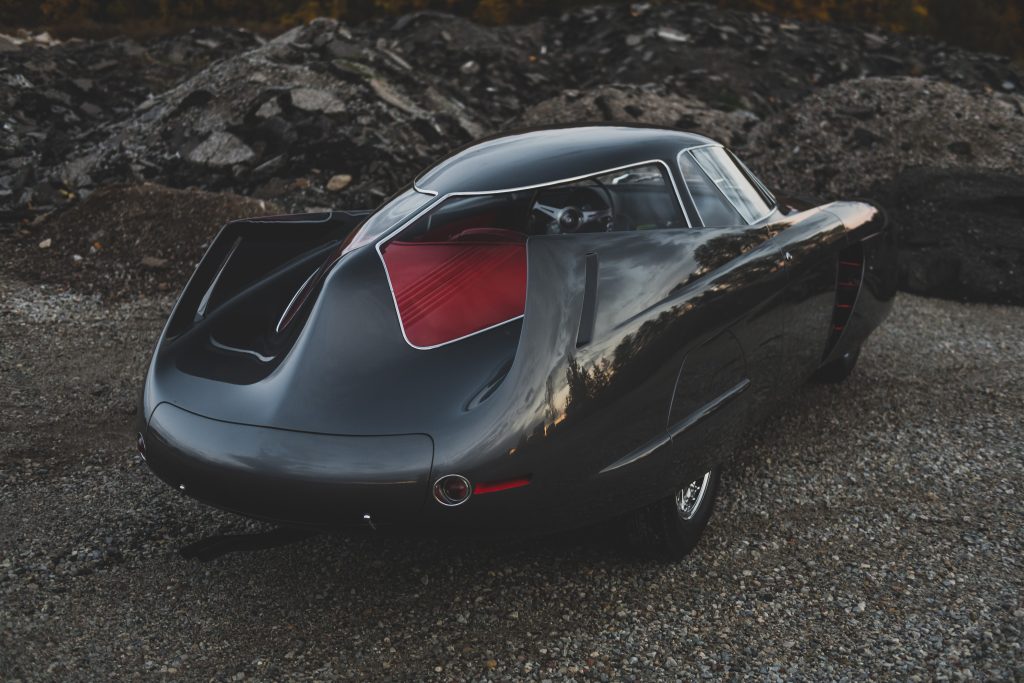 Beyond their pioneering design, however, was the fact that each of these three unique concepts was a working vehicle that could be driven on the road. In fact, Bertone came so tight up against its deadline for the BAT 7 in 1954 that Nuccio and Scaglione personally piloted the car to Turin in time for its reveal to the public.
Just one vehicle of such import and impeccable craftsmanship would be significant, but for all three to be together offered as a single lot is a significant moment that is likely to catch the attention of those outside of the car enthusiast community. It's no surprise, then, that RM Sotheby's is presenting the three BAT concepts for sale at its Contemporary Art Evening auction in New York City, where they will be treated as fine art in the purest sense. New York's own Museum of Modern Art set the precedent for including particularly worthy examples of industrial design in its own collection, but Scaglione's "triptych" is different in that these vehicles are true examples of rolling sculpture. As Ian Kelleher, RM Sotheby's Chief Marketing Officer puts it, "Each of these vehicles is totally individual but designed by the same man, according to the same principles. When you look at how they fit into the realm of 1950s design and the jet age, it's clear they deserve to be treated as art. When people unfamiliar with cars see them in person, the first thing they tend to ask is if they can even be driven. In this case, yes, they're all functional."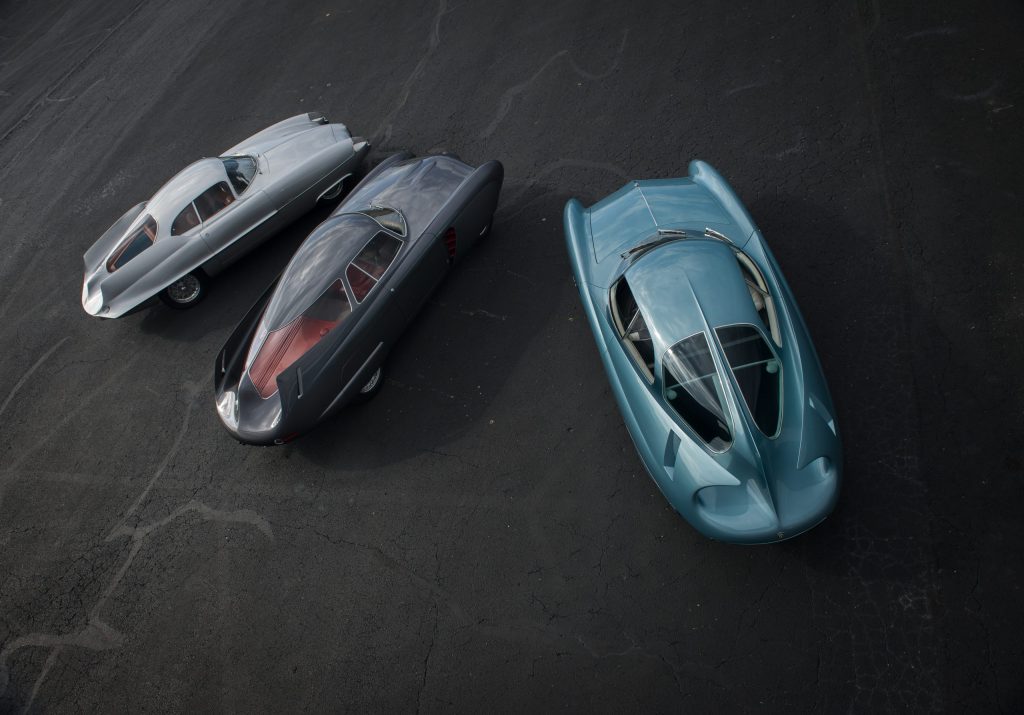 Cumberford, for one, agrees that the trio deserves this sort of reverence. "Like Brancusi's Bird in Space, these are objects to look at, to consider. It should be not at all surprising that we regard them as works of art."
Of course, high-end art generally does not come cheap. For these Italian triplets, RM Sotheby's is estimating $14M – $20M (£11 – £15m).
Via Hagerty US
From fighter plane engineer to clothes designer – discover the wild life story of Franco Scaglione and his rise within Bertone