Carlo Abarth – born in 1908 as Karl in Austria, but later embraced by the Italians as one of their own – was one of the leading post-war vehicle tuners, working on Porsches, Simcas, Ferraris and Renaults, but most synonymously, and significantly, collaborating with Fiat, as well as Milan coachbuilders, Zagato.
Having co-operated closely with Abarth for over two decades, Fiat finally took over the running of the fabled tuning specialist's operations in 1971, applying Abarth's expertise to the competition exploits of the Turin motoring giant's Autobianchi, Lancia and, naturally, Fiat, marques. Abarth helped Fiat take the World Rally Championship Titles in 1977, '78 and '80 with its 131 Mirafiori Abarth, having successfully paved the muddy tracks earlier with the rallying124 Abarth Spider in the mid-1970s.
How much is your car to insure? Find out in four easy steps.
Get a quote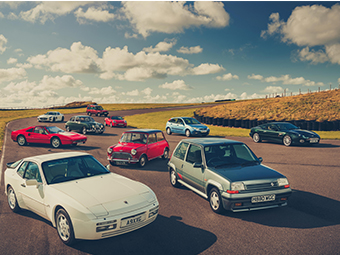 With little left to prove following these significant championship victories, the Abarth name was gradually allowed to quietly fade from the public limelight, while still remaining behind the scenes for Fiat (and later, Alfa Romeo), before the much revered Abarth brand name – plus its distinctive and colourful scorpion logo, reflecting Carlo's astrological birth symbol – was successfully revived a decade ago in 2008 by Fiat, with its accomplished modern-era sporting Punto, 595/695 and 124 Spider models.
But wait, we're getting a little ahead of ourselves here, as the real story of Abarth begins almost 70-years ago, when Carlo first founded his eponymously-named company in Bologna, Italy, in 1949 to tune cars, as well as produce and sell his own Abarth-branded performance enhancing components such as high-performance spark plugs and exhaust systems.
Aged just 16, Carlo Abarth's gift for engineering was quickly recognised, and he gained an apprenticeship with Degan in Italy, designing bicycle and motorcycle chassis. He returned to Austria at 19 to take-up a position with local Motor Thun Motorcycles, preparing its race bikes, and ultimately leading to a position as test rider.
When Thun's factory rider fell ill, Abarth was offered the opportunity to ride in his place, setting the fastest lap time twice in a row during testing. On race day, however, he was forced to ride a replacement machine that suffered a mechanical failure mid-race. Suspecting sabotage from disgruntled colleagues, Abarth left Thun in disgust.
He went on to re-engineer and independently race a second-hand British motorcycle, winning his first race in Salzburg in 1928, and just one year later, he built his first motorcycle to wear the Abarth name, going on to become the five-time European Champion by his mid-twenties.
Immediately post-war, Carlo turned his attentions from two-wheels to four, being appointed the sporting director of the ambitious Cisitalia racing team in 1947. Cisitalia over-stretched itself and folded in 1948, leading Carlo to found his own company, Abarth & Co. in 1949, acquiring five Cisitalia 204 sports cars in the process and rebranding these as the first Abarth motor cars.
In 1951 Abarth relocated his eponymous vehicle tuning, parts and racing business from Bologna to Turin, thus beginning a long and fruitful relationship with local vehicle giant Fiat, the Abarth 1500 Biposto of 1952 being his first car to used Fiat mechanicals.
A long succession of now-legendary tuned Fiat-derived Abarths followed, many models enjoying both Hillclimb and circuit racing successes through the 1950s and '60s, primarily in the 850cc to 2000cc classes.
Beyond the occasional diversions with Porsche and Simca-powered racers, Abarth remained loyal to Fiat, building up with a vast, complex and enticing range of tuned Fiat saloons, sports cars and racing models.
Arguably the most famous and celebrated of all of these Fiat-Abarth models are the 'double bubble' Zagato coachbuilt coupes, including the delightfully dinky and rare 1959 500-based Berlinetta, as well as the more familiar Fiat 600 and 850-based Zagato coupes.
These, alongside the Fiat 500 and 600-based Abarth-tuned saloons (595 Esse Esse,1000 TCR, OT 2000 Coupe, etc.), with their rear bonnets propped open, are the road-going Abarths that classic car collectors crave the world-over. Abarth's tuning mastery is also evident in the range of more prestigious 2000-2400 coupes in produced from the late 1050s until the mid-1960s, frequently bodied by Allemano, and based around the large Fiat 1800-2300 Berlina model family.
Much of Abarth's mystic and desirability, however, stems from its competition car successes. These including the Pininfarina-built 500 Record single-seaters that broke 23 international records over ten days and 28,000 kilometres in 1958, supplemented the unusual cigar-shaped 2500 Monoposto record car of 1965.
Other notable Abarth competition racers include the 1966 1000 Sport SE04, 1968 OT 2000 Periscopo, 1969 2000 Sport Spider Prototipo, 1969 2000 Sport 4-FARI, 1972 Osella 2000 Spider, 1974 Pininfarina 2000 Prototipo, plus the successful Simca-powered 1300 GT Corsas of the mid-1960s.
One potential Abarth show-stopper that frustratingly never had the chance to prove its great potential was the prototype 610 bhp, 6-litre V12 engine. This was developed for the planned 'Type 140' Fiat-Abarth 6000 Prototipo Le Mans project, a still-borne programme that was canned late in its development phase in 1970 due to technical regulation changes. A great shame for all of use petrol heads, as this engine would have been a real gem in competition.
With the Abarth brand name now successfully restored by Fiat, who knows, we might yet see the like of a true competition Abarth engine again one day. I for one can't wait!
What's your favourite Abarth creation? Tell us below!