When Alfa Romeo launched their updated tipo 1484 1900 C Super Sprint in 1954, they wanted to make an impression on an otherwise mundane car market. The model had been updated by Carrozzeria Touring with plexiglass side and rear windows, modified lights and an improved interior, plus the engine had been bored out to 1975cc, fitted with twin Solex 40 PII carburettors and separate exhaust manifolds, but to the layman the car wasn't that different to the earlier C Sprint. No, for that, Alfa looked to the other great styling houses. Ghia, Pininfarina, Boano and Zagato all produced their own variants, but the most spectacular were three concepts designed by Franco Scaglione for Bertone.
Scaglione was a relatively new arrival at Bertone. Trained as an aeronautical engineer, he served in the Italian army during World War 2, was captured by the British in 1941 in Libya and held in a detention camp in India for five years. On his release, it took him a while to recover but by the early 1950s, making money designing clothes, he decided to follow his passion and try to become an automotive designer. He moved to Turin in 1951 and approached Battista Farina, who apparently allowed him to design a car without crediting his input so he moved to their rival Bertone as a freelance stylist.
How much is your car to insure? Find out in four easy steps.
Get a quote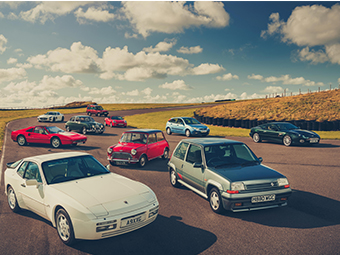 Scaglione's aeronautical background made him the obvious choice to head the B.A.T. project. Standing for Berlinetta Aerodynamica Tecnica, Nuccio Bertone's design brief was to create a car with the lowest possible drag coefficient, and also something that would attract the world's press attention to the design house. The project, although based on an Alfa Romeo, was entirely Bertone's: they purchased the donor chassis and although they informed Alfa what they were doing, there were never plans for the cars to enter production.
Development of the first car, known as 'B.A.T. 5', took place very quickly. Very few sketches were made, with Scaglione and project manufacturing chief Ezio Cingolani creating a full-size model which was then adjusted by Scaglione and signed off by Nuccio Bertone. The result, unveiled at the 1953 Turin Motor Show, was truly spectacular. With pronounced, curving rear fins, a long, pointed nose to minimise air disruption at speed, enclosed wheels and an elongated, Buck Rogers-style rear screen, the car was unlike anything seen before. Although it was a driving car, it wasn't exactly practical: the wheels had a tiny lock thanks to the overhanging panels, it lacked headlamps and performance from the unmodified 1900 engine was anything but futuristic.
The following year, Alfa Romeo returned with 'B.A.T. 7', another of Scaglione's designs. Very similar to B.A.T. 5, this at least had headlamps and achieved a drag coefficient of just 0.19 thanks to the large, curved tail fins and even lower nose.
Finally, in 1955 B.A.T. 9 was unveiled in 1955. This looked much more like a production Alfa Romeo, complete with distinctive front grille, the result of Alfa suddenly realising they were late to the party and deciding to lend their support. The rear wings, although still present, were also much more subtle than on the earlier cars. Bertone had achieved his aim: he'd shown what was stylistically possible, and then created a design that could be feasibly put into production. By doing so, he cemented his company's relationship with Alfa Romeo that lasted well into the 21st century.
The technological achievement of the B.A.T. cars should not be understated. A drag coefficient of 0.19 was – and is – a phenomenal figure. To put it in context, Porsche's most recent 911 GT2, benefitting from all of the manufacturer's state-of-the-art research and design technology, has a drag coefficient of 0.35. Scaglione and Cingolani achieved their design without computers or even a wind tunnel: pieces of wool were attached to the cars which were then photographed whilst being driven at speed. Hand made in under a year from concept to completion, the cars also featured design elements that were to define the Alfa Romeo brand: the pointed nose and wheel arch details were carried over to the Sprint Speciale, and the scalloped waistline and cowled headlamps of the B.A.T. 7 became distinctive Alfa features for decades afterwards. The cars also undoubtedly had an influence on other designers, with cues visible in the cars of Virgil Exner and Harley Earl and the split window Stingray sharing a marked similarity.
Sold shortly after their Turin debuts, all three B.A.T. cars found their way across the Atlantic where European car importer and racer Stanley 'Wacky' Arnolt drove each of them around Palm Springs, with B.A.T. 7 even raced sporting a red and yellow repaint. In 1989, having changed hands and restored, the three were brought together for the first time in public at Pebble Beach. A Japanese collector bought the trio in 1990 for a reported $18m and they again changed hands in 1994 when Coys sold them at Silverstone for $4m and they were reviwed by a young Jeremy Clarkson on Top Gear. Then in 2005 the Blackhawk Museum bought them for $8m.
Today, the B.A.T. cars are very rarely seen in public but this autumn that changed, with all three being placed on public display at Phillips in London between 20 and 23rd November. They achieved the same reaction as they had in Turin 66 years previously: Scaglione's designs are as stunning now as they were then.