In their seminal work of 40 years ago, The Official Sloane Ranger Handbook: The First Guide to What Really Matters in Life, the overall car choice guidance is infuriatingly brief.
But one sentence jointly penned by Ann Barr and Peter York is very telling: 'Rangers, despite their instincts, have been buying foreign cars for years, but never Japs.' In another, 'big estate cars' get the nod from these arbiters of well-bred 1980s taste.
And so the Peugeot 504 estate along with its 505 successor fit the bill perfectly. They're definitely from abroad but not Japan and they were some of the most useful estate cars you could ever wish for, ideal for the prep school run, ferrying friends to local tennis club's doubles tournament or using the car for a booze cruise – Beaujolais, naturally –on the way to the bolt-hole in the South of France.
How much is your car to insure? Find out in four easy steps.
Get a quote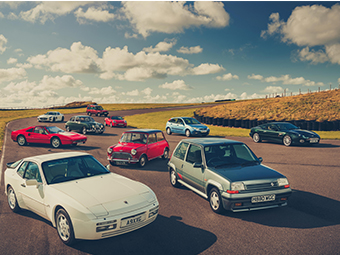 Peugeots of the pre-205 era were generally rather plodding, making up for their lack of novel engineering – no funny suspension like a Citroen, no strange rear-mounted engines like a Renault – with extraordinary robustness and well-tried conventionality. Styling was sober, interiors were durable rather than plush, and there was a strong accent on solid build quality.
In fact, it was these factors mixed with Pininfarina's handsome lines that won the 504 saloon the 1969 European Car Of The Year award. Not that Peugeot made much of a fuss about their gong. They seemed to regard it as a mere triviality because they knew what they were doing.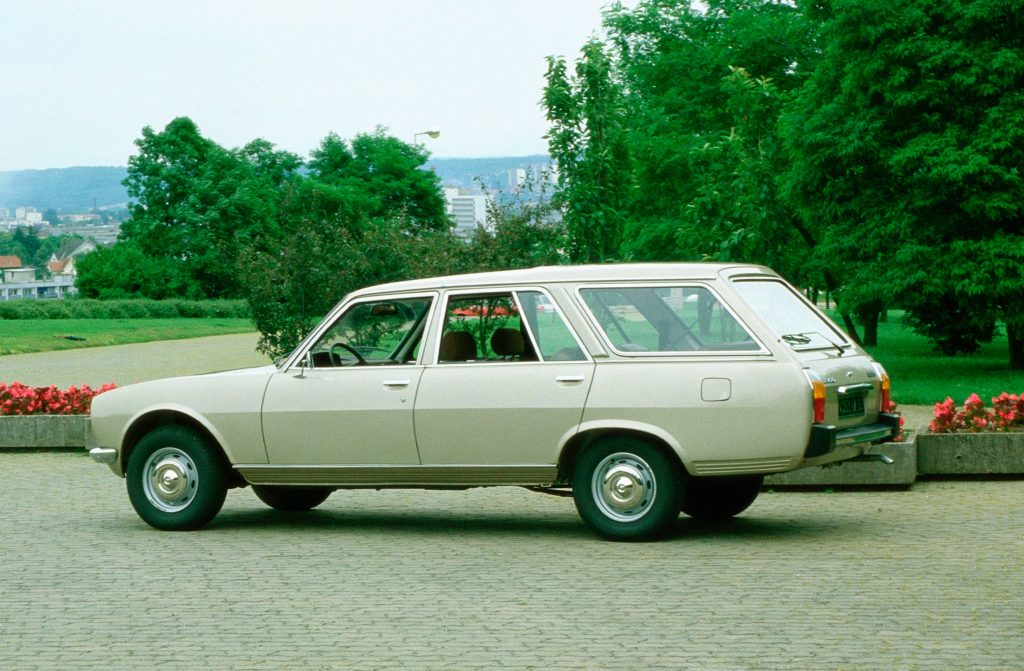 A 1796cc four-cylinder petrol engine drove the rear wheels from four-speed gearbox to back axle via a forgiving torque-tube driveshaft, and the superbly set-up front coil spring/rear McPherson strut suspension with its abnormally long travel made this a refined and comfy large family saloon. Deeply cushioned seats clad in plastic or brushed nylon absorbed most road surface shocks that rippled through to the cabin. Rack and pinion steering and front disc brakes added to the benchmark specification for the era, but this car also came with a sliding steel sunroof and adjustable front-seat headrests as standard, which were a bit special. Fuel injection was an option.
Mind you, the 504 was expensive, costing £1500 when an equivalent Vauxhall Victor FE was almost £300 less. It would always be a no-discount , upmarket, private purchase in this country, from a chain of Peugeot agencies generally located at family-owned garages; the proprietors would make a tidy margin on each 504 sold and then not fritter it all away in warranty claims, because customers rarely found fault with their cars. Everyone was a winner.
In 1970 came both a 2-litre petrol engine and a 2.1-litre diesel that, its 65bhp notwithstanding, was so brilliantly engineered that Ford didn't bother to make a rival, and simply bought it and fitted it unchanged into the Granada MkII.
The big news in 1970, though, was the arrival of the 'Break' five-seater estate car whose tailgate opened up a load bay that truly defined the word 'cavernous'. Its 63.9cu ft of luggage space (known, of course, as 1819 litres in France) meant it was beaten for luggage capacity in the station wagon stakes only by the Citroen DS Safari.
The Break's wheelbase was extended and Peugeot, ever pragmatic, changed the rear suspension to burly leaf springs with a live rear axle to man-it-up for heavy duty work (later on there would be a pick-up version relying on this too, and a Popemobile special for ). At the same time came a Familiale model with seven seats, all of them facing forwards.
This last model is the 504 with Sloane appeal. It had enough ground clearance and bump-absorption for everything you might do at the weekend in the country – house parties, rugby matches, gymkhanas, game fairs, hauling the boat down the beach in Cowes Week and, of course, taking "the Wrinklies" for lunch with friends and all three children on board too. Dog slobber or muddy Hunters were never going to damage that plain, hard-wearing interior.
Then it could cruise sedately back to town and look unobtrusively at home in West Ken or Fulham, or sheltering under the mature tress of Barnes or Blackheath side streets, catching the sap. It was primarily a country car quite at home in the town.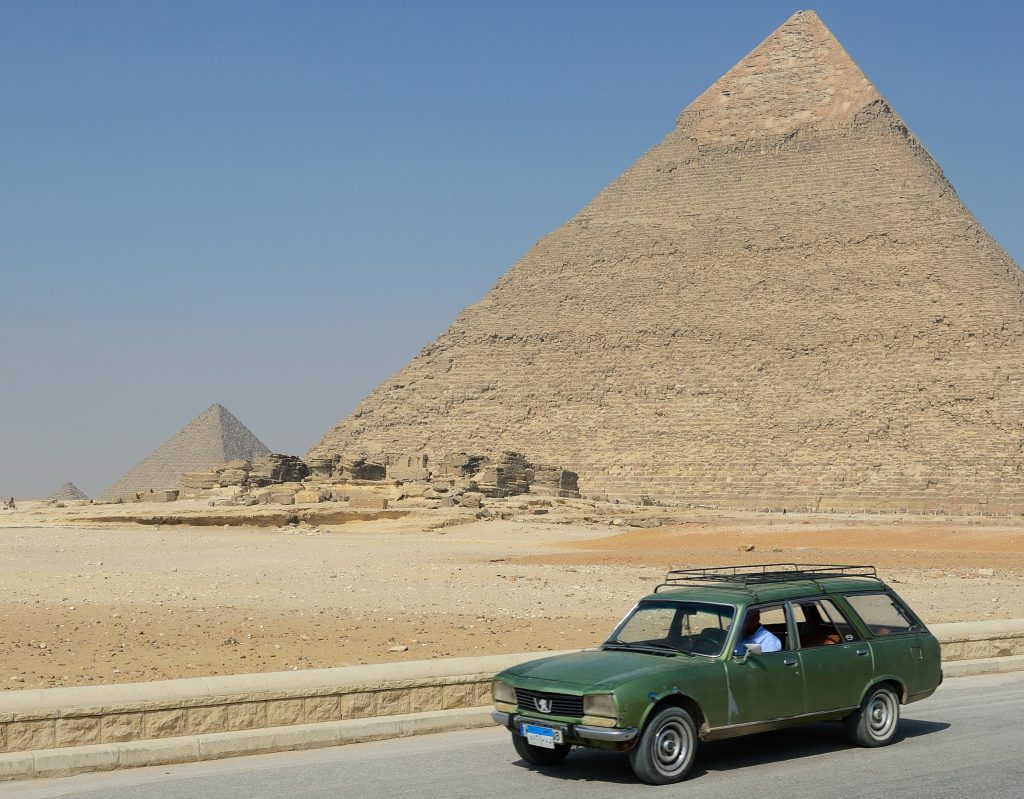 Yet the 504 also has an irresistible touch of the colonial explorer to it. An enormous number of the 3m-plus 504s built found their way to the African outposts of the former French empire, where all the robust attributes that made them well suited to the farm tracks of rural England came to the fore, and then some. From Algeria and Senegal to Cameroon, and even more widely in Kenya, Morocco and Nigeria, a 504 made the perfect car. With none of the expense, unreliability and discomfort of a Land Rover. Again, rather like Dorset or Norfolk.
If young Caroline had spent time in Africa teaching local children English, or Henry had been out there installing water standpipes for his D-of-Es, no doubt they saw 504s everywhere, which stuck a metaphorical Post-It note up inside the head about what excellent motors they were, and they should have one someday.
The last 504 was built in France as late as 1983, barely changed or even face-lifted from its 1969 original. Indeed, its replacement, the 505, had arrived in 1980, but was largely the same car in a slightly different shape, bar the offering of a 2.8-litre V6 in a later luxury performance model. Just two years later came the estate. Not only was its total luggage space a thumping great 2240 litres but the Familiale was also now an incredible eight-seater after an extra chair had been squeezed in right at the back.
The last 505 was built in France in 1992, and it called time on rear-wheel drive Peugeots. Even 25 years later, though, you could still find faded but functioning 505 estates on the posher streets of central and south-west London, doing everything asked of them but with plastic trim cracked by the sun and seat fabric similarly bleached. Like their owners, these old Peugeots tended to grow old gracefully and be up for most outdoor activities long past their lesser, townie contemporaries…
Read more
The Handbook of Sloane Ranger Cars – Volkswagen Golf GTI Mk1
Opinion: Super SUV? Give me a fast estate car any day
The Top Ten African Cars