The BMW Isetta is notable in that it's the only collectible 1950s microcar built by a car company that's still around. The fact that the parent firm is now a successful and global business, today respected for making luxury cars, is a double blessing.
Of course, it wasn't always thus. For a number of years BMW tried to pretend it never made Isettas. Only when it dawned on the company how many of the 202,728 built in seven countries had survived (at least 25 per cent) and that these proud owners would pay for parts, did BMW start to provide spares. There is now an abundant supply of spare parts, though they are not cheap. At least the 10-inch tyres are the same size as those on a Mini.
How much is your car to insure? Find out in four easy steps.
Get a quote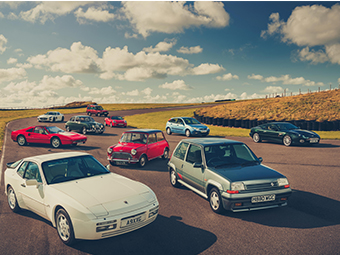 The Iso-designed front-opening door "bubble car" dated back to 1953 when refrigerator magnate (an irresistible phrase) Renzo Rivolta came up with the idea of an efficient city car for poverty stricken post-WWII Europe. It was powered by a 236cc two-stroke twin, and carried two people at about 50mph, getting about 50mpg.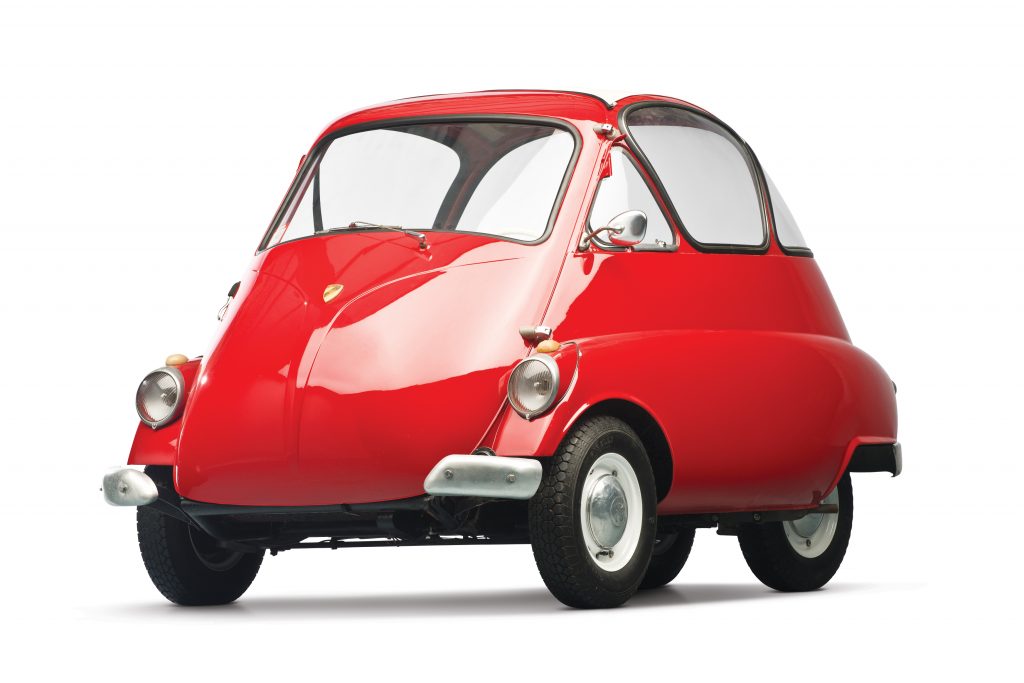 The front door opened forward, hinging to the left, with the steering column and instrument panel swinging out with it, for ease of access. The idea was that you could drive straight to the curb, since the car was only 7.5 feet (2.29m) long – around 2.5 feet shorter than the Mini that arrived in 1959.
Iso's cars (Isetta means 'little Iso') had headlights in the wings and swivelling vent windows, with an opening canvas roof. Around a thousand cars were built, then manufacturing licenses were also sold to Belgium, Spain, Brazil, France and the UK, all of which would make about 41,000 examples on top of BMW's own 161,000. BMW bought Iso's body dies as well, and made Isettas from 1955-62, using the 247cc R25 motor at first, then boring it out in 1956 to 298cc. Top speed was still about 53mph but there was more torque, which helped on hills.
Amazingly, three Isettas ran in the 1954 Mille Miglia, winning their class at an average of 43 mph – not bad when you consider their top speed was only 10mph higher.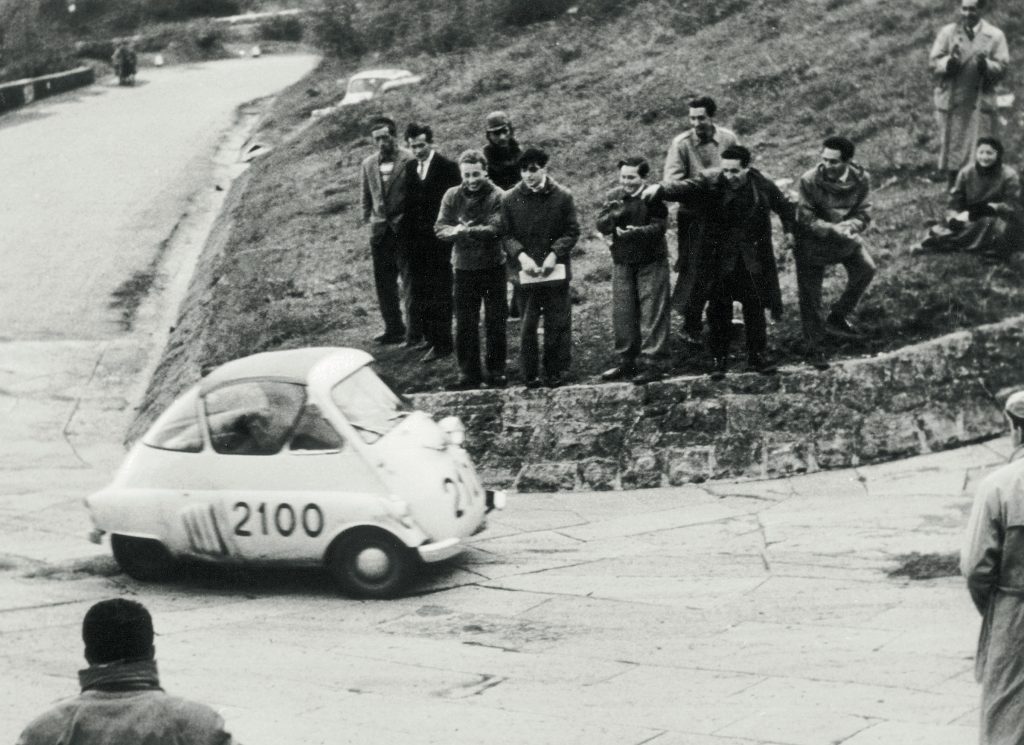 Isettas were made in the UK from 1957-64 in Brighton Railway Works. The steering wheel was moved to the right side, and the door hinged on that side, too. But that meant adding 60 pounds (27kg) of weight on the left for stability, because the driver and engine were now on the same side. Isettas were built with both three wheels and four, in which case the rears were only 19 inches apart.
The three-wheeled version meant that they could be driven on a motorcycle license and road tax was less than half that of a car. Technically the reverse gear was supposed to be blocked out, but the three-wheeler I drove in London as a reporter in the 1960s had a reverse gear, and so did all the others I knew.
Once you get used to having no bonnet, Isettas are a delight to drive, with a neat four-speed gearlever sticking out of the side panel. The engine is a tall, thumpy single, muffled by a silencer that runs to the front of the car and back. It's heavy because of a Seib Dynastart, which combines a starter motor and generator on the end of the crank. Top speed is 53mph, unless oil leaks past the seal onto the generator brushes. In that case, the red light comes on, along with a burst of power, as the generator's drag is eliminated, raising the top speed to 60mph.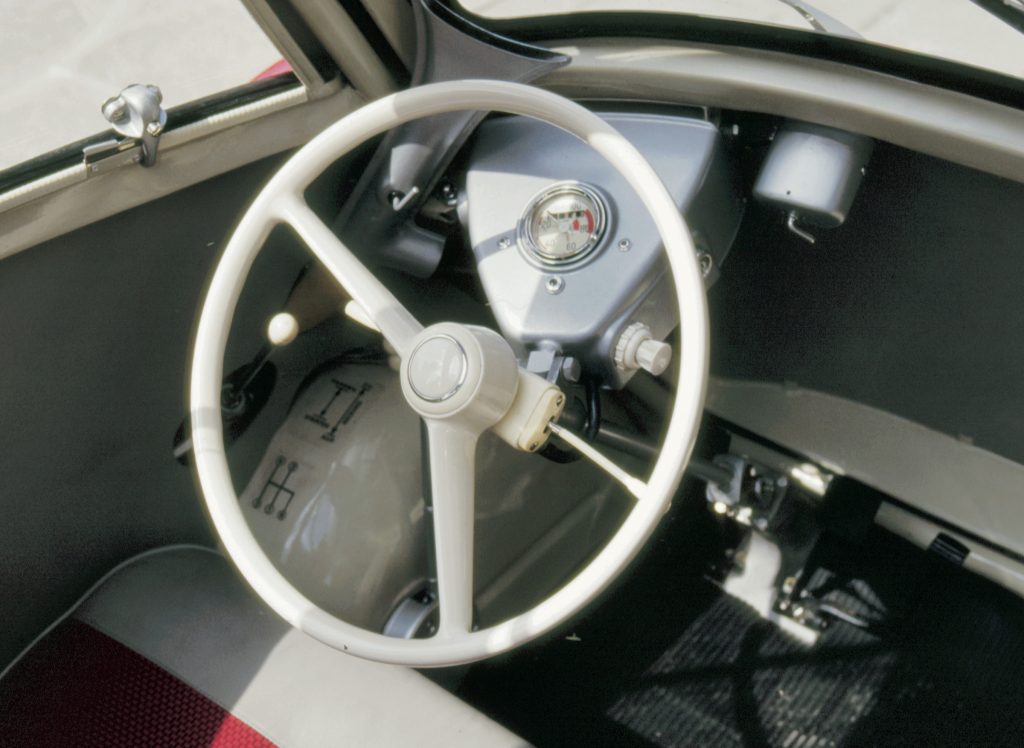 The 1956 Isetta 300 gained sliding side windows, and bigger headlights. With the canvas top open, it's a very pleasant summer ride. Other early variants included a full convertible and a flatbed truck, such as might be found in Italy, France or Spain. Various types of bumpers were employed and the best is probably the two vertical hoops at the front, with a cross bar on the door. American models can be recognised by similar hoops in the back, attaching where the European taillights would go, so that "Mickey Mouse Ears" lights are mounted on the fenders.
With the recent jump in value, almost all Isettas have been restored by now. It's very rare to find a decent running original, and plan to overhaul it if you do – most cars are now comfortably more than 60 years old. For many years, parts were hard to find, so occasional barn finds do pop up.
Rust is less of a problem than body damage from rollovers, so check carefully for body filler and make sure the curves are regular, not flattened. (The sign of impending doom, incidentally, is that the steering starts to twitch, as the inside wheel comes off the ground…). Most of the original colours were fairly subdued, though restorers fancy two-tone "Easter Egg" hues.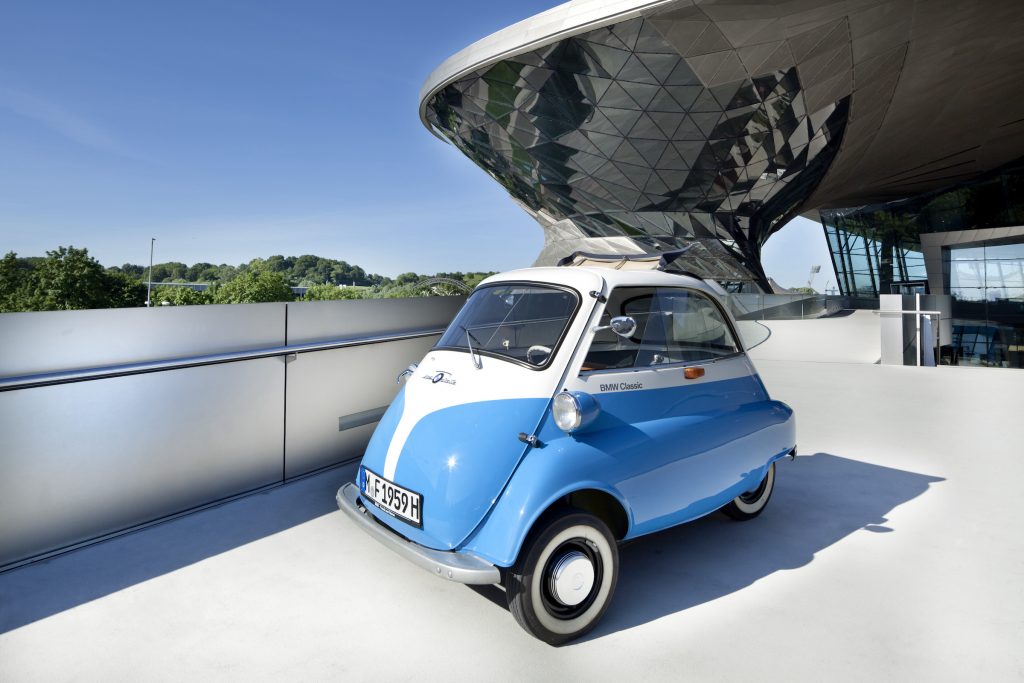 Compared to the equivalent Heinkel (1956-65), Isetta prices are about 18 per cent stronger at the top end, but more affordable for usable cars. The Heinkel boasted two occasional seats, but had a fixed steering column, making access and egress difficult, and only a 175cc engine.
The Hagerty Price Guide puts an Isetta in good condition at £11,900 (an equivalent Heinkel would be £15,200), with concours cars up to £28,800 (£24,400 for the Heinkel), but make sure you buy one that's sorted and runs well. A fussy trailer queen will be an exercise in frustration, even if you can lean it against a lamppost, using your jacket as padding, to get under it, as I did numerous times.
The Isetta design was revived in the 1990s by Tri-Tech, which made a fibreglass-bodied version "Zetta", powered by a 500cc Kawasaki twin-cylinder engine. It's technically capable of 90mph, but the only owner I ever met rolled his eyes at the thought, averring that 70mph was quite enough for him…
This article was originally published in August 2012. It has been updated to reflect current market prices.
Read more
From Suzulight to Spacia, Suzuki celebrates making 25 million minicars
Cars That Time Forgot: Opperman Unicar
Join the Club: Micro Maniacs Club