For the majority of today's motorists, it's hard to imagine Shell as anything other than an oil supplier that keeps our filling stations full with fuel, our vehicles motoring and our appetite satisfied. But in the decades that followed the first World War, Britain was an entirely different place.
The early 1920s – the Roaring Twenties – brought peace and a certain degree of prosperity to the nation. The car was becoming increasingly common, and with this attainability came new-found aspirations. While some sought speed and set out to race or break records, the vast majority simply wanted to tap into the freedom of the open road and see more of the country without having to travel by train.
How much is your car to insure? Find out in four easy steps.
Get a quote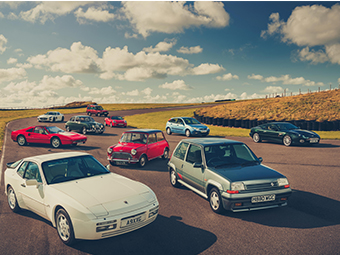 Some things didn't change, however. Nimbyism was alive and well. As roadside pumps proliferated, much of the public would object to the advertising hoardings and signage that would accompany them and signal the whereabouts of the next filling station. Presumably mindful of earning a reputation for contributing to what many saw as a blot on the landscape, Shell changed tack.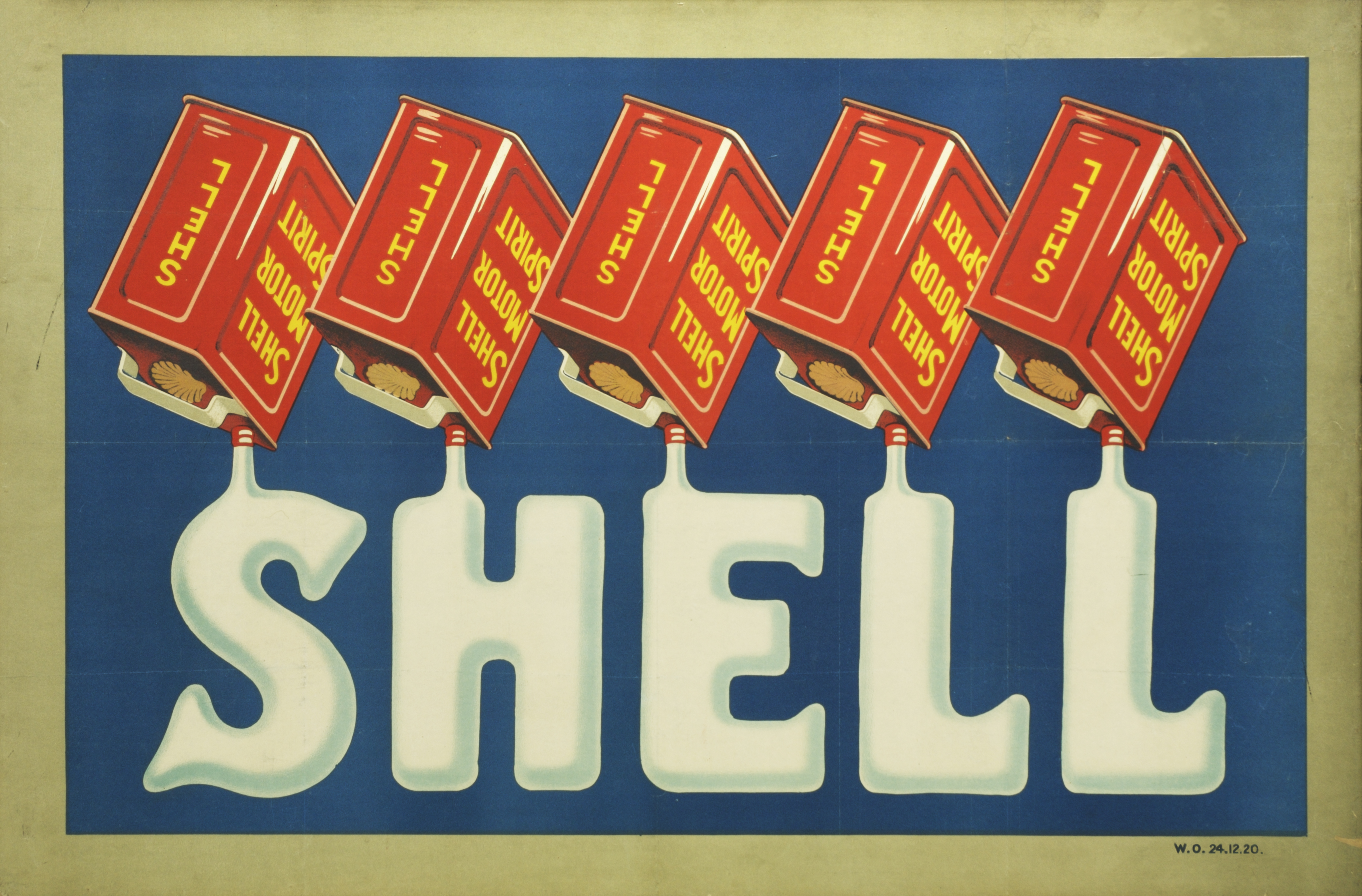 In 1920, the oil company steered away from billboards and introduced its first advertising poster to be fitted to a lorry. It depicted five Shell fuel cans being poured to spell 'Shell'. Framed, encased behind glass and attached to the side of a delivery lorry transporting fuel to garages and roadside pumps, it was the pop-up smartphone ad of its day, a mobile, highly visible advertising tactic that proved effective at spreading the word and increasing awareness among the growing band of motorists.
By 1932, in the face of a depression, Shell and BP combined their marketing efforts. Cost-savings initiatives may have been behind the move but to onlookers the companies didn't appear to be hard-up. A new marketing base was established within the purpose-built, art-deco splendour of Shell-Mex House, on London's Strand. At up to 15 storeys in places, the Portland stone building carried a clock tower with a face larger than the clock on Big Ben, earning it the nickname 'Big Benzine'. From here, an influential figure would arise.
Jack Beddington had joined Shell UK from Asiatic Petroleum Company in Shanghai, in 1928, as publicity manager. By 1932, Beddington had been promoted to assistant general manager and director of publicity for Shell-Mex and BP Ltd, and quickly got to grips with the creative output of Shell's advertising department.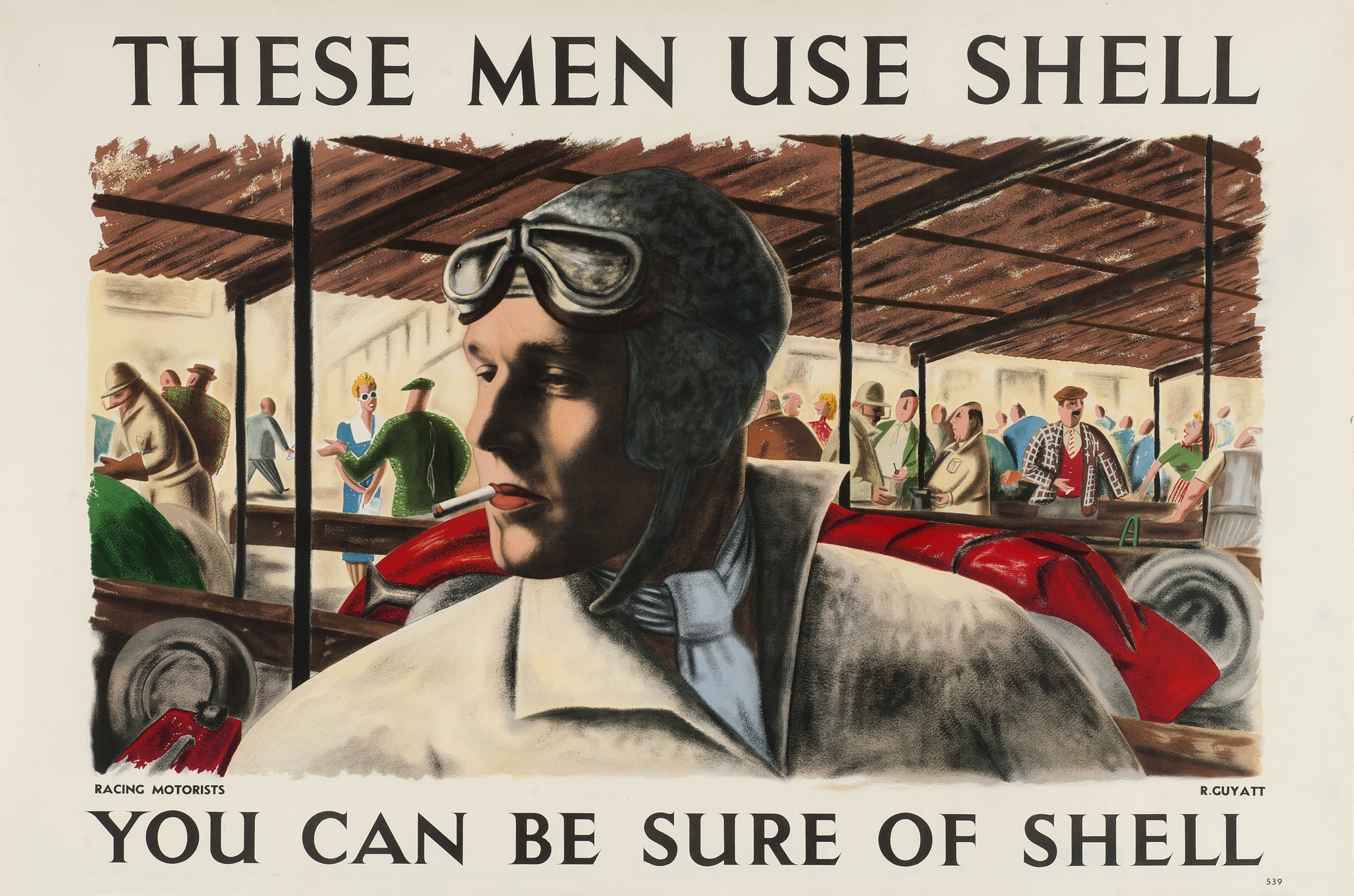 "Apparently his brother was in the art world but he [Jack] wasn't," says Nicky Balfour Penney, manager of the Shell Heritage Art Collection. "He would go to galleries in his lunch hour, go to openings and become ingrained in that world. He then formed close friendships with a lot of the artists."
Beddington saw an opportunity to, in some small way, lift the spirits of a somewhat depressed nation. The Lorry Bills, as the advertising hoardings had become known, were effective, but the mood of the nation had changed. Instead of following the hard-sell and placing the product in the ads, why not celebrate the beauty of Britain and encourage motorists to explore the nation?
Instead of talking about the commodity, the work spoke of its benefits, promoting motoring as a pleasurable pastime and capturing some of the many hidden treasures found around Britain.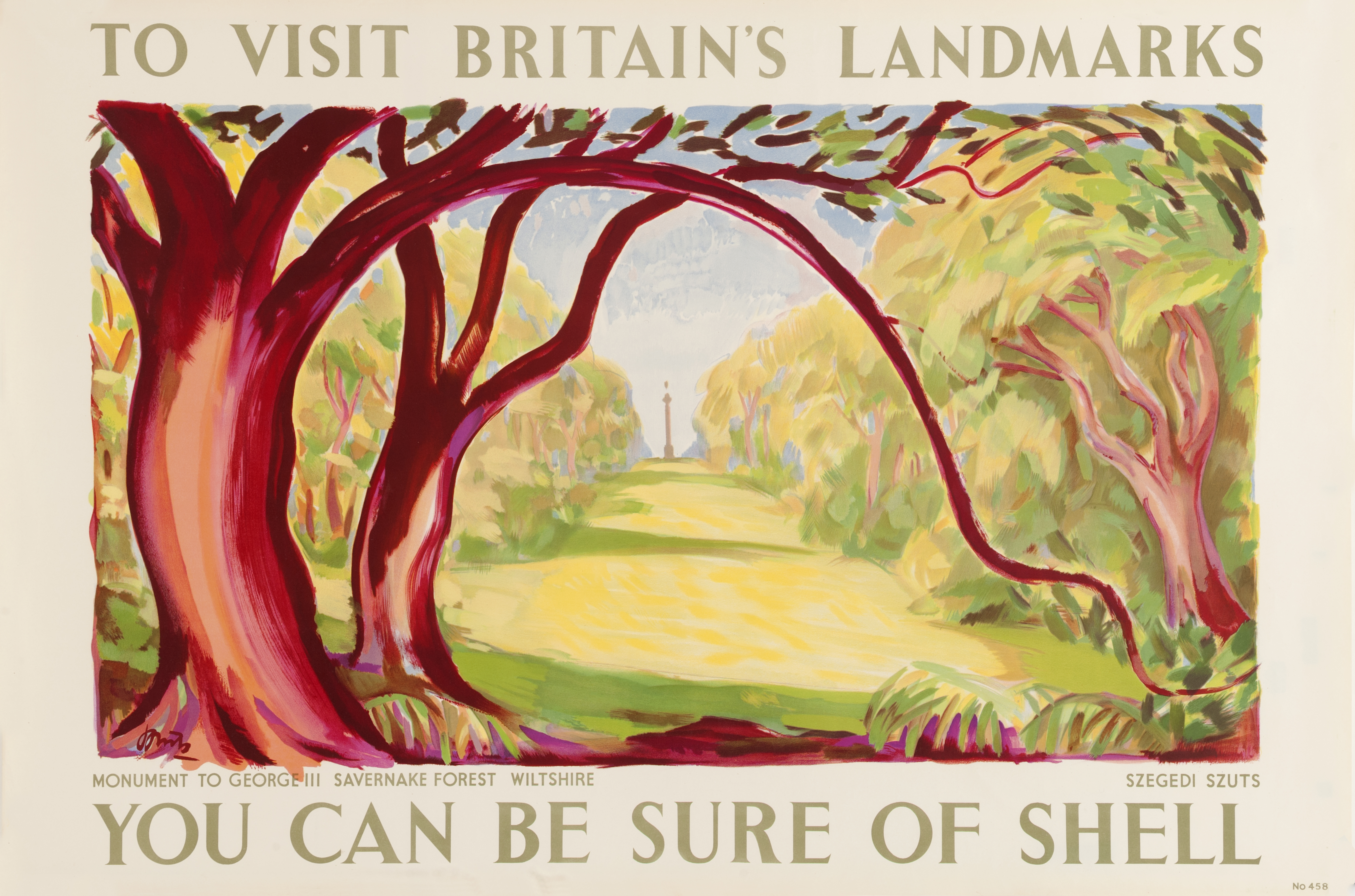 Turning to emerging and established artists, Beddington sought to rethink the output, introducing the latest in styles and influences from the contemporary British art scene, from Vorticism to Surrealism. "Often commissions would come through word of mouth or friends of friends. He'd work with artists and they'd suggest, 'You've got to check this person out.' By the end, says Balfour Penney, the artists would be approaching Beddington.
Informally, the Lorry Bills came to be viewed as mobile picture galleries, presenting the artwork to the public – many of whom wouldn't have had the means to visit national galleries.
"Shell was very brave in its approach, very creative. The film unit had a very good reputation in terms of documentary making early on, and also in terms of the people – the creatives – they used. It was in the 1930s that Shell's output began to flourish, and a lot of that is down to Jack Beddington and his flair and the way he approached the work."
For Shell's Visit Britain's Landmarks campaign, Beddington would dispatch artists to paint the locations encountered by John Betjeman, the poet, writer and broadcaster. But unlike some creative directors, Beddington rarely meddled with the finished artwork. "He let the artists have free reign," says Balfour Penney.
Artists often had their first commissions with Shell, including Graham Sutherland and Leonard Rosoman. Some, such as Paul Nash, were already established. Being contacted by Jack Beddington was for many a lifeline they could ill afford to turn their noses up at, and many formed lifelong friendships with Beddington.
Most of the creative output from Beddington and his Shell-Mex advertising department has been preserved. Since 1993 the Shell Heritage Art collection, consisting of more than 7000 prints and artworks, has been held at the National Motor Museum Trust, which already handled designated collections seen as having national and international importance. For the collection to be stored in the same environment made a great deal of sense.
And that means that the Lorry Bills are in safe keeping. Last year, the collection had intended to mark the centenary of the Shell Lorry Bill, with a European tour opening at the Louwman museum and publication of a book, but like so much else, plans were disrupted by Covid-19, and Beaulieu, home of the National Motor Museum Trust, has remained closed.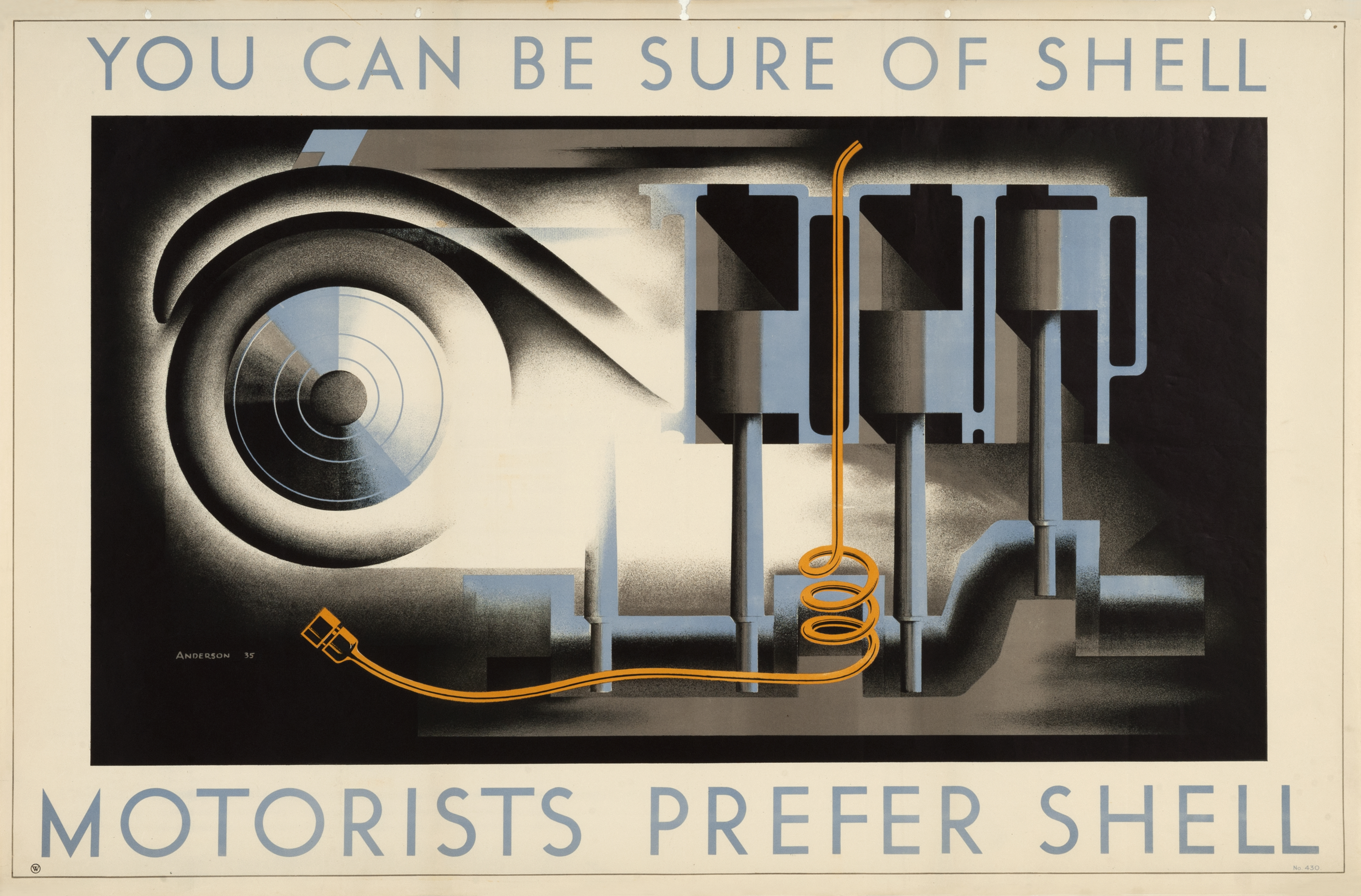 To help the Trust raise funds, the Shell Heritage Art Collection has put 50 posters up for sale, through auctioneers Lyon & Turnbull. The vast majority are from the original print runs of the 1930s, and measure in at 30 x 45 inches (76 x 114cm), with a handful from the 1950s.
Are they sought-after collector pieces amongst fans of automobilia and the wider art crowd? "Edward McKnight Kauffer [an American artist who also worked with London Underground] did more work than anyone else, and became a close friend of Beddington's. Paul Nash said Kauffer was responsible for introducing commercial art [graphic design] to this country, so his works are very prominent in terms of graphic design. So in terms of posters and graphic design, he is a very popular artist. They are important pieces of work in their own right and worthy of investment," says Balfour Penney.
The most sought-after posters from the original print runs can fetch more than £6000. Yet that is a snip compared with the cost of an original private artwork from some of the artists, which can change hands for six-figure sums. Other pieces are hundreds of pounds.
As part of Lyon & Turnball's Modern Made sale, Design on the Move: Selected Posters from the Shell Heritage Art Collection will see all 50 available to view at The Mall Galleries in London, from 27 April, before being auctioned on 29 April.
Because of Beddington's open mindedness and preference to avoid a heavy-handed approach, the creative output has proved enduring. With opportunities to acquire original posters few and far between, this is a rare moment for art lovers and automobilia collectors alike to bid for a piece of motoring history.
Read more
These boots were made for racing
2021 Bull Market list: 10 of Britain's hottest collectable cars
Dieter Klein travels the world in the quest for the perfect photograph of abandoned cars