Welcome to Freeze Frame, our look back at moments from this week in automotive history.
4 March 1994 – Mercedes and SMH announce Micro Car Company brand – and show off two concepts
The fundamental principle behind the Smart is no less sound today than it was on the 4th March 1994, when Mercedes-Benz and Swatch announced announced Micro Car Company AG, also known as MCC, and the intention to build a line of two-passenger city cars.
How much is your car to insure? Find out in four easy steps.
Get a quote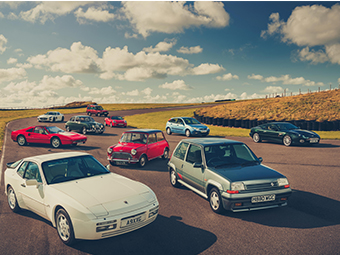 That principle is vehicle occupancy. In March 1994, research by Mercedes-Benz showed that the average car carried just 1.2 persons. Figures vary across Europe, but the most recent data available in the UK suggests that number was still only 1.6 in 2018. In other words, a two-person car would serve the needs of a great many drivers today, just as it did then.
Carmakers knew this, so the Smart project was something of an example of convergent evolution. Several makes, including Daimler-Benz, had experimented with tiny city-car prototypes over the years. Nicholas Hayek, CEO of SMH, the company that would later be renamed Swatch, had also mulled the idea of a compact city car since 1982, using some of the construction ideas found in Swatch products.
Hayek sought partners for his idea, eventually ending up at Volkswagen's door. The VW agreement fell flat in 1993 however, when Ferdinand Piëch took the reins in Wolfsburg and pushed through Volkswagen's own idea for a low-consumption city car – a project that would later yield the diesel-sipping Lupo 3L.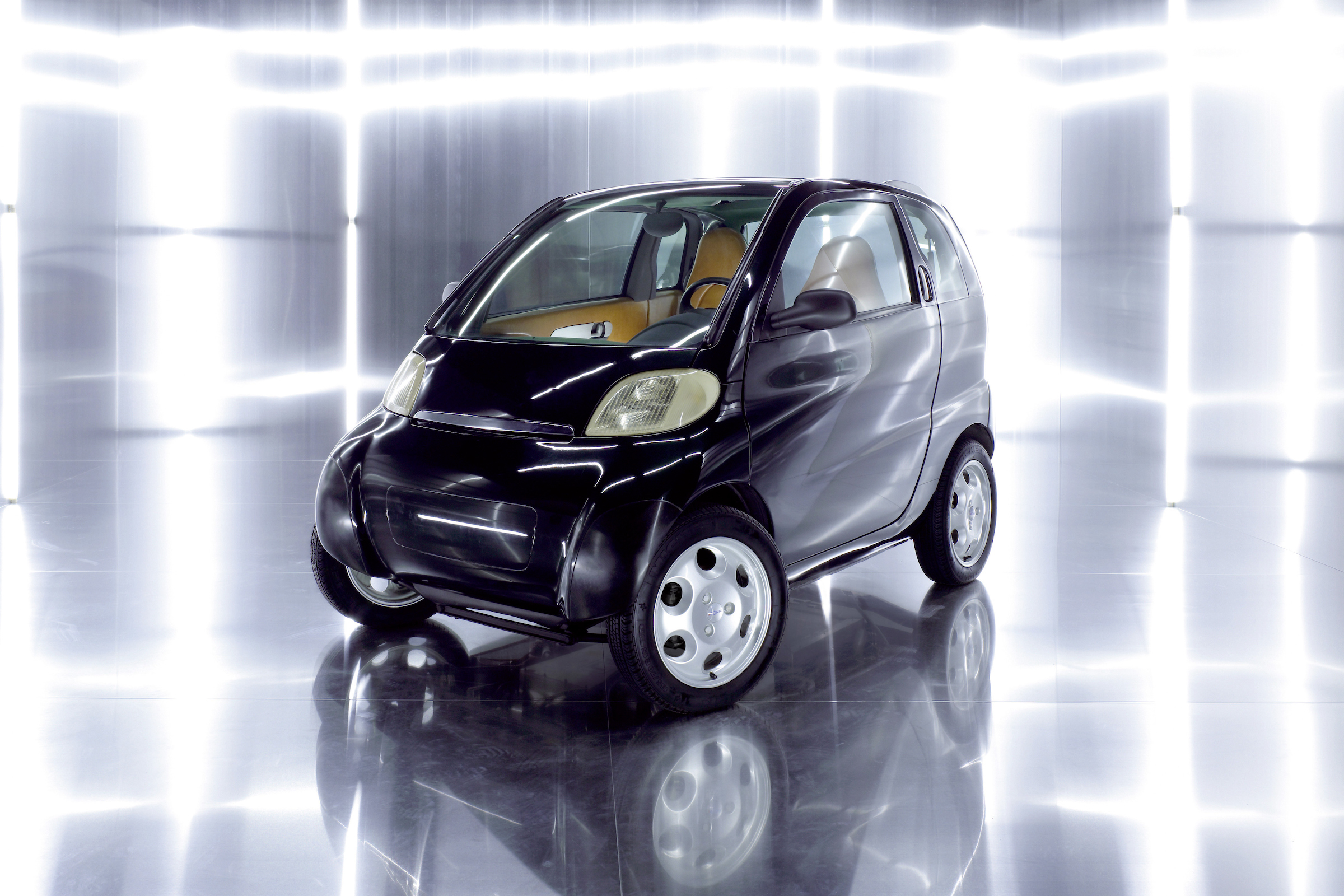 On the day of the announcement, Mercedes-Benz presented two concepts that would preview the look of the first Smart City-Coupe, eventually launched in 1998 – though curiously, SMH played no part in either design, each penned at Mercedes' California studio.
One, the Eco-Sprinter, utilised a 40kW electric motor powering the rear wheels. Visually at least it was probably closest to the eventual Smart, with almond-shaped headlights and smooth flanks defined by a rising waistline. Inside the driver would sit on slim leather-faced seats, staggered in layout, with the passenger-side dash bulging out ahead.,
The other, called Eco-Speedster, less closely resembles the production Smart outside but its more toy-like cabin perhaps gave a greater nod to the eventual production model – though neither, incidentally, would place the ignition barrel between the seats, Saab-style, as the first two generations did. The Eco-Speedster used three-cylinder petrol power.
Other mix-and-match ideas that eventually made production were a high level of recyclability (for a time, Smart led the market in that regard), a removable roof (eventually seen with the Smart City-Cabrio), and an integrated rollover bar – though once again, neither concept made a feature of the car's safety cell, named "Tridion" by Smart, that became a defining feature of the production models, alongside swappable body panels. History does not record how many owners ever changed their car's panels, however.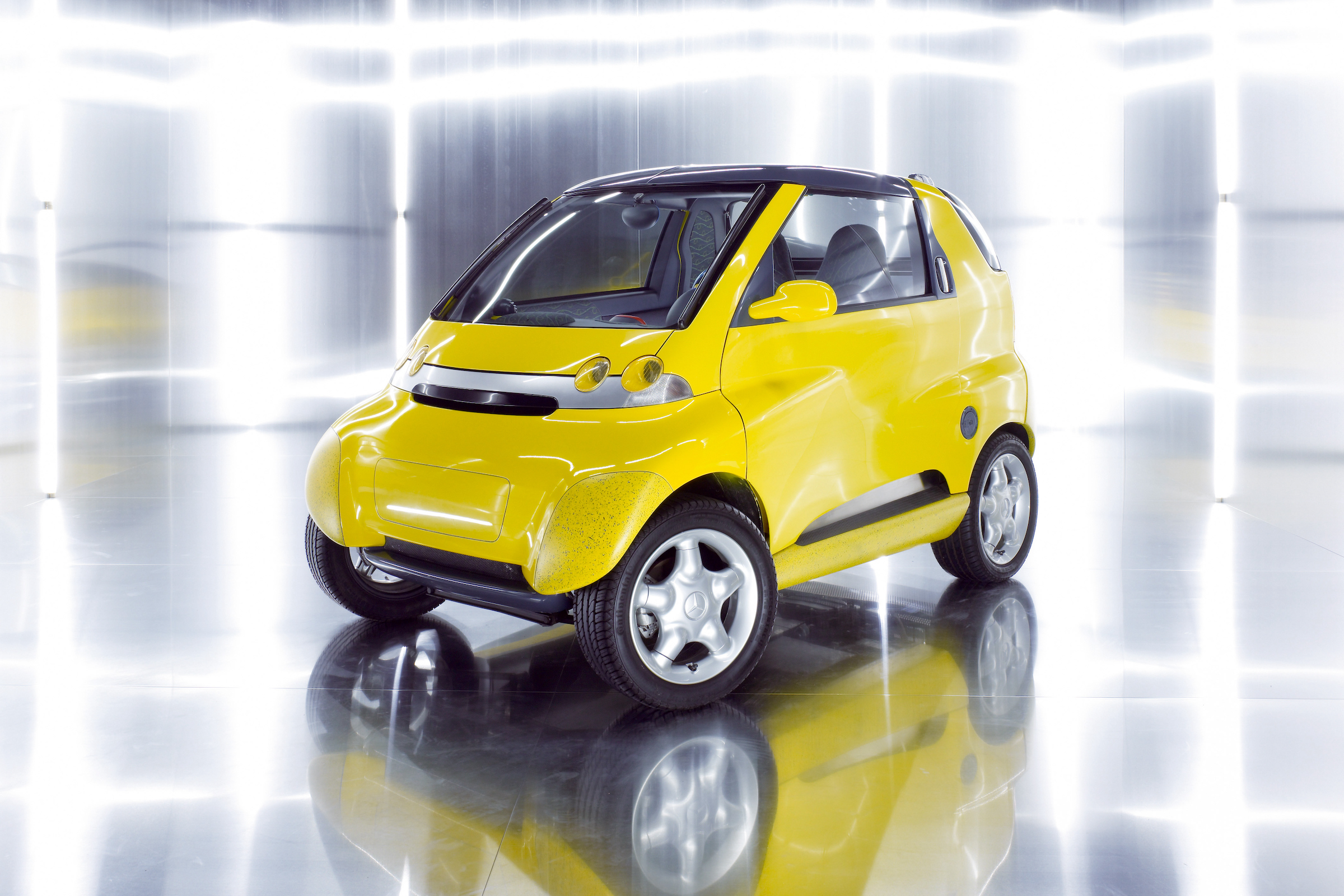 The association with Hayek didn't last. He became irritated by Daimler's refusal to budge on certain aspects, such as inclusion of the word "Swatch" in the name (eventually the compromise Smart was chosen, standing for Swatch-Mercedes ART), and a hybrid powertrain rather than the three-cylinder turbo of production models. Mercedes bought out SMH's stake in 1998.
The name we're more familiar with today for the city car, Fortwo, arrived in 2003, the same year that Smart debuted the rakish Roadster, and a year ahead of the Forfour, built in conjunction with Mitsubishi. The third-generation Fortwo was co-developed with Renault and its third-gen Twingo, and Smart has since gone electric-only.
We'll never know whether Hayek, who died in 2010, had the last laugh. Smart has been notoriously unprofitable for Mercedes, and its continued existence into the future now hinges on Chinese giant Geely, who seem to be abandoning the two-seater idea in favour of – to nobody's surprise in the modern car market – an electric crossover, awkwardly named Smart #1.
There's every possibility it will sell in a manner the City-Coupe, Fortwo and their ilk never have – Smart's total sales since 1998 are just over the 2 million mark, and have dropped off a cliff since going all-electric. But for those drivers who embraced a car that had all the seating capacity they'd ever need, the newest Smart might seem just a little dumb.
Read more
Future Classic: Smart Roadster
Freeze Frame: MX-5 kicks off the roadster craze in Chicago
Your Classics: Ian Tisdale's Mercedes 130H is a rear-engined marvel